5 interesting facts about Gary Johnson – the Libertarian presidential candidate
August 29, 2016 - 4 minutes read
Former governor of New Mexico, Gary Johnson is the Libertarian candidate for the 2016 United States presidential race. With proposals to make legal immigration easier, raise the retirement age for social security and scale down the military; Johnson's political views stay strong to Libertarian ideals. Johnson's next hurdle is gaining inclusion into the presidential debates which can springboard the candidate into a better election standing. He has 8% of polls in his favour while he needs to be polling at an average of 15% to get a spot on the debate stage.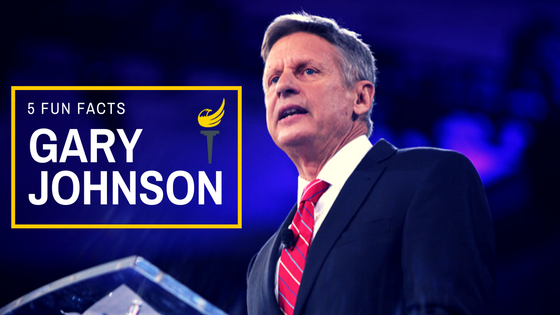 Considering that more than 50% of voters hold unfavourable views about the leading presidential candidates and 47% of voters say they are open to a third-party candidate Johnson's chances for winning the election are looking better.Here's a look at a few interesting facts about the Libertarian candidate.
This is not his first time running the presidential race
Gary Johnson was the Libertarian Party's 2012 presidential nominee. Johnson had initially declared his candidacy for the Republican party in the 2012 presidential elections. However, after disappointing results he withdrew his candidacy for the republican nomination and instead announced his bid for Libertarian party nominee in the 2012 election.
He is an entrepreneur
Gary Johnson started Big J Enterprises, a door-to-door handyman business to pay for college. Over the years, Johnson grew Big J into a multi-million dollar corporation with over 1000 employees. The one-man shop had grown into one of the largest construction companies in New Mexico.
He has climbed Mt. Everest
Johnson is an avid sportsperson who has competed in several triathlons, marathons and bike races. He has climbed all seven of the Seven Summits which includes Mount Everest, the highest peak on Earth. Johnson and his running mate Bill Weld also engage in friendly games of chess when they can spare time for it. Weld is a master-strength chess player known for playing multiple games blindfolded.
Supports legalising marijuana
Although Johnson stepped down as CEO of Cannabis Sativa Inc., a marijuana branding company he is still an ardent supporter of legalising marijuana use. "I am the highest-ranking official in the United States to call for the legalisation of marijuana." says Johnson.
Military spending
He is against military expansion. Johnson has opposed American involvement in Iraq, Libya and Syria as well as condemning George W Bush's "War on Terrorism".
Pro-@GovGaryJohnson ads set to air in Maine https://t.co/1t7VTptAVY | Getty pic.twitter.com/EteUxPW3Wl

— POLITICO (@politico) August 11, 2016
Abortion Rights
Johnson says he's "pro-choice" when it comes to abortion rights.
"I want to give women choice in dealing with that issues, period." says Johnson.
Gay marriage
Johnson released a press statement in 2011 announcing his support for gay marriage. "a great deal of deliberation, discussion with the gay community, and a conclusion that government has no business choosing who should be allowed the benefits of marriage and who should not." his statement said.
Gun Ownership – He is for absolute right to gun ownership. "restricting guns makes things less safe, that's the camp that I'm in," he says.
He loves chess
What does #TeamGov do after two rallies, a couple dozen interviews, and 4 or 5 hours on the road? #Chess pic.twitter.com/SiykYlUUds

— Gov. Gary Johnson (@GovGaryJohnson) August 27, 2016
Gary Johnson
,
Libertarian Party
,
US Elections