7 Unique Fundraising Event Ideas for You to Use in 2019
March 7, 2019 - 10 minutes read
We're well into 2019 (is it March already?!) and you've used up all your fundraising event ideas.
Bake sale? Organized it last year.
Charity Auction? Finished it last month.
Yard sale? Been there, done that.
While these events worked out well for you, you're probably looking for something unique to try out (before inevitably falling back upon the ol' tried-and-trusted). You're sitting in your office, at your wit's end, trying to come up with fundraising event ideas for 2019 which will give you great results.
Well, there's no reason to worry. In this article, we've mentioned the top 7 unique event ideas which will boost your fundraising efforts this year. These events will bring you more donations, new donors, and above all, ensure everyone has fun!
Stand Up Comedy
Laughter is contagious and fun. How many people do you know who don't enjoy laughing? Probably none. Besides, laughter has been proven to have a bunch of health benefits.
So why not use it to bring people together and raise money for a good cause?
Gather comedians from your local community. Encourage your volunteers and staff (the ones with a funny bone!) to give it a go as well. Once you have your list of performers, promote the event and sell tickets. Clearly inform people that the proceeds will be used to help a particular cause.
Host the event in a local bar or restaurant. The event is sure to be a great way for people to relax, leave their worries at home, and bond with one another—all while helping a cause they truly believe in.
Live Shadow
If you want your spectators to be enthralled, a live shadow act should do it. A live what, you ask?
A shadow act comprises of various dancers contorting their bodies into various shapes and forms in order to tell a story—all of this happening behind a translucent curtain, giving the performance a mysterious feel.
Contact dancers and choreographers from within your community and get them to stage a live shadow performance which will be the highlight of your fundraiser. Get creative. Let this act tell your story by portraying the conflict your cause faces—this is likely to have an emotional impact on your spectators who'd then be keen on donating more. Make this shadow act the very highlight of your fundraising event.
No Event Event
Sounds confusing, but it's not! A non-event fundraiser is an event which raises money but doesn't really exist. Or in other words, it exists only on paper but not in practice.
So here, you actively promote your event that isn't taking place and sell tickets to it. And once the event has not taken place, you thank your attendees for not having attended.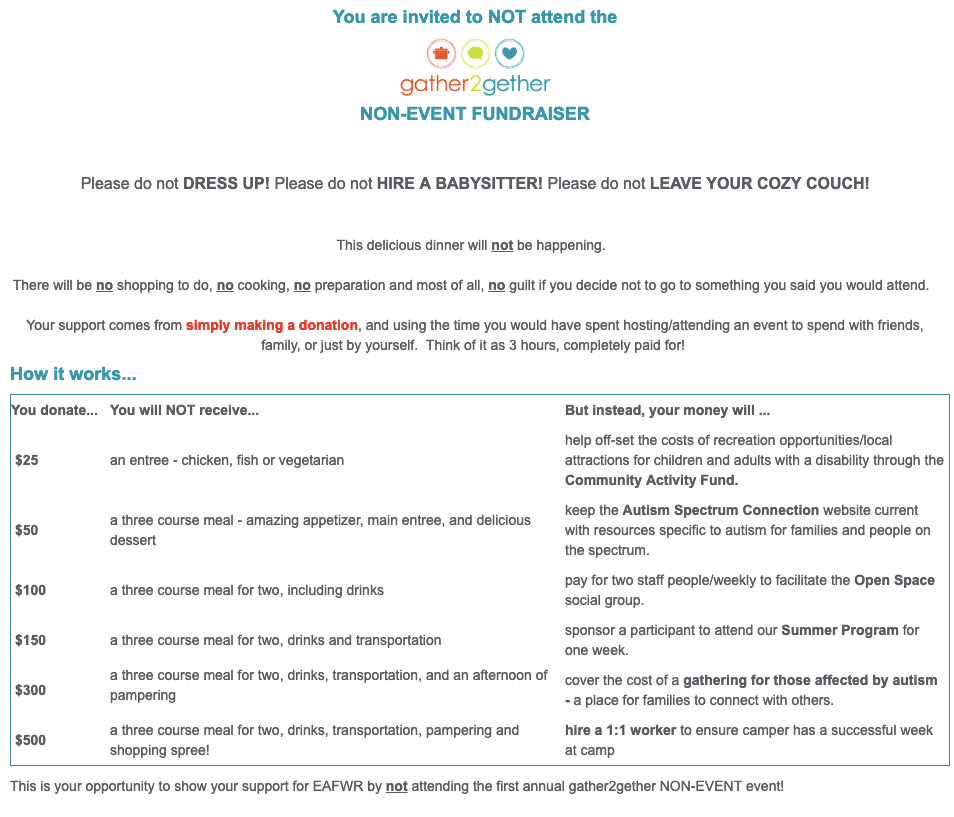 Credits: cause2give
While this sounds like a goofy concept, it works because instead of getting people to go through the hassle of getting ready, traveling to your fundraiser, spending a few hours there, and reaching home exhausted, they can conveniently use this time to relax at home with a book!
Donors get the feel of having attended a live event without having done so and your nonprofit has just saved a huge amount of time and money by not hosting the event.
So go ahead and host one; you would be surprised by how much traction you're able to generate!
Smash the Car
Most of us have a lot of pent up energy or anger within and not many (legal) ways of releasing it. Your nonprofit can help with this and raise money too!
Get your local junkyard to donate a few cars to your nonprofit's cause. Ask a local mechanic to ensure dangerous liquids and other parts are removed from the cars so they're safe to beat up.
Now, all you have to do is sell tickets to the car smashing event! Hand baseball bats to participants and charge either per swing or for every minute of destruction.
Note: This is a potentially dangerous way of fundraising so ensure participants have been given safety gloves, glasses, and any other protective gear so they don't hurt themselves. Also, if teens sign up for the event you must ensure proper supervision.
Yoga with Animals
If your nonprofit helps animals, this one's especially for you. Animal yoga is a fun and relaxing way of spreading awareness about your cause. Whether it's goat yoga, yoga in the presence of dogs, or with kittens, this form of fundraising guarantees your participants get to practice yoga while cuddling with friendly and cute animals. This ensures they leave your class feeling stress-free, calm, happy, and wanting more!
Get a yoga instructor and rent a warehouse or simply use the local park. Promote your event on social media channels and reach out to your contacts through text messages. Include links to your fundraising event page where they can purchase tickets.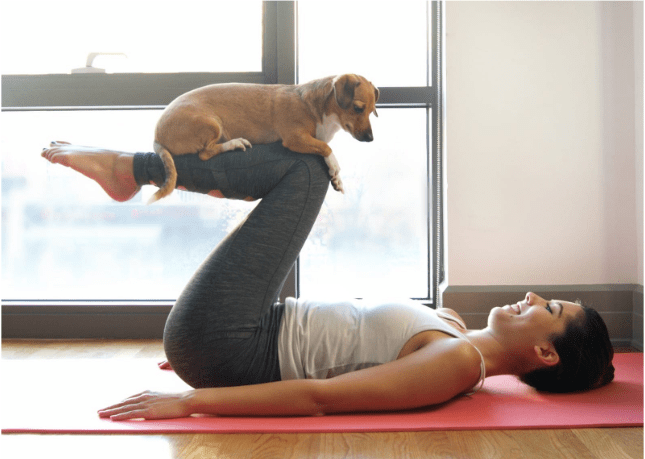 Credits: Tailster
Yoga with animals is a great way of showering rescued animals with the love they deserve and can also help them get adopted by enthusiastic attendees. Give people the option of cuddling the animals for extra time if they donate more.
Note: When you're hosting these classes, make sure to assign volunteers who will be corralling the animals and cleaning up after them, if necessary.
Hoops for Hope
Many of us, young or old, have a competitive spirit lurking within us. Through hoops for hope, your nonprofit can tap into this trait and in the process, raise money for your cause. Get your volunteers, staff, and followers on social media to create their own fundraising pages. Contact them through sms and ask them to actively promote their page among their online contacts.
Their contact would then make a pledge on the fundraising page for every basket made by participants: could be $5, $10, or more.
Once the event starts, give participants a fixed amount of time to shoot baskets—1 minute or more. The more baskets they successfully make, the more money they'd raise. You can even stream the event live on Facebook so that the people who aren't able to attend can watch to see how many baskets their friends made!

For the event to go smoothly, you need to need to rent an empty basketball court with plenty of basketballs in advance, and ensure you have enough volunteers to time your participants and count the number of baskets made.
Chores for Charity
"She liked to be in the thick of things and did not delegate easily, except where domestic chores were concerned." ~ Mary Allsebrook
Let's face it, not a lot of us like doing chores. So why not flip this around to raise money for a good cause? Gather interested volunteers and community members who are ready to use their skills, whether it's for repairing a broken door, doing some plumbing work, or fixing electrical connections in people's houses. In exchange for their efforts, people would make donations to your nonprofit.
Promote your event on your website, email newsletters, and social media, and collect interested volunteer details through SMS signups. Once you have the various skills which people can help out with, create a page on your site where you assign a donation value to each service. People who are interested can come to this page and make a donation.
You can choose to have a special 'Chores for Charity Day' or can spread it across multiple weekends. This is a great way to help the community and spread awareness about the cause.
So there you have it: our top 7 fundraising event ideas that you can use to power up your fundraising game in 2019, all while having a blast too!
fundraising event ideas