8 fun facts about Jill Stein: Greens party presidential candidate
August 26, 2016 - 2 minutes read
The Greens Party in the US is an independent political party connected with social and environmental movements. They've nominated a presidential candidate for the 2016 US elections. Her name is Dr. Jill Stein. Here are a few interesting facts about the 2016 Greens Party presidential nominee.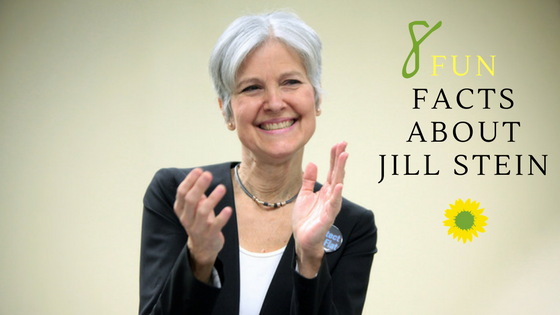 She graduated from Harvard
In 1973, Stein graduated magna cum laude from Harvard, where she studied psychology, sociology, and anthropology. She then attended Harvard Medical School and graduated in 1979.
She's a doctor
Before entering politics, Stein was a practicing physician of internal medicine. She credits her medical background as her springboard into politics because she saw the negative impact an environment could have on someone's health. As she told the New York Times before the 2012 election, "I'm now practicing political medicine because politics is the mother of all illnesses."
Long time environmental activist
Jill Stein has been an environmental activist since the 90s. Emergence of the link between toxic exposures and illness pushed her to fight for a healthy environment as a human right, assisting non profits, community groups.
Part time Rockstar
Stein was the lead singer of Somebody's Sister, a 1990's folk-rock band. Fans and curious voters can check out the 1999 album "Circuits to the Sun" .
Protester
Stein was arrested on at least two occasions: once for trespassing during a protest over the Keystone Pipeline and once for disorderly conduct as she protested her exclusion from a 2012 presidential debate.
Jill the author
She is the co-author of two widely praised reports, In Harm's Way: Toxic Threats to Child Development, published in 2000, and Environmental Threats to Healthy Aging, published in 2009.
Cat lover
Did you know I have an #orangetabby #cat named Willy? He has no boundaries! #SteinBaraka #ItsInOurPaws pic.twitter.com/QbaMw9Ae54

— Dr. Jill Stein (@DrJillStein) August 19, 2016
Jill Stein has an orange tabby cat named Willy. Just like every other cat, Willy loves to get in between a person and their laptop.
Second time running
2016 is not Dr. Jill Stein's first election. She was the Green Party's presidential nominee in 2012 and she's also run for governor of Massachusetts in 2002 and 2010, against Republican Mitt Romney.
---
Next up, Liberal party nominee, Gary Johnson!
Donald Trump
,
Greens Party
,
Hillary Clinton
,
Jill Stein
,
US Elections