Auto Recharge for your Account
September 6, 2017 - 1 minute read
You can stop worrying about live campaigns being paused due to low credits!
With Auto Recharge enabled, your account is automatically recharged when credit balance falls below a selected minimum amount.
Without Auto recharge, any live campaigns get paused when credit balance falls short. That includes pausing text messages and/or voice broadcasts that are scheduled to go out and call center agents being unable to make calls.
Do you really need auto-recharge?
If you're sure about keeping your credit balance topped up, you'll be just fine. But if you've rented a number from us, are using Dynamic Caller ID, and/or running text campaigns that receive replies, we recommend that you enable Auto Recharge to avoid barriers to services.
How to Enable Auto Recharge
The Auto Recharge option is available immediately after you add a credit card to your account. Turn on Auto Recharge within Billing and Payments and configure the settings according to your preference. You can choose the credit balance where you want to trigger a recharge and set the recharge amount.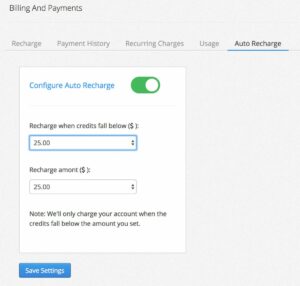 Now, whenever your credit balance falls to the minimum amount, your account is automatically recharged.