The best activist websites
April 25, 2017 - 5 minutes read
Activism amongst the liberals and lefts in the US has never been this widespread since the Vietnam war. With a drastic change in powers at the Oval office, liberals and lefts have already begun to fight for change against policies that are do not align with theirs. Activism, especially grassroots activism has been growing around the world. With protests currently in Venezuela and Russia, and past protests in the middle east, people are coming together and campaigning against governments or policies that affect them.
The internet has been the driving change in the ability to involve a greater percentage of the public. Social media, petition sites and blogs are very good channels to help get your cause visibility. Here are some of the more popular sites that can help get your cause some backing from fellow activists and supporters.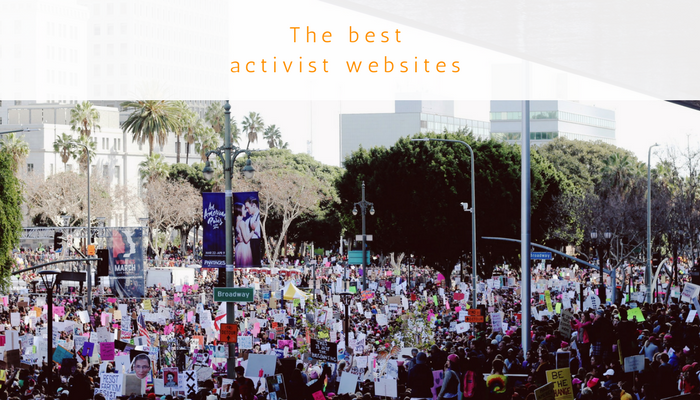 Non partisan activist sites
Change.org
Change.org is one of the most widespread petition sites with over 200 million petitions created. No matter what your leaning is, Change.org is a great platform for you to host a petition and get supporters to sign it. It's very simple to use and promote. They even allow organisations to advertise through their platform and speed up their campaigns.
Countable.us is a very helpful resource to keep track of laws and developments Daily updates on your lawmakers and key developments on the issues you care about.  You can use Countable to read clear and concise summaries of upcoming and active legislation. Advocacy nonprofits can create profiles on countable and leverage countable tools like their mobile app to really drive change. Also, it's free. When you create a profile on countable:
your work and what you stand for will be featured on their site
You get access to a free mobile app through which you can engage with your supporters
You will find new supporters, and know which ones are most influential on your issues.
Check out an existing successful nonprofit advocacy profile on Countable for a better understanding of how it can help.
Liberal activist sites
The indivisible guide started out as a google doc of advice on how to bring about change in congress as an activist. They evolved into the indivisible guide, a fantastic resource on how to organize a grassroots advocacy movement. You can register your local movement or organisation on their site and get listed on their website. This is a great way of getting more supporters locally involved in your advocacy campaign.
The Action Network is one of the most highly recommended activist organising tools for progressive groups and organisations. It's a free to use web based service to not only create petitions and bring attention to them, but also a fully featured campaign management tool with fundraising capabilities and mass mailing service. CallHub also integrates with the Action Network, making it very easy for you to phone and text your supporters.
If you haven't heard of the women's march that happened earlier this year, I'd be very surprised. But what you may not know is that the group is actively trying to create local groups across the US, to meet, "huddle" and envision how to transform the organically created energy at the Women's Marches into local and national action. You can register to be a huddle host or look for ones near to you.
The DailyKos is a popular online community dedicated towards left leaning politics and news. They have thousands of groups created around people's interests and issues they support. You can signup to take part in these issues. You could also create a petition and ask DailyKos's support to promote it on their site. It's a great way to bring in more supporters.
Grassroots Advocacy
,
US Elections