Building meaningful relationships with Donors: What it takes
January 17, 2019 - 10 minutes read
Juliet and Donald have been married for 40 years. Happily. Their children haven't been so lucky. Their son has been divorced twice already, and their daughter, once. What makes J and D's marriage so strong one wonders? The happy couple says "Marriage is a two-way street. We were lucky we realized this early on which is why our bond has stayed so strong. I helped Juliet raise the kids, and she helped me with our business. We respected each other and communicated our needs. It took a lot of work, but it has been worth it!"
"It took a lot of work, but it has been worth it!"— Only when nonprofits take the time and effort to build relationships with their donors do they become motivated to contribute to your cause; through money, volunteering, or word-of-mouth.
Unfortunately, several nonprofits focus on soliciting funds without actually realizing the importance of their bond with donors. It doesn't have to be this way! By following a few simple tips, nonprofits can build relationships with their benefactors that are significant and likely to stay strong in the long run. Here's what it takes.
Storytelling to Connect Emotionally
Storytelling, whether through video, a blog post, or a podcast, is a fantastic step towards building and reinforcing meaningful relationships with donors. Use stories because as humans, we are wired to gravitate towards forms of communication that evoke vivid emotions within us. This, coupled with the fact that donors prefer impact and success stories as opposed to bland facts and figures, further shows how important this form of communication is toward strengthening your nonprofit-donor bond. Learn to keep your stories donor-centric. Build your story's outline—talk about the person or cause, the conflicts and barriers faced, how your nonprofit helped address the issue, and how your donors' contributions played a huge part in solving the problem.
What you should do:
Use different channels to get your story out to your donors such as stories on your blog, email newsletters, or real-time videos and photos on social media which gives it an authentic feel. Be it an event or a fundraiser, make sure you're clicking tons of pictures and taking videos. They don't have to be professional grade visuals either. The point is that you get your story across. Display these visuals for everyone to see on your website and social media handles. Use storytelling to build the social proof that people look for before deciding to trust an organization with their money.
Another way to strengthen your connection with donors is by letting them be a physical part of the story. Give them volunteering opportunities or a chance to meet the person(s) you're helping. Donors would certainly appreciate these opportunities and the efforts made on your part. After all, every successful relationship takes effort.
Relational Fundraising
Relational fundraising focuses on building close relationships with potential donors and nurturing them so that they keep donating to your cause. This strategy mainly relies on word-of-mouth and is a great way of starting off your donor relationship on the right footing. The reason it works is, because potential donors are likely to trust the judgment and references given by their acquaintances regarding your nonprofit, they'd be more open to beginning a relationship with you. What you should be doing here is turning to your volunteers, supporters, and board members to reach out and connect with their acquaintances on your behalf.
What you should do:
Have a meeting with your staff, volunteers, and board members. Explain to them that by talking to their contacts about your organization and mission, they'd be playing a big role in helping you establish relationships with new donors. Emphasize on the fact that their reference would be helpful in bringing them on-board as opposed to your nonprofit contacting them for the first time. Contact your current recurring donors as well, and get them to speak to their contacts. If you don't have a strong relationship with existing donors, offer them gifts in exchange for referrals to gain traction. Having said that, relationships play a big part here and actively working towards building them from the ground up is what's going to make this strategy a successful one.
Understanding Donor Motivation
Understand the reasons why your donors are donating to your cause, and why specifically to your nonprofit. Apply an analytical and data-centric approach which gives you a good understanding of what motivates donors to contribute. Segment them into separate lists based on their motivations and then target them through personalized messaging to stay relevant—in today's climate of spam emails and texts which seem random and generic, a message that is aligned with your interests is a sight for sore eyes. This helps in personalizing your communication with them, and as we already know, proper communication is key to a successful union.
What you should do:
When potential donors sign up on your website or make a donation for the first time, direct them to a short survey which understands their motivations and feelings. ONE does a fantastic job—as soon as you sign up, you get an email survey which barely takes any time to fill. They then use this information to ensure any communication that they do with you is relevant to you.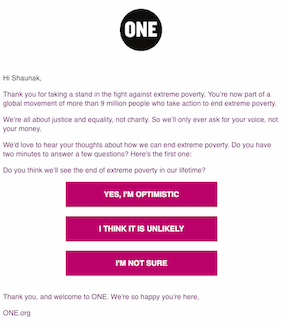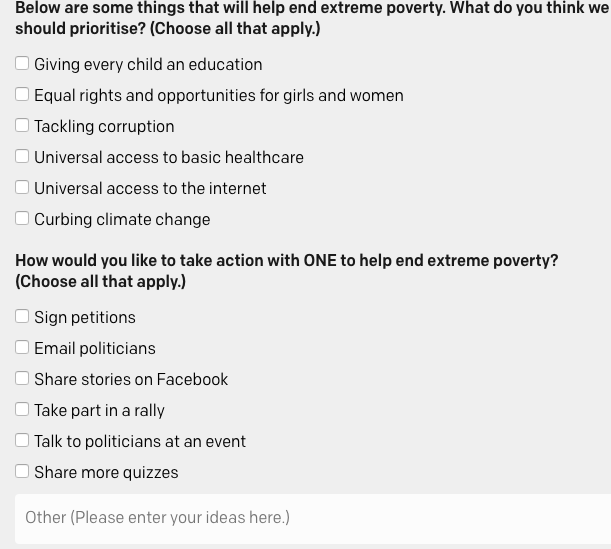 What your nonprofit can do is send an email or a text-message survey to your donors, and once they reply, segment them into different lists based on their responses. Once you have these lists, it's as simple as sending targeted content on a consistent basis to build a sustainable relationship with the people that matter to you.
Recognition
Who doesn't love recognition for their contributions to a cause they passionately believe in? Your donors certainly do! In fact, studies prove that a "failure to provide adequate and appropriate recognition, will lead either to a lowering of future support or its complete termination." Recognizing donors works because it shows them that you value them; something that's important for any relationship to work. So you should make sure that you're providing recognition for your donors in your various communications. Whether they've contributed $10 or $1000, find a way to fit them in your donor recognitions.
What you should do:
Give appropriate recognition where it's due. For instance, you can:
Send a monthly email with a "Donor Hall of Fame" where you list out all the donors who contributed that month.
Make a video featuring your donors and publish it on your website.
Tag your donors on Facebook, Twitter, and Instagram so that their friends are aware that they contributed to your cause.
Publish their names in your annual reports.
Thank your donors after they make a donation. You can send personalized text messages—"Hey George, thanks so much for your contribution! Because of you, children will not go to bed hungry.". If they are a significant donor, make a phone call to personally thank them or send a handwritten note of thanks.
Send them gifts. Depending upon the donor, it could be something as simple as a T-shirt or it could a little more expensive such as a concert ticket.
Building a meaningful relationship with your donors isn't very different from your relationships with your friends or spouse. Just like the latter, it requires communication, understanding, and effort for it to stay strong and long-lasting.
Tags:
donor relations
,
nonprofit communication