Running a political or advocacy campaign is tough work and anyone who has been part of one will till you how important it is to track every metric related to the campaign. With campaign activities running for weeks or months, it can be easy to lose track of your goals or become confused by the sheer volume of data that comes in every day.
Keeping track of campaign progress, and that means keeping track of calls made, messages sent, agent activity, volunteer recruitment and a number of other factors, can become a daunting task for volunteers and managers. Today, modern campaign tools incorporate analytics directly into their software enabling campaign managers with up-to-date and in-depth data about every part and every stage of their campaign.
This is why CallHub Analytics has allocated dedicated dashboards for Call Reach and SMS Reach giving Campaign managers a one-stop place to multiple data points related to outreach.
Measure efficiency of Call Center calls
It doesn't matter if the campaigns are running from a single location or are spread across multiple countries, data from every campaign is collated and graphed in your analytics dashboard. CallHub "Conversations" lets you measure the success of your calling campaign by showing you the number of calls that lasted more than zero seconds and the Reach Rate for the duration of the campaign. Your Reach Rate tells you how healthy your campaign is running. If you see a low Reach Rate, you can easily go deeper into the analytics to figure out exactly what's going wrong.
Recruit volunteers
CallHub Analytics gives you exact data on how many calls your volunteers and agents have made across each day of the campaign. If you're falling behind on your goals you can start early with volunteer recruitment and avoid the last minute scramble to reach campaign goals.
Avoid spamming your supporters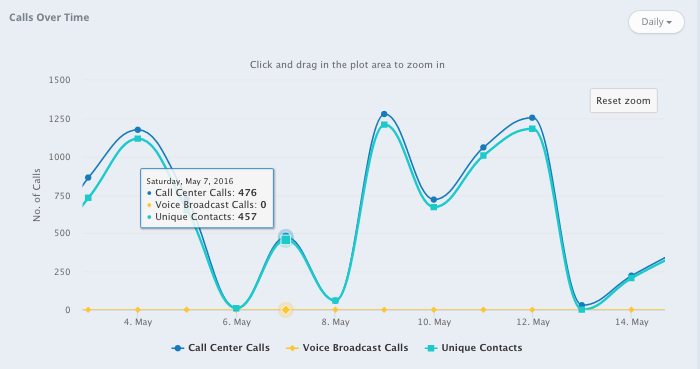 The success of a campaign depends on building a positive relationship with the people it reaches out to. If your campaign ends up spamming its call list with multiple calls a day that will be the beginning of the end for your campaign. By showing you the number of "Unique Contacts Called", campaign managers are instantly made aware of irregular spikes in the graph. Allowing some leeway for people who may have asked for a callback, you easily avoid multiple calls are going out to the same call list.
Scale Your Campaign
Keeping tabs on the number of calls and messages is the only way to keep track of campaign progress. CallHub Analytics lets you track whether you are falling behind on your outreach and accordingly helps you scale up your campaign. With intelligent data at your side, make sure that you never fall back on campaign goals.
Export Campaign Data For Review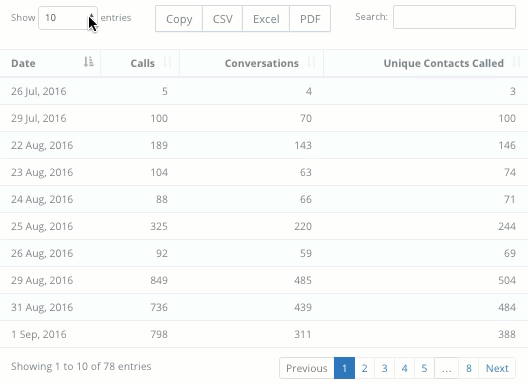 Most campaigns have an in-house data base to do their own campaign analysis as well as manage other activities of the campaign. Data from outreach is used by campaigns to schedule and organise door-knocking as well as to decide numbers for leaflets, brochures, posters, banners and placards.
Maintain Consistent Contact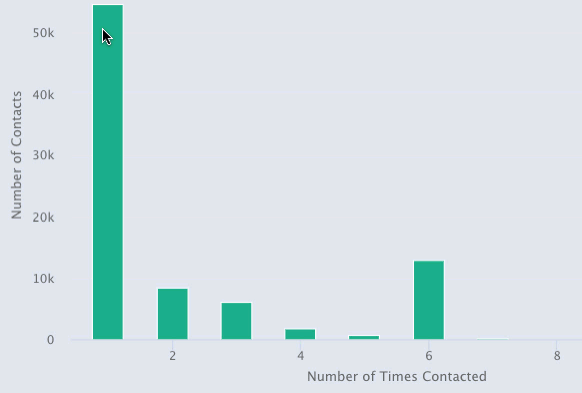 Donald Trump went on to prove every election prediction wrong with his successful presidential bid. But many failed to notice the hand of RNC Chairman, Reince Preibus who slowly moulded the Republican campaign across four years. He used data analysis and digital tools for his long-term strategy of building meaningful relationships with voters.
Every successful campaign is built on relationships. CallHub Analytics gives you the frequency of contact across custom timelines, allowing campaign managers to measure how often they have engaged with their contacts. By maintaining a consistent level of engagement across time, campaigns significantly increase their chances of gaining the approval of its contacts.
Campaign managers already have a tough load to carry. CallHub Analytics is another step on our journey to make your jobs more easier and campaigns more intelligent.