CallHub now integrates with NGP VAN
July 25, 2017 - 4 minutes read
"NGP VAN is the leading technology provider to Democratic and progressive campaigns and organizations, offering clients an integrated platform of the best fundraising, compliance, field, organizing, digital, and social networking products."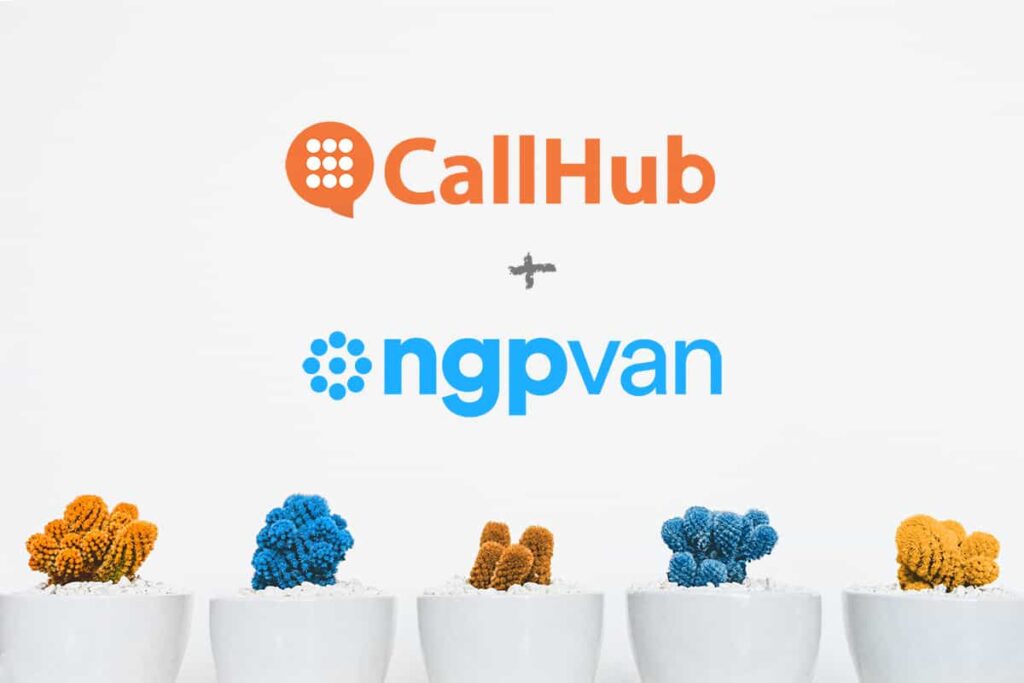 CallHub joins the rank of tools in the NGP VAN innovation platform to help you expand your campaign reach with phone banks, text messaging, and voice broadcasts.
NGP VAN is the leading technology provider to Democratic and progressive campaigns and organizations, offering clients an integrated platform of fundraising, compliance, field organizing, digital, and social networking products.
The NGP VAN Innovation Platform was rolled out in 2014 as a series of APIs and integrations. The platform allowed third party apps to integrate with NGP VAN tools to help campaigns run multi-channel efforts with efficiency.
How to use the integration
Phone banks are a vital part of how campaigns reach out to the constituent base. It is used for organizing events and rallies, assessing voter sentiment on issues, gauging voter support, GOTV efforts, and fundraising. The CallHub and NGP VAN integration lets VAN users run their phone banking campaigns on CallHub and have the data flow back into NGP VAN. You can use VAN surveys within CallHub to get voter responses and use Activist Codes in each campaign.
Activist Codes or tags can also be used inside your text messaging and voice broadcast campaigns to help segment your contact list for targeted campaign outreach.
How CallHub works with NGP VAN
The CallHub — NGP VAN integration lets VAN users integrate phone banking, text messaging, and voice broadcasts with your VAN tools.
Start off by connecting NGP VAN to CallHub using your VAN API key followed by importing your VAN contacts into CallHub.
For NGP VAN phone banking campaigns, you can import VAN surveys and Activist Codes into CallHub to be used by agents making calls. The campaign manager can add survey questions from VAN when creating a phone banking/call center campaign. You can also choose to add Activist Codes to VAN contacts. Filled surveys and Activist Codes are instantly synced back into NGP VAN.
For SMS campaigns, Activist Codes can be set for VAN Contacts that were contacted via text message and for VAN Contacts that responded to your message.
For Voice Broadcasting, you can select an imported Activist Code when you create the campaign. Contacts from VAN that are contacted via this Voice Broadcast campaign will be marked with the chosen Activist Code back in VAN.
For more information, check out our help page on How to use the NGP VAN Integration.
More from CallHub
From patch-through calling, SMS data collection, to automated dialers and more, there's a lot that you can do with CallHub. If you'd like to know more about what CallHub can do for your campaign outreach, check out our Features page.
How do you want to use CallHub with NGP VAN? Click on the chat icon on the right and tell us about any feature you'd want us to add.
Integrations