How to Decide on a Text to Give Fundraising Tool
February 6, 2019 - 16 minutes read
Text-to-give, text-to-donate, text-to-tithe…there seems to be no end to the number of terms used to describe this handy tool which facilitates donations in a flash. The first two terms are used almost interchangeably and their difference today seems to have dissolved.
So I've heard there is an "older" form of Text-to-Give and a "newer" version—What's the difference?
The initial and older definition of text to give, when it rose to prominence during the Haiti earthquake in 2010 refers to a form of fundraising where people can text a certain amount of money to a specific number. The donations are limited to a small number with the amount being charged to the donor's cell phone carrier. This type of text to give is somewhat cumbersome because of the limitations it places on donations (we'll talk more about this later). Software providers coming under the MGF (Mobile Giving Foundation) are usually subjected to these rules.
The newer definition of text to give/donate isn't constrained by unnecessary rules. Here, donors text a keyword to a shortcode, for eg: DONATE to 34567, after which they receive a link to a donation form. They enter their credit card details and the amount they want to donate, and voila!—they've made a donation. This form of mobile fundraising is where text-to-give is heading in today's world. There is no cap on how much donors can give, the payment processing time is extremely low, and you can set up recurring donations. Besides, payment can be done from a smartphone with any service provider which is not the case in the "older" form.
But why should my nonprofit move to text to give?
For so many reasons!
Firstly, text messages have a super high open rate close to 98%. Other platforms such as email don't come anywhere close to this number. So if you're using text, you have a higher chance of people actually seeing your message and being influenced to make a donation.
Second, the number of smartphone users is increasing steadily: 73% of American adults aged 53-64 currently own a smartphone. For senior citizens aged 65+, the number is 46% which is a pretty sizeable chunk. The more the smartphone users, the more the number of potential donors.
Third, it's quick, easy, and convenient: Donors can just whip out their smartphone, send a text, and enter their details to contribute. It's even easier the next time they want to make a payment since their payment information is already stored.
Fourth, people can donate from any part of the world; they don't have to be close to your nonprofit to make a payment. Whether you're a small, medium, or large-sized nonprofit, you can accept donations from anywhere.
Fifth, you can collect donor information by integrating the software with your CRM. This helps in future outreach, and if donors update their data, it automatically gets changed in your database.
Now that you've been convinced of why this tool is important, here are the main factors you need to keep in mind when deciding upon a text to give provider for your nonprofit organization.
What are the Expenses Involved?
Depending upon the size of your nonprofit, the cost of the text-to-donate solution makes a big difference. The questions you should ask yourself are:
How much is the monthly/annual cost: Most T2G providers have a fixed monthly or annual cost which typically adds up to a few hundred dollars per year.
What are the payment processing fees: Most providers are tied up with payment processors in order to accept donations—these processors work at the backend of the software to transfer money from the donor to your nonprofit account. While these costs range from 4-10% of donations, they vary for different vendors. So, make sure you know how much it'll cost. You should also be aware of the time it'll take to process and transfer the money to your account.
Are there any maintenance fees: The prices you see on the software pages generally only mention the base fee, so if there is an additional cost for setup, maintenance or any other vendor fee, you ought to enquire with provider before deciding.
Do you have to pay for extra shortcodes, keywords, or the number of texts you receive: While some vendors let you rent additional shortcodes and keywords for free and don't put a cap on the number of messages you can receive, others charge for the same. Be clear about what you're getting into so you don't have to shell out more later. If you're planning to use text-to-give for a majority of your campaigns, you definitely need this feature.
For nonprofits who already have their own fundraising pages set up, you don't need to go all out and purchase a new solution. You can just use a tool like CallHub which lets you rent a shortcode and keyword and we'd send interested donors links to your fundraising pages— saving cost and increasing convenience! If you feel making donors send a keyword like "DONATE" seems a tad robotic, no worries. You also have the option of conversing with your contacts via text so they know they're interacting with a real person which is going to have a positive impact. Something to the tune of:
If you're a big nonprofit, you might not worry so much about the cost. But for small or medium-sized organizations, it definitely is an important factor while choosing a software.
Do they partner with Cell Service Carriers?
Remember when we talked about the "earlier" version of text to give? There are still some providers who offer this kind of service and depending on your needs, you can choose whether to go with them or not. Here, all your donors have to do is text a keyword to a shortcode with the amount being deducted from their monthly phone bill while eliminating the need for donation pages. Exactly what Red Cross used in 2010.

However, the limitations that come into the fray are:
Donors can only send small amounts of cash—$5, $10, and $25. This massively restricts how much your nonprofit can get from supporters. Stats prove that while the average gift from the "newer" form is $107, it can't exceed more than 25 dollars for the older version of text to give.
The processing times are much longer, sometimes even taking up to 90 days for the money to get processed because the donor has to pay their previous month's bill before the donation is completed.
Nonprofits have to split their earnings with cell service carriers since they are the ones handling the transaction.
If the software provider comes under the MGF, then donations can only be made if the donor has a Verizon, Sprint, AT&T, or T-Mobile connection.
You can't set up recurring donations with this form of text-to-give and is a one-time gift from donors.
Not all text-to-give services impose these limitations, so your nonprofit should definitely confirm with the provider before going ahead and making a purchase. We'd recommend you look for an independent provider who has its own payment processor.
Does it Integrate with your CRM?
Before you decide on a T2G service, you must ensure it integrates with your nonprofit CRM so that data management becomes much easier to handle. The reason this is so important is if it doesn't integrate with your existing database, you'll have to manually download a .CSV file of your data and import it into the software. With other issues such as:
If you have your donor transaction data sitting separately in one platform and their other data (history of previous conversations, etc) in your CRM, you won't be able to match giving behavior with their profile. This means you'll miss out on the big picture and can't reference previous donations made by them for future outreach.
You can't keep updating your data because of the siloed structure. If someone changes their email id, your CRM will still have details of the previous one.
Since data collection doesn't happen automatically, new donors won't get added to your list unless you do it manually.
Since data has to be manually added, a lot of time is unnecessarily wasted and there is plenty of room for human error to take place.
If you already have existing donation pages on your website and only require a text messaging software to direct donors to these pages, CallHub addresses this issue. We provide integrations with several popular nonprofit CRM's like Action Network and CiviCRM ensuring that new donors show up in your lists and data changes are reflected automatically in your database. Besides, if your agents are engaging in conversations before making the donor ask, they can add specific tags to donors to highlight their characteristics (loyal donor, doesn't want to donate anytime soon, etc). Based on these tags, your next communications can be framed accordingly to ensure a sense of personalization and relevance.
Make sure your nonprofit uses a service which integrates smoothly with your existing database to avoid unnecessary issues or complications.
Are they PCI compliant?
PCI compliance ensures that the software provider follows regulations enforced by the Payment Card Industry which is the organization governing digital transactions by setting regulatory standards. Since your donors are submitting their critical data i.e. their bank details to the software provider, you must choose one which has the necessary security measures in place. By confirming that the text to give solution is PCI compliant, you're making sure that user data is handled in the right manner with the risk of fraud being reduced greatly. Besides, if your nonprofit isn't using a t2g solution with these security measures in place, you're liable to attract fines.
What Extra services do they provide?
Depending upon the platform, your nonprofit would potentially need assistance when it comes to installing the product, integrating it with your CRM, or actively using it. While some vendors would provide comprehensive and personalized one-on-one services, others may only provide documentation or demo videos on their website. They may even charge extra for providing additional training requirements.
Apart from this, check if they have other features such as:
Recurring Donations: This is an important feature which can boost your donations in the long run. The best part is users can donate as little or as much as they'd like, with vendors offering options to donate weekly, monthly, quarterly, or just one-time. Similar to what QGiv does: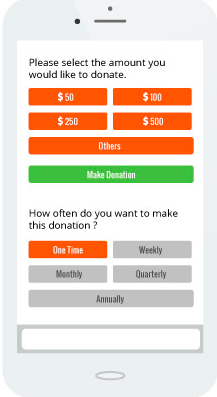 Auto Reminders: This is a useful option and comes into play when a donor texts the keyword to you and gets the donation link, but doesn't make the donation. In this case, some providers have auto reminders which get sent in the days following their pledge so that they can fulfill the donation. This boosts gift fulfillment by a huge 84%! Similar to what MobileCause offers.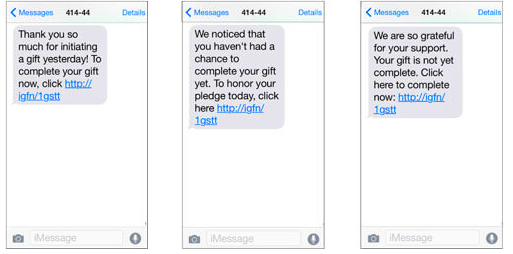 Follow-ups: Some vendors provide automated follow-ups thanking donors which get sent once donors have made a contribution. If you're using CallHub's text to give tool, you can send follow-up texts to your donors to thank them, offer them other ways of contributing, or ask if they have any queries/suggestions regarding donations—all with one click of a button. Your agents would then engage in one-on-one conversations with them ensuring donors have a great experience which motivates them to continue their relationship with your nonprofit.
We'd recommend you go for a software service that balances the scope of services provided with the cost so that all your needs are met within your budget.
The world is moving to newer and more convenient forms of engaging with patrons and text messaging has a big role to play in this shift. Nonprofits must pay heed and use this handy tool for fundraising and other efforts. Since text to give is quick, easy, and reliable, use the above factors to determine the best software provider for your nonprofit and watch yourself demolish your fundraising goals.
Tags:
nonprofit strategy
,
text to donate
,
text-to-give