6 Step For Effective Donor Cultivation
January 28, 2019 - 10 minutes read
Donor cultivation refers to the activities/communications that take place from the time you identify someone as a prospective supporter until the time you make your first ask. It covers a range of activities from sending emails and texts and making phone calls to personal visits. Donor cultivations require you to build strong lasting relationships with your donors to ensure future donations and retain them in the long-run.
Remember, if you aren't investing time in cultivation, you aren't securing the future of your mission.
But before you start cultivating donors, there are a few questions you must ask yourself:
How will I contact the prospect?
What channels must I use to inform them?
How do I achieve this?
When should I make the first ask?
This article will help you answer these questions and take you through the methods used to cultivate donors.
Don't Jump Right Into The Ask
When it comes to cultivating prospects, educate them about your organization and the impact of your work before making the ask for a donation. Jumping right into asks will be viewed as a red flag as it makes them feel like you don't care about them and that you're only after their money. Thus, demotivating them from interacting with your organization.
Research shows that people associate time with the concept of emotional meaning. Tap into that feeling while interacting with prospects. Start by inviting them to learn about your mission, its impact on those you serve, and the opportunities at your organization. This will get them thinking about how giving their time will make them feel good. So, when you do make an ask, your prospect is likely to give more.
For example, signing a petition or volunteering for a cause is a small step a prospect can take to align themselves with your organization. Later when you make an ask, they'll be more likely to give because of the time they took to understand your work and the impact you've created.
Learn About Their Passions
Just educating your prospect isn't enough. You need to make a constant effort to learn about their philanthropic passion. Don't just collect their contact information and call it a day. Find out what makes them tick and why they're interested in supporting your organization.
A few things that you should learn about your prospects to begin your relationship are:
Their interests and hobbies
Names of their spouse, pets, children, and other important family members
Employment status
If they've been involved with other organizations
How they want to engage with your organization and in what capacity
Just like dating, you need to nurture the relationship between you and the prospect. Create donor personas and stay in touch with them using various channels of communication. The information you collected will help you choose the right engagement opportunities for that prospect.
Pick A Channel That Works For You
Once your prospects understand your work and you have enough information about them, it's time to take your relationship to the next level –– Engagement.
Begin where you first met your prospect. If they first connected with you through your social media handle or website, then your engagement should begin from there.
You need to have a multichannel communication strategy in place if you want to effectively reach out to your supporters. Experiment with different channels, and stick to the one that makes the most sense for your organization. The different channels you can use are:
Email newsletters: Use newsletters to educate supporters about your nonprofit's work, pique their interest, provide social proof, and get them to take action. Make use of links to help your readers find the content they are looking for.
Text messages: Nine out of ten texts get read within the first three minutes of receiving them, guaranteeing that your prospect is going to see it. Make use of this tool to have personal conversations, keep your donors updated about your campaigns, create awareness, and rally support.
Social media: Your social media posts must nudge prospects toward taking a specific action. That why you need to make use of compelling CTA's. But social media isn't just to solicit donations, you need to focus on grabbing the attention of your supporters by sharing information about your work, upcoming events, and organization success stories.
Once you figure out which channel works best for a prospect, all your communications must be done through it. Different people prefer different channels. So, make a note of what works for whom and then build a strategy.
Focus On Relationship Building
What's that one mistake people make while dating? They don't put in a constant effort to connect with the other person, remember their interests, or find something that works for both of them. This is the same mistake nonprofits make when communicating with prospects.
Tailoring the message and focusing on matching a prospect's needs with yours in a positive manner must be your main goal.
Once you have the right communication channel, steadily strengthen the relationship between the prospect and your organization by sending articles on topics that interest them, adding a personal note at the bottom of any letter or invitation, and remembering personal information like their birthday or anniversary.
Remember, without connecting, retaining them is impossible.
Peer To Peer Conversations
The best way to strengthen relationships between the prospect and your organization is through peer to peer conversations. These conversations act as a driving force to get them to support your organization, i.e., to sign a petition, attend an event, volunteer, or donate.
By using peer to peer texting tools your staff members or volunteers can handle hundreds of conversations at a time. You can also automatically add in personal donor information into your texts to create a more personalized experience.
When your prospects get a personal text from actual volunteers they are more inclined to respond. The back-and-forth through texts will help forge a special connection between your organization and a supporter.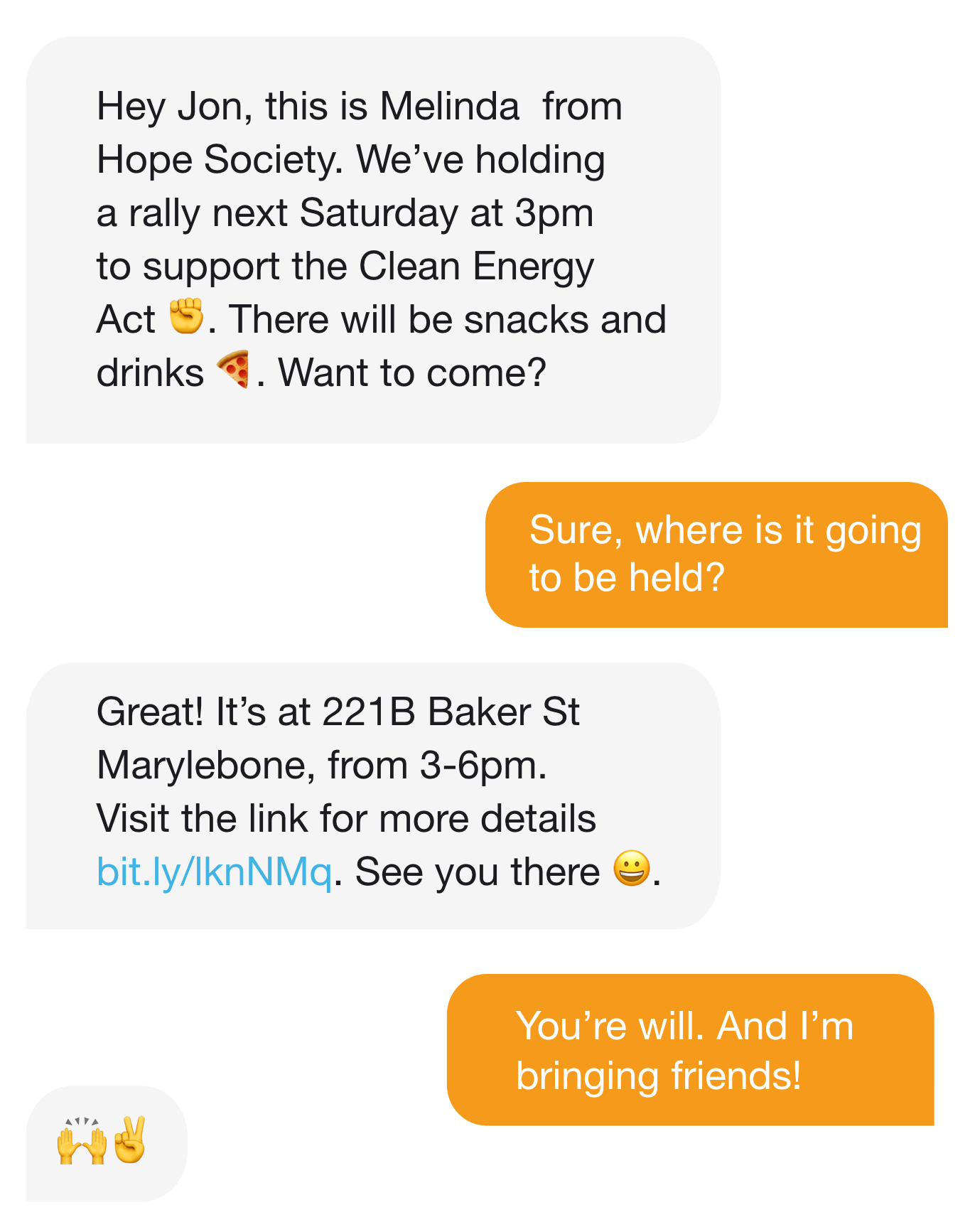 Make The Ask
Once your prospects have become engaged in some capacity and have a personal relationship with your organization, it's time to make the ask. At this point, you've set yourself up for success.
The first ask is sometimes the hardest but is also an indicator of a commitment to your cause. Your prospects are already well aware of the need, so all you need to do is express how necessary financial contributions are for you to do the work.
Asking for donations over the phone is the best way to go about. This is because it is cheap, can boost direct mail response, is scalable, and anyone can make use of it (volunteers and staff alike).
After a prospect gives a first-time gift, the key is to retain that donor. You're done with cultivating the prospect and converting them into a donor. Now you must maintain the relationship and steward them into recurring and long-term donors.
There you have it. Start off slow, build a relationship, and make an ask. Record your results and start the process all over again. By following this cycle, fundraisers can cultivate donors, track areas that need improvement, implement the necessary strategies, and use the right tools.
Tags:
donor cultivation