Effect of Immigration on US economy
August 30, 2016 - 5 minutes read
With a net legal immigration of 800,000 people each year the U.S has higher immigration numbers than any other country in the world. Numbers like this have huge potential to affect the economy of a country making it important to study the economic changes associated with immigration. Realising the need for a solid predictive model backed by hard data, the Penn Wharton Budget Model prepared a tool to better understand the effects of immigration.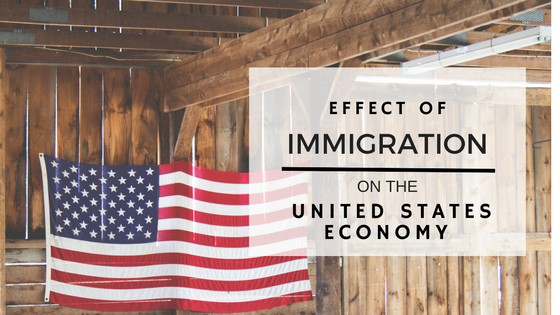 The Penn Wharton Budget Model's Immigration Policy Simulator allows users to see the results of three policy options and various combinations of these options. The policy options considered were:
Increase annual net legal immigration

Increase share of skilled/educated immigrants
Increase Deportations or Offer Legal Status to unauthorised immigrants
The effect of these options were studied and used to extrapolate future data models on population, employment, old-age dependency ratio and Gross Domestic Product.
Increase annual net legal immigration
Increasing net legal immigration from 800,000 to 1.2 million people a year results in an increase in population, employment and Gross Domestic Product over the years. A 50% increase in immigration over the next 35 years will result in an average GDP growth of 2% every year rather than the current 1.7%. It also shows a reduction in old-age-dependency ratio as the result of a young immigrant workforce which translates to increased financing for old-age federal programs.
Increase share of skilled/educated immigrants
Currently the percentage of educated legal immigrants stands at around 35%. If we were to increase the share of educated immigrants to 55% while keeping net immigrants flow constant the graph shows very small positive impact on the economy. The educated immigrant workforce entering US economy would still be at very low numbers to significantly affect economic growth.
Increase deportations or offer legal status to unauthorised immigrants
There are now more than 11 million unauthorised immigrants residing in the United States. Offering legal status to these immigrants shows us a downward impact on employment. Once immigrants get legal status they receive access to unemployment benefits from the government which results in more people leaving the workforce to find more suitable employment matching their skills. On the plus side, finding jobs suited to their skills will result in better productivity and higher wages which is clear from the GDP graph which remains mostly unaffected by the decreased employment.
"Increasing deportation by an additional 10 percent of unauthorised immigrants each year reduces the size of the U.S. population by 13 million people by 2050" states the study. This improves old-age dependency over the years since deported immigrants do not reach retirement age. But at the same time it reduces the number of jobs in the US economy by about 6 million and negatively affects long-term GDP.
Although statistics show immigration in a positive light for the overall welfare of the economy, certain scenarios exist with native-born Americans losing out to immigrants. American workers at the bottom of the labour market are in direct competition with immigrant workers who are heavily concentrated in less-skilled lower-paying jobs. With immigrants willing to work for lesser pay, employers tend to hire more immigrants over citizens.
US Elections
Immigration is playing a huge role in deciding the US presidential elections. This predictive model by Penn Wharton helps us understand the impact of immigration on the US economy over a longer period.
Donald Trump
,
Gary Johnson
,
Hillary Clinton
,
Immigration
,
Jill Stein
,
US Elections