A decade ago, it did not matter if you were not keen on social media. Now, you would be virtually invisible without keeping up appearances on at least a couple of platforms. The same rule of staying visible on the internet applies to political campaigns as well.
Just like an artist or a seller has to display their wares on the web for the right buyer to discover, a candidate would only draw in voters if they lay out all the cards on the e-table for the interested voters to see.
Besides social media, a political campaign website is a fine way to raise your candidate profile online. The website should be ready to address the interest of every type of voter who shows up. You can do that by including all the essential elements of a campaign website. We have put together a list of all the important elements to pay attention to when getting your campaign website ready.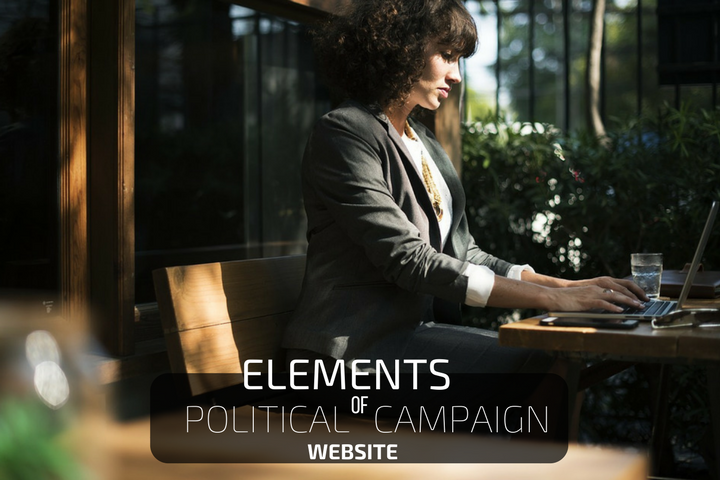 Introduce the candidate
There would be some voters who visit the website to know the candidate better. Maybe just know the candidate at all. So the website should do a good job of introducing the candidate to a new voter.
Include a bio to give a mix of both the candidate's professional and personal background. This information should show the voter that their past experience makes the candidate a perfect candidate. Besides that, you have to include the candidate's stance on all relevant issues and their policies.
An address that clicks
The campaign site address should be a memorable one. It should serve as a face of the campaign for anyone to approach when they find about the candidate from some other source. It means the site name has to click with their minds when they come across it.
A domain with the candidate's name should be easy for the voter to remember. It should also sound professional so research a fair bit before you make a decision.
Lay out route for voter's interest
The voters who visit the site come with different intentions in mind. The site should be easy to navigate and discover what they want.
Consider the possible interests of your voters who visit the site. Some come for the latest updates from the campaign, some to offer help and some to understand the candidate better. You have to lay out a route for every interested voter to find the page they are looking for.
Actionable buttons
The links to these interests should be easily visible. The site should not stall the visitor by providing unnecessary information. A popup asking for donations is just a hindrance in the path for someone looking to volunteer.
Display buttons that are easy to notice in the header or sidebar of landing pages.
Donation page
For donors who visit your site, there should be an option to donate online. Give them all available options to donate through your site. For the ones who are not familiar with these systems, give them information about other ways to contribute.
The donor who wishes to write in checks should find the right address to mail them to. Your website has to provide all the related information on the same page.
Volunteer recruitment
In a similar fashion, supporters who visit the site to find volunteering opportunities should be directed to a volunteer recruitment page. Mention all the available tasks volunteers perform and let them choose how they wish to help out.
A smooth onboarding process for volunteers is another benefit of a campaign website.
Updates from the trail
The site should also stay updated throughout the campaign. That is one way to keep your supporters engaged and keep them coming back.
So what do you update it with?
Post campaign statements or announcements made at a recent rally. Post pictures from events and scheduled dates for upcoming activities. Post reminders for voter registration and polling dates. Include RSVP options for events so voters can register using their email ID or social media handle.
Email update signup
This will help you to build your voter list and improve communication with specific voters. The email addresses you collect is a route to send specific messages depending on what the voter signed up for.
Use campaign email and social media dialog to engage them based on the issue that interests them. It is important, however, that the voter comes across the option to sign up and consents to receive further updates from the campaign.
Surveys and polls
It is also good to give the visitor something to do when they arrive on the site. They wish to connect so that they can voice themselves better.
Surveys and polls are fine ways to initiate a two-way interaction. Let visitors voice their concerns and leave comments when they desire.
Visual content
All the content on the website should be easy-to absorb. The voter does not wish to read blocks of text and open links to read up on new developments. Decisions that lead a voter to support a candidate spring from momentary inspiration. Create those moments by drawing in the voter at first glance.
Post visual content like gifs or short videos. Keeping the content visual gets the visitor hooked and asks for very little of their time.
These 10 happen to be the most important elements to build a great political campaign website. Now that you have been through the list, you are on your way to creating one for your next election that would be a pillar of your campaign communication strategy.