Fundraising Calls with CiviCRM
March 1, 2017 - 6 minutes read
CiviCRM is no doubt a feature packed and very affordable CRM. If you aren't convinced, read our piece on how to use Civi for your advocacy. Making fundraising calls through CiviCRM though has, up till now, been cumbersome. You have to print call lists. Assign them to volunteers. Get them to fill up the sheets on paper and pen and then MANUALLY enter the responses to the queries into CiviCRM. That sounds so painful, especially now, with CallHub's telephony extension, when there is no reason to do so anymore.
Here's a great tutorial on how to make calls to donors to raise funds AND see the call activity instantly in your CRM.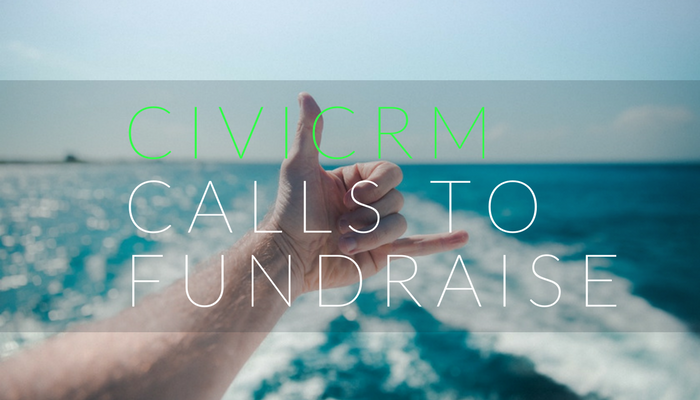 Create a CiviCRM Campaign
CiviCRM has a great component called CiviCampaigns. This component lets you link together events, mailings, activities like calling or texting, and contributions under one "umbrella" so that you can track the progress of all your efforts towards one programmatic goal or campaign. You can now measure and analyze the effectiveness of your outreach and mobilization efforts. If you haven't installed it yet, here's how:
The campaign you create can be specifically for telephony or for a broader list of activities. No matter what campaign type it is, you can import it into CallHub and sync activities with it.
Create a CiviCRM Event
If you are calling donors to invite them to fundraisers, the CiviEvent component is what you need. Enable it, if you haven't already, to create your events. You can import these events into CallHub and during a call with a donor, RSVP them to an event. These events can also be included as part of a CiviCampaign.
Create custom Activity types
CiviCampaigns comes with a long list of activity types. Several types of activities are included by default, but you can create additional types to define specific things that your organisation does. Create all the custom activities you need before setting up your campaigns in CallHub.
How to create custom activity fields
Set Call disposition field
You can choose to store the call disposition for each call in the activity notes. If this isn't convenient, you can also create a custom field where the disposition will be stored.
Connect CallHub with CiviCRM
Integrating CiviCRM and CallHub is pretty easy. On the integrations page in your CallHub account, click on "Connect to your CiviCRM site". There are 3 things you need to connect:
Site URL
Site Key
API Key
If you aren't familiar with the insides of CiviCRM, please ask the help of your tech support for this information otherwise refer to this documentation.
Import groups, Campaigns and Events
Now that the setup is complete, you can now import data from your Civi instance in to CallHub. CallHub displays all the contact groups, campaigns and events in your CRM. Select them to import. The groups will become phonebooks in CallHub. The events will be available when creating campaigns.
Create a campaign in CallHub
You should be good to go! Go ahead and create your campaigns as you do on CallHub. For a quick tutorial you can head to our help section. Call Center Demo. When creating your campaign, don't forget to set the activity type, choose the right campaign and the event you want to be RSVP'd for.
Create activity reports
As the calls and text messages are made, the activities are synced with your CRM. To analyse the campaign, you need to create activity reports based on the activity type and campaign. How to create CiviCRM reports.
Use the custom call disposition field, activity type and campaign name to filter activity for this campaign.
Activity Attributes
The activities synced from CallHub have the following attributes:
date and time: activities always happen at a certain point in time
duration: so you can collect all the time spent on a series of activities
status: is the activity scheduled, completed, cancelled, etc.
added by: the person who added this activity, or the contact if they carried out the activity themselves via the website
with contact(s): the contacts in your database that are the subject of the activity.
Notes: The notes include a link to audio recording, the actual notes taken by the volunteer and in case the custom disposition field isn't setup, the Call Disposition too.
---
There's a lot more you can do with this integration. We'd love it if you tried it out on your CiviCRM. Tell us if you have a specific requirement that would make this integration perfect.
CiviCRM
,
Integrations
,
Phone Banking