Fundraising in the Age of Mobile Tech: 3 Pro Tips to Succeed
December 17, 2019 - 12 minutes read
Fundraising campaigns are vital components for your nonprofit's success and sustainability. Using the best nonprofit fundraising strategies, you can promote your mission and campaigns to turn the donations you receive into successful projects that help you achieve your goals.
However, what constitutes the best strategies for fundraising will vary depending on how your constituents communicate. Communication with donors should take place on a platform and in a manner that they already use regularly. And in the age of mobile technology, just about everyone communicates using their smartphones.
With mobile technology, organizations can inform, inspire, and initiate action for larger audiences than ever before. This article will help you remodel your communication strategy to incorporate Technology, Engagement, and Communication.
Fundraising in the age of mobile technology may seem daunting, but it is highly effective if done properly! In this article, we'll elaborate on 3 pro tips to transform your nonprofit's communication strategy into a success.
Here are 3 tips to turn your communication into a mobile-savvy TEC strategy:
Effectively engage donors with digital marketing.
Focus on peer-to-peer fundraising.
Optimize your online presence to increase donor stewardship.
With these strategies, your nonprofit can capitalize on all that the age of mobile technology has to offer your fundraising. Let's dive in!
1. Effectively engage donors with digital marketing.
Cultivating strong relationships with donors is not easy to achieve nor easy to maintain, but incorporating strong digital marketing practices can certainly help. Effectively engaging with your donors and prospects has the power to revitalize your online fundraising, especially in the age of mobile technology.
With the ability to connect to a larger audience than ever before for a fraction of the cost, you can use mobile technology to implement some of the best practices that build meaningful relationships with donors:
Use storytelling to emotionally appeal to donors.
Personalize communication by understanding donor motivation.
Recognize your donors authentically and frequently.
Keeping these donor must-haves in mind, it's time to learn how to effectively incorporate them into your donor communication. But, which communication avenues are most popular for mobile technology?
Email Campaigns
A venerable way to enhance donor relationships in the age of mobile technology, email campaigns are an effective and central digital marketing avenue.
While effective email marketing requires strategic planning to yield the ideal fundraising results, it's well worth devising the strategy. In fact, nonprofits raise an average of $45 for every 1,000 fundraising emails sent, with smaller organizations (those with fewer than 100,000 subscribers) securing the most donation revenue for every email.
Email marketing campaigns can range from hyper-personalized messaging that acknowledges the donor's contribution to sending newsletters to all of your generous donors. For instance, you may send an email to an entire congregation that reminds them of the next local church fundraiser.
Be sure that all of your email campaigns are mobile responsive. Many people check their emails on their phones nowadays, so instead of forcing them back to their computers to read your messages, just meet them where they are: on their smartphones.
With emails, you can bolster your branding, relay your relevance, keep donors in-the-loop, build trust, and grow relationships with your supporters.
Social Media
Social media is not only a popular form of interaction amongst friends, but it can be an extremely influential aspect of digital marketing and developing donor relationships. Elevate your fundraising's TEC language by mastering the multitude of media methods that social media platforms offer:
Live-streaming your fundraising events. By live-streaming events, donors can continue to interact with your organization even if they cannot physically attend. This is a perfect opportunity for your nonprofit to promote all the donation tools you offer, by providing quick links for live-stream viewers to access them.
Bolstering your brand identity. Social media grants your organization the ability to engage directly with your community of supporters online, so be sure to take advantage of this. Develop a brand identity that is instantly recognizable to donors and be consistent with its use. Everything you post should include your brand to instill recognition in donors, keeping your organization in their thoughts and building support.
Growing your online audience. There are many social media platforms available—Facebook, Instagram, Twitter, Snapchat, and more—that can augment your mobile tech fundraising strategy. However, each platform offers distinct advantages, so be sure to focus your efforts on one platform that best aligns with your fundraising needs.
Above all, keep your social media presence continuous and relevant, updating your audience on the latest events, changes, successes, and needs. Social media is a powerful way to bring your community together and can be used to energize your donor base to help you fundraise with peer-to-peer fundraising. Plus, it's already mobile-optimized.
2. Focus on peer-to-peer fundraising.
Peer-to-peer fundraising is an optimal fundraising technique for organizations looking to make the most of the age of mobile technology. Peer-to-peer fundraising has the capacity to thoroughly increase your donor network through a targeted effort to increase donor engagement.
By enabling donors to fundraise on your nonprofit's behalf, you not only expand your donor network and effectively increase donations received, but you establish camaraderie between your organization and your donors. Donors can work with you and see the immediate impact of their efforts.
To take full advantage of the benefits of peer-to-peer fundraising's mobile capabilities, pay close attention to these strategies:
Prioritize your donor's giving experience. Mobile-optimize your peer-to-peer and donation page to optimize conversion rates. Doing so allows donors, regardless of device type, to take part in your fundraiser.
Promote social media sharing. Supporters can extend your audience, vouch for your credibility, and augment the relevancy of your appeal to potential donors, all by sharing it on social media. Make sure your peer-to-peer platform has a social media integration, so mobile users can quickly and easily share their support after giving.
Create the perfect platform. No two peer-to-peer fundraising platforms are identical, nor should they be. Each platform should highlight the organization's story and allow the fundraising participants to personalize the page prior to sharing it. Ensure this information is viewable on desktop and mobile devices; for more on creating the perfect peer-to-peer fundraising page, click here.
Peer-to-peer fundraising donations comprise about 33% of online donations made each year, so be sure to implement peer-to-peer fundraising best practices to maximize your mobile tech fundraising efforts.
By encouraging your supporters to collaborate with your peer-to-peer fundraising strategy, you create more online engagement, lasting donor relationships, and stewardship opportunities.
3. Optimize your online presence to increase donor stewardship.
Properly stewarding your organization's relationships is a crucial element of constructing a strong, sustainable support base.
Providing a smooth online experience adds to your donor stewardship by enhancing the donor experience on mobile.
You can do that by:
Customizing the perfect donation form
Donation forms go hand-in-hand with online fundraising and are necessary components to a successful fundraiser. Without donation forms, how would donors contribute to your cause?
With customizable donation forms, your organization can:
Add fields to collect donor information.
Set suggested donation amounts.
Accept recurring donations.
Once you create your donation form, tools like Donately let you embed the form into your website to create a reliable pathway for donors to follow. By simplifying this you make it more attractive to mobile users who may be working within a time-crunch.
Offering mobile giving
This includes text-to-give, through which your organization sets up a text-to-give number and keyword and allows donors to give with the ease of sending a single text message. However, mobile giving covers much more.
Did you know that text messages have an incredibly high open rate (close to 98%)? This means that if you text out a link to your mobile-optimized giving form, much of your intended audience is likely to actually see the message and, hopefully, respond with a donation.
Optimize all of your organization's donation services to be mobile-friendly, and widely share the link to them through text messaging and social media platforms.
Mobile giving allows donors to contribute from wherever they are, whenever they're inspired to, with the same speed, ease, and security as promised on your desktop versions.
---
As technology and its capabilities continue to advance, your nonprofit's fundraising strategy will need to adjust to relevantly communicate with your donors. Now that you know the 3 pro tips to fundraising in the age of mobile technology, your nonprofit is well on its way to being fluent in TEC talk!
---
Author: Andrew Berry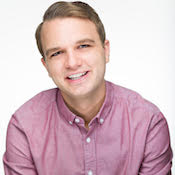 Andrew is the head of marketing and customer success for Donately. After getting involved with nonprofits at a young age, he discovered a passion for helping the organizations that are making the world a better place. Knowing how vital online fundraising has become, his goal is to help nonprofits raise more money online each year! In his spare time, you will find him cooking up dinner, playing with his dog or cheering on Boston sports teams.
Tags:
Fundraising
,
nonprofit strategy