Enhance Your Nonprofit By Merging Digital And Ground Activity
July 18, 2017 - 8 minutes read
Nonprofits today are fast changing course toward smarter campaigns. They use digital tools to manage their activities, social media to court donors and grassroots methods to deploy volunteers. No wonder the reach of modern nonprofits has increased multifold in the past few years.
Your nonprofit, too, must have specific digital operations within your sector. Activity on the ground, however, is the lifeline of nonprofit communication. No amount of marketing would win over support without actual volunteer activity that the public can witness.
Do you have a process to merge your digital and ground work for your campaigns? How do you ensure that both departments benefit from each other and create a smooth workflow for your campaign workers?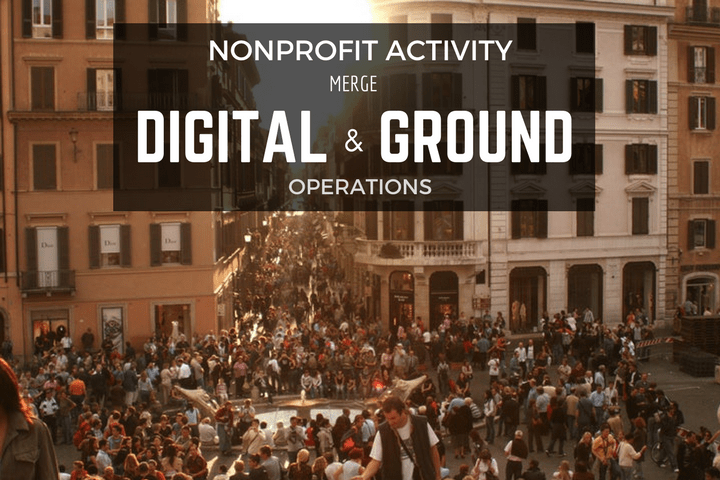 Here we shed light on the steps you should follow so that your digital and grassroots operations come together to create a solid campaign.
Take control of contact lists
Do you maintain a digital database of your contacts? How simple are your contact lists to access for your workers?
Gone are the days of files for managing contacts and stacks of papers being passed on from desk to desk. Digital contact lists are easier to maintain. They can be shared between departments, quick to filter through and collaborate on. Take care that your contact lists are clean so that your ground force can take advantage of them in their communication.
It would inform your volunteers about the people they approach and how past interactions with them went. Conversely, the volunteer can update the contact list after a new interaction. That way, the digital communication with that person can be improved based on their interest. The database also grows through the work of both departments.
Make a smooth onboarding process
A modern nonprofit needs to have a strong online presence. This not only asserts their credibility but also boosts visibility. With online signups through your website and communities on social media, you can recognize people who are interested in participating in your work.
Use digital and direct communication to bring new supporters in. Digital will help you broaden your outreach and make initial contact with like-minded people. From there you can use a face to face approach to build on that relationship. Keep communication up with the use of regular email and invites. This process of step by step interactions through both digital and direct contact can turn interested people into strong supporters.
Maintain a relationship
Digital communication is useful because you can keep track of all the people your organization has been involved with. It may be someone who showed up at an event or someone who endorsed a past campaign on Facebook. The trick is to not lose touch with any of your supporters.
Once in a while, a one on one conversation would update the supporter on your current work. Inform them of new developments and future ventures by staying in touch online. A face to face engagement should be a regular process for both donors and followers.
Follow each other's work
When a ground worker initiates a successful conversation with a supporter, the digital engagement process with that person should be subsequently started. Now, that doesn't mean the work of the ground staffer is over. Encourage your ground team to keep track of contact with the people they connected with personally. This lets the ground workers understand how the digital team works.
Alternatively, the work of the ground volunteer improves digital communication and each interaction builds on the profile of the person contacted. So the digital worker understands how the ground staff approach individuals backed by their data.
Switch activity for interested staff
Some ground volunteers would be aware of the work of the digital staff, to begin with. After all, people with a background in digital work would want to switch and volunteer for ground activity outside of their job. Get such workers with spread-out knowledge to participate in both sides of the campaign.
In the same vein, you should get your digital staff to get into ground activity once in a while. Ground volunteers often are motivated by the positive interactions they have. Getting your digital team out to meet supporters would keep them motivated as well.
Establish communication between teams
While the work of both departments is varied, the core of both is communication. So there should be a channel of regular communication between the departments.
Establish a manager to update the workers of the progress made by the other team. This bridge is vital because it empowers each team with the information gained by the other. This will accelerate growth made by the teams in the course of a campaign. The flow of information has to be smooth for the organization to function at its full potential.
Create occasions of direct contact
In a way, your digital staff and ground force are two sides of the same coin. So it is necessary for both to interact so they unite beyond just a common mindset. Since their work are based on different spectrum, you have to create occasions for all your workers to come together. This is not something that happens on its own.
Celebrate achievements and organize events for staff to meet and bond. This also creates a culture within the organization. Over time a sense of inner culture will attract supporters and form a healthy work environment.
While these are, in no way, necessary for a nonprofit to function, these steps ensure that the departments work in harmony. An organization which has its inner workflow figured out would be able to focus their efforts in one direction. So take an extra step to utilize this information and unify the work of your digital and ground workers. Going forward, it is going to elevate the progress made by both teams.
Tags:
activism
,
campaign strategy
,
contact list
,
digital campaign
,
donor stewardship
,
grassroots
,
management
,
nonprofit campaign
,
nonprofit strategy