4 Essential Best Practices for Nonprofit Email Marketing
September 28, 2018 - 12 minutes read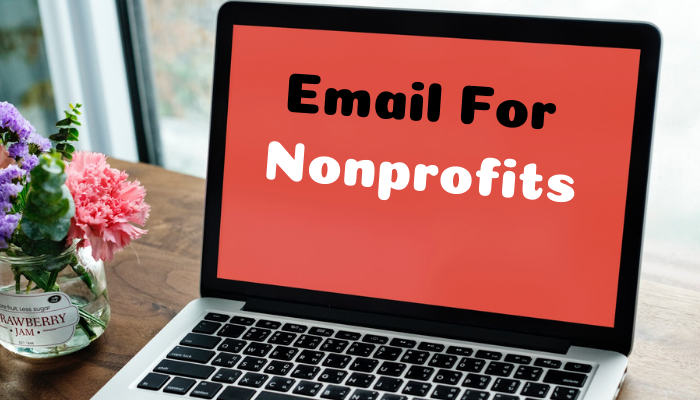 Email Marketing for nonprofit campaigns is an effective way of achieving important tasks in relatively simple ways. Nonprofits can use email to establish the first touchpoint with new contacts and build relationships with them, eventually helping in their conversion to supporters through regular contact.
Email has tons of use cases for nonprofits that include:
Sending invites to events and rallies
Making donation appeals
Thanking supporters, donors, and volunteers
Sending newsletters and updates
Gathering feedback through surveys
With a whopping 44% of US citizens checking their email at least once a day, it is clear that nonprofits can make use of this form of communication for their various needs. But while sending emails is easy, getting something useful from them and not being treated as spam is something every nonprofit must learn to benefit from. In this article, let's look at the 4 essential best practices for nonprofit email marketing campaigns.
Lay out your objectives beforehand, segment-wise
Your email campaign will only be successful when you set measurable objectives beforehand. Make sure to first segment your contact list into event attendees, volunteers, donors, and sign-up form contacts. With this list, you should then set different aims based on who you're targeting.
For one-time donors, your objective would be to get them to donate again
For loyal donors and supporters, you'd want to maintain your relationship with them
For volunteers, you'd want them to remain motivated and committed to your cause
As you can see, your objectives as a nonprofit would be different according to whom you're emailing. By planning your outreach by segment, you always maintain relevance. It is important to remember that whatever type of email you send out, the end goal is always to establish or maintain a relationship with your contacts. And that brings me to my next point.
Tailor content according to your audience
Sending a default email to everyone on your list won't do much good since the context of one supporters relationship with you is not the same as another's. If a recent donor gets an email asking if they would like to donate again, they're likely be put off because it would be clear your nonprofit isn't checking which emails are going to whom.
Every email you send should present some value to your reader, no matter which part of the engagement funnel they lie on. Examples of the emails tailored for different audiences would be:
For Volunteers, send emails:
– Detailing the work they did and the impact they collectively achieved
– Which include schedules for rallies and events                                                                                                                                                                                                
For Donors:
–

Large donors

: an email of gratitude along with special offers such as free tickets to concerts or your black-tie events
–

Recurring donors

: an email of thanks along with detailed statistics explaining how their donations helped your campaign reach its goals
–

Lapsed donors

: emails politely thanking them for their past help, and showing work your nonprofit did in the interim while including actionable links to make donations as simple as possible                                                                             
For sign-up form contacts:
– Send them a welcome email with a free downloadable such as an infographic or an ebook, or a link to your blog and other resources                                                                                                                                                                                                
For supporters:
– Updates about your nonprofit and milestones reached
– Invitations to fundraisers, galas, and black-tie events
– Newsletters
Make sure to personalize each email with your recipient's name to create a sense of authenticity while nurturing the connection with your audience.
Make your emails reflective of your nonprofit
Since your emails have the capacity of inducing an emotional response in your readers and convey subtle hints about your nonprofit's principles and values, give their format and layout due importance.
Just like your other forms of communication, emails need to reflect your nonprofit as a brand. So make sure to maintain consistency in voice and tone throughout to create a sense of familiarity, where contacts have an idea of what to expect.
Keep your email templates consistent with a design that immediately reflects your brand. Users should be able to simply click on the email and figure out it's from your nonprofit without even seeing who it's from. Definitely include your nonprofit logo and the colors most commonly associated with your nonprofit as well.
People on the internet skim through content, and with an average time of 11 seconds spent on an email, you need to ensure people don't just open your message and then return to their inbox immediately because its clear lack of appeal.
Structure all your emails with easy to digest content, with short paragraphs whose content can be understood with a quick glance.
Make use of relevant headlines and subject lines aligning with your nonprofit's voice. Keep them relevant and if possible catchy
Try including visuals such as images and graphics in newsletters and emails detailing your work to evoke an emotional response
Include a visible CTA in your email- could be a donation button or a link to your blog post. In case of links make sure you're clearly indicating where you're sending people who click on them.
Be aware of the KPI's you should measure
Key Performance Indicators (KPI's) are essential to ensure that you're on track and are meeting your goals and is another best practice for your nonprofit email marketing campaign. For instance, your goal may be to drive 100 visits to your nonprofit blog from your emails or to get at least 20 supporters to donate to your cause. But without tracking KPI's, you won't know if you're actually meeting your aims or if you need to vary your approach to see results. The greatest advantage of measuring KPI's is that you see clearly what works and what doesn't for your nonprofit.
So what metrics would you typically need to look out for?
Open Rate:

This metric shows how many people have opened your emails, and is the foremost indicator of how well your emails are doing. If people aren't opening your emails, you're definitely doing something wrong. Maybe your subject line needs tweaking, or perhaps you're sending too many emails frequently causing people to get annoyed. Use A/B testing to figure out what's wrong and fix it.

Click Through Rate:

This metric measures how many people actually clicked on a link or a CTA within the email and is the next indicator of gauging email quality. If people are opening your emails but not clicking through, your content may not be compelling enough for viewers to follow through with a click. Try including engaging and visually aesthetic content with clear and visible links so people feel motivated to click.

Conversion Rate

: Conversions are the ultimate end goal of any nonprofit. This KPI shows how many people have clicked on a link or CTA and have completed the desired action such as registering for an event, making a donation, or signing up as volunteers. If many people aren't converting, maybe you're asking too much, or your emails aren't being tailored specifically enough which is why your ask seems irrelevant to users.

Unsubscribe Rate:

This KPI shows how many users have opted out of receiving your emails. While unsubscribers are part and parcel of any email marketing campaign, the average rate for nonprofits is 0.33%. If your rate is much higher than that then it's an indication that you aren't offering much value to your recipients or your content isn't engaging enough. Use A/B testing with varied content to see what works best for your nonprofit. You should also use a survey form to understand why people have chosen to opt out.
Related reading: Email marketing benchmarks from Campaign Monitor
Two additional Nonprofit email best practices:
Whenever your nonprofit sends emails or creates a framework for your email campaign, always put yourself in the shoes of your audience. Ask yourself 'What sort of content would benefit me as a supporter?' This would ground you in your approach and remind you to send emails with genuine value-adds while preventing you from appearing too market-y or sales-y.
Test out different times and days of sending emails which generate maximum engagement, using tools like MailChimp. Different timetables work for different nonprofits, so you'd definitely want to test and see what works in your favor. No point in sending out those beautifully crafted emails if your timing is wrong and people aren't engaging with them, right? 
Emails can really help your nonprofit build a loyal supporter base and forge relationships with the people that matter most to you. So make sure you follow these four essential best practices for nonprofit email marketing and succeed in your campaign.
Tags:
Email marketing
,
nonprofit campaign
,
nonprofit strategy