Taking your Grassroots movement online
November 10, 2017 - 6 minutes read
Grassroots organizing puts the individual behind the wheels of the campaign. It predates any form of digital campaigning method or online tools used in campaigns today. However, grassroots is found to be successful more than ever in getting the public to take action.
From Presidential campaigns to social advocacy issues, organizers are turning to a grassroots approach to connect with the audience and get them to take action. For a grassroots movement to reach its full potential, you have to combine the power of online tools with your campaign steps.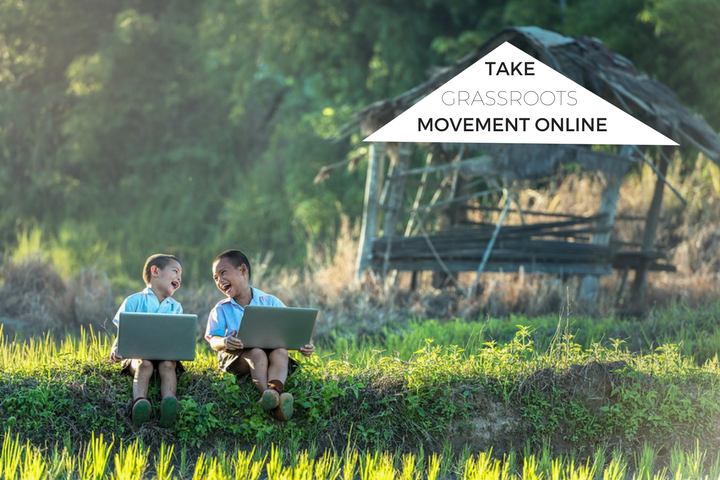 Online opportunities for participants
When an individual seeks information about something, they look for answers on the web. So the curious user has to find the information they seek when they search for it online. Their journey from interest to discovery should be seamless, leading them to opportunities where they can participate.
For this, your grassroots movement has to keep up a website and social media pages. Use these channels to extend information on all the available roles and responsibilities in your campaign. This way the person would come across the role they would be interested in filling.
Maybe they are a supporter who just wishes to keep track of the campaign's progress. Maybe they are willing to help out in some way but cannot spare the time to be physically present. They should discover the other opportunities available – being a donor or signing up to contact their congressman regularly on the issue.
A platform to voice themselves
People who join a grassroots movement are fuelled by their will to step up and do something for the cause. These people all have their personal reasons driving them. They go looking for others who face similar problems and want to share their common experiences to take a stand. Your online presence should give these people an easy way to voice themselves. It could be a forum or a website community or even a Facebook group. This is a way to let your supporters immediately connect and feel tied to the community. While all other campaigns address the problems faced by the individual, giving these people a platform to share their side of the story creates a hook for them. You are bound to get dedicated supporters this way.
A way to contribute
A person who tracks the grassroots movement online is likely to donate when their interest is peaking. Giving these options online will help you take your fundraising to the next level. Set up multiple channels for donors to contribute – on the website, through email forms or on a fundraising platform. This is a convenient way for the uninitiated supporter to enter the community. Once they have made a donation, they would feel more invested in the cause and you could get them to participate in other grassroots activities.
Keep every member updated
Grassroots organizing has really taken off with the advent of online tools. Whether it be scheduling or tracking actions or communicating with members on the ground, taking these grassroots efforts online will help you manage your campaign better. With a centralized messaging system, you can update your team on any new developments as they occur. You can organize activities, send direct messages and delegate tasks through an online channel or cloud service.
Empower the local activist
Providing web-based resources to coordinate your grassroots movements along with volunteer focused tools like peer to peer texting to carry it out empowers the individual activist on the ground. For a national or large-scale effort, this is really useful as it allows you to run a distributed campaign. A local grassroots organizer should have access to all tools and data to run their own local campaign, from training volunteers to monitoring the progress using past campaign records for reference. An online grassroots movement can take off as a fully distributed campaign with independent local bodies co-ordinating with one another toward a common goal.
Try CallHub for free.
Transparency and easy access to information
For an individual who may participate in the campaign, the information should be available right when they show interest. For this, you have to put up FAQs and other details where they would be easily accessible. The website and social media pages should be updated with any new information and contain links to other resources to guide them in their discovery. Without the right online channels, it would be hard to get a new supporter on the same page about your grassroots movement.
So these are the necessary applications of maintaining an online presence for a grassroots campaign. Grassroots is all about empowering the individual and putting the moment online does exactly that.
activism
,
campaign
,
grassroots
,
Social Media