So you've decided that peer to peer fundraising is the way to go for your next campaign. Great choice!
Peer to peer fundraising donations make up around 1/3rd of the total online donations every year, and you need to make sure you are making the most of it.
If you aren't, this article will show you some best practices you can start using to make your next peer to peer fundraising campaign a success.
Stay engaged with your fundraisers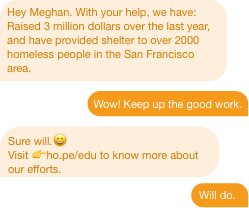 Your volunteers will appreciate getting updates and information regularly throughout the campaign.
Plan out your participant communications in advance, including your update frequency and communication channels. Text messaging is a great way to keep volunteers updated since:
Text messages have a higher open rate than emails, increasing the chance that your participants don't miss out on your updates.

It's a more informal mode of communication, letting participants better connect with your cause.

Allows you to connect with your participants on the go through their phones.
Encourage sharing on social media
Social media fundraising is a great way to raise money for your cause. Make sure your fundraisers are sharing your posts on social media or creating their own to share with friends and family.
Get the ball rolling by posting highly shareable social media updates, and asking your participants to spread it among their circle. Adding an opt-in keyword and shortcode to your post is a great way to get sign-ups to your contact list.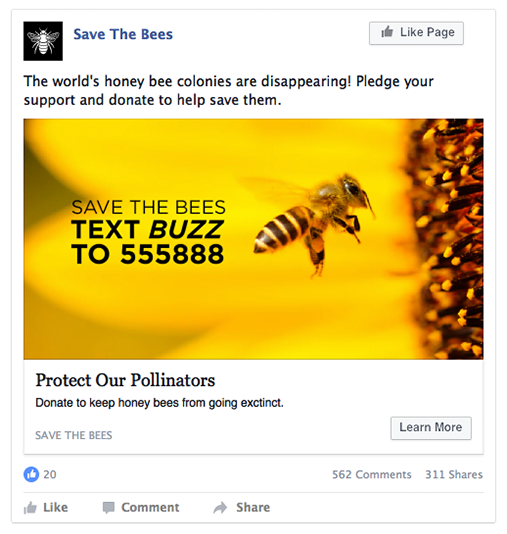 Social media is great because:
People tend to trust a cause more if they learn about it from friends and family on social media.

You can share compelling imagery or videos that'll make people want to fundraise for your cause.

You can allow participants to register for your campaign using their social media credentials, make the process faster.
Related Read: 52 Proven Nonprofit Fundraising Ideas
Motivate via incentives and thank you's
Your participants already believe in your cause and are willing to contribute towards it. But hey, a little extra motivation never hurts! More importantly, it helps your fundraisers set goals and work towards them. Incentives can provide participants that extra motivation by giving them a goal to work towards and are a worthy addition to your peer to peer fundraising campaigns.
Some examples would be nonprofit merchandise, like t-shirts, gift cards, gift bags etc. It can also be benefits like access to an exclusive club and so on.
In addition to motivating your participants, incentives will:
Allow you to set monetary milestones in order to unlock incentives, and have your milestones be a constant reminder for fundraisers.

Allow you to expand your fundraisers outside of those who are directly affected by your cause.
With the right incentives for your campaigns the benefits will outweigh the costs of setting them up.
After your events, be sure to thank your fundraisers for their hard work. By publicly thanking them on your website or in a newsletter, you can motivate them and give other participants something to aspire to.
Consider joining Third party events
Your organization can become a partner with existing events organized by a third party. This lets your participants join in this third-party event on behalf of your cause. An example of this is the Bank of America Chicago Marathon, where thousands of runners choose to run on behalf of a charity. Third party events are great for:
Low overhead costs, bypassing the need to organize your own event.

Boosting the brand of your organization, especially if it's a popular event.

Bringing in corporate sponsors, who may be more interested in larger events.
Third party events are certainly an option if you are a smaller nonprofit, looking for more exposure.
If you're thinking of hosting your own runs or walkathons, OneCause covers some of the common questions in their article on peer to peer fundraising.
Be mobile responsive
With 58% of site visits in 2018 being from mobile devices, most of your donors will be accessing your website through mobile
Have you made it easy for these people to donate directly via donation forms? Don't make them wait to get to a computer to donate! Ensure that your peer-to-peer fundraising software produces donation pages that are as easy to navigate and responsive.
A streamlined mobile donation page will increase the number of completed donations.

Adding suggested donation amount will allow mobile donors to get through the process faster
Prioritizing your mobile giving experience to be the best it can be is essential if you want to boost your peer to peer fundraising campaigns.
The success of your nonprofit fundraising campaigns depends on how well you communicate with your participants and keep them motivated to fundraise for your cause. Just as important is how well you utilize tools like social media and simplify the donation process. Keeping the above best practices in mind will greatly benefit your next campaign.