PEER TO PEER TEXTING GUIDES
Using the NationBuilder Integration with Peer to Peer Texting
The campaigner's arsenal is a mix of multiple tools. And for your campaign to function smoothly, each of those tools must work in cohesion with each other.
NationBuilder is a campaign management system that comes fitted with a range of digital tools to help campaigns with website design, fundraising, volunteer organizing, and social media.
Peer to Peer Texting is a one-to-one text messaging software that enables personalized text messaging at scale.
NationBuilder and Peer to Peer Texting work together to enable campaigns to seamlessly engage supporters, voters, donors, and contacts through personalized text messages. Details of every text message conversation is logged on survey forms, event RSVPs are updated, and tags are assigned to contacts. All data from Peer to Peer Texting conversations are instantly updated to NationBuilder
How does Peer to Peer Texting work?
The campaign manager uses the integration to import NationBuilder contacts into CallHub. Volunteers are then added or recruited to CallHub and then assigned batches of people to reach out to. Volunteers engage their assigned contacts individually using text message conversations.
Surveys, Events, and Tags
A quick run through of using Surveys, Events, and Tags with the NationBuilder integration.
Surveys give you insight into the mind of the public. They offer a great way to ascertain public sentiment on a range of issues plus more specific information like whether a person has registered to vote, or if they are going to sign a petition.
Once you've integrated CallHub with NationBuilder all your NationBuilder surveys are available to be used in Peer to Peer Texting campaigns.
Add one or multiple surveys when you are creating your Peer to Peer Texting campaign. You text banking agents can view these survey questions on their screen when they are texting contacts.
Based on each conversation, the text banker then fills up each survey question. As soon as that's the done, the NationBuilder integration ensures that the data from the survey is updated to NationBuilder.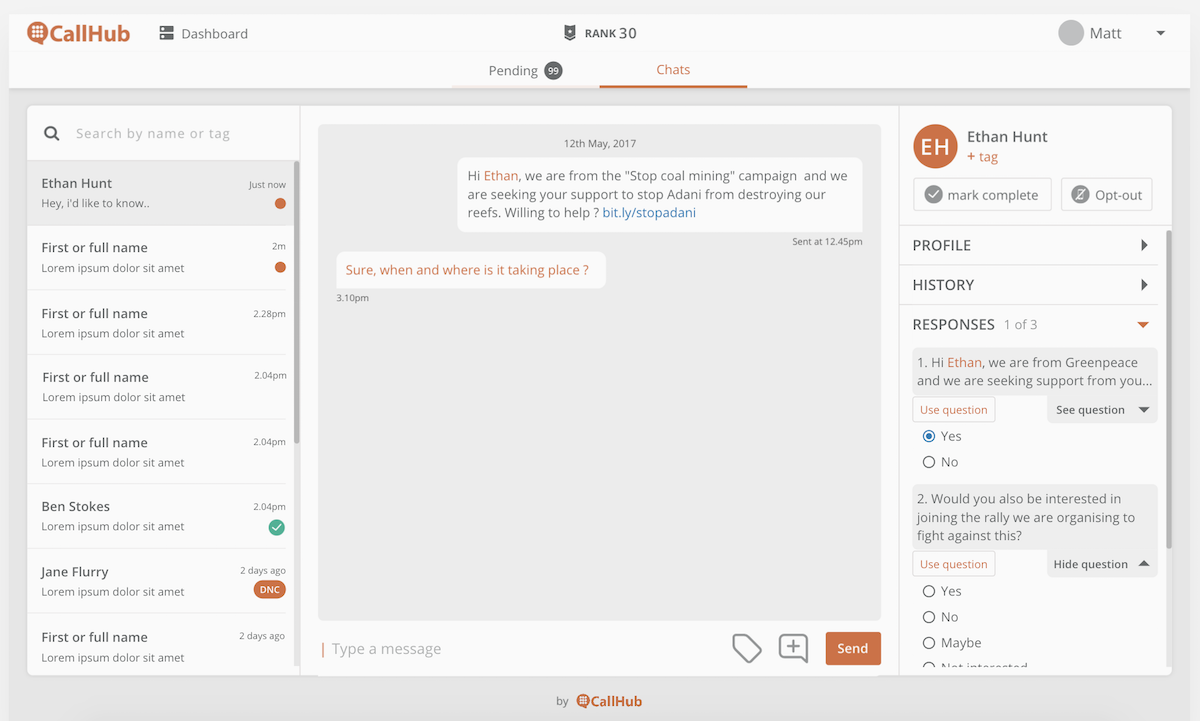 You have an event coming up in a few days. You create an event in NationBuilder and prepare a list of people to be contacted for your event.
The next step is to reach out to the people on your list, invite them to the event, and collect event RSVPs.
Peer to Peer Texting imports your created event so that text bankers can collect RSVPs as soon as a contact responds positively. The text banker simply marks a contact as 'Yes', 'No', or 'Undecided' and the information is immediately sent to your NationBuilder account.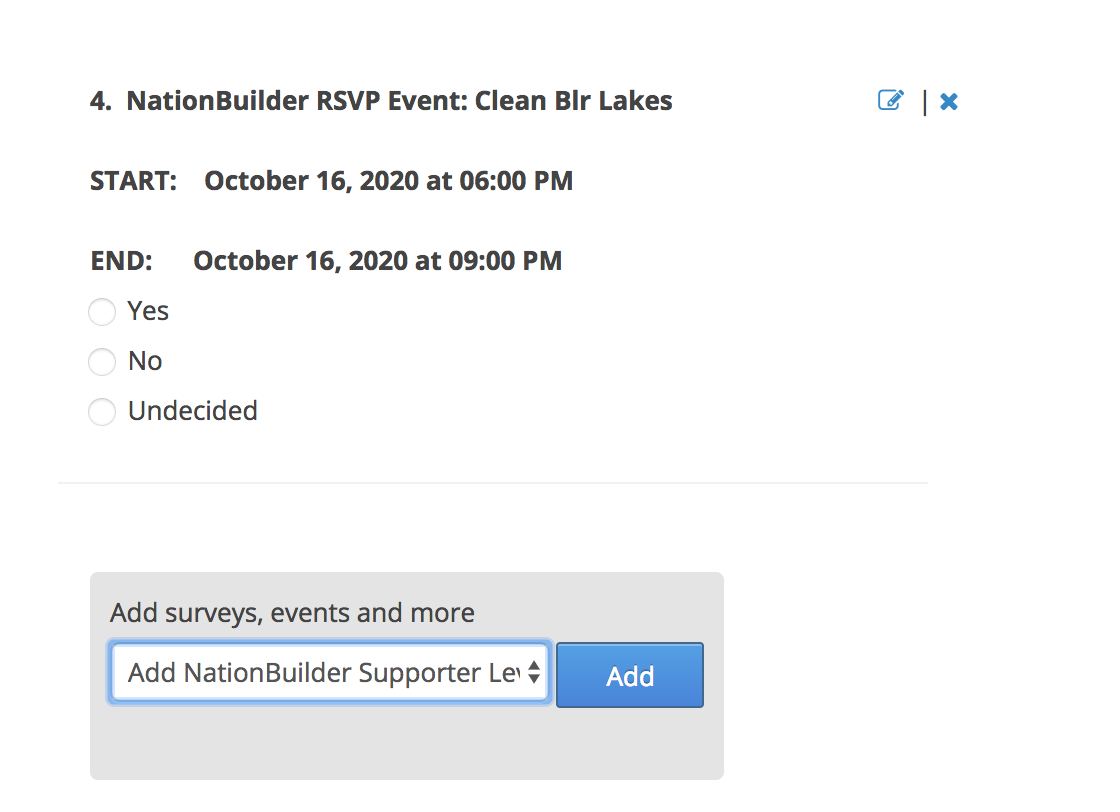 John has the tags 'donor','volunteer', and 'attended rally' attached to his contact profile in NationBuilder. We can now make a pretty good prediction that John would be interested in receiving messages about volunteer opportunities, event invites, plus the occasional donation request.
Every tag that you have for your contacts, import them into CallHub for your text bankers to use in Peer to Peer Texting campaigns. If imported tags don't meet the requirements for your campaign, just create new tags within CallHub and see them reflected immediately in NationBuilder.
Your text bankers can view NationBuilder tags in the agent console and tag contacts during conversations.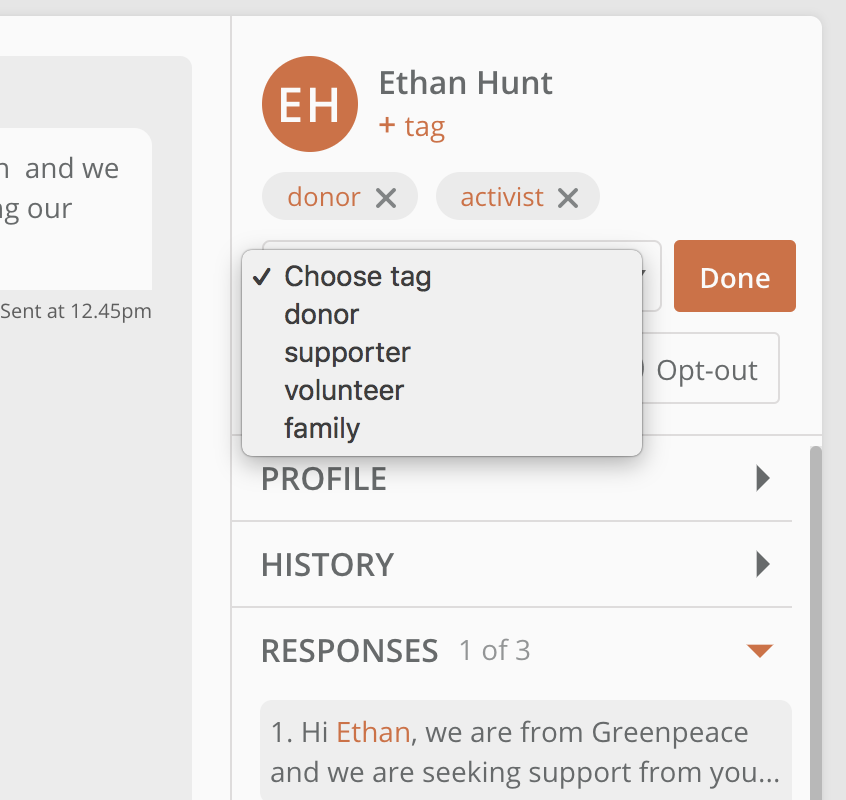 Important points to keep in mind to help you make the most out of Peer to Peer Texting
Not every conversation is going to go your way. If an agent feels like they can have a better conversation over a phone call, let them pick up the phone and dial the contact. The text banker can view contact data on their Peer to Peer Texting screen. And since agents are manually dialing the number, you'll remain compliant with TCPA guidelines to do so.
For those contacts who you mark as undecided, group them into a separate contact list in the results section and follow-up with them via a Collective Calling campaign. Since the first point of contact has been established over your Peer to Peer Texting campaign, contacts will be more open to hearing from you again over a phone call. Collective Calling lets you call cell phones while maintaining TCPA compliance.
Reduce work for your contacts
Campaigns usually send out call to actions with a link to a survey form. Although surveys are a great way to assess voter sentiment, most people won't go to the trouble of filling up one. Instead, import your surveys into CallHub, and let your volunteers fill up the survey during Peer to Peer Texting campaigns. Volunteers can use the questions during a friendly back and forth conversation and capture the details then and there.