NGP VANs VoteBuilder is a fantastic tool for organizing Get out the Vote campaigns. PhoneBanking with VoteBuilder is really easy if you have a small audience to reach. Using VANs VPB is a quick and simple way to have your volunteers manually dial voters and campaign for them. It's definitely better than printing lists of voters to contact and sharing them with volunteers. The time wasted in manually writing down notes and answering surveys, to then having to manually feed this into VoteBuilder is a waste of time.
Using a VPB means people can log in from the convenience of their own home, access up-to-date data on who needs calling, be guided through the questions to ask and record the data directly into our records, all ready for subsequent use.
That not only makes the calls more effective and recording their outcome both quicker and more accurate, it also makes it much easier to build up a larger team of volunteers who chip in with making as few or as many calls as they can.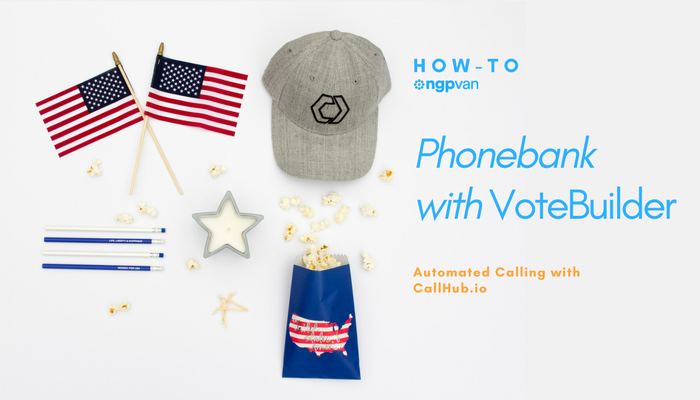 Larger campaigns
What if your campaign is much larger and you have over 10000 voters to reach out to in a week? A manual dialer like VPB, where your volunteers physically dial each voter number on their phones, will slow you down. That's where an automated virtual phonebanking system becomes necessary. You can reach out to 2x the number of voters in the same time! Depending on the speed you need, you could use a predictive dialer ( fastest ) or a power dialer ( medium pace ) to call.
An automated calling tool automates all the slower moving parts of your calling campaign. For eg:
Assigning voters to volunteers
Manually dialing a number
Waiting for a voter to answer
Manually entering the status of the call
Mistakes made when manually copying a number from VPB
Volunteers being resistant to using their personal devices to make calls
Not having a streamlined approach to receiving incoming calls from voters
How to use it with VoteBuilder
CallHub PhoneBanking tool integrates with VoteBuilder, making it easy for you to plan campaigns. All of the calling activity syncs with VoteBuilder, maintaining a single source of voter and contact activity.
Mark out your calling list
Figure out which voters you want to call using an automated VPB tool. Create a new list in VoteBuilder and then export it to CSV ( comma separated value ). Make sure you include the voters' primary contact information on the list. You choose to import any additional information, eg: Address, Email ID, Notes, Polling information and more. You can also decide which of this will be visible to your volunteers while making calls.
Integrate with CallHub
To allow your calling activity to sync with VoteBuilder, you will need to integrate the two systems. You will need your VAN API key. Add this key into CallHub and you will now connect the two systems. Import your voter list into CallHub. You can also import any surveys and activist codes to be answered during calling campaigns.
Guide to integrate with VoteBuilder
Create your campaign
To create an automated VPB campaign in CallHub, you will need a script, a calling schedule, the Caller ID, and a recorded voice message to be left on the answering machine. Depending on the speed you require and the number of calling volunteers available, choose the right dialer, predictive or power. For a large GOTV campaign, with over 10 volunteers, a predictive dialer is perfect.
Watch: How to create a Phonebanking campaign
Invite volunteers to the campaign
Create accounts for each of the volunteers who will be calling. You will need their email ID. Once an account is created, the volunteer will receive their own username and password to their account on CallHub. You can also group volunteers into teams and assign this team to the campaign you created. Once you create the agent accounts, assign them to the campaign you just created. When they log in, they'll be able to see the campaign you added them to.
How to create agents and assign them
Track your campaign
When your campaign starts running, your volunteers will be making calls either through their laptops or their phones. They will have access to the script you created, and any other information that will help them during the calls. You as the manager can monitor the progress of your campaign through an in-depth dashboard. Use the analytics leaderboard to encourage volunteers to continue making calls.
Why CallHub
You need a calling tool that is easy to use despite the age of your volunteer. A tool that is extremely cost effective and who's pricing scales with your campaign. You only pay for the calls you make, saving your money during leaner periods.
Calling voters and talking for 5000 min only costs you 210 USD.
We're reliable, effective, and are always there for you.
Create a free account and try it out today!
Reach out through texting too!
Have you thought of communicating with your voters through text? With so many people ditching landlines for personal cell phones, it would be crazy not to communicate with them through text. CallHub's peer to peer texting service lets you use the SAME phone banking volunteers on a collective texting campaign. Peer to peer texting is just like calling but your volunteers are responsible for hitting send to the voters assigned to them. This makes sure your not breaking any laws by texting voters and every single texting conversation is personalized and friendly. Text 1000's of voters in under 2 hours! With 1.5x times higher response rates to a phone call, you'll be on your way to a winning campaign.
PS: It's pay as you go, Just 3.4 cents per text!