Protecting Customer Data and Preventing Breaches in Call Center Software
October 13, 2016 - 3 minutes read
In todays highly competitive landscape, whether you're trying to win a political campaign or increase sales, protecting your information hasn't been more important. At CallHub, we understand your need to keep your data secure, private and at times even hidden from your agents or volunteers.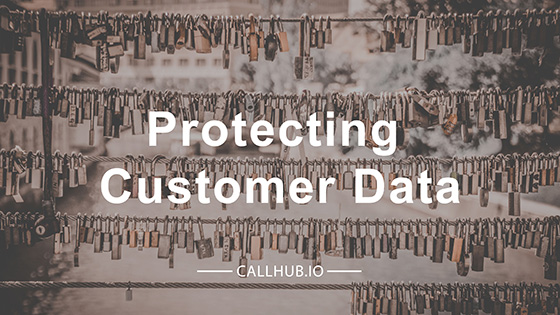 With large political phone banking campaigns volunteer recruitment is critical. You could have restrictions in terms of space in your office or you could struggle with recruiting volunteers in your city. CallHub lets you recruit volunteers across the country or even world and they can make calls for you from their home. Volunteer management on CallHub is easy to set up too.
Unfortunately, this comes at the cost of losing control and possibly security. Managing a large number of volunteers gets harder when their distributed geographically. This makes verifying a volunteer difficult. We've understood this problem and to help you protect voter information, we've added privacy settings.
Privacy Settings
Control what contact information is made available to agents or volunteers when they make calls. Contact profile information like "Name", "Mobile", "Last Name", "City" or "Address" can be selected to be visible to agents when they're making calls. Every other field will be hidden. These fields will also be hidden for the Household Members.
Go through our help section for a detailed tutorial on how to set privacy settings.
Tips to protect your contact information
Our privacy settings will help you keep contact information safe and away from misuse. Here are other ways you can keep your information and data private and protected.
Secure passwords
Always pick a password that is secure. Use a combination of upper case, lower case, numbers and symbols. Do not repeat the password across accounts and if you are creating agent accounts, make sure that you use unique passwords. Remembering passwords can be hard so use a password generator instead like LastPass or PasswordBox.
Monitor calls
Inform your volunteers that all calls are monitored. You can also choose to listen in on any ongoing call at random. This helps you keep miscreants away from your campaign.
Remove errant agents
Your manager dashboard lets you remove any agent that you feel is acting against campaign goals. Use it to instantly remove a volunteer or agent from a campaign.
Tags:
Agent API
,
Call Center
,
Data protection
,
New features
,
Newsletter
,
Phone Banking
,
Privacy