A Pocket Guide to Text Message Marketing for Nonprofits
This guide packs practical how-tos that are easily replicable and are created in a way to get you started with SMS campaigns in no time.
90% of texts are read within the first 5 seconds.
That's how powerful text messaging is. See how to run high performing SMS campaigns that make your audience pay attention and take action. After reading this e-book, you can:
Clearly distinguish between broadcast SMS, opt-in SMS, and peer to peer texting campaigns.
Build and grow an opt-in list of SMS followers from scratch
Recruit volunteers, raise funds and get donor data using SMS / Understand how to create awareness or collect information or make an ask using SMS
Set up high performing SMS campaigns that get responses
Become a pro at using SMS to engage with your audience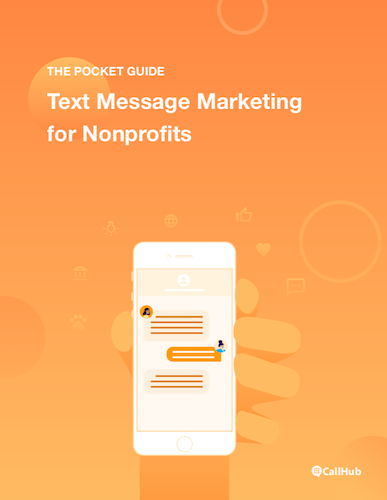 An insight into current communication challenges
For nonprofits, revenue by email has dropped by 8% this past year. Though SMS marketing levels the game, it comes with its challenges. Find out how you can overcome these roadblocks to help your organization get back on track.
Getting started with SMS marketing
Adopting SMS as a channel for your organization need not burn your wallet. Find out the various options that can make it more affordable for you. Once you have the basics in place, you can then build an opt-in SMS list of supporters (from scratch). This guide will work as a robust database for your future campaigns.
What options do you have when it comes to SMS?
Learn the difference between broadcast SMS, opt-in SMS, and peer to peer texting campaigns. Each is unique in terms of execution and what they can achieve. Understanding how they work and knowing their pros and cons will help you decide which campaigns will work best for you.
A step by step guide for setting up an SMS campaign
SMS marketing can help you raise funds, recruit volunteers, collect information, and create awareness and much more. However, the kind of SMS campaign you choose for each of these goals is different. Get a step-by-step breakdown of how to set up every campaign to meet your philanthropic goals.