It was a rainy Friday night. I had just gotten back home (totally drenched, thanks for asking) and was quite famished.
The idea of whipping up a simple dinner did not sound appealing. At all.
That was when I heard it.
PING. PING.
My phone was telling me that I had a new SMS, waiting to be read. Here is what I had received.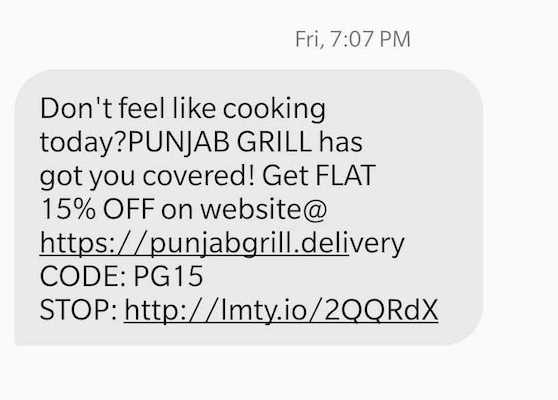 Hallelujah!
My dinner problems were solved! I quickly clicked on the link in the message and went on to order a hearty meal (and lived happily ever after).
OK, I got a bit carried away right there.
But what I want you to focus on is how the restaurant used SMS to win an online order.
Here is why their SMS marketing was a success:
They sent the text at the right time: Check the time stamp on the SMS. If they had sent the same message on a busy Tuesday afternoon, I would've simply ignored it.
They added an incentive: The 15% off helped me overcome any vestiges of guilt about the extra expense.
They made it easy: I was redirected to the website directly from the link in the message. No extra hassle of changing windows or going to their online site.
The result? An immediate conversion!
If you want to see similar success with SMS marketing for your restaurant, this post can help.
We will look at how you can use SMS or text message marketing for your restaurant, and what kind of texts you can send. We will also see how to get started right away.
Why is SMS marketing important for restaurants?
Opening a restaurant is not cheap (as I am sure you know). Here is a snapshot of the kind of costs you could incur while setting up.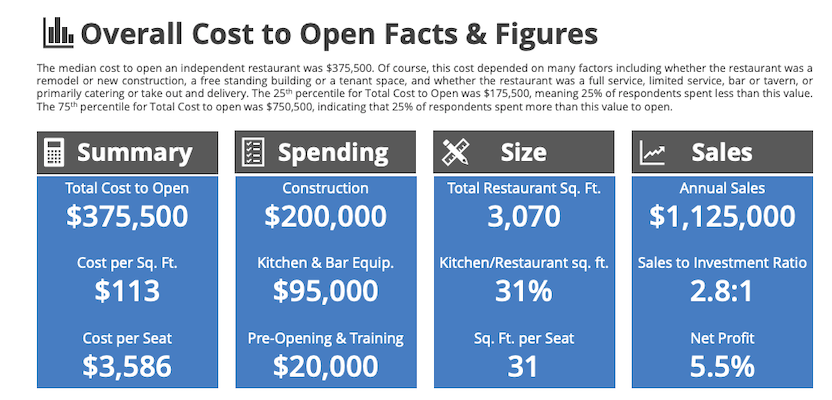 Pic Courtesy: Restaurantowner.com
Unfortunately, merely spending the money does not guarantee success – as 17% of heartbroken restaurant owners would tell you. These 17% are those who do not survive past their first year of launch.
Why?
Because despite doing everything right, they all failed at one crucial aspect: bringing in enough footfall to keep up sales (and turn into profit).
That is where SMS marketing can help.
Because texts have the maximum open rate (98% vs 20% open rate of emails), and they are read instantly (90% are read within the first 3 minutes), they are ideal for reaching your customers.
SMS marketing can boost your marketing ROI and accelerate sales by bringing in more customers. #smsmarketing @CallHub
Click To Tweet
Even if they don't have customers lining up at your doors instantly, you can use SMS to boost your online sales and improve customer experience.
How can you use SMS?
SMS marketing for any business does not mean sending out numerous texts blindly. All it takes is one badly thought out text to make your clients block you.
Worse, it could backfire and instead of having a positive impact your clients would be running to your competition.
That is why every SMS campaign is part of a detailed marketing plan. The content of the SMS, when it is sent, and what goal it should attain are carefully thought out. Here are a few business/sales problems you can solve with SMS.
1. SMS marketing for restaurants to increase footfall
The primary focus of any marketing effort for your restaurant is to bring in more patrons. SMS marketing for restaurant is no different. Here are a few examples on how you can use SMS (and what texts to send).
A quick way to get patrons to choose you is to sweeten the deal. Be it offline or online orders (like the good old Punjab Grill above), a good deal could be all it takes to convert them.
Hi Mark! It's No Shave November! 20% off on all drinks at Murphy's for those with beards! Catch you there?
These offers can be particular for a specific season or festival. It could be to celebrate occasions you have at your restaurant, or simply an incentive to get patrons through the door.
Create awareness about your USP
Has your chef learnt from Gordon Ramsey? Have they won Master Chef Australia? Or hey, do you have specialized pastry chefs who have won the British Baking show? You need to tell your patrons about it!
Hey Mark, Sandra Morena (MasterChef Australia winner), wants to cook for you! Come sample her delicacies and her award winning paella this weekend. Reserve your table:bit.ly920L
You can also send updates about your weekly menu specials, new launches or any other special restaurant activity.
No restaurant is busy throughout the week. If you have already planned festivities or offers to liven up your lean periods, SMS marketing is the best way to advertise it.
Hi Mark, Taco Tuesdays are back on! Come sample our delicious Tacos on a tuesday afternoon and get another plate on the house! Couponcode: Bit.lyTA234CO.
All of these texts are sent out as bulk SMS, at the click of a button. All you need is a SMS marketing software (like CallHub) and you are sorted!
2. SMS marketing for restaurants to improve customer experience
Once you have got patrons through the door, the best way to keep them coming back is great customer experience (and yes, awesome food too. I am sure you got that covered). SMS marketing can help you here.
Ask for feedback on experience
Once the patrons leave (or pay the check), send out SMS, asking them to rate their experience.
– Hi Mark, Was lovely to serve you today! On a scale of 1 to 5, can you rate your experience at Bob's?
– 5
– That's awesome! Hope to see you back soon.
You can either use peer to peer texting, where an agent responds to these responses real-time. Or, you can set up bulk SMS, with automated responses to each answer.
Of the two, I would recommend peer to peer campaign because it is conversational. Not only will you have a higher chance of getting a response, but you can also get a detailed answer about their experience.
Poll to know the favorites on the menu
You can know what your customers like the best, by asking them to rate the dishes in the Menu.
Hey Mark, What's your favorite dish?
Dish 1
Dish 2
Dish 3
Let us know and win a 10% off on your next visit!
You can also use polls to make a data-driven decision on menu changes. If you are confused between two options, you can use another survey and get the top pick.
Send notifications and updates
This is helpful especially for restaurants who have an online order option as well. A simple notification of the status of the order can improve the customer experience drastically!
Hi Mark, Your order for One steak 'well done' with Bob's is confirmed! You can expect it 30 minutes. We will notify you when our executive leaves to make the delivery.
For the above scenarios, you need a combination of bulk SMS or peer to peer campaigns. So when you pick your SMS marketing tool, look for these options.
3. SMS marketing for restaurants to build relationships
Another way to keep your patrons coming back, is to show them that you care. With SMS marketing, you can show that you remember their visit and occasions that are important to them.
Sending out a thank you text to all patrons once they pay the bill is quite common place.
Hi Mark, Thank you for dining with us at Bob's steakhouse. We enjoyed serving you and look forward to having you back! Show this text and get 10% off on your next visit with us.
Even though this seems simplistic, it shows the patron that you noticed. You can also choose to include a link to review your restaurant online.
Send offers on clients anniversary or birthdays
One of the top reasons people choose to eat out is to celebrate special occasions. It doesn't get better than birthdays or anniversaries.
To encourage your patrons to choose your restaurant, you can throw in a discount offer.
Hi Mark, Happy Anniversary! Come celebrate your big day with us. Get 50% off on drinks and dessert absolutely free!
You can consider extending this offer not just for that day but maybe for the whole anniversary week – so that your patrons can work it into their schedule.
Send reminders to come when they haven't been around as before
Another side to noticing when they are regular, is noticing when they break pattern. Showing that you have noticed their absence and want them back can also be done via SMS.
Hi Mark, We miss you at Bob's steakhouse! Please come back and check out the new items in our menu.
Each of these texts can be sent quickly as a bulk text. Yes, having a CRM to give you details about past visit or dates can make the process simpler. But, it is not compulsory to get started.
Just pick out the details from your billing registry and create the list. Your SMS marketing software can do the rest.
4. SMS marketing for restaurants to manage employees
Footfall and customer experience is just one side of the restaurant business. The other side is managing your employees – which is equally challenging (if not more). The good news is that the SMS marketing software can help you in this front as well.
Notification about holidays/opening hours
Keep your team informed about upcoming holidays, time offs and opening hours. Even if they already have a schedule, sending it via text can make it more accessible.
Team, the new schedule for the upcoming holiday season is out. Check out your shift hours and time offs: bit.ly. Yow789
Even if you are not sending out a link, a quick heads up that you will be closed tomorrow or opening a bit early can help your team stay on track.
Ask someone to fill in for shifts
Last minute staff changes can be a bummer. In case of unplanned leaves, you can send out a text to the rest of your team to see if they can step in.
Team, we are one member short today to wait tables. Send YES if you can take up an extra shift.
Your SMS marketing software will show you who has texted with positive responses. You can then simply call up that team member to adjust schedules.
Boost morale with 'recognition' texts
If you have an employee recognition program, you can use SMS to tell your team of what the star employee has accomplished.
Thank you Sue, for being our top performer this month! You have earned highest positive feedback from customers and have waited more tables than others!
You can also send them thank-you texts on their work-anniversaries and wishes on their birthdays. All the above can be set up with bulk or broadcast SMS.
5. SMS marketing for restaurants to beat competition
The idea behind SMS marketing for restaurants is not not just provide a better customer experience, but also to set you apart from the competition. Unfortunately, a lot of restaurants have already started using it. To differentiate your restaurant from theirs, here is how you can use SMS marketing better.
Let us take the same example as above, where you send a 'thank-you' text to your patron. Here is how you can make it more personalized.
Hi Mark, We were so happy to see you back :). Thank you for giving us an opportunity to serve you medium-rare steak once more! Hope to do it again soon!
To ensure this level of personalization, you have to sync your communication (or SMS marketing software) with your CRM. The CRM will fill in the personalization details about what the patron ate.
It is again the CRM that will tell you if it is a recurring customer. All you have to do is pull this data into your sms marketing software and send out a campaign!
On extremely busy nights, table booking can be a nightmare. If you are using a booking software you will know that while it helps you, it can also cause some problems.
For instance, say a table for 4 is available. However, your patron wants a booking for a party of 6. Your software will only tell him tables are not available.
In this scenario, SMS marketing can help. To all patrons whose bookings were 'rejected', you can send out a peer to peer campaign.
– Hi Mark, I noticed you tried booking a table with us this evening. Are your dates flexible?
– No.
– Ah ok. In that case, I can squeeze your party of 6 at a table for 4 (that is available). Will that work?
– Yes.
– Great. Your table is reserved! See you this evening!
Admittedly, this is highly resource intensive. However, if you can adapt this use-case to reserve tables for patrons at a later date, then it would work better.
Sweepstakes or fun events
You can run text to win campaigns, lucky draw and many other fun events at your restaurant and use SMS marketing to promote it. 
– Friyay
– Thanks for joining text to win! If your number is selected in the lucky-draw, you win a dinner for 4 next Friday. Winners will be announced in 3 days.
If you are yet to start using sms marketing for your restaurant, this post would've helped you. If you are already using it, this section would help you amp up your game!
How to build an SMS list?
Buying lists from a third party vendor and blasting them with texts is a strict no no. Not only would it be illegal (check the TCPA guidelines), but also a humongous waste of resources.
In this scenario you would be targeting leads who have no idea about your business, and are not interested in hearing from you. Let us explore some possible outcomes:
Contacts ignoring your SMS (at the very least)
Even if they read your texts, your contacts wont be converting
Your contacts marking you as spam (worst case)
So all the effort you put in crafting your sms marketing strategy would go to waste. Even worse, the ROI for your SMS marketing would be shockingly poor.
That is why, the best way to build an SMS list is to encourage leads to handover their contact details by themselves. This serves two purposes:
By handing over their numbers, they are consenting to receiving SMS from you – so sending them texts just became legal.
They also expect to receive texts from you – so lesser chances of the texts being ignored.
Here is how you can build a list for SMS marketing for your business.
1. Collect it at the door, from the hostess
Every patron who walks into your restaurant is greeted by a hostess and then led to a table. While greeting, the hostess can definitely ask the patron for contact details.
This works even better during peak hours when you have dozens of guests waiting to be seated. Instead of asking them to wait in line, you can intimate them about table availability via a text message.
Hi Theo, Your table for two is now ready. We will hold it for the next 10 minutes. Looking forward to serving you.
This method of list building is a total win-win. You collect the numbers for your list, your patrons just got better customer experience at your restaurant.
Not only will they definitely remember you, but they will also be willing to act on the texts you send.
2. Collect it while reservation (over call/site/app)
Collecting at the door is the best way for walk-in patrons. If they have already made reservations, then collecting their phone numbers while making the reservation is ideal.
Reservations over website or app can simply have one more field for phone number, with a disclaimer at the bottom. The disclaimer should state your intention to send them relevant texts (that they will find useful) and the frequency with which you will text them.
3. Advertise 'Text to Join' campaigns
In both the above scenarios you collected numbers from those patrons who specifically sought you out.
But what about the rest who have not chosen to dine with you yet? To get them interested in your restaurant, you can publicize free mobile coupons.
So every time a patron texts in the keyword to claim their coupon, they automatically get added to your SMS list.
As with the above cases, giving a disclaimer is equally important. The best way to do it is to include it as part of the response to the mobile coupon you send them.
Let me give you an example. Say your mobile coupon campaign is: Send FRIPIE to 12345 and get 15% off on our delicious pies every friday.
– FRIPIE
– Thanks for texting in! Claim your mobile coupon at bit.ly.45LK5. We will keep you posted of more offers. To STOP bit.ly49
Ensure that you publicize your keyword and offer via social media and other channel ads to create interest. Unless your patrons are aware, they will not be able to sign up.
4. Ask guests to drop business card (for raffle/offers)
An oldie but a goodie – you can simply ask patrons to drop their business card in a bowl by the check-out counter.
To give them an incentive to do so, announce it as a lucky draw. The card that gets drawn gets a free dinner for two!
5. Collect it during feedback
This again is quite a popular way of collecting numbers (how do you think Punjab Grill from the message got my number?)
If you are not using it, it is high time you got started (both collecting feedback and using it to get phone numbers too).
If you are already doing it, that's fantastic. To take it one step further, you can send a thank you text to those who took the time to fill in the feedback form.
Hi Theo, Thank you for your valuable feedback! I see that you rated us only a 3.5! Am sorry you didn't have a good time. Here is a 10% discount coupon exclusively for you: bit.ly902Y. Hope to see you soon.
Notice that I have made the thank you SMS more meaningful by not only including this patron's feedback, but also giving him a discount to smooth things over.
In each of the above scenarios can you notice the common thread? Yes it is a means to collect phone numbers for SMS list. However, each of these texts give something back to the patron!
It could be better customer experience, an offer or a simple meal on the house! By doing so, you not only score brownie points with patrons, but also make them more interested in acting on the texts you send.
What do you need to get started?
Every time I mentioned sending texts to your patrons, I did not mean sending it via your phone. Instead, use a business tool (like CallHub) for SMS marketing.
It will enable you to keep track of the various campaigns you run, analyse what works, and more importantly, keep the data secure.
An added advantage is that more than one agent can use the same dashboard, making the entire SMS marketing for your restaurant more collaborative.
SMS marketing for restaurant can get more targeted when used in conjunction with a CRM tool. Say you want to send a reminder text for patron who has not visited you in a while. Where will you get the data from?
You can import the patron's visiting habits (and preferences) from your CRM tool, to CallHub. Then send out the relevant texts.
What texting options do you have?
No matter how targeted your texts are, by sending them in bulk, you are overlooking the spirit of an SMS. That is, you are making the communication one-way and not facilitating back and forth conversations.
However, with an SMS marketing software, that is not the case. You have more SMS options to choose from. In CallHub, these are the kinds of SMS you can send.
Bulk SMS
Popularly known as broadcast SMS, it is used to send texts to every number in your list at the push of a button. CallHub enables you to automatically handle the responses you receive. You can also add elements of personalization (eg. @Patron name) to each text you send.
From your restaurant's perspective, it is not a huge resource investment. All you need is one agent sending out the text. And every patron on your list will get the message.
You can use it to announce events at your restaurants, send bulk offers, or updates to patrons about any menu changes you make. Watch how to set it up in CallHub.
Just remember to add an opt-out text in your script. It is only 22 characters long. In CallHub, you can include it by checking a box (yes, it is that simple!)
Opt in campaigns
Opt-in campaigns are when you set up a keyword and a shortcode. Every time a patron texts you with the keyword, they get added to your list.
It is a quick way to not only create awareness, but get your patrons to respond to you. All it takes is 15 minutes of set-up. You need to create the keyword, the short-code and also the automatic thank you response (this is what patrons receive once they text in).
If your opt-in campaign is for mobile coupons, the thank you text will contain the coupon. If it is for a discount offer, then that is part of your thank you text.
Since the primary objective of your opt-in campaign is to grow your list, it is safe to assume that most of these numbers are from new patrons. Which is why you should also add the disclaimer (with frequency and context) to your automatic response.
Peer to peer campaigns
Peer to peer campaigns take conversational messaging one step further. Instead of the automatic response (as with opt -in), the patrons can engage in an actual conversation with your agent.
This means that every response is customized to the patron's previous text. It won't be time consuming for your agent, because he can use ready made SMS templates for responses.
Instead of copy-pasting the same text, he can edit the template based on the patron's text and then hit send.
You can use peer to peer campaigns for collecting feedback, making reservations, and also employee communication.
Next steps
Test it for your restaurant. To see how SMS marketing can work for your restaurant, you have to actively try it.
Not only will it show you how your patrons respond (and what to expect), but you can also analyse the impact of your SMS marketing (in terms of engagement).
I would recommend trying CallHub, well primarily because it is free. Since you are still in the testing phase, it would make no sense to pay for a tool just yet.