AUTOMATED DIALER AND VOICE & TEXT BROADCAST SERVICE
Sign up to connect with your supporters, voters, leads and customers through calls, texts and voice messages.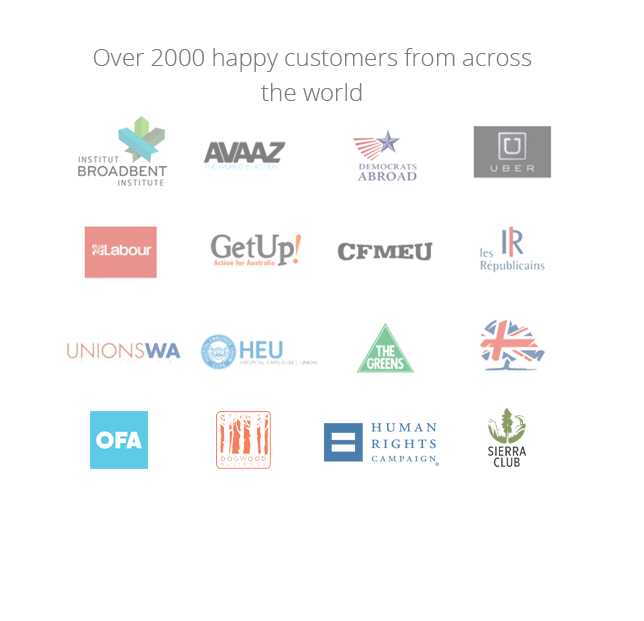 "CallHub surpasses the other guys! Very easy to use. I compared it to several other services and am very happy that we have chosen to do business with them. The team is so friendly, easy to work with and assists wherever they can. It is a joy to work with them!"
Leslie Stubblefield, Insurance Media Services
CallHub has become my go-to platform for affordable phone canvassing campaigns, voice broadcasts and text message blasts. I used the Voice Broadcast feature in various ways, from inviting people to events to, in one case, contacting almost every household in a small province to generate leads for people wanting more information about a plebiscite that was taking place."
Jordan Bober, Director of Development and Election Readiness, Green Party of Prince Edward Island
"I really love your team. You are just super responsive and super friendly and nothing's too difficult! It's been a really good experience."
Shaun Murray, Senior Organizer, GetUp
"CallHub made my marketing program easy and also affordable. I love the dialer, the SMS marketing program and the voice broadcasts. The CallHub team is doing a wonderful job!"
Wendy Mathis, Global Quest Services
"I love this product. It's so easy to use with a very clean user interface. The price is the most economical I've seen in the industry and last but not least is the wonderful customer support. They answer all questions very quick."
Ronald Hart, Marketer, The Cloud Marketers
Call Center Software
Automated virtual call center with a predictive dialer, power dialer and preview dialer. Run patch through call campaigns too.
Peer to Peer Texting
Peer to Peer Texting for voter outreach. Converse via texting with thousands of voters, supporters with the help of agents.
Text Broadcast
Automated sms marketing service that handles keyword responses as well as signup campaigns to collect information from contacts.
Automated Voice Messages
Voice broadcasting software to send thousands of voice messages in a second. Configure IVR response and let contacts be transferred to you.