How to start a Grassroots Campaign
August 2, 2017 - 6 minutes read
It's easy to encounter an issue in your community and tell yourself that someone else will fix it. While that passive bubble of inaction is present in every individual, it is necessary that you break free of it and take action to see change.
Grassroots campaigns revolve around issues that directly affect individuals. This means that you are highly motivated to get on the ground and find a way to solve the problem.
Are you a grassroots activist?
Do you have an issue in your mind that you want to resolve?
This article takes you through the steps to get you started on a grassroots campaign, from organizing volunteers, engaging your community, using the right tools, to developing a strategy for the success of your grassroots campaign.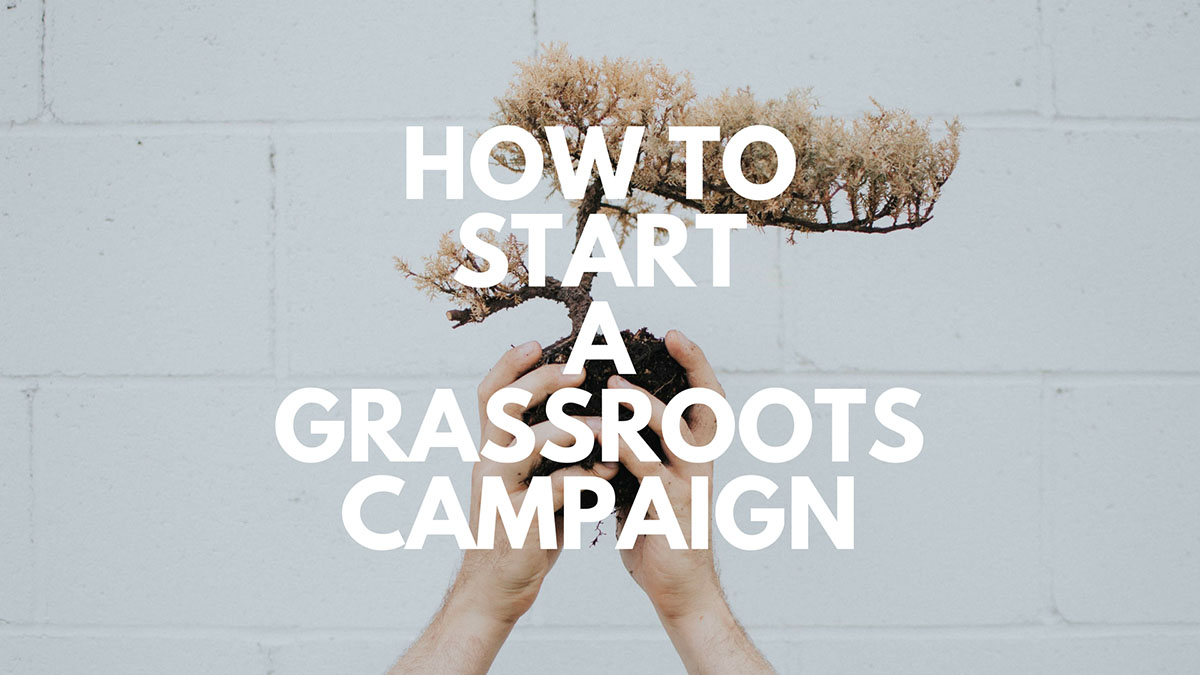 Identify your cause
The first step is to identify your cause. Yes, you probably do have a cause in mind. But rather than look at the overarching problem, break it down into smaller solvable pieces. Accept that you cannot solve every challenge facing your community. If the issue is that of polluted water resources, the cause could be the dumping of industrial waste, sewage, and untreated waste water, dumping of solid waste or other causes. Once you pinpoint the exact cause or causes that you can fight for, you can go ahead with creating a strategy to solve it. Brainstorm ideas that could lead to a possible solution. You will need the help of other stakeholders which can include others in your area who are affected by the problem and organizations willing to take up the mantle for your cause.
Prepare the literature
You'll now have an idea of which issue to address and the gist of how you are going to achieve it. Now, it's time to put the strategy into words and create a detailed plan and campaign literature that will cover your grassroots campaign activities, any events to be planned, and tasks that need to be delegated to volunteers and staff. Having a written strategy in place helps you to align your campaigning activities towards a specific goal and keep yourself on track through the duration of achieving that goal.
Ready your technology
A grassroots campaign relies on the support of people in your locality to grow and create impact. This makes community engagement an intricate part of grassroots campaigning. Unlike big firms, your grassroots campaign may not have money to burn on marketing strategies and advertising. But there are a plethora of tools now available to cater to the outreach need of grassroots campaigners.
Email and social media still remain effective and affordable means to reach out to the community. You can create a basic website with details about the campaign, about how to donate, and any other campaign updates with an open source website creation tool like WordPress. You can follow that up by creating a fundraising page on GoFundMe or Razoo and adding it to your website.
For community engagement, phone banks and texting will provide the kind of personalized engagement that is essential to grassroots campaigns, which is not achievable with email. For engaging policymakers about the issues affecting your community, in person meetings and phone calls offer the most effective approach followed by conventional mail, email, and social media.
Onboard volunteers
Volunteers form the backbone of every grassroots campaign whether it be for door-to-door canvassing, working the phone banks, doing data entry work, or staffing events. Social media, emails, flyers in community boards, reaching out to people who have volunteered in the past are all good ways to get the word out about your volunteer requirements. You can include a Call To Action at the end of your phone banking script asking supporters if they would like to volunteer. If text messaging is part of your campaigning efforts you can set up a sign-up campaign to recruit volunteers.
These points cover the basic prerequisites for starting your grassroots campaign. They are:
Identify the cause that needs resolving.

Create a plan in words that covers all campaign activities.

Understand the best technology you can use to aid your campaigning efforts.

Recruit volunteers
Once you've got your campaign off the ground, it takes a consistent long term effort to see it through. With the support of your community, dedicated volunteers and staff, and an ongoing engagement plan with policymakers, you stand a much higher chance of a building a successful grassroots campaign.