Text & Voice messaging service for schools, universities and online academies
March 12, 2018 - 5 minutes read
By the year 2020, Millennials are forecast to be approximately 46%, nearly half of the US workforce. Coming up behind them is Generation Zers, who are now moving through college and fast approaching independence.
Why does this matter?
Technology growth at the administration level helps universities remain relevant because it is the first impression on new applicants and alumni.
In 2018, the most effective communication success is in adopting text processes and similar mass communication tools.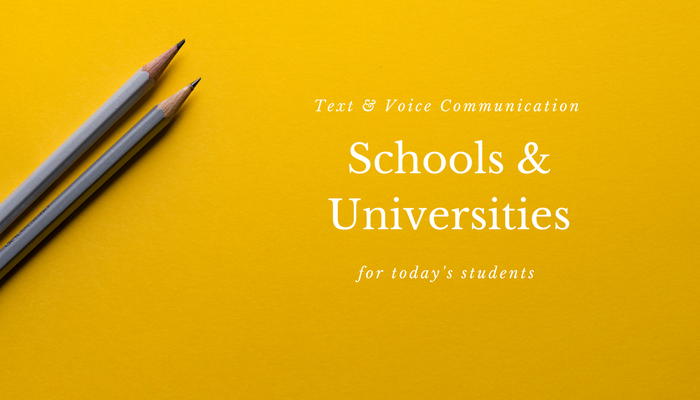 According to a recent survey, 75% of Millennials state that they prefer text messaging as their primary mode of communication. There is a strong percentage of Generation X and Baby Boomers how have also adopted a working appreciation for the efficiency of text messaging.
But it goes beyond that.
Imagine if a business could multiply their most effective administration staff by thousand. Each call that needs to be made can be sent immediately with a consistent message. Studies have shown that there is a positive emotional response to receiving text messages and a nearly 100% open rate, making it a nearly foolproof means of communication.
Imagine the following:
There are 1,000 or more incoming freshmen to a University. You want to send them all a Welcome message with the freshman orientation location
There is a security or weather emergency that would make reporting to a class high risk and the message needs to reach everyone immediately
It's that time of the year to reach out to the alumni and remind them how great their experience was at the school, and ask them to consider a donation
You would like feedback from parents or the student body to improve a process and you want to maximize the response rate
All students should remember, but you want to be more supportive and make sure that they don't miss important dates to file their FAFSA, enroll in classes, or submit their documentation for graduation – on time.
Smart Communications Solutions for Academia
The solution is as simple, with the right technology tools of course. CallHub has scalable, cloud-based solutions that make mass communicating a breeze. Our voice and text automation increase your outreach power without overwhelming the bottom-line.
Voice Solutions
Using the call center software, you can monitor the effectiveness of alumni outreach call coverage. Outgoing calls are automated, which saves time while making sure that the full call list is covered. You can have detailed conversations with potential freshmen and offer them financial aid if they need it.
With Voice Broadcast, celebrations, reminders, or emergency details can reach everyone at the same time.
Text Solutions
Extending the power of the voice features, text broadcast can be a lifesaver when the need arises to get short, concise messages to large groups as quickly as possible.
A "personal touch" can be added to texting with the peer to peer texting feature Collective Texting, which combines the extended outreach of texting with the ability for respondents to reply and engage in conversation to the sender.
Text solutions can also be used to conduct surveys using SMS Data Collection, giving you the power to get feedback on processes and improve data collection.
---
Maximize your staff and budget resources while activating the best in modern communication technology. Get started with CallHub today and create your student outreach campaign. As a pay as you go service, get started small and scale with your campaign.
---
Sources