How to Maximize Fundraising by Saying What Your Donor Wants To Hear
July 20, 2017 - 7 minutes read
Donor communication is important. It keeps you on top of their mind and builds lasting relationships over time. Of course, you already know that. We have discussed how you could add a touch of personalization to your donor interactions and the different ways you could keep the conversation with your donor going even when you are not raising funds.
Have you ever stopped to consider if your donors are tired of your calls and mail?
You have to strike a fine balance between contacting them only when the need arises and keeping up communication at regular intervals. So when you do contact them, it helps to be prepared and say the right thing every time.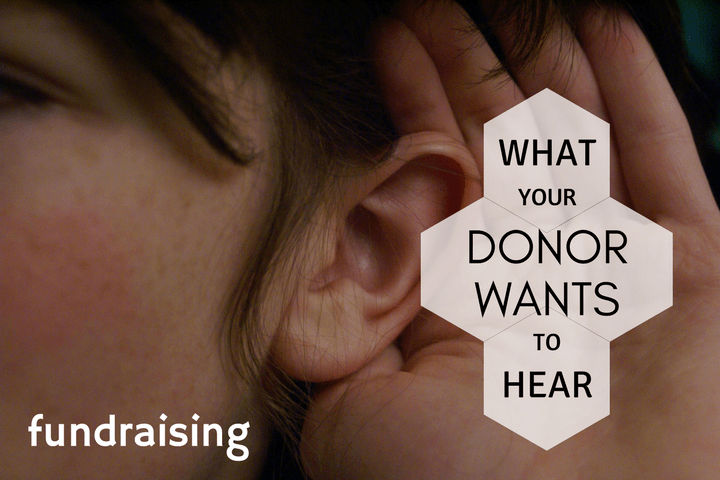 Would it not be fantastic to know what your donor wants to hear so that you leave them happy every time you drop them a line?
Turns out you can. Be it the initial ask or a call to inform an existing donor about some new update, there are some distinct things a donor wants to hear. Take these points into account when phrasing your donor conversation.
You should be the focus
By you, I mean them. The donor.
No one likes a one-sided conversation where the other person incessantly toots their own trumpet. You may remember being involved in a similar conversation at some point. However, no one recalls doing it themselves.
That is because only the listener feels they are being excluded from the conversation. A nonprofit contacting a new donor would spend a lot of time explaining their work.  They talk about the work they do, who they help and why their work is necessary.
All the talk about "us" would only alienate the listener from the group. You may turn their mind off from the donating decision in the process.
Instead, focus on the donor. Tell them you are important because your contribution drives our work. Invite them to participate in a collective effort.
Give them a clear choice
Quite a few times, the nonprofit would miss out on a donation because the conversation never allowed the donor to make a giving decision. Maybe it sounded like they were marketing the campaign too hard or the ask was left as an implication.
Donors want none of that dilly dallying. They know why you are approaching them. So make the conversation starter persuasive and to the point so that the person can decide whether he wants to contribute. The more time you spend getting to the ask, the more you cloud their decision.
Maybe they had already made up their mind, to begin with. The conversation should be good enough to persuade someone dismissive at the start and clear enough not to turn away a converted donor. Leave them with a clear choice to make. Let them understand that they are the only one who can make a difference.
Offer to be a part of something more
Since the listener already knows you are expecting a donation, the conversation should give them a new perspective before they face the choice to donate.
Invite the donor to be part of something bigger. Your work, the donations and all the people who come together behind the effort strive to create a better world. In doing so, you create something special – a legacy.
The donor should understand that the talk is an invitation to be a part of that legacy. It is an offer for something more than just a monetary gift – an offer to join a timeless, human enterprise.
Address what is in it for them
Of course, all donors are different. So their reason for giving would be influenced by their personal interests.
Now you may be talking about the real-world results of their contribution, but their choice would be more dependant on how they see the personal consequences of donating. Those consequences may be deeply personal. However, if you are able to address them, you would be instantly hooking the donor's attention. The reason could be:
They wish to help change the world

It's an inner spiritual calling

It's fuelled by guilt and they seek redemption

They are confronting inner demons

They want to be seen as good people

The joy of giving is what does it for them

It helps with taxes. What better?
It's all thanks to me
You have to paint the donor a hero if you wish them to continue their support. Whatever be their reason for giving, the help gives your nonprofit a leg up. Let them know that at every turn.
Even for donors who do not seek public approval, a personal thank you is a reward unto itself. So if there is something you cannot tire your donor with, it's gratitude. From fundraising goals to updates on new initiatives, it is all thanks to them.
The appreciation will ensure their donation keeps coming.
These are all small things you should keep in mind when you talk to donors in the future. A pre-decided script will make the donor feel it's a mechanical process and turn them away. A human touch to your conversation will bring the donor closer and build a lasting relationship toward the cause.
Tags:
donor
,
donor communications calendar
,
donor communications plan
,
donor loyalty
,
donor relations best practices
,
donor stewardship
,
Fundraising
,
fundraising communication
,
nonprofit campaign
,
nonprofit communication
,
nonprofit strategy