2019 has been a fantastic year for us! We helped our customers send more than 17 million SMS, facilitated upwards of 16 million calls, and had more than 23,000 agents using CallHub.
We are excited about the year that went by, not just because of the sheer amount of calls or texts we helped with, but because of what these calls and texts actually accomplished.
Democrats Abroad used CallHub phone banking to increase overseas voter turnout. They saw a 300% increase in overseas voters for the US midterm elections.
Using CallHub, they ran distributed phone banking campaigns, enabling volunteers across 190 countries to make more than 150,000 calls. Read the full story here.
Another example is Hospo Voice. Being Australia's first digital trade union, they are fighting for fair wages and a safe workplace for workers in the hospitality industry in Australia.
They used CallHub SMS tools to reach out to every supporter and inspired them to show solidarity offline. Thanks to their efforts, online supporters turned up in droves to offline events and rallies to protest against wage theft. Read how they are fighting against wage theft.
Environmental organization 350.org uses CallHub to grow their supporter base.
During the climate strike in Minnesota, they had more than 3000 supporters who signed up to their campaign. These supporters were subsequently encouraged to attend events and workshops offline, using personal one to one communication (peer to peer SMS)
These success stories are also heartening because it tells us that we are building CallHub to be the platform our customers (like you) need it to be.
It shows us that we read your requirements right and that our latest features add value to your efforts.
Here is a quick look at the feature updates in 2019 that helped us help you better.
What was new in CallHub 2019?
Shortcode release
As of August 2019, CallHub customers could use a shortcode to enable their supporters to opt-in to their SMS communication.
Using shortcodes to send texts made a drastic improvement to their campaigns, especially on two critical aspects:
a) They could send SMS at a faster rate (100 texts/second)
b) They could also be assured of high deliverability
To add to these advantages, we also wanted to give our customers a more affordable option. Instead of spending $1500 a month to rent a dedicated shortcode, they could use CallHub's shared shortcode for just $25.
Customers can now use 33339 to enable their supporters to opt-in. They can get started with their opt-in campaigns in just 2 days!

It was an important milestone for us because we were able to assure high deliverability of texts, and easy opt-ins, without compromising on affordability.
By offering two options (dedicated and shared shortcodes), we allowed the customer to choose what worked best for them.
We are happy to tell you this decision was a resounding success. In just 3 short months, we had around 50 customers renting keywords, to run successful opt-in and broadcast campaigns. Some of these campaigns sent out as many as 8K texts and got more than 3 thousand opt-ins!
Read more about CallHub's shortcode here.
Call center improvements
Well, so we did a bang-up job helping our customers get more from SMS. The good news is, we did it for our call center feature too.
The updates in the call center feature were geared for the everyday agents who use CallHub. We wanted to make their life simpler and help improve their productivity.
With that goal in mind, here are the changes we introduced.
1. Call back feature
Every time an agent makes a call using CallHub, they can mark how the calls went using the 'Call Disposition' feature. However, the agents came back to us with important feedback.
A lot of their contacts were interested in hearing about the campaign, but they just did not have the time right then!
Since they were called at an inconvenient time, the contacts were not ready to listen. This drastically impacted the outreach of the campaign.
To address this gap, we added a 'CallBack' option as part of the Call Disposition.
Now agents can not only highlight which contacts need to be called back but can also schedule when to call them back. The system will automatically place the call to those contacts and connect them with the agents.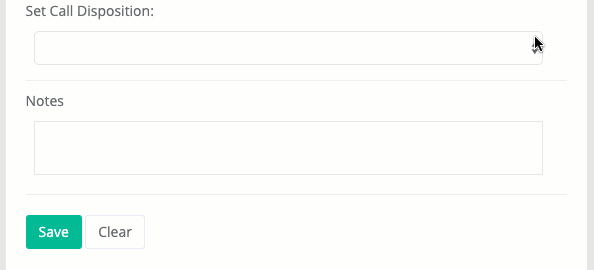 This update had a significant impact on the effectivity of the calling campaigns.
By calling the contact at his preferred time, it encouraged quality conversations and improved the overall reach of the campaign. Learn more about the Callback feature.
2. Personalized calling scripts
Another productivity hurdle for agents was remembering the personal details of every contact on the list.
Even if they had a detailed script in front of them, knowing minute (but important) details, like the contact's name, address, etc. was crucial in making a successful call.
Managers can help the agents on this front, by using merge tags to personalize the calling script.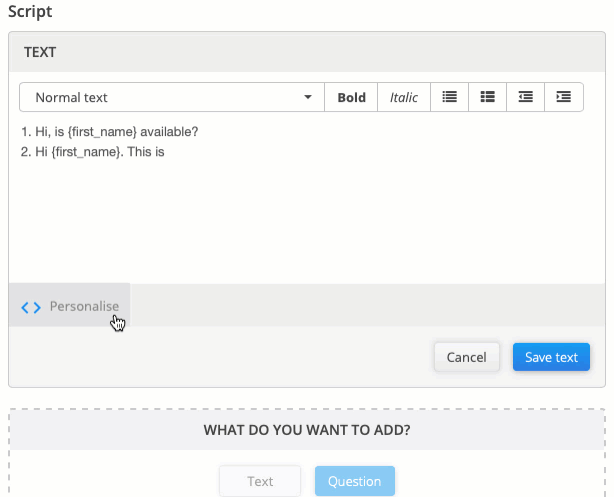 A host of personalization details like name, address, phone number, mobile number, etc. can be included in the scripts.
CallHub also offers including custom personalization data (like say, 'polling booth location') that can differ from campaign to campaign. Including such crucial details minimize the possibilities of error in his calling campaign.
3. Changing connection preferences
The final (and equally important update) that we introduced was enabling the agents to choose their own connection preferences.
Usually, managers decided how an agent will complete a calling campaign. They could connect via a dial-in or web browser, etc.
Unfortunately, the connection preference the manager chose was not always feasible for the agent. The agent could have slow internet on his end which could mean that dial-in option did not work as well.
Similarly, if the agent was more comfortable with a phone, he would prefer to make calls via a phone (and not a web browser).
In such cases the agent had to get in touch with the manager to change the preference for him. This was a huge productivity gap.
That is why we decided to tackle it on priority and allowed the agents to choose how they want to connect with their audience.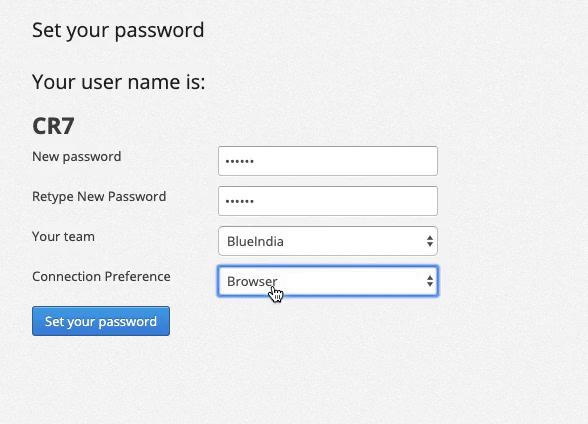 This meant that the agents were more comfortable making calls and were more efficient. For time-sensitive calling campaigns, this was a huge bonus – as the outreach of the campaign improved drastically.
The manager still has control – he still has to enable the functionality for agents.

However, when they activate their account, the agents have the liberty of selecting the connection preference that works best for them.
The response to these updates was overwhelming! We had a rapid influx of new agent accounts. The usage of every agent also went up. So yes, mission accomplished: happier agents, more productive campaigns :).
Useful integrations
Our vision for CallHub is to be a complete A2A (Acquisition to Advocacy) platform. We are happy to say that in 2019, we took a few steps to get closer to this goal and introduced two key integrations.
1. Blackbaud integration
27,000 Nonprofit customers use Blackbaud as their preferred CRM and fundraising platform. Our customers were no different. They used Blackbaud to communicate with their donors via email drip campaigns and workflows.
The integration between CallHub and Luminate Online made the outreach extremely simple. Say, a campaign manager wanted to send out a fundraising invite to his major donors. He simply has to filter out the donors from Luminate Online and sync the group into CallHub as a phonebook.
The campaign manager can then run personalized peer to peer SMS campaigns or calling campaigns for this targeted list.
The donor's response (event RSVPs) gets logged automatically as an interaction in Luminate online. This helps the campaign managers identify engaged donors (vs. the unengaged ones).
Integrating Luminate Online and CallHub enabled our customers to run more targeted and personalized campaigns via phone calls and texts, without the hassle of importing huge excel sheets.
2. L2 integration
For customers in the political industry, having a campaign voter file is critical to the success of voter outreach campaigns.
Usually, campaign managers find that the voter list they get is not up to date. Or, they do not have all the contact details required.
The CallHub integration with L2 solves this problem. It enables campaign managers to export and augment their voter data with L2's database of 70 million landlines and 75 million cell phones.
They can also run voter analysis based on demographic and donor categories and export targeted voter lists as spreadsheets. These voter lists can then be imported in CallHub to run phone banking or SMS campaigns.
While these updates were the game-changers, our engineering and support teams worked tirelessly to improve the user experience of our platform as a whole. The best part? A lot of our users noticed it too!
"This year they (CallHub) have really improved. We had quick response times on support and no real technical snafus. They have really stepped up and seem to be continuing to improve their program"

G2 Crowd, Administrator in Nonprofit management
To these online reviewers and the countless others who drop in a kind word via emails and calls, thank you! Your appreciation motivates us to strive harder.
We will be back in 2020 with a lot more updates that make it easier for you.
Till then, keep using us every day to create change. We are proud to be part of your journey – it is the biggest reward we could hope for!
Best,
Team CallHub