Cause marketing is a great way to make a difference and draw attention to a philanthropic need in the world. With your campaign, you have the power to help people care more about the cause you're passionate about. There are two primary types of marketing you should consider when communicating as a part of your campaign: relationship marketing and transactional marketing.
Relationship marketing focuses on building long-term relationships and connections with your supporters and consumers.
Transactional marketing instead focuses on short-term benefits for the organization such as consumers making a purchase.
A good cause marketing campaign will take both types of marketing into consideration. Those who are passionate about your cause will want to take immediate action in support of the mission, so make sure they have this transactional opportunity. However, you should also be constantly stewarding supporters for more campaigns down-the-line.
In order to fine-tune your next campaign with both types of marketing in mind, be sure to:
Define your brand elements.
Reach out to supporters as individuals.
Incorporate creative fundraising.
Provide non-monetary contribution opportunities.
Create promotional merchandise.
Let's dive in to learn more about each of these elements for your next cause marketing campaign.
1. Define your brand elements.
There are many different elements of your brand. A big part of that brand is how you portray your cause and what emotion you want to evoke in people when they see your logo or wear your t-shirt.
Think about some of the cause marketing campaigns out there. How do they make you feel? Some may make you feel inspired and empowered like, This Girl Can by Sport England. Others may evoke shock or surprise like the Real Beauty Campaign by Dove.
Consider your own campaign and the emotion you want to bring to your supporters. Then, make sure all of the elements in your brand support that emotion. For instance, consider elements of your campaign such as:
The colors you use. Cool colors like blue or green are more likely to feel relaxing or evoke emotions of serenity. Meanwhile, black and white or muted colors could better bring about feelings of sympathy. Warm colors like red, orange, and yellow are feel-good colors that spark creativity, positivity, and passion in an audience.
Music in videos. Think about the different playlists you have for different aspects of your life. You probably have a specific playlist of high-energy music you work out to or a relaxing instrumental playlist you listen to at the office. The music you use in online campaigns is key to set the mood and emotion of your brand.
People portrayed in marketing. Make sure the people you use in your marketing are relatable to your target audience. This helps define the people you want paying attention to your brand and helps them remember it later on. Young, healthy people will pay more attention to a brand with young, healthy people portrayed in marketing initiatives.
Before you start marketing your brand, carefully consider the different brand elements that you want to use. We suggest writing down these elements to best maintain consistency throughout your entire campaign.
Be sure to also consider the natural associations that people will make when they consider your brand. If your organization is connected or related to another brand name, take care not to contradict it with your own marketing.
A great example of this concept is a political campaign. Generally, Republican campaigns are associated with the color red while Democratic campaigns are associated with the color blue due to party colors.
If your campaign naturally aligns with the Democratic party views, it would be contradictory to design a red t-shirt for the cause marketing campaign. Make sure to make these connections before marketing your campaign in order to make the biggest impact possible.
90% of retailers believe that consistency is key to maintaining the loyalty of their supporters. This means your organization should have a well-defined brand that is reflected in each of your marketing campaign elements.
2. Reach out to your supporters as individuals.
Personalization is necessary in order to make an impact in the world of marketing today. In fact, 72% of consumers only respond to personalized content anymore. Therefore, individualized, personal outreach is key to form connections with your audience.
When you're reaching out to existing supporters, do so in a way that acknowledges them as individuals. For instance, consider these strategies:
When reaching out over email, be sure to use the individual's name in the salutation. There are many email solutions that will automatically populate this type of personal information directly into the content you send in order to make the process easier.
Send direct mail to those who have indicated that as their preferred method of communication. Not only does this save campaign money, but it also shows that you have taken their preferences into account.
Ask for feedback over text to show your supporters that their opinions matter to your campaign. Make sure this feedback is quick and easy for your supporters. It should be easy to very quickly provide one to two text responses and engage with your campaign.
Remind them about merchandise interests. If someone has visited your online store or viewed your campaign merchandise multiple times, remind them of that interest. You might consider reaching out to say, "Don't forget! Your campaign t-shirt is still in your shopping cart."
Personally call supporters, especially new supporters, to have a personal conversation and show them how much you care. This is a great way to show appreciation for their past support in your cause.
Your existing supporters are key to your campaign success. They're the ones who are already invested in your mission and will continue spreading the word. Plus, they're more likely to take direct action to support the campaign itself such as purchasing merchandise or donating funds.
3. Incorporate creative fundraising.
The majority of cause-based marketing campaigns have a fundraising element to them. When people give to your cause you can make a larger impact and spread the word further. However, fundraising isn't easy, especially during troubling economic times.
In order to make sure you're getting as much as possible from your fundraising initiatives, we recommend taking some creative liberties. For example:
Provide an item in return. Product fundraising helps raise money for your cause campaign while also providing supporters with an immediate reward for their contribution. They feel good for giving to your campaign while also receiving a cool t-shirt, sweatshirt, hat, or mug in return.
Include a fundraising thermometer. Supporters like seeing the immediate impact they have on your campaign and toward your fundraising goal. A fundraising thermometer provides immediate satisfaction to your supporters in that they're able to see exactly how their gift contributed to you meeting your goal.
Take fundraising online. Right now, it's more important than ever to incorporate virtual elements into your fundraising campaign. For instance, you might decide to host an online auction for supporters or a virtual dinner party event. Make sure virtual events and online activities are mobile-optimized so that supporters can participate from either their phone or computer.
Creative ideas get well-deserved attention from a supportive audience. People appreciate creativity and want to be involved with exciting and innovative initiatives.
Make sure that your fundraising ideas provide an element of immediate satisfaction for supporters. This immediate satisfaction will drive donations and help make for a more creative cause marketing campaign.
4. Provide non-monetary contribution opportunities.
Even if someone can't donate to your cause, it's important that you provide them with an option to get involved. Consider this: if someone is absolutely moved by your campaign, but doesn't have the funds immediately available to contribute financially, how will your organization capture their engagement?
Offering engagement opportunities that are not related to fundraising is a great way to engage an audience that may not be ready to give at this time. However, they may be more willing to contribute some time in the future. Therefore, steward these supporters and provide other ways to get involved.
Some non-monetary contributions and engagement strategies you could include in your campaign:
Advocacy. While supporters may not be able to contribute to your campaign, they can still help you make a difference! Create an online petition or a click-to-call campaign to encourage supporters to make a difference on behalf of your cause. They'll feel more connected to the mission and you'll be one step ahead without ever asking for money!
Downloads. Provide resources that supporters can download to learn more about the mission. This is a great way to engage new supporters who may not be totally convinced to give, but want to learn more. Require an email address to receive the information so that you can reach out to these supporters again in the future.
Promotions. Supporters can provide additional fuel to promote your cause without contributing money. For instance, ask them to post to social media wearing a shirt for your cause and use your advocacy hashtag. When they post to social media, they provide more exposure to your mission.
Creativity. If your supporters have special skills they'd like to donate to your cause, explore these options. For instance, a writer might offer to help craft content for your website or an artist may help create merchandise designs. Consider the needs of your cause and ask supporters to volunteer their time helping fulfill these needs.
Your cause marketing campaign should always include the next step for supporters to complete if they feel moved by your message. Make sure it's easy for supporters to access this next step by linking to it from your marketing platform.
5. Create promotional merchandise.
We've mentioned merchandise a few times throughout this article. That's because merchandise is an incredibly handy tool for cause-based movements and organizations. Merchandise not only provides the opportunity to raise money, but it's also a blank slate that can be used to promote your brand further.
Think about it: you can use merchandise to support any campaign. For instance:
Charity campaigns. Charities frequently sell mugs, t-shirts, and other merchandise to supporters to raise money for their cause. For example, they may ask all of their volunteers to purchase a t-shirt to set themselves apart at an event.
Political campaigns. Political campaigns may sell t-shirts for their door-to-door canvassing volunteers. They may also use hats or other merchandise items to make a splash on social media.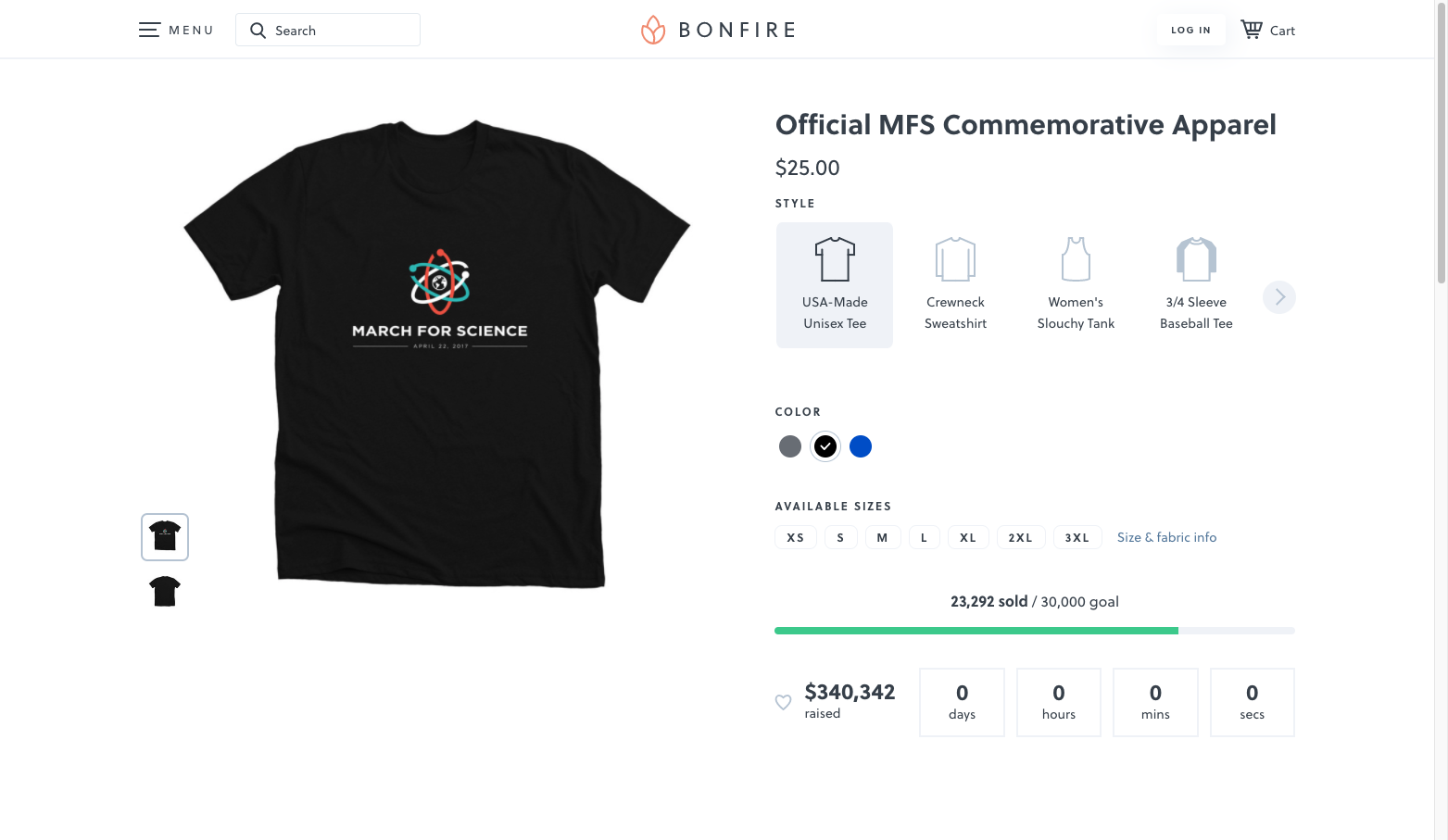 Promotional merchandise, especially common choices like t-shirts and hats are especially effective because it relies heavily on visuals. Striking designs can communicate more clearly and evoke great emotional responses much more directly than printed or digital text.
---
Cause marketing is a great way for nonprofits to attract a wider audience, for businesses to forge new partnerships, and for political campaigns to make a bigger splash.
By following a few best practices for fine-tuning your cause marketing or advocacy campaign strategies, you can make a bigger impact than ever.
---
Guest post from Bonfire