SPAM SHIELD TO PROTECT CALLS FROM "SCAM" LABELS
Phone Banking Software for Political Calling
Engage voters and secure your victory with a virtual phone bank. Automated phone banking tool for canvassing, voter persuasion, GOTV, and more.
Onboard remote volunteers quickly with simple, customizable forms.
Run distributed campaigns with a mobile app.
Automate communication over multiple channels with workflows.
Sync data in real time with NGP VAN, NationBuilder, Action Network, and more CRMs.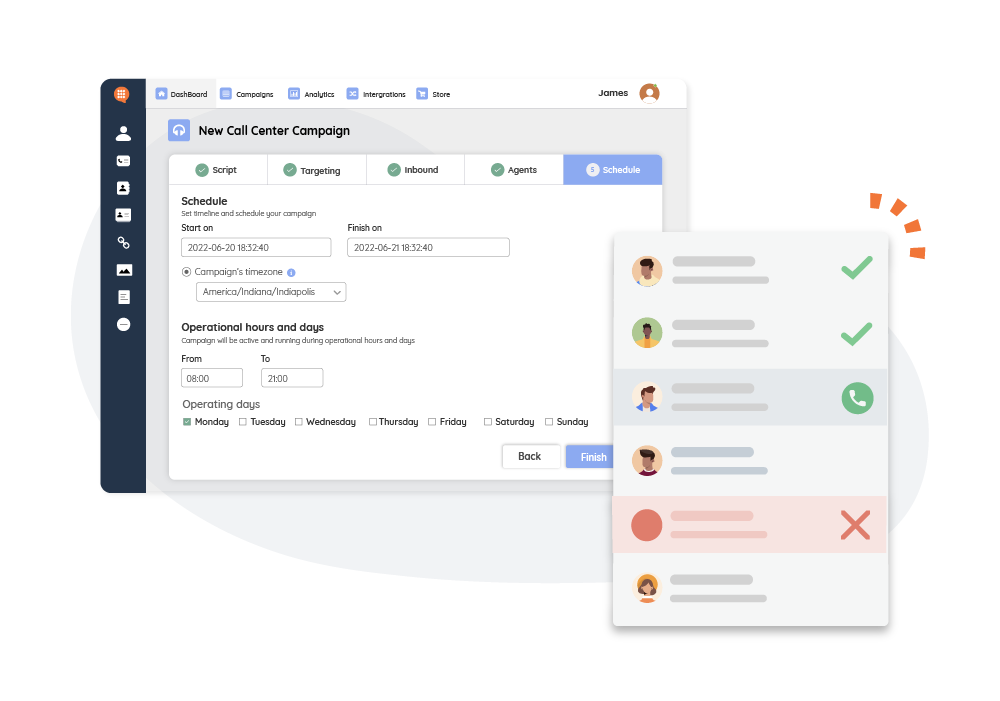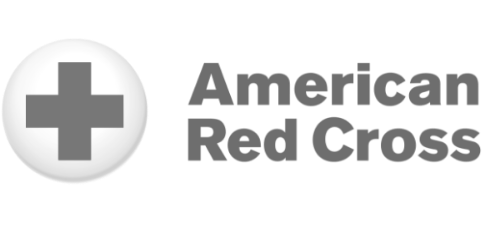 Phone Banking with CallHub
Automated dialers for different types of campaigns
Eliminate the manual efforts of calling with auto dialers. Connect volunteers directly to contacts without them having to go through lists, dialing numbers, etc. Let volunteers spend all of their time having conversations that result in real impact.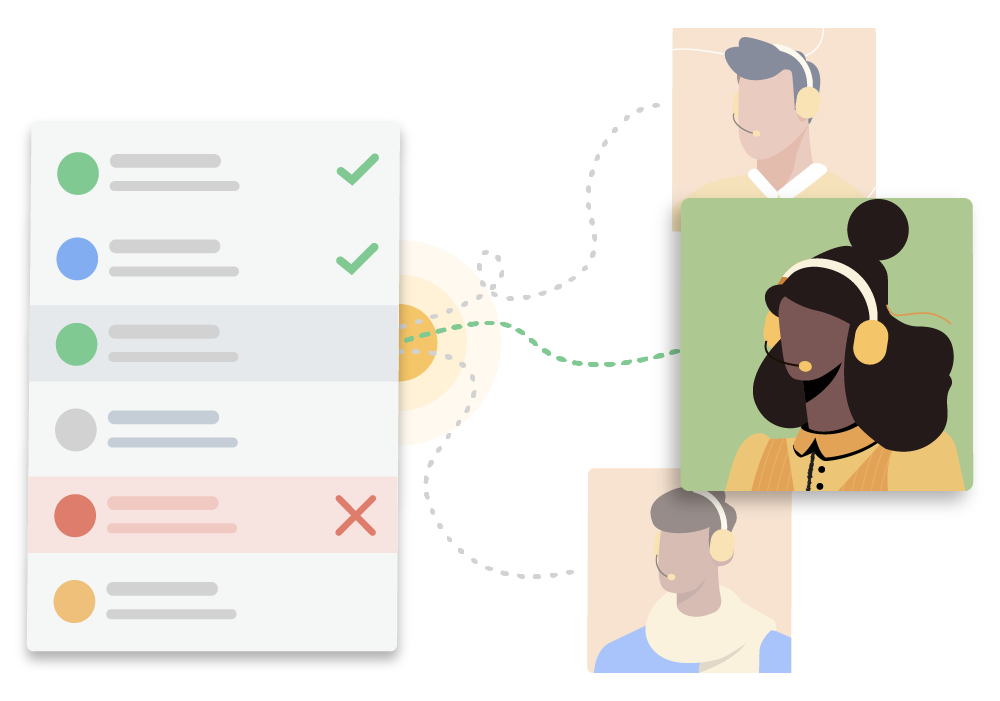 Control your calling speed with power dialer
A power dialer dials the next number only when you initiate it. Focus on the call at hand, make notes after, and move to the next call when ready. Perfect for voter id and persuasion campaigns.
Maximize outreach with predictive dialer
The predictive dialer automatically skips bad, busy, and unanswered numbers and connects agents only to live answers. Ideal for high volume campaigns like GOTV.
Call cell phones with Fastclick Dialer
Make more calls to both landlines and mobiles while staying compliant. Run high volume calling campaigns without the need to filter phone numbers out of your list.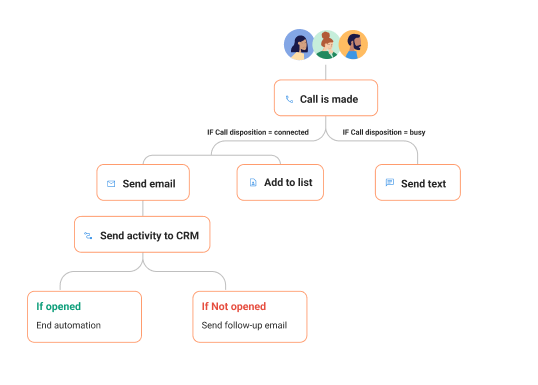 Automate communication across multiple channels
Enhance your phone banking campaigns with emails and texts from one platform. With workflow automation, you can segment people you reached out to via calls, send them follow up texts, add them to an email list, etc.; all automatically.
Define follow ups based on the contact's activity
Segment contacts based on specific activity and automate follow-ups. For instance, send an email to people who respond to a survey and follow up with others via a text message.
Pre-built workflows to set up journeys quickly
Not sure how to nurture voters? Use one of our pre-built templates and get it up and running in minutes. Edit the journeys as you collect more voter data.
Sync data with your CRM in real time
Enable two way data flow with your CRM. CallHub has direct integrations with all major ones like Blackbaud, NationBuilder, Action Network, NGP Van, Salesforce, etc.
Onboard and manage volunteers with ease
Recruit volunteers to your phone banking campaign in a few simple steps. Group them to run distributed campaigns. Onboard them and get them to start calling immediately.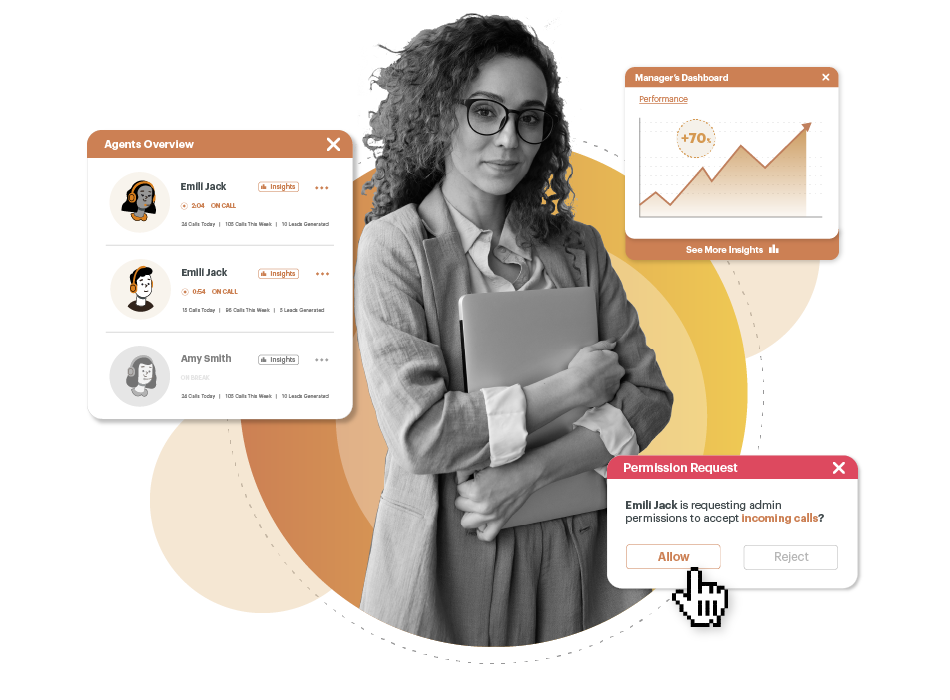 Campaign from anywhere with a mobile app
CallHub's mobile app, the first of its kind, is one of the most important phone tools you need. Save on operational costs, let volunteers join from anywhere virtually, and phone bank from their smartphone.
Add unlimited volunteers at zero cost
Volunteers are essential to any political campaign and we understand that. With CallHub, you can add as many volunteers as you want at no cost at all.
Group volunteers for distributed organizing
Organize your volunteers into teams based on geography, preferred timing, etc. Save time by assigning a team to a calling campaign instead of individual volunteers.
Keep your campaign data secure
Protect volunteer and voter privacy. Assign user roles to control what information volunteers can see when making calls. Volunteer details are never revealed to anyone.
Record and monitor live calls
Join live calls to oversee how new recruits are doing and understand what resources they need to be successful. All calls are also recorded so you can review them later and use it for training.
Encourage volunteers with gamifications
Motivate each volunteer to call more voters with agent leaderboards. Display it publicly and incentivize top callers for some healthy competition and encourage everyone.
Ready to start a virtual phone banking campaign?
Get started for free. No credit card required.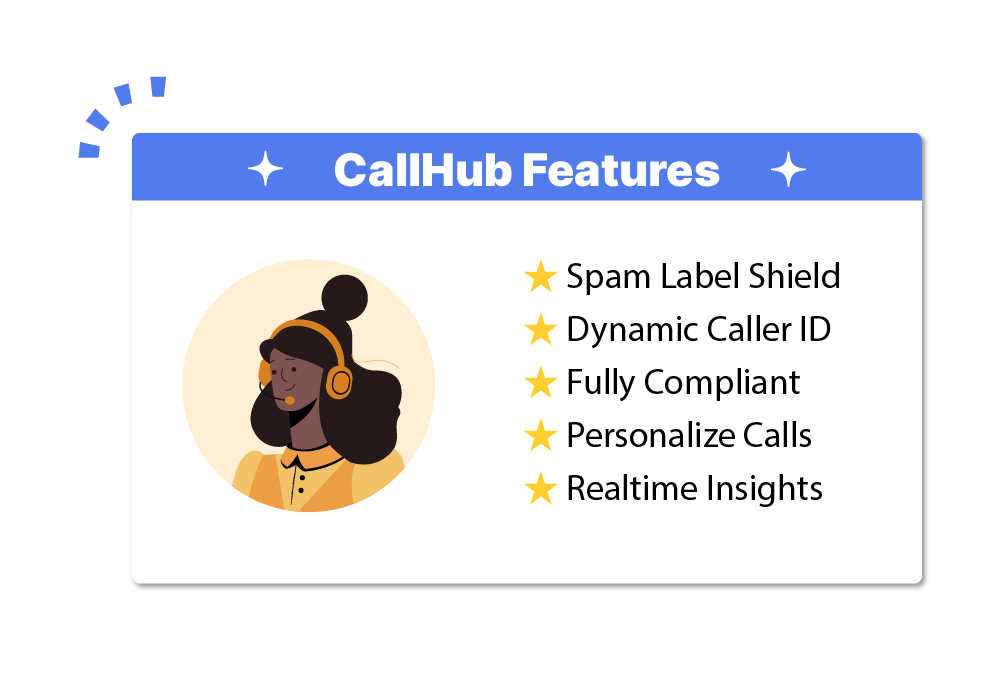 Improve connection rates significantly
Having conversations with each voter is essential to winning elections. CallHub's phone banking software is packed with powerful features to ensure you connect with all contacts.
Call from local numbers with dynamic caller id
People are more likely to pick up calls from local numbers. The dynamic caller id automatically rents numbers with local caller ids matching the location of your audience.
Protect your numbers from getting labeled as 'Spam'
Your number can get labeled as "Spam/Scam likely" in less than a 1000 calls and ruin contact rates. Protect yourselves from these labels with our Spam Label Shield.
Receive incoming calls to improve contact rates
Improve contact rates by at least 2X by allowing supporters to call you back when free. Drop a voicemail with one click when you come across an answering machine and provide the number they can call you at.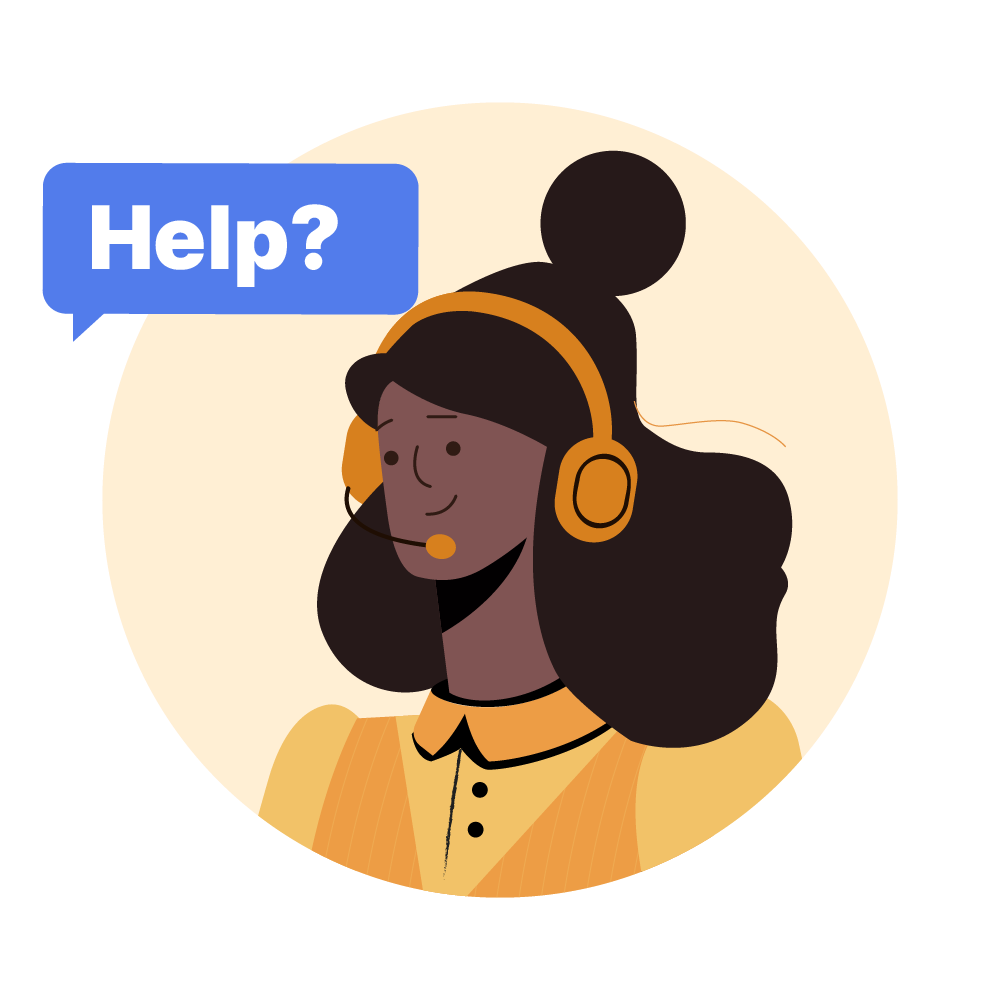 Unparalleled support
Our support team works round the clock for you. We have a 94% customer satisfaction rate & respond to queries in less than 3 hours on average.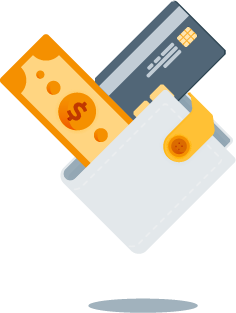 Competitive pricing
Create an account and pay only for the calls you make or choose from different plans for discounted pricing. The most competitive call rates across the world.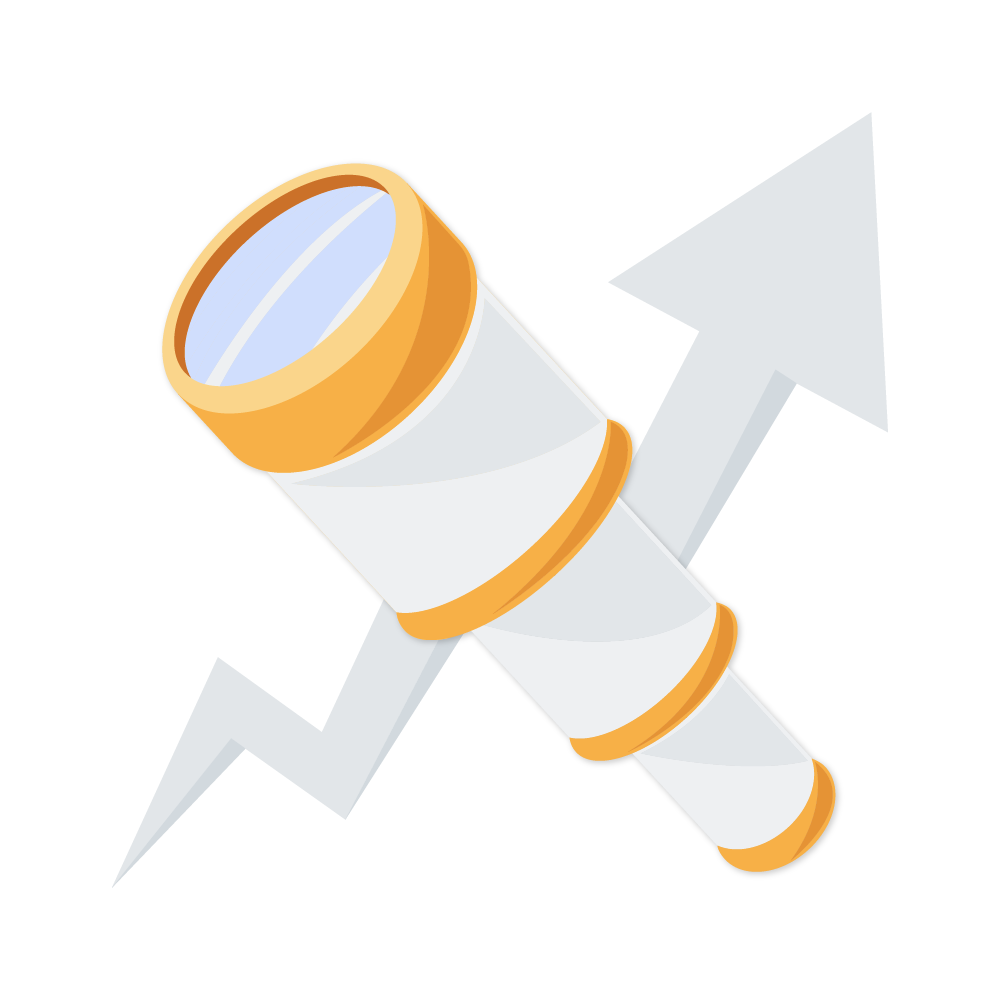 Reports & Call Analytics
Get real-time reports of your calls and agent performance. Track key metrics and inform your strategies with detailed insights.
See how organizations are using CallHub's phone banking tool to win
How Democrats Abroad helped drive 300% increase in overseas voter turnout with phone calls
Democrats Abroad created a distributed campaigning model for volunteers around the world to call more than 150,000 members spread across 190 countries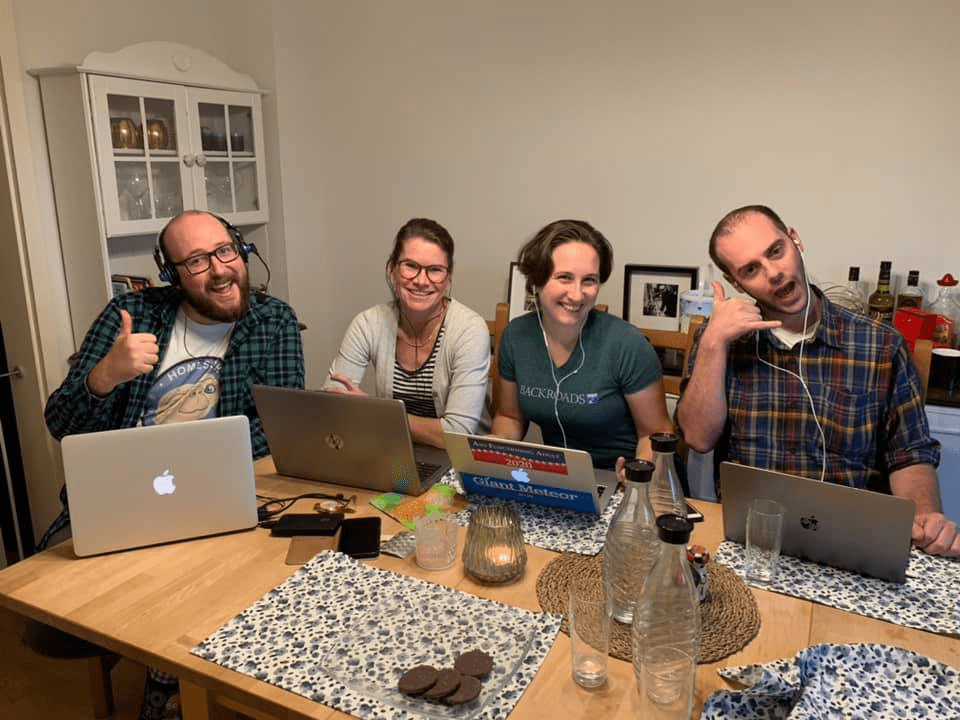 OFC personalized the calling experience and improved turnout by 70% using CallHub
Virtual Phone Bank for conversations that matter
Try it free. No credit card required. Instant setup.
CallHub platform for political campaigns
Peer to Peer Texting
Connect with voters over text and have two-way conversations at scale. Collect data, initiate action, and recruit volunteers with p2p text banking.
Send all initial messages at once with one click. No volunteers needed to click send repeatedly.
Reply faster with saved response templates. Add new templates as you come across more common queries.
Shorten URLs to save characters and track the clicks on the link.
Text right from your smartphones with a mobile app. Available on both iOS and Android.
GOTV & more
CallHub is the most comprehensive organizing platform for political campaigns with multiple tools for GOTV, canvassing, etc.
Run distributed campaigns with a mobile app. Let volunteers join from anywhere, anytime.
Send mass reminder texts, emails, and voice blasts for GOTV.
Have in depth conversations with voters over calls for persuasion and voter identification.
Sync data with your CRM in real time. Direct integration with NationBuilder, NGP Van, Action Network, Blackbaud, and more.