Make calls super fast to cell phones and landlines while staying compliant with FCC and TCPA regulations. Built for high volume calling campaigns.
Currently available in United States
"(Required)" indicates required fields
FastClick Dialer is a TCPA and FCC compliant dialer for super-fast calling campaigns to cell phones and landlines
The FastClick dialer uses human intervention to initiate all calls,making it TCPA and FCC compliant. With intelligent queuing and call routing,the FastClick dialer is able to achieve extraordinarily fast speeds that can match and outpace most automated dialers. Since all calls made through the FastClick Dialer are TCPA compliant,it also removes the cost of analyzing your contact lists to check if a number is landline or mobile.
The perfect TCPA dialer for Political organizations and Debt Collection agencies
The TCPA compliant FastClick Dialer is ideal for Political organizations calling a large list of voters where the list is a mix of cell phone and landline numbers. It is also ideal for Debt Collection agencies due to its ability to reach a large list quickly and in a compliant manner.
How the TCPA compliant dialer works
Create a FastClick Dialer account
Use the form on this page to signup. Then create a FastClick dialing campaign that is compliant with TCPA regulations for cell phones.
Add Calling Agents who will speak to contacts and Dialer Agents who manually queue the calls for Calling Agents.
Manage live campaign operations
Stay in control of how fast calls are made,how many calls get disconnected and view activity for each agent.
SUPER FAST CALLS TO CELLPHONES AND LANDLINES WITHOUT REGULATORY HASSLES
Features of the TCPA Compliant Dialer
Get calling speeds that match the pace of automated dialers. Instead of automatically dialing numbers, a dedicated agent manually queues calls to maintain calling speed.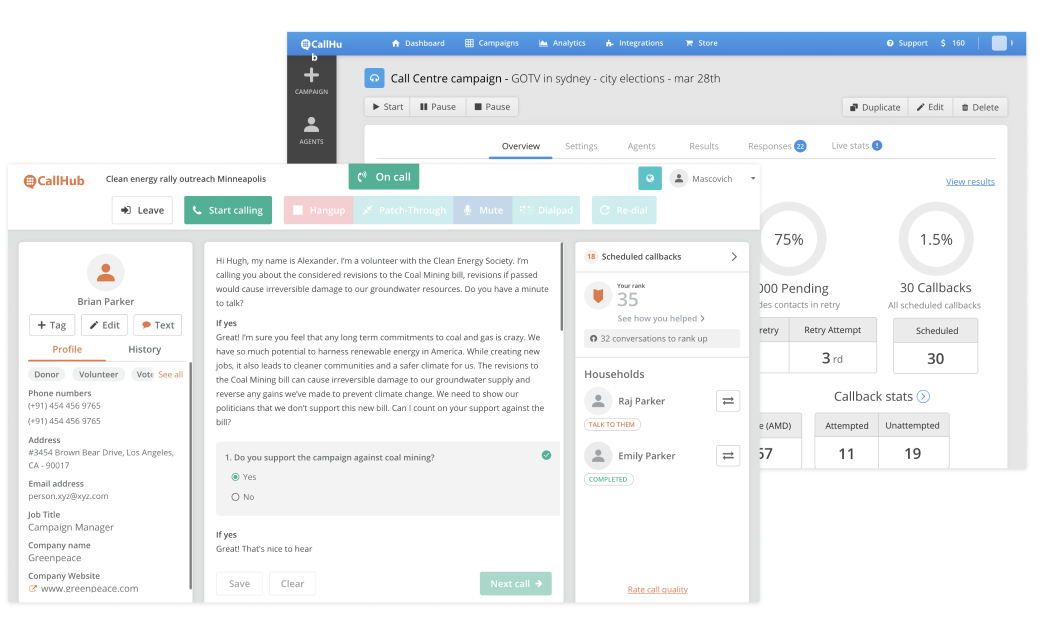 Control the pace of calling
Dial rate can be increased by 10x. Suitable for last minute calling operations where the priority is to reach as many people as possible in a limited time.
Answering machine detection
Skip answering machines so agents spend more time on actual conversations.
Live campaign adjustment
Make changes to live campaigns based on real-time call reports to optimize calling efficiency.
Everything agents need for personal conversations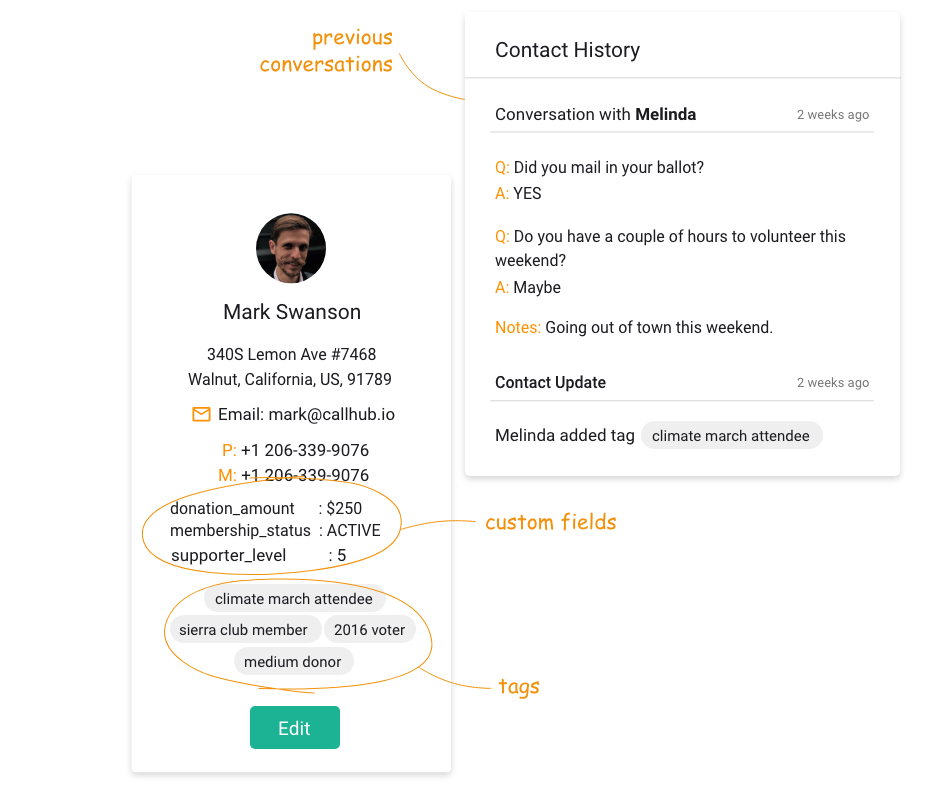 Personalized calling scripts
Personalize call scripts with individual details like name and donation amount so agents don't have to look up contact information.
Detailed contact information
Personal details of each contact are available to callers with the ability to bring in more contact information through app integrations.
Simple and friendly UI
Simple and intuitive calling interface built for young and old callers alike.
Improve the effectiveness of future calling campaigns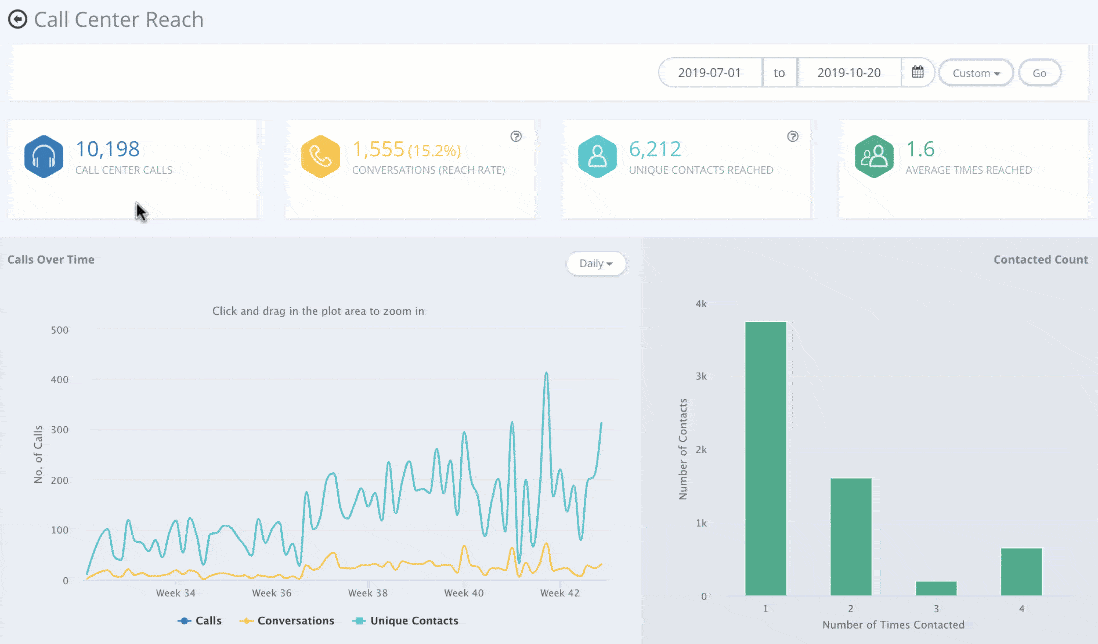 Call center analytics
Dig into the numbers behind each calling campaign with in-depth analytics on calls and agent performance.
Follow-up with SMS
Send human initiated texts from the calling interface to connect with contacts who don't pick up or to contacts that request a follow up text. Speed up the process with saved templates.
Call recording and monitoring
Record and monitor calls for quality assurance and training.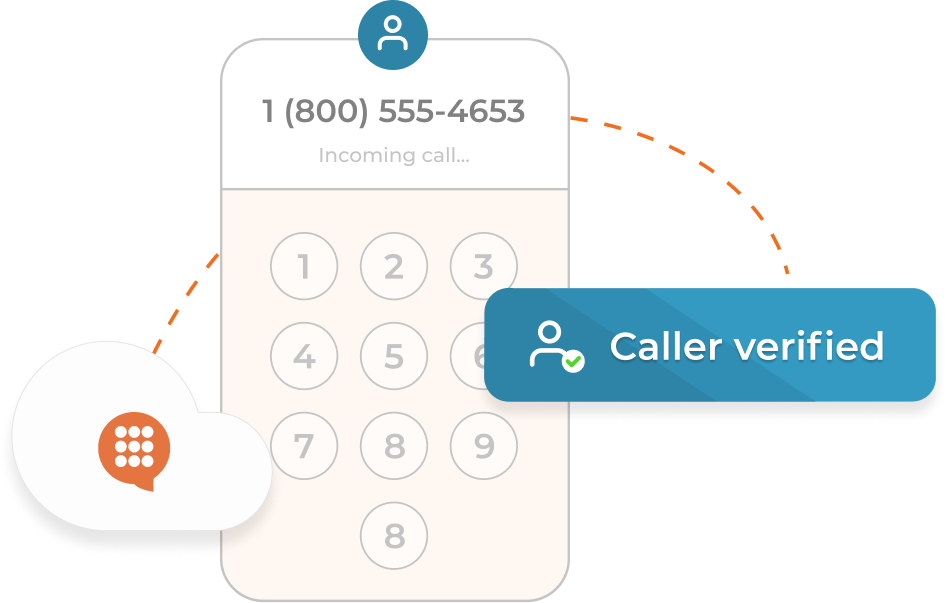 Increase Your Answer Rate with Caller Verified Numbers
CallHub is now SHAKEN/STIR compliant
Get "Caller Verified" numbers on CallHub. Run calling campaigns with these numbers to improve your answer rates.
SYNC ACTIVITIES WITH YOUR CRM
Integrations tie it all together
FastClick Dialer integrates with popular campaigning and business tools to help you share data across platforms and run multi-channel campaigns. Bi-directional data sharing ensures that your activity within the FastClick Dilaer is instantly synced back to your CRM software.








Create your TCPA dialer account. No credit card required.
Trusted by some of the biggest Businesses, Advocacy groups and Political parties