Connect thousands of voters to key policy makers with CallHub's patch-through calling software.
3000+ of the world's biggest organizations trust CallHub for engagement




Connect citizens to decision-makers
Use patch-through calling campaigns to drive thousands of calls to elected officials. Patch-through calls are a fast and cost-effective way to connect supporters to key decision makers. Turn everyday citizens into activists to bring attention to the issues that you care about.
Launch your patch-through calling campaign in minutes. Control your messaging with call scripts, Track campaign performance through real-time analytics.
Build a team of volunteers to call voters and identify people who support your cause.
Convey your message to supporters and educate them about the issue with call scripts.
Connect supporters to the right official. The agent can stay on the call and connect the supporter to another representative if needed.
Why do patch-through calls work?
Elected officials and policy makers are made better aware of the issues that matter to constituents if they reach out directly, through a 1-on-1 communication channel. Besides face-to-face meetings, patch-through calls are the best way to do this. Patch-through calls give your staff and volunteers the opportunity to coach constituents on the specifics of the cause and connect them directly to policy makers.
Patch-through calling features
Stay on the call while the voter talks to the decision maker. Your call will be on mute.
Volunteers are crucial to your campaign. Recruit as many as you need, for free! We do not charge per seat in a campaign.
Add a calling script and survey for every campaign. Train your agent on the script and collect information on the call and the progress. The results are synced directly into your CRM.
Volunteers can make calls for a campaign from anywhere in the world, right from their browser. Browser calls cost the least. They can even make calls from their phone or soft phone.
Answering machine detection
Reduce idle time! Our AMD feature allows campaigns to detect answering machines and play a different recorded audio message or hang up when detected.
Surveys responses and Analytics
Forget pen and paper. Use CallHub's advanced survey tool and get digital responses instantly. Use advanced analytics platforms to evaluate your calling campaign.
Harness the power of the people
Trusted and loved by customers worldwide

"We can make calls at about 5x the rate that we would with a manual dialer, getting through a list of 100 calls in just over an hour. This has been a huge capacity saver in our organization."
Amanda Destefano, Leadership Organizer, United Workers
"I really love your team. You are just super responsive and super friendly and nothing's too difficult! It's been a really good experience."
Shaun Murray, Senior Organizer, GetUp
"A lot of our folks are volunteers, a lot of them are retired, they are often anxious with technology and they were able to use CallHub easily. It's empowering for volunteers who don't see themselves as very tech savvy to be able to pick up a new piece of software and a new program and just use it, so that was great."
Celine Trojand, Digital Organizer, Organizing for Change
"I love this product. It's so easy to use with a very clean user interface. The price is the most economical I've seen in the industry and last but not least is the wonderful customer support. They answer all questions very quick."
Ronald Hart, Marketing, The Cloud Marketers
"Solid dialer, responsive support, and awesome CRM integrations!"
Django Merope Synge, Campaigns Director, GetUp
"CallHub made my marketing program easy and also affordable. I love the dialer, the SMS marketing program and the voice broadcasts. The CallHub team is doing a wonderful job!"
Wendy Mathis, Global Quest Services
CallHub has become my go-to platform for affordable phone canvassing campaigns, voice broadcasts and text message blasts. In particular, text message blasts are the single most useful tool for volunteer mobilization that I have used in recent years.
Jordan Bober, Director of Development and Election Readiness, Green Party of Prince Edward Island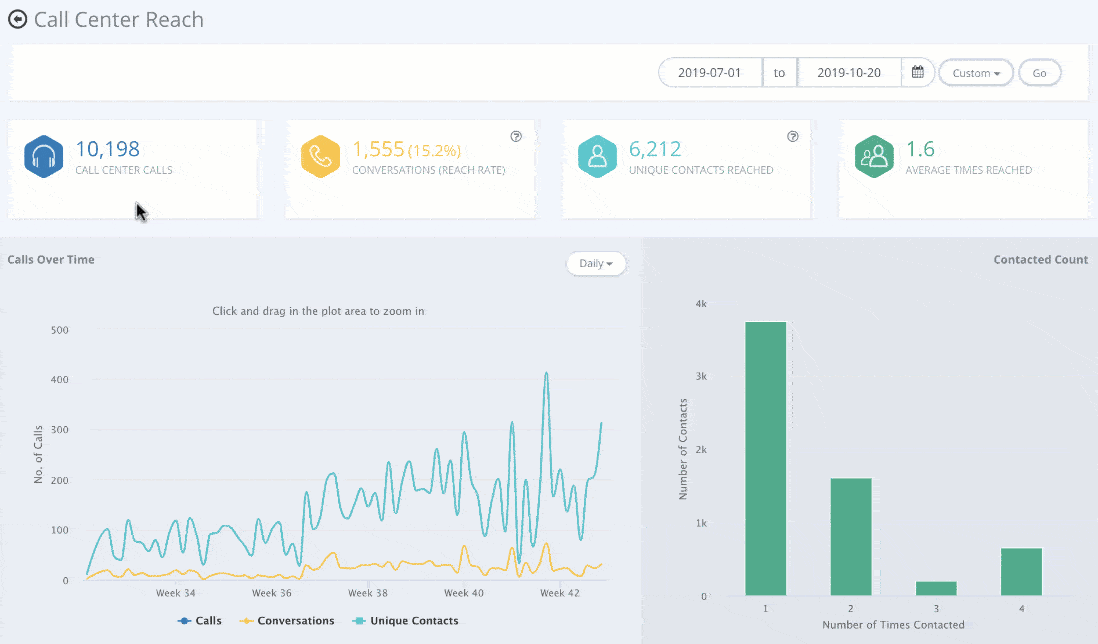 Measure the performance of your campaign while it's running. Get an overview of the calls being made and the duration of each call. The dashboard helps keep you on track to achieve your goals.
For people who don't pick up their phone
Calling agents can follow-up with a text message directly from their call center screen.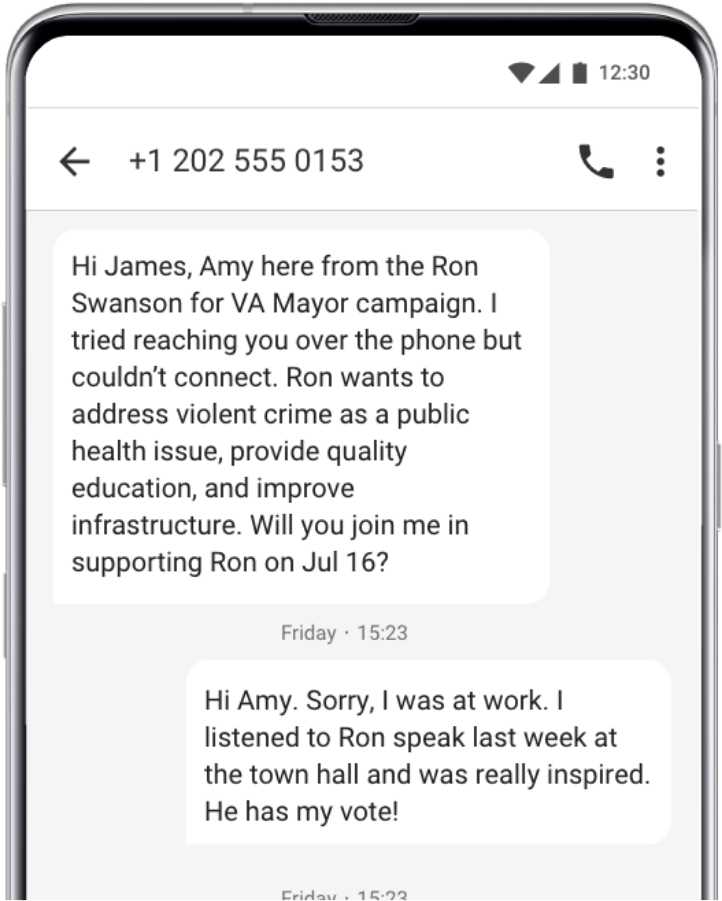 Integrations tie it all together
Sync data from your CRM with CallHub's integrations. We connect with top CRM's, such as NationBuilder, Blackbaud, Salesorce, NGPVAN for patch-through calling—and more.








Learn how organizations are using CallHub today
How Democrats Abroad helped drive 300% increase in overseas voter turnout with phone calls
Democrats Abroad created a distributed campaigning model for volunteers around the world to call more than 150,000 members spread across 190 countries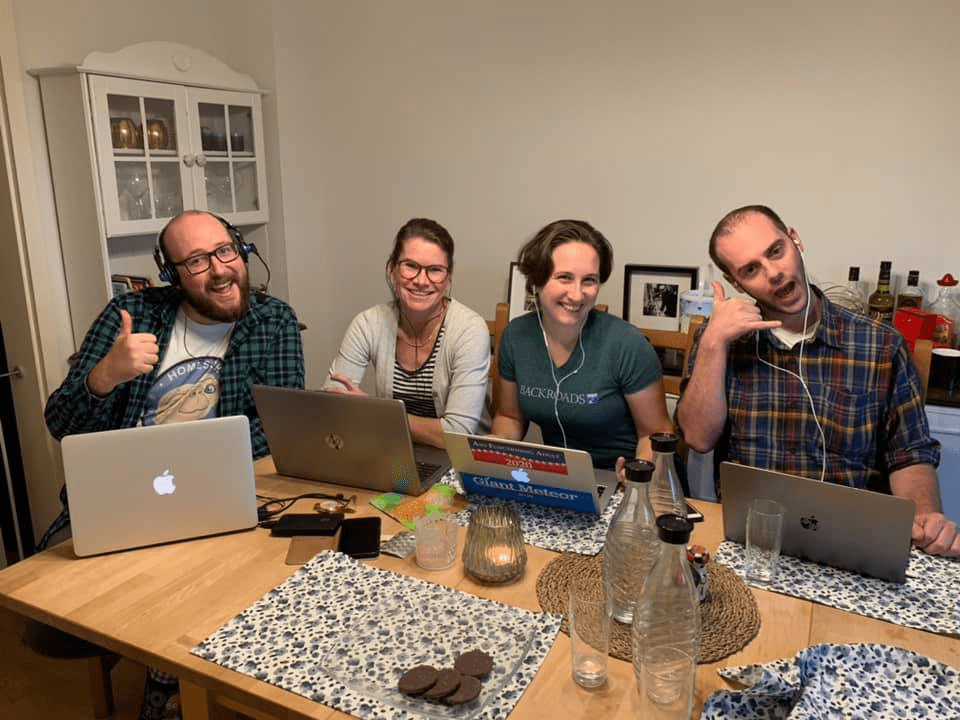 OFC personalized the calling experience and improved turnout by 70% using CallHub
Start a patch through calling campaign
Try it free. No credit card required. Instant setup.