A Single Communication Platform to Build Relationships
Reach your contacts with CallHub's reliable calling and texting tools.
Have personalized conversations at scale with feature rich solutions that have helped millions.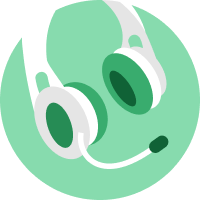 Run efficient calling campaigns
Call Center
Outbound call center software to make and receive calls. Choose from multiple dialers for every need. Unlimited agent seats.
Personalized and scalable texting
Peer to Peer Texting
Engage in 1:1 conversations over SMS. Talk to 100s of contacts at once with custom & templated responses. Conversations scaled up!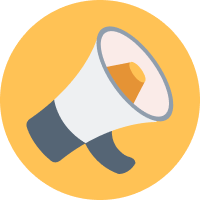 Relay voice messages instantly
Voice Broadcast
Reach hundreds of contacts within minutes. Deliver personalized messages to your audience instantly over a call. 
Ensure your message is read
Mass Texting
Broadcast texts to thousands of people in minutes. Enhance them with images, videos, & PDFs to improve engagement.

Automate list building and collect data
Text to Join
Build your database by getting people to opt-in. Set up automated text responses to collect data without manual intervention.
Have personalized conversations
Run automated calling campaigns. Add surveys to your campaign and make sure every call by an agent is recorded, monitored and saved. Automatically detect answering machines. Unlimited agent seats.
Increase agent productivity with automated dialers.

Choose between Predictive Dialer, Power Dialer, Auto Dialer, and TCPA-compliant FastClick Dialer.

Personalize conversations with contact data.

Mobile App for agents.

Smart branching scripts for uninterrupted conversations.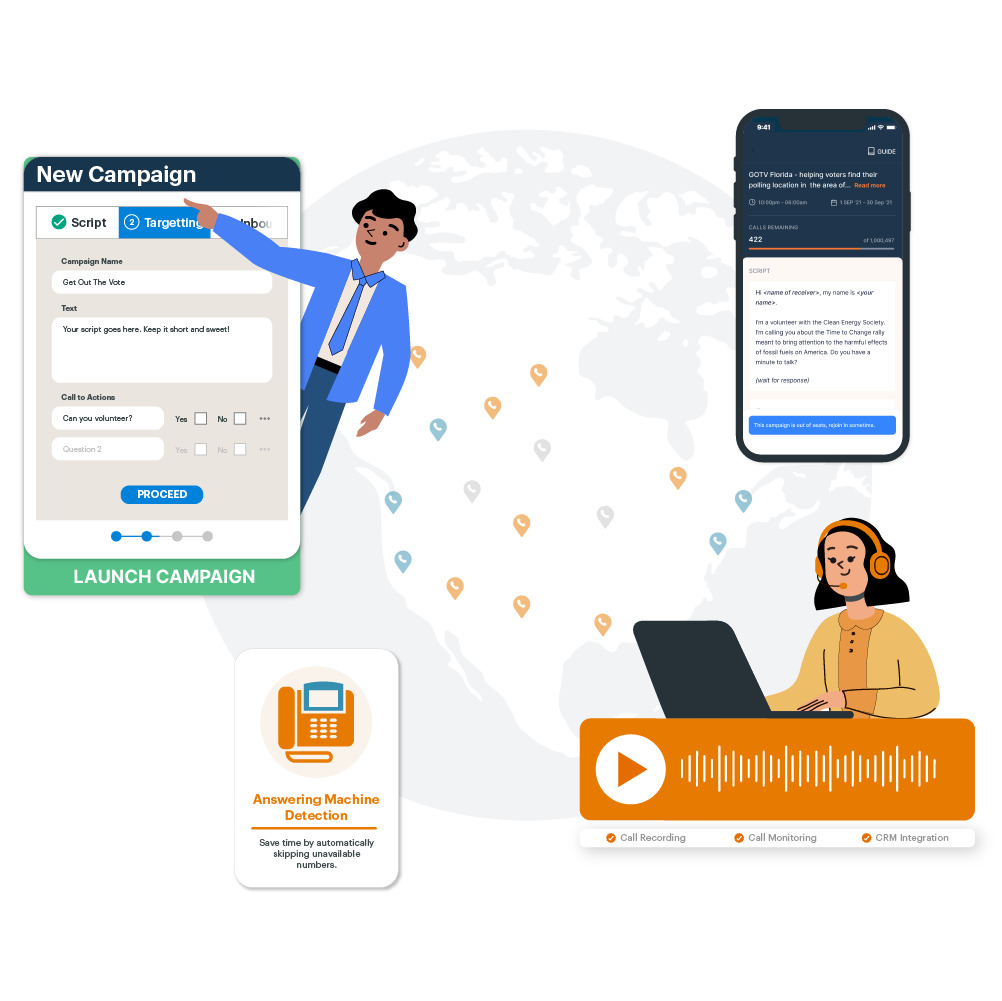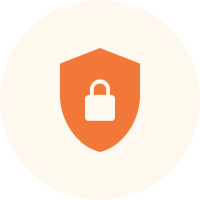 Protect your calls from "Spam" or "Scam Likely" labels. Increase your contact rate with baggage-free caller IDs.
Our proprietary manual dialer allows you to call cell phones fast while staying compliant with TCPA regulations.
Allow call center agents to send followup texts to contacts from your calling campaigns with text from call center.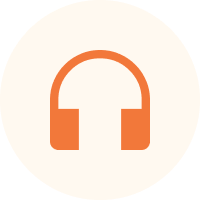 Make sure agents are following your quality standards with live call monitoring.
Listen to phone calls made by your agents in real-time.
Maintain a local presence for your calls, no matter where you're calling from. Improve engagement and pickup rates by upto 20% on your calling campaign.

Don't miss out on busy contacts. Get up to 2x better contact rate by letting contacts call you back. Supported on CallHub's Mobile App too.
Engage in one-to-one conversations with hundreds of contacts at a time using peer to peer text messages. Collect event RSVPs, carry out surveys, and resolve queries.
Fast responses with text templates
6x engagement with MMS
Send custom responses to unique queries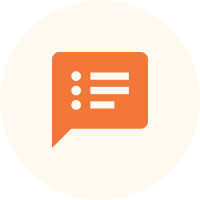 Create text message templates for your agents for your peer-to-peer campaigns. Save time replying to contacts.
Collect data through peer-to-peer texting surveys. Agents can save answers from contacts using survey forms.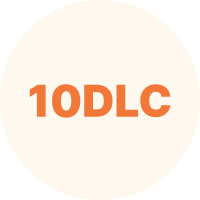 Rent 10DLC numbers from CallHub, with a quick and easy registration process.
Sign Up to get free credits. No Credit Card Required.
Reach all your contacts, at once
Reach a large number of people in the shortest time. Send voice messages to mobile phones and landlines.
Send personalized voice broadcasts to all contacts at once
Convert text to speech
Transfer live calls to an agent with press-1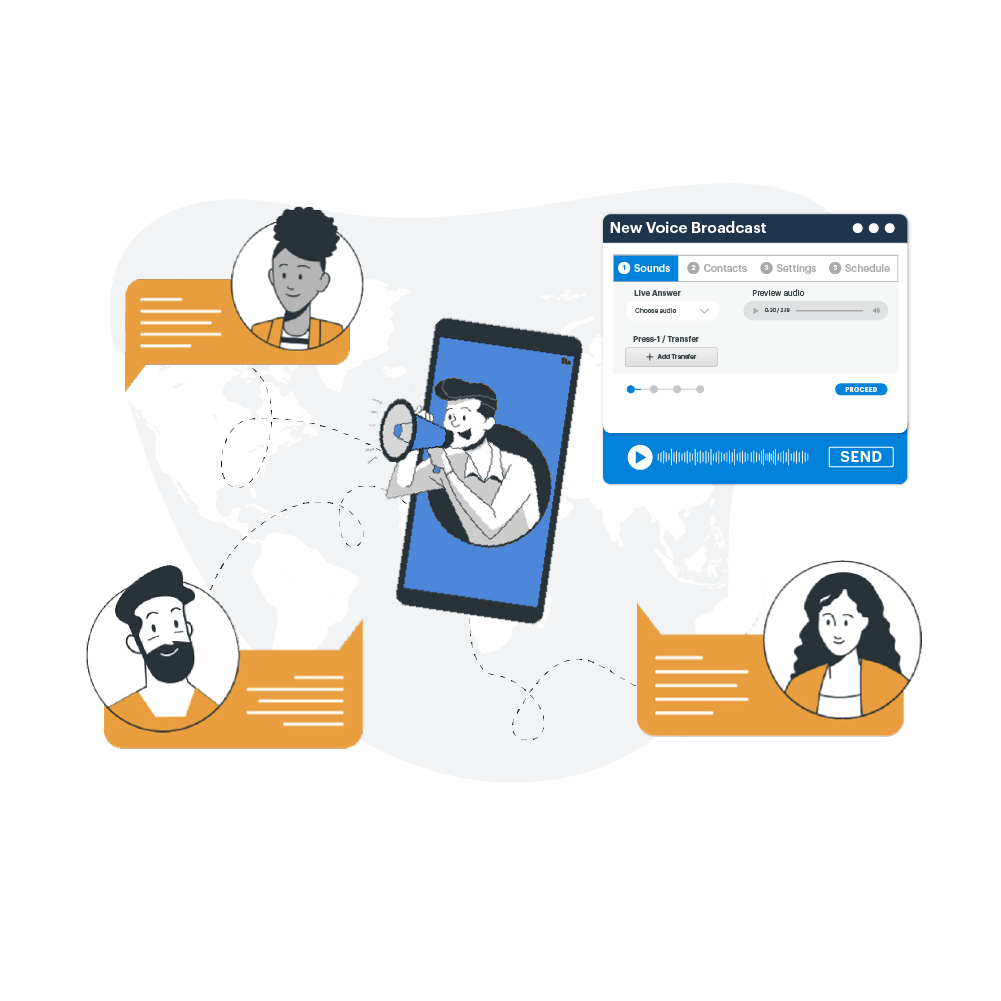 Stay compliant and get higher answer rates
You can use CallHub to combat spoofed robocalls with STIR/SHAKEN. Verify your number to get the "Caller Verified" badge.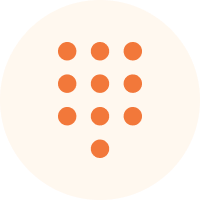 Transfer calls to agents at the press of a button
Use Press-1 campaigns to get live leads. Set up multiple transfer options (0-9). Transfer calls to an agent or allow the caller to leave a message.
Get transcripts of messages left for you
Let contacts leave a voicemail and we'll email the text transcript to you, along with the audio of the voicemail for you to review later.
Redial unanswered calls automatically by using the retry feature. Get better success rates by making sure contacts receive your message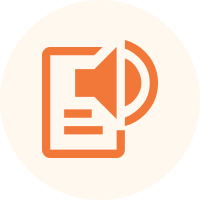 Type out your voice message
Convert text to audio for Voice Broadcast campaigns.
You have the option to use our text to speech engine, record audio or upload your own audio files.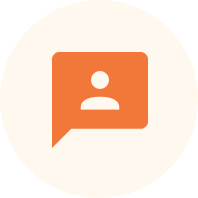 Personalize voice messages
Use merge tags to personalize the message with the text-to-speech option. Choose from the list of tags available or add custom tags of your own.
Automate multichannel outreach with workflows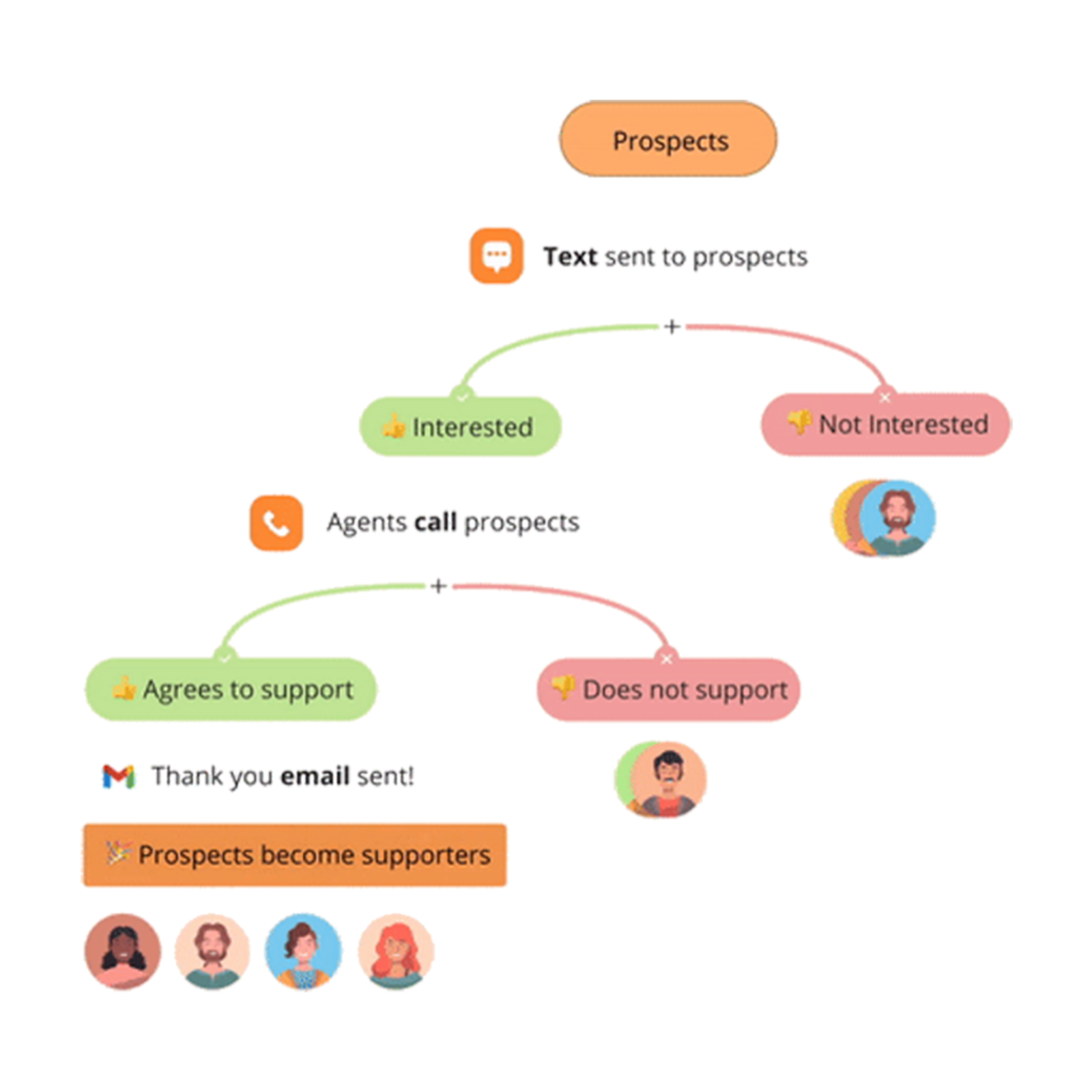 Automate follow-ups, conversation flows, and nurturing journeys using CallHub's workflows. Add conditional follow-ups for unique conversation flows that cater to different contact activities. Set up in one go, sit back, and let workflows do the tedious work for you!
Prevent communication gaps by automating follow-ups based on contact activity.
Create intelligent workflows to nurture prospects into definite supporters.
Supports text, call and email campaigns.
Integrate data back into your CRM for a thorough view of your contacts
We have a simple, easy-to-learn drag-and-drop interface on workflows to help you create campaigns without coding hassle. Build, visualize, and set up workflows right on the canvas!
Multi-level conditional logic
Automate your communications using IF/ELSE and AND/OR operators. Create workflows as simple or as detailed as you need them.
Personalized, multi-channel communications
Engage your people with Text-to-join, Peer-to-Peer texts, calls, broadcasts, and emails. Personalize communications at every level, from merge tags to custom nurturing flows.
Get started with CallHub for free.
Sign Up to get free credits. No Credit Card Required.
Broadcast your message to all at once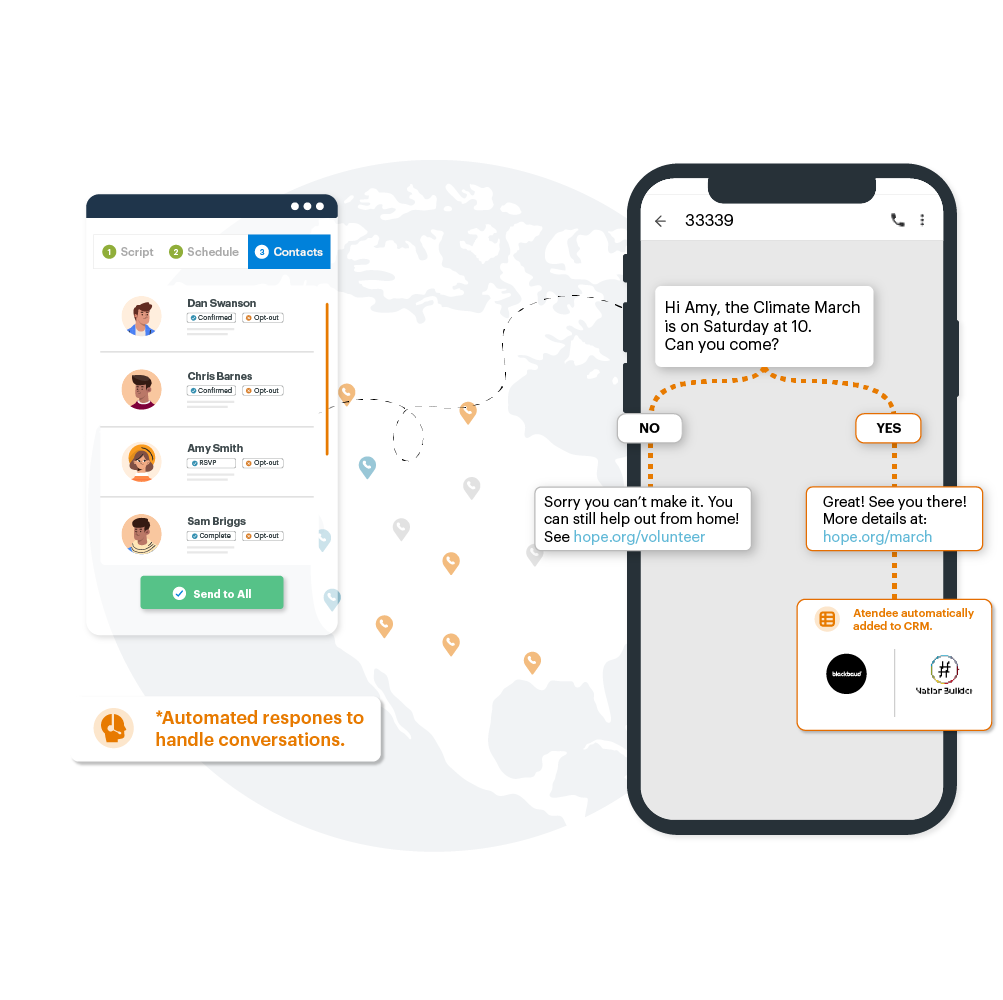 Broadcast texting to reach your entire contact list at the click of a button. Set up and reach your contact list within minutes! Share updates, schedule reminders, broadcast event information, and nudge folks to take action.
SMS and MMS capabilities for solid messaging.
Personalize using merge and custom tags.
Set up trigger keywords and automate responses.
Weave with workflows for seamless follow-ups.
Send replies automatically
Set up automatic replies to follow up on responses to your text messages. Use keywords to filter and segment incoming messages.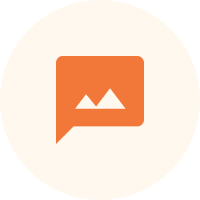 Add multimedia to your texts with MMS
Make your text messages pop with MMS. Add images, GIFs, videos, and PDFs to your texts, and enjoy higher character limits.
Shorten and track your links' performance
Shrink your links to save characters and brand them with the link shortener. Track link clicks and measure campaign success.
Mobilize supporters with Relational Organizing
Bring your agents' network on board with your cause with relational organizing. Match your contact list with your agents' phonebooks and get them to reach out to common contacts. Free forever on CallHub.
Maximize contact rates with warm outreach.
Contact via texts, calls, and social media.
Managers can add scripts and campaign briefs to support agents.
Actionable insights based on contact rate, survey responses, and follow-ups.
Available on the CallHub Mobile App for agents.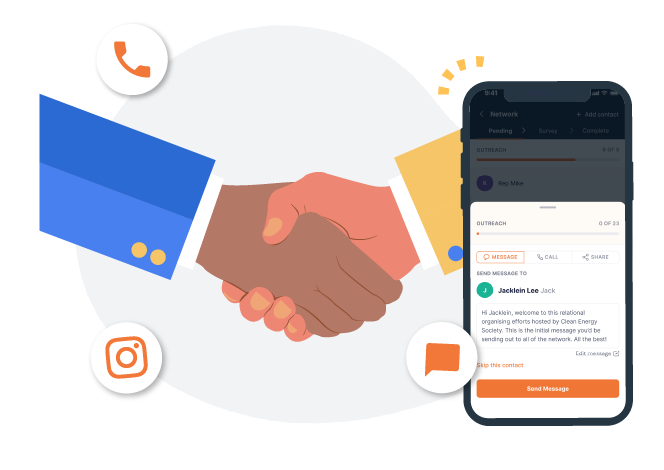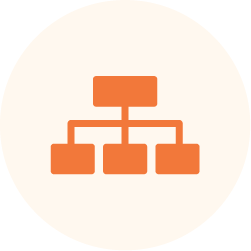 Intuitive flow of outreach
Our relational organizing flow is designed to help agents navigate through the app without formal training. Maximize outreach with a loop flow that gets more contacts to your list after every completed cycle.
CallHub is SOC2 and GDPR compliant, and we follow data privacy norms for our relational organizing tools. Your agents' and their contacts' data is private and secure.
Multilingual and multichannel support
Our relational organizing tool is available in English, Spanish, and French. Agents can reach out with texts, calls, and social media—any channel they normally use with friends and family.
Get started with CallHub for free.
Sign Up to get free credits. No Credit Card Required.
SMS Opt-in or Text to Join
Collect data and get prospects into your contact lists by asking them to text in a keyword to a phone number. Send follow-up prompts to collect contact information.
Make opting-in easy for your contacts
Eliminate manual effort with automated follow ups
Nudge people who drop off and push them to complete sign up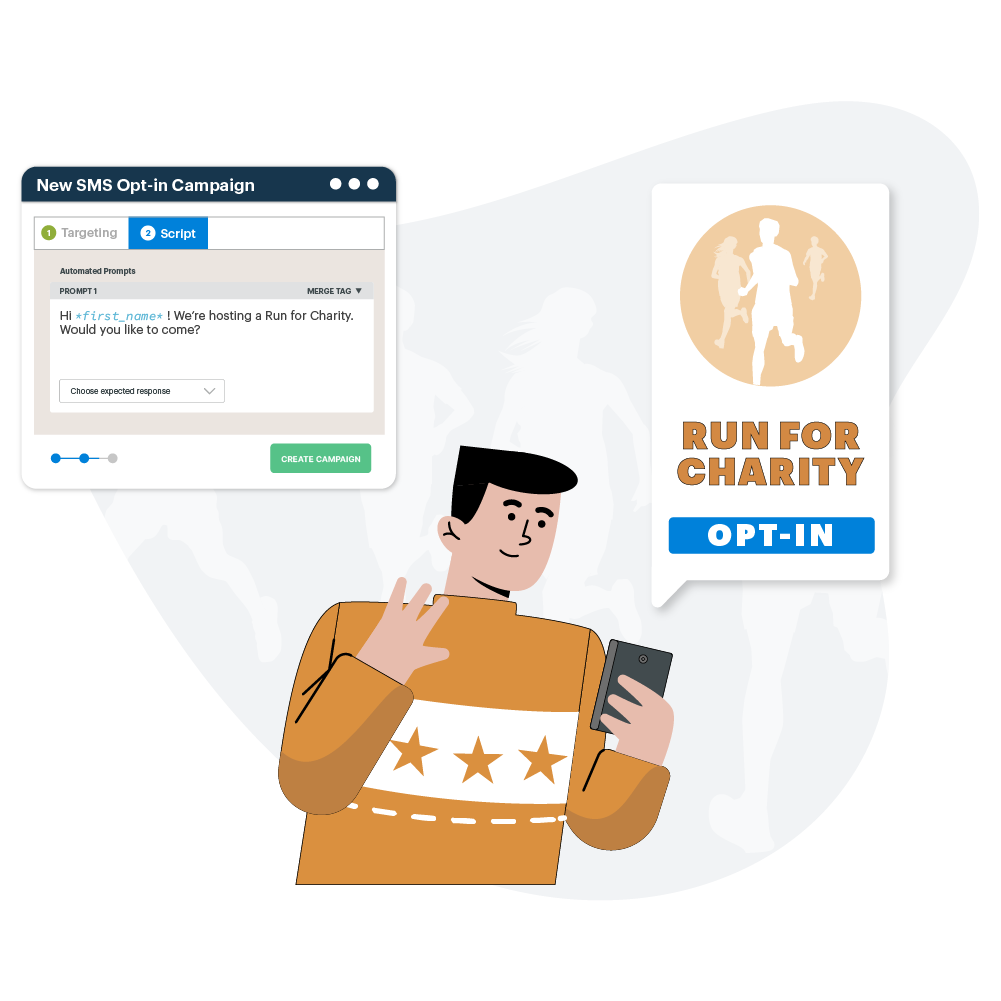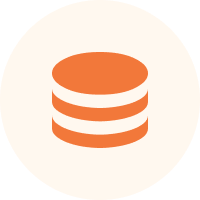 Collect details like a contact's name, email, zip code, etc. once they send in a keyword.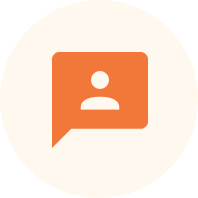 Automated follow-ups can be personalized with the information you receive from contacts.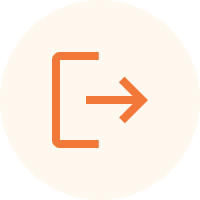 Automatically unsubscribe people who respond with END, STOP, UNSUBSCRIBE, QUIT, or CANCEL.
Get started with CallHub for free.
Sign Up to get free credits. No Credit Card Required.
Make it easy for your agents to join campaigns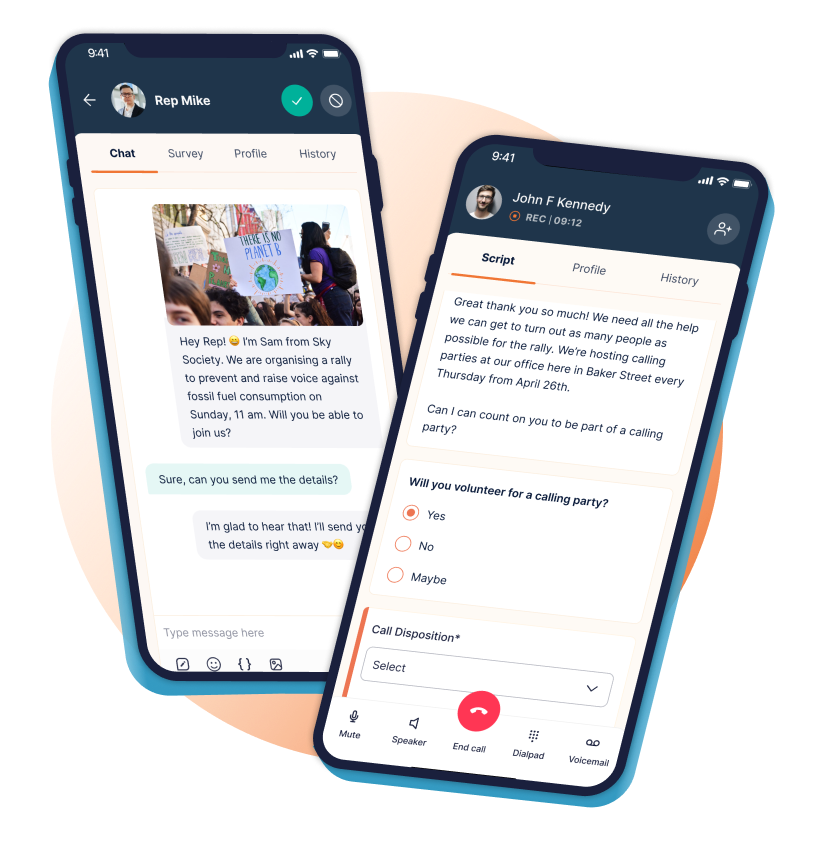 Mobile App for Campaigning
Get your volunteers to join from anywhere with just a smartphone. Use the first of its kind mobile app for call center and Peer to Peer Texting campaigns.
Reduce costs by eliminating the need for laptops, headsets, etc.
Let volunteers join from anywhere, at anytime. 
Available on both iOS and Android.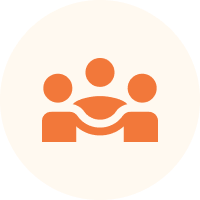 Onboard volunteers in 2-steps
Send volunteers an actiavtion link to access the campaigns and start calling and texting.
Add notes, dispositions, collect data, see contact history, etc. All the features volunteers need to get the most out of their outreach.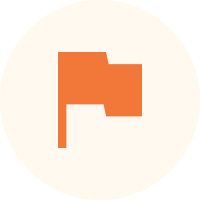 Grow your campaigns more quickly
The comfort of working on their phone & from anywhere helps attract more volunteers & run expansive campaigns 
Import your contact lists into CallHub. Send interaction data back to your CRM for future campaigns. CallHub integrates with Salesforce, NGP VAN, NationBuilder, Blackbaud and more.
Manage campaigns and agents
Manage your team of calling and texting agents, track agent performance, and set access permissions.
No limits on number of agents you can add
Agent leaderboards to motivate them with healthy competition
Manage distributed teams better with user roles and permissions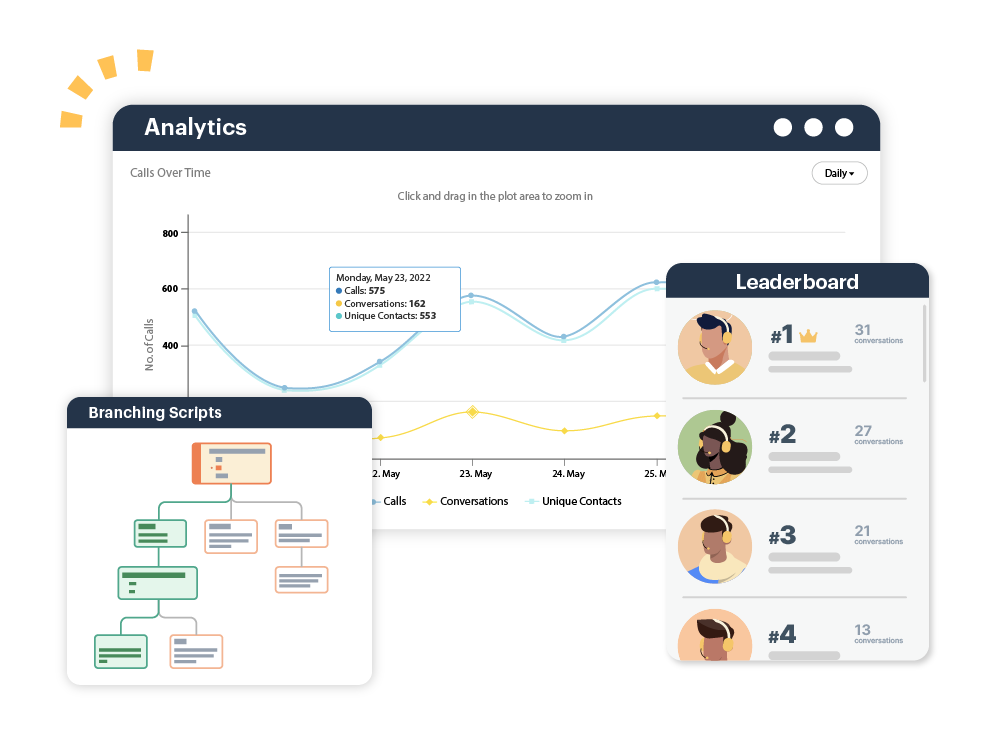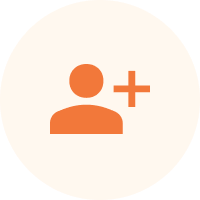 Add team members with different access levels to co-manage campaigns on CallHub.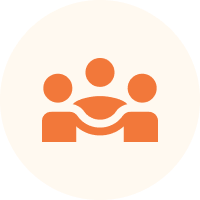 Add unlimited agents at no extra cost. Manage agents by grouping them into teams and assigning teams to campaigns.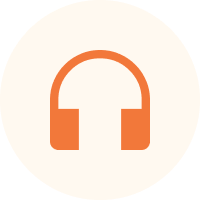 Join live calls for quality assurance
Listen in on agent calls for quality assurance and training purposes.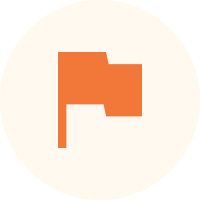 Add sub-accounts to separate agent groups
Create sub-accounts with separate sets of agents and campaigns.
Click to join link for volunteers
It's easier for volunteers to join your campaigns and make calls and texts right away.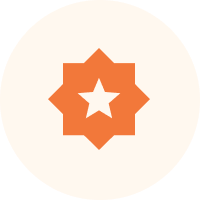 Motivate action with healthy competition
Display the top performing agents on the agent leaderboard to promote some healthy competition and inspire people to push harder.
Guide all your conversations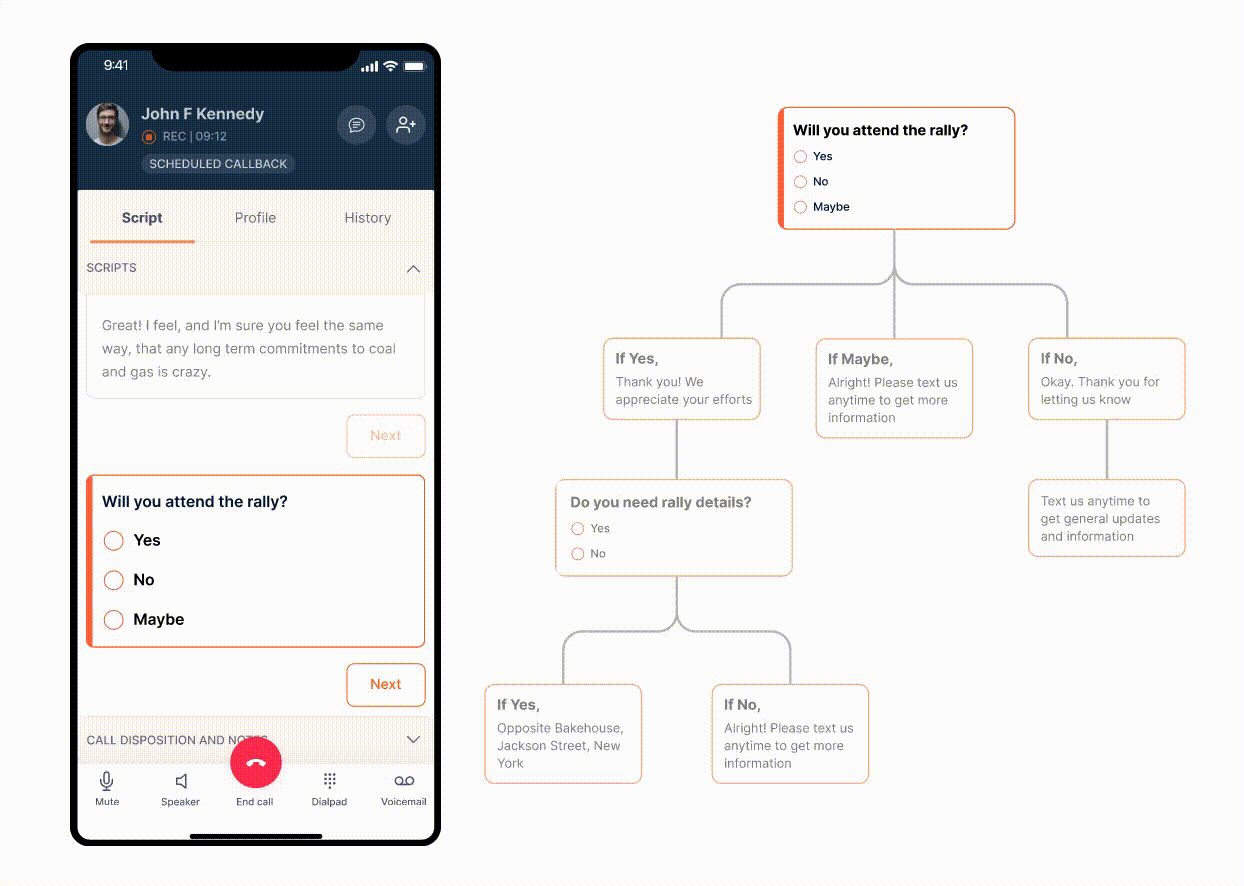 Guide your agents at every step of the conversation with logic based scripts. Create script branches for every possile response and show agents exactly what to say based on the contact's response. 
Create script branches that agents can navigate to at the click of a button. Eliminate scrolling that may lead to awkward silences.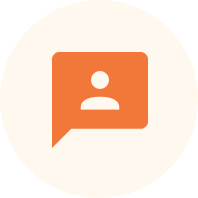 Personalize conversations
Personalize conversations with merge tags. Add contact data to the script dynamically for agents to read. Use the default tags or add custom ones.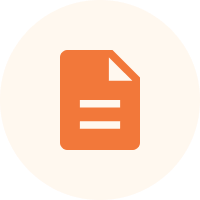 Create error free scripts
Review every script while you're building it. See every branch you've added to your script from start to finish. 
Get started with CallHub for free.
Sign Up to get free credits. No Credit Card Required.
Stay Compliant in your Outreach
CallHub always stays on top of TCPA compliant rules and keeps the tools updated to ensure the highest level of compliance. 
TCPA Compliant dialers to make automated calls
Schedule campaigns to only operate during TCPA compliant hours
FastClick dialer to make calls to mobile phones at blazing speed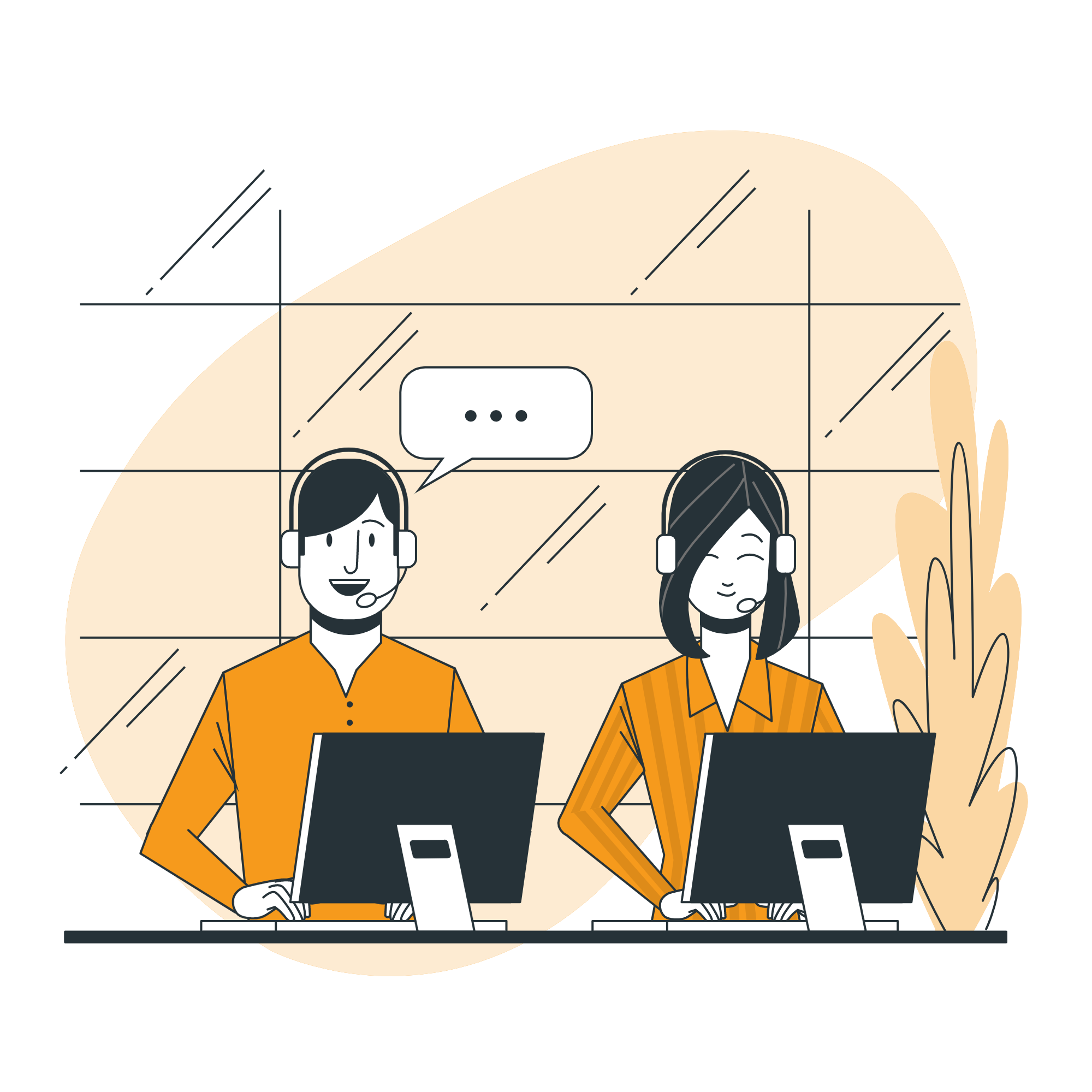 Validate your numbers to get the "Caller Verified" badge. Build trust and improve answer rates.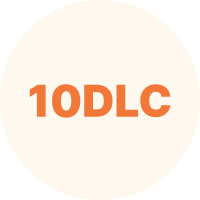 Register your brand to get 10DLC numbers. Maintain texting compliance and achieve better deliverability.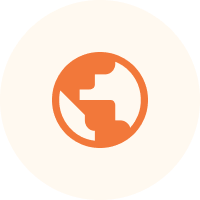 Schedule your campaigns for different time zones so no calls are made outside of the TCPA hours in that zone.
Measure and optimize your campaign performance
Track and measure the performance of your campaigns using CallHub's analytics dashboard. You can track:
Call and text reach
Link clicks for text message campaigns
Opt out rates
Agent performance
Get help whenever you need it
Our support team is always ready to help answer your questions. You can reach support through chat, email, or call.
95% Customer Satisfaction Score
99.93% Uptime
<3h Avg. first response time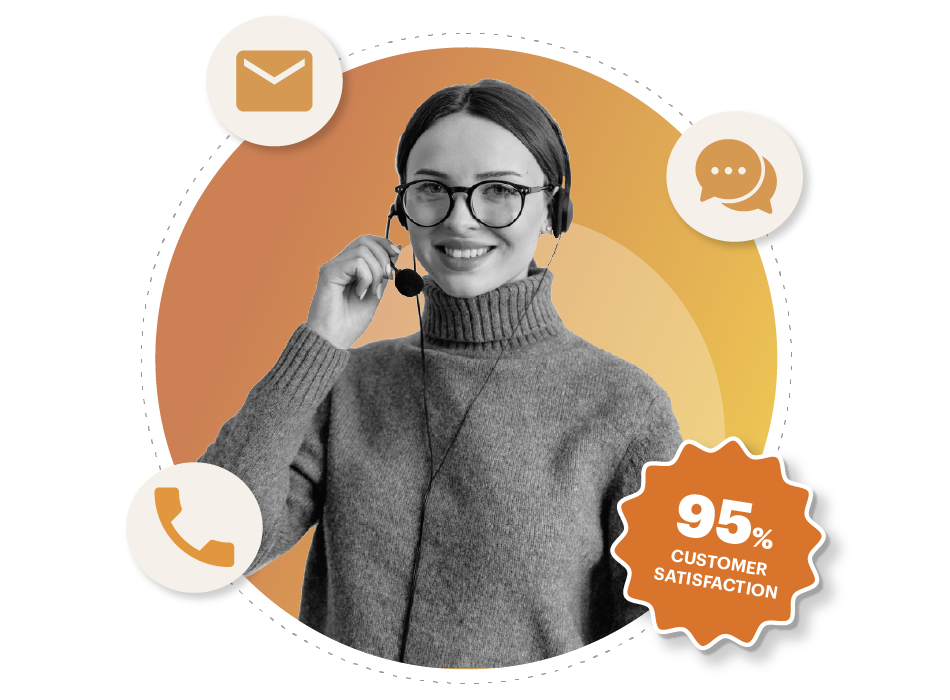 Trusted by organizations around the world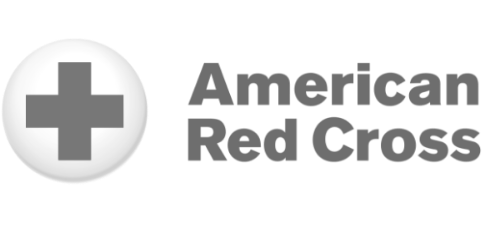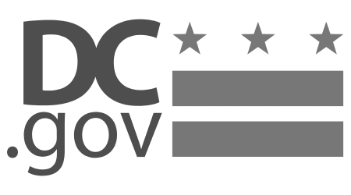 "CallHub surpasses the other guys! Very easy to use. I compared it to several other services and am very happy that we have chosen to do business with them. The team is so friendly, easy to work with and assists wherever they can. It is a joy to work with them!"
 Leslie Stubblefield, Insurance Media Services
CallHub has become my go-to platform for affordable phone canvassing campaigns, voice broadcasts and text message blasts. I used the Voice Broadcast feature in various ways, from inviting people to events to, in one case, contacting almost every household in a small province to generate leads for people wanting more information about a plebiscite that was taking place."
Jordan Bober, Director of Development and Election Readiness, Green Party of Prince Edward Island
I really love your team. You are just super responsive and super friendly and nothing's too difficult! It's been a really good experience.
Shaun Murray, Senior Organizer, GetUp
"CallHub made my marketing program easy and also affordable. I love the dialer, the SMS marketing program and the voice broadcasts. The CallHub team is doing a wonderful job!"
Wendy Mathis, Global Quest Services
"I love this product. It's so easy to use with a very clean user interface. The price is the most economical I've seen in the industry and last but not least is the wonderful customer support. They answer all questions very quick."
Ronald Hart, Marketer, The Cloud Marketers
Sign Up free. No Credit Card Required.