AGENT SEATS ARE FREE!
Outbound Call Center Software
Choose from multiple virtual automated dialers, have authentic conversations using personalization features and sync data in real time from your cloud calling software with your contact management platform.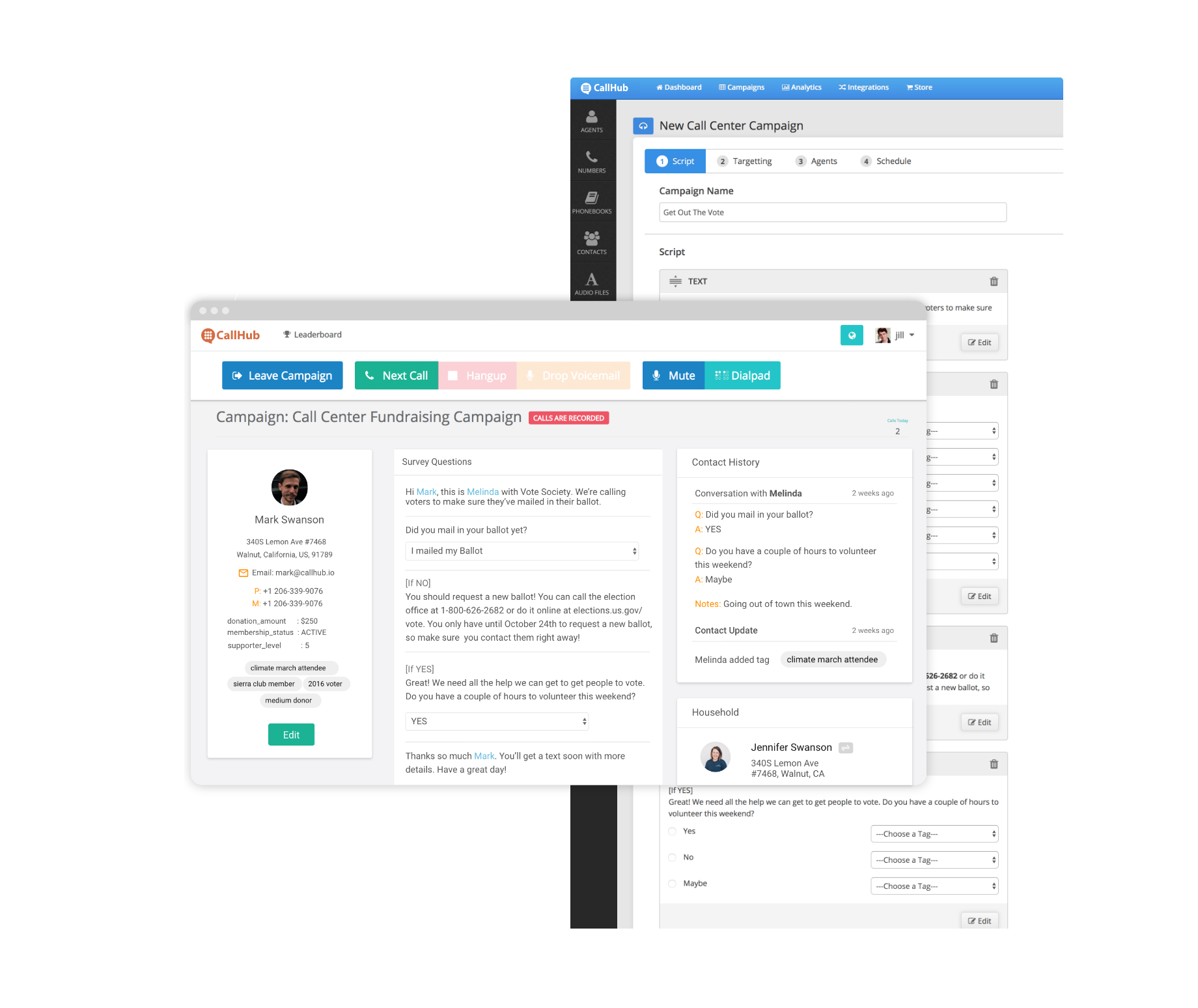 Increase agent productivity
Choose from a range of auto dialers that automate the repetitive parts of a call so agents spend more time talking and less time placing calls. Automatically dial contacts one at a time with a Power Dialer or maximise talk time for your agents with a Predictive Dialer.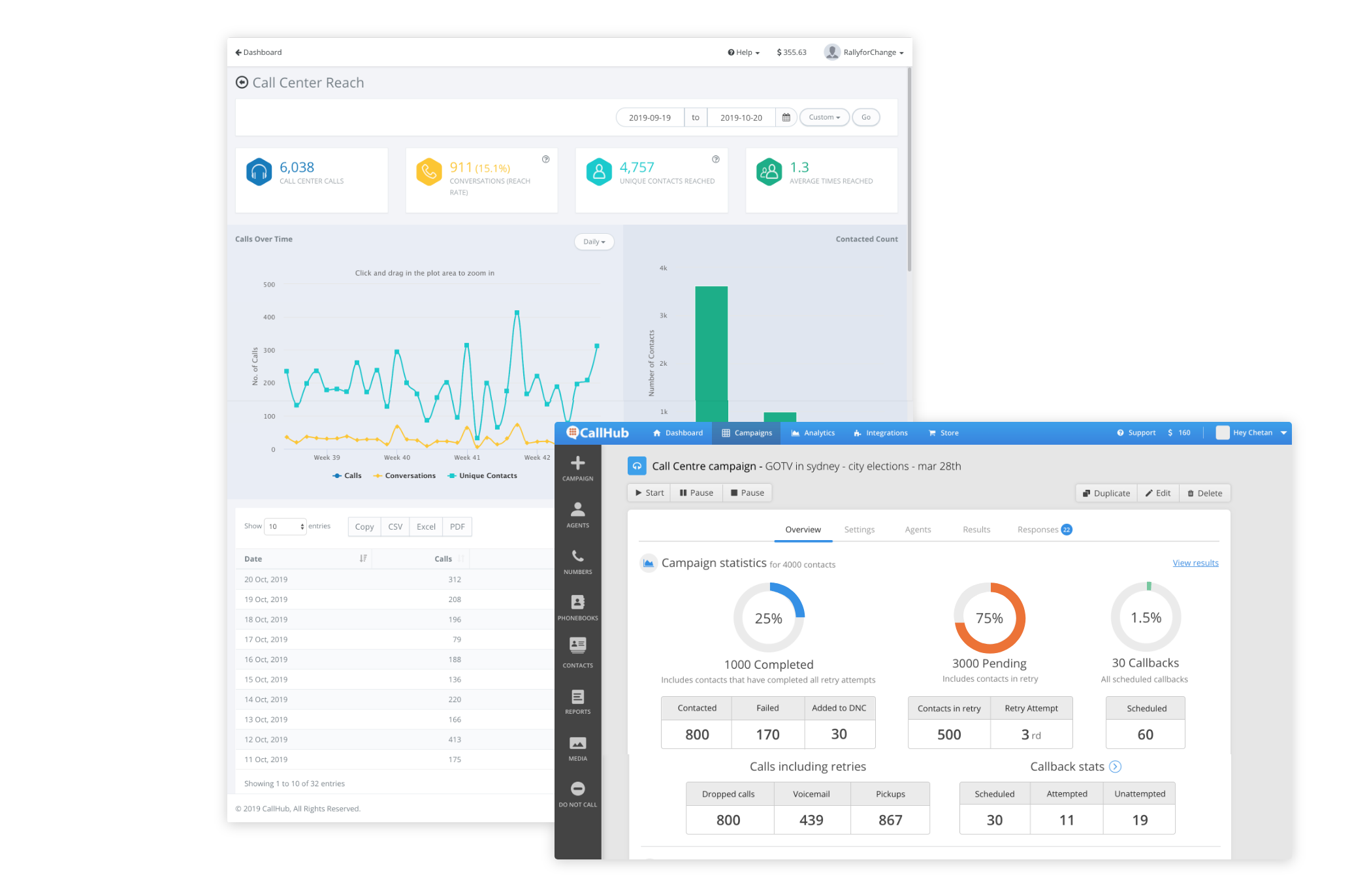 Provide context for each call
Agents on a call have access to data collected from previous conversations in your virtual call center software, with synced databases to make each call authentic and personal.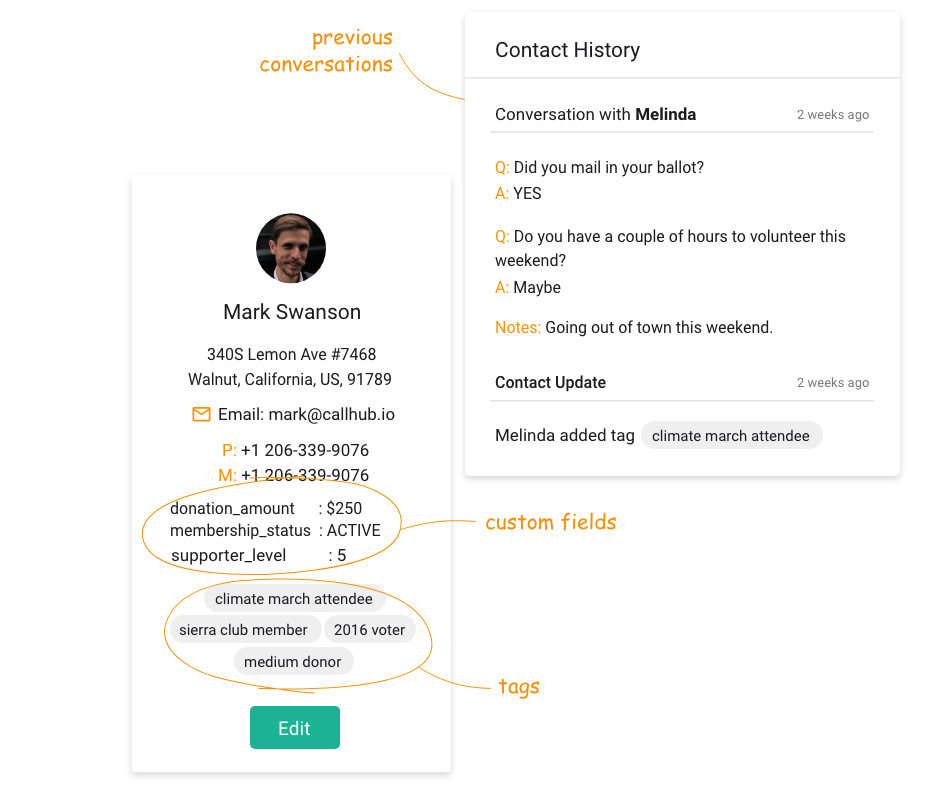 Collect data while on calls
Personalized scripts for each contact helps your virtual call center agents focus on the conversation without worrying about completing surveys. Use app integrations to sync surveys and events from your CRM.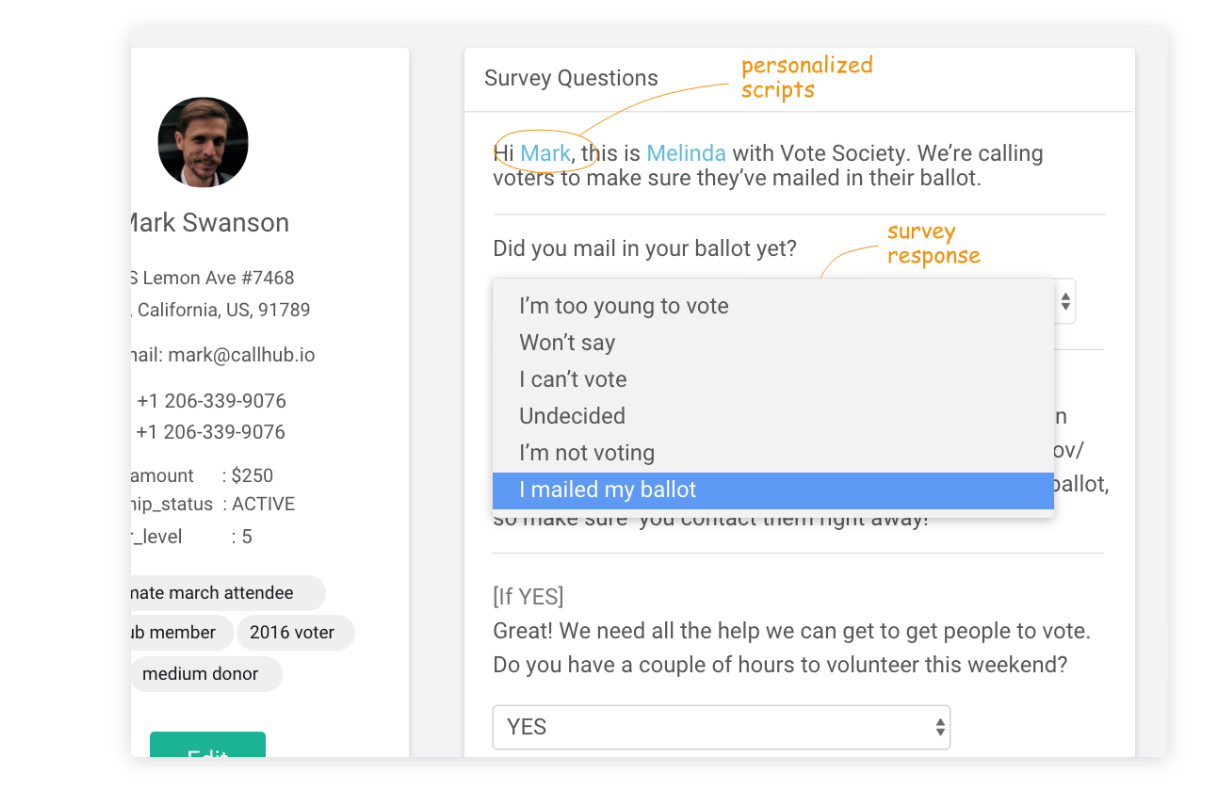 2-way data flow integration with NationBuilder, Action Network and Blackbaud
Bring your lists into the CallHub cloud calling platform with one-click integrations and have call data flow back to your CRM or database in real time. Agents have access to relevant contact information and all calls are automatically logged to reduce data entry.
Keep track of progress
CallHub call center tracking software helps campaign managers make data-driven decisions to stay on track of calling goals. Track calling activity across time, measure calls that convert into meaningful conversations, and compare agent performance.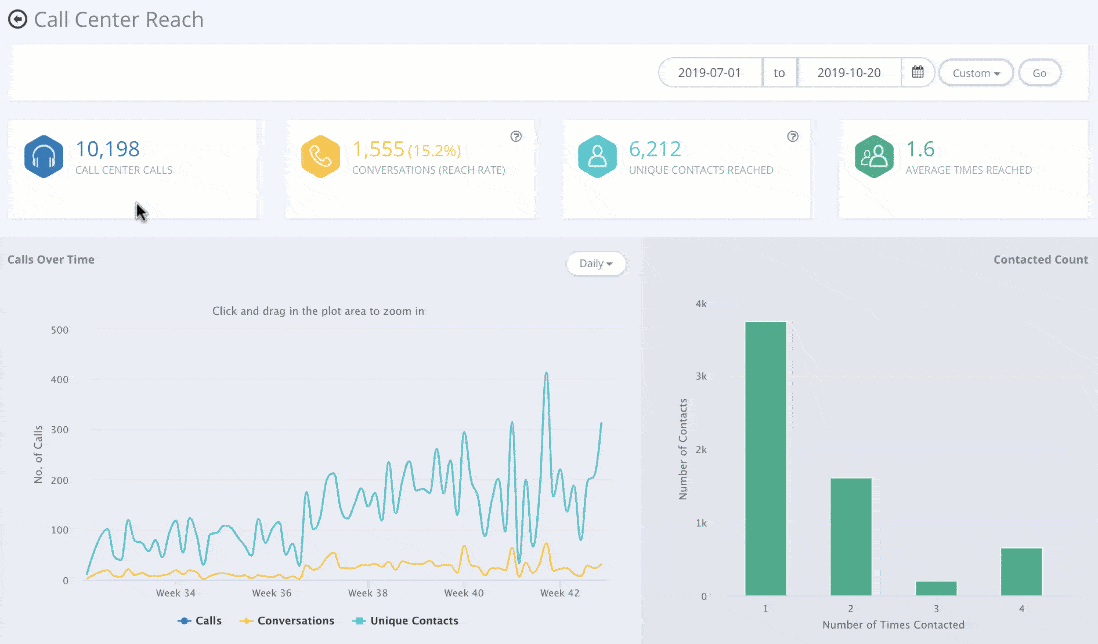 Ready to start a conversation?
Try it free. No credit card required. Instant setup.
Outbound Call Center Software Features
Multiple virtual outbound dialers
Easy agent onboarding and management
Data-enriched conversations
Improved chance of calls being picked up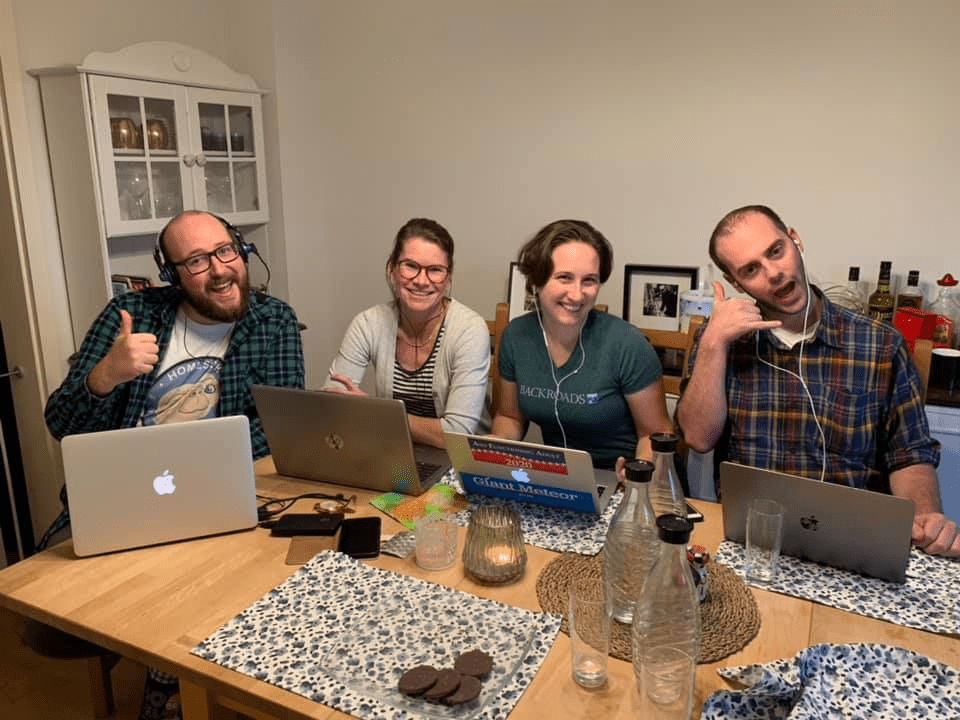 Democrats Abroad helped drive 300% increase in overseas voter turnout with phone calls
"When we added CallHub to our voter outreach tool set in 2016, we knew that it would impact our outreach to our members, helping to coordinate our efforts around the world and ensure we were all using the same messaging. What we didn't realize is how much it helped to recruit and energize volunteers. "
 – Julia Bryan, Global Chair of Democrats Abroad
Why more than 3000 customers chose CallHub
Set up and use in under 5mins
If you have a browser and 5mins, you can set up your first call center campaign right now. Test it out with free credits before you spend a penny.
We keep things simple
More than 20,000 agents between ages 18 and 80 use CallHub to make calls and send texts. We know to keep things simple.
Quick response time
Reach out to our dedicated team of support engineers with any issues and they'll get back to you quickly. We also have detailed documentaion on our Help Center.
Reliable platform
CallHub runs on the most flexible and secure cloud computing environment available today. 99.9% uptime guaranteed.
More than a call center
Follow up on your call with more information or send out time-sensitive updates using text messages. CallHub texting tools work alongside our call center to help you grow your mobile list, send out automated texts and engage cellphone users in one-to-one conversations.
Pay as you go pricing
If you're running short duration campaigns like Get Out The Vote, a subscription might not work for you. That's why we have a pay as you go pricing model where you only pay for the calls you make with unlimited agent seats and contact uploads.
Outbound Call Center Software for conversations that matter
Try for free. No credit card required. Instant setup.