DISTRIBUTED ORGANIZING WITH CALLHUB
Mobile app for your call center campaigns
Call center mobile app designed to improve volunteer efficiency
Get your volunteers to join from anywhere with just a smartphone. With a reduced cost and more optimized calling experience, get the best out of your campaigns.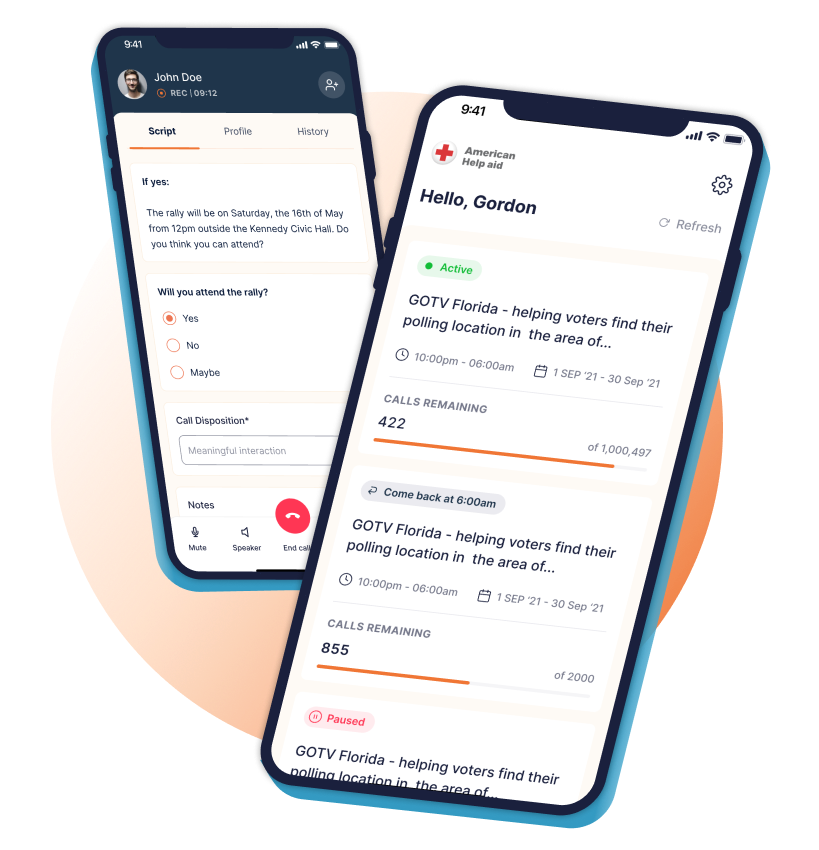 Easily recruit people to make calls, plus cut down on operational costs
Improve ROI with significantly less spend on devices
Reduce campaign costs by eliminating the need for buying or supporting devices(computers, laptops, or tablets). All your volunteers need is a smartphone, which most already own.
Let volunteers join from anywhere, anytime on their smartphones
Enable volunteers to join campaigns on their smartphones and make calls from anywhere in the world. Refined calling experience and better onboarding can help you scale campaigns faster.
Attract Millennial & Gen Z volunteers who are more comfortable on their smartphones. With an expansive volunteer base to appeal to, scale your campaigns beyond your current pool.
Invite, onboard, and get volunteers started, quick and easy
Get your volunteers to start calling in just a few steps.
Quick access with an activation link
One-click access to the assigned campaigns
Start calling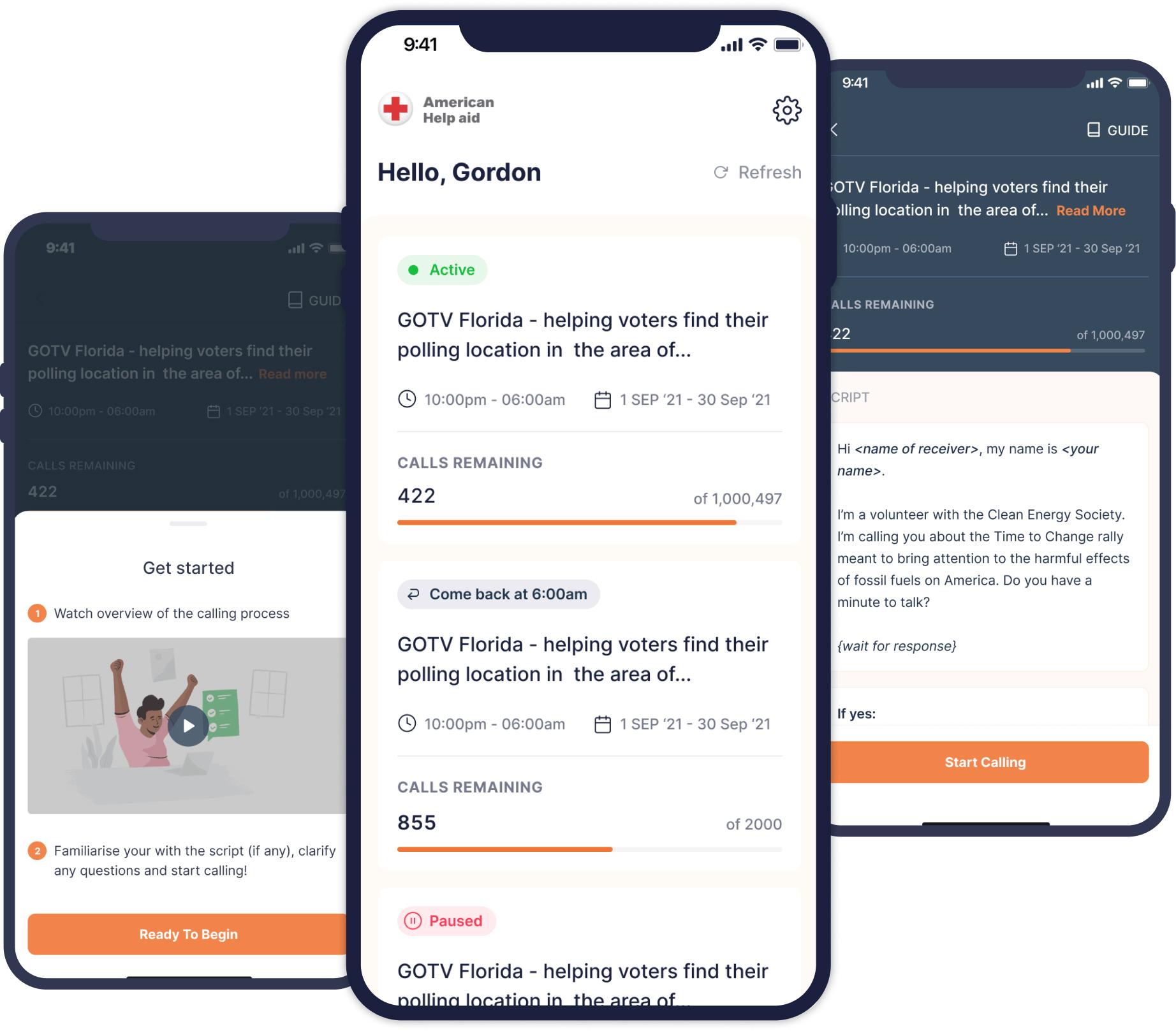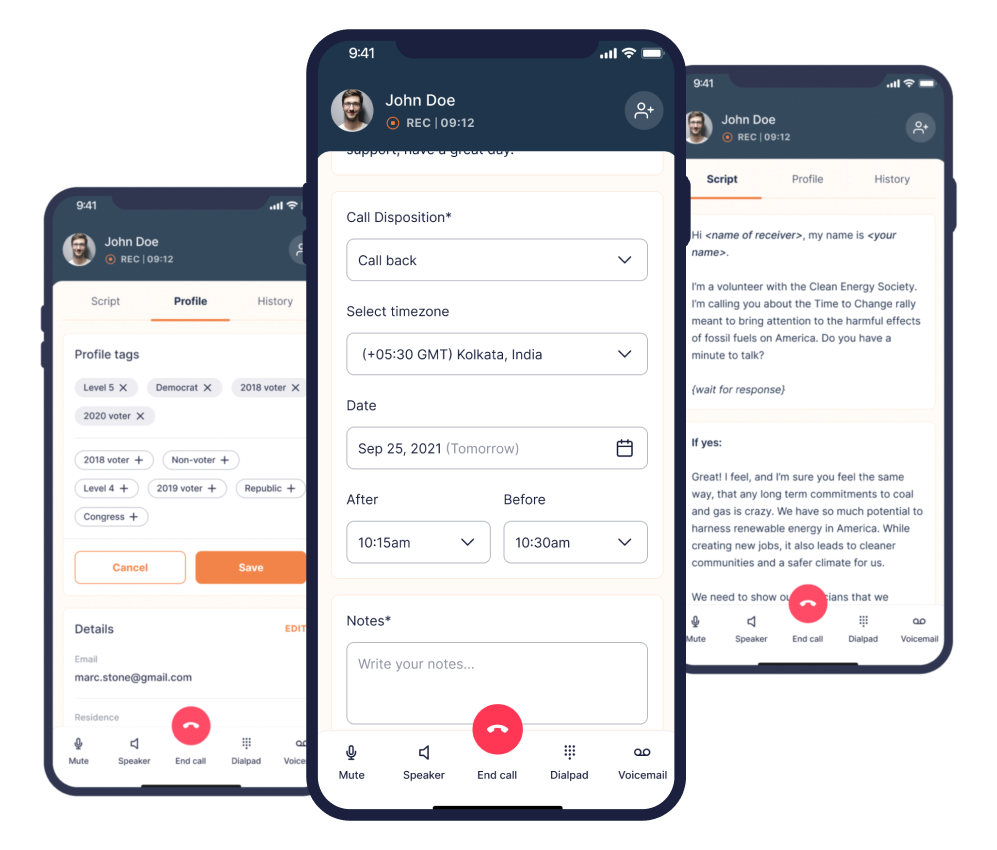 Expect better productivity with a refined calling experience
Designed to suit every volunteer's preference with all the campaign information at their fingertips. Close more calls than before with
Ability to add notes, call dispositions, survey responses, and more while on the call and after.
Easy access to scripts, contact history, and more
Intuitive and user-friendly interface
One app for all your needs
With a larger pool of volunteers that can join your campaigns now, reach more voters on your list through calling campaigns. Focus on better conversations while CallHub handles the dialing for you.
With onboarding sessions for your volunteers even before they start calling, better equip them to guide your supporters and confirm their registrations. Take notes right on the platform, while on the call.
With the flexibility to join the campaign from anywhere, let your volunteers get through your list in the shortest time possible. Hop on calls one after another while the CallHub dials the numbers ahead of time.
All that you need for calling and more
Make 3X more calls per hour by directly connecting to the answered calls.
Control the calling rate by joining a call only when you are ready.
Reach multiple contacts simultaneously by playing a pre-recorded audio message.
The only phone banking app with unlimited volunteers that smoothly integrates with your CRM.
Eliminate the hassle of switching tabs by adding notes, tags, and more from a single screen.
Improve the chances of reaching a contact by scheduling the calls at the right time.
Discover invalid contacts and weed them out to save the cost of reaching them.
Personalize conversations by populating the contact details on your volunteers' screens.
Improve your answer rate by displaying a local number using our Dynamic Caller ID.
Increase the chances of getting callbacks by leaving voicemails to unreachable contacts.
Avoid missing any contact by scheduling the follow-up actions using Call Dispositions.
Detect answering machines and take the appropriate action.
Improve your volunteers' performance by monitoring the calls and guiding them during the campaign.
Optimize the performance of your campaigns with live analytics and daily reports.
Connect with any CRM and sync data in real-time.
Reach our product specialists through email, phone, live chat, and more.
3000+ of the world's biggest organizations trust CallHub for engagement




Give your volunteers the tool to succeed
Try the first mobile app for campaigning.