Predictive Dialer Software
Make sure agents spend their time in conversation and not on placing calls that might not even get answered. With a Predictive Dialer, an agent is connected to a live contact as soon as they are free.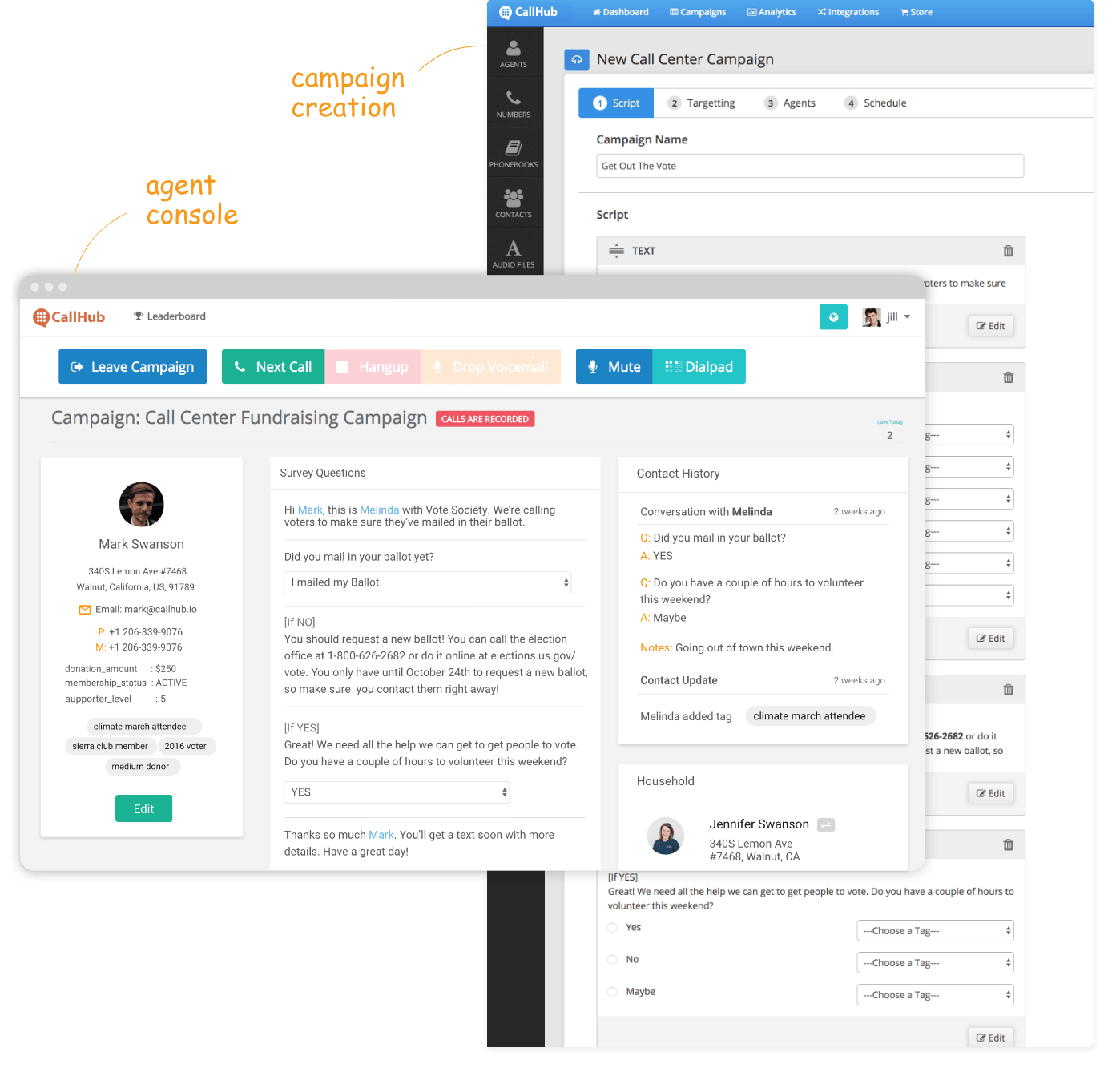 An agent manually dialing numbers can make around 35 calls per hour. The Predictive Dialer takes it up to 110, by automating the repetitive parts of a call.
Higher agent productivity
Predictive Dialer increases talk time to 45 mins per hour. Agents spend less time placing calls and more time having a conversation.
Personalize conversations by populating scripts and surveys with relevant contact details from your CRM. Details of calls are instantly synced to remove the hassle of data entry.
Eliminate Device Cost with the Call Center Mobile App
Eliminate the cost involved with buying extra devices and let your agents join your campaigns using the CallHub app on their smartphones. Attract more agents with the ability to make calls from anywhere and anytime.
What is a predictive dialer?
A Predictive Dialer is an outbound automated dialer that increases the efficiency of agents in a call center campaign by dialing numbers ahead of time and connecting only answered calls to agents.
Reach contacts at blazing fast speeds
Try it free. No credit card required. Instant setup.
How does a Predictive Dialer work?
The Predictive Dialer uses a machine-learning algorithm that analyses answered calls, dropped calls, number of active agents and other call metrics. The algorithm uses these metrics to predict the right dialing rate.
This allows our Predictive Dialer to accurately dial multiple contacts so that an answered call is ready as soon an agent becomes available.
The agent's time is not wasted listening to dial tones, skipping bad numbers or hanging up on unanswered calls.
The more agents you have making calls, the better the Predictive Dialer is at connecting calls at the right time (6+ recommended).
Since the Predictive Dialer prioritizes volume over personalization, it is a good fit for Get Out The Vote calling, market research and tele-fundraising.

"We can make calls at about 5x the rate that we would with a manual dialer, getting through a list of 100 calls in just over an hour. This has been a huge capacity saver in our organization."
Amanda Destefano, Leadership Organizer, United Workers
"I really love your team. You are just super responsive and super friendly and nothing's too difficult! It's been a really good experience."
Shaun Murray, Senior Organizer, GetUp
"A lot of our folks are volunteers, a lot of them are retired, they are often anxious with technology and they were able to use CallHub easily. It's empowering for volunteers who don't see themselves as very tech savvy to be able to pick up a new piece of software and a new program and just use it, so that was great."
Celine Trojand, Digital Organizer, Organizing for Change
"I love this product. It's so easy to use with a very clean user interface. The price is the most economical I've seen in the industry and last but not least is the wonderful customer support. They answer all questions very quick."
Ronald Hart, Marketing, The Cloud Marketers
"Solid dialer, responsive support, and awesome CRM integrations!"
Django Merope Synge, Campaigns Director, GetUp
"CallHub made my marketing program easy and also affordable. I love the dialer, the SMS marketing program and the voice broadcasts. The CallHub team is doing a wonderful job!"
Wendy Mathis, Global Quest Services
CallHub has become my go-to platform for affordable phone canvassing campaigns, voice broadcasts and text message blasts. In particular, text message blasts are the single most useful tool for volunteer mobilization that I have used in recent years.
Jordan Bober, Director of Development and Election Readiness, Green Party of Prince Edward Island
Advantage of CallHub's cloud-based Predictive Dialer
Call back at the right time
Schedule a more convenient time to talk if the contact is busy. CallHub automatically dials them at the scheduled time.
Contacts see a local number on their screen no matter which part of the world you call from with Dynamic Caller ID. Available for 150+ countries.
Answering machine detection
Drop a pre-recorded voicemail, or automatically hang up when you reach an answering machine.
Switch between Predictive Dialer or Power Dialer based on calling requirements. The Power Dialer allows for more personalization and control over how calls are made.
Make data-driven decisions that keep you on track of calling goals with CallHub analytics. Track calling activity, measure quality of conversations and monitor agent performance.
Agents are crucial to your campaign. Recruit as many as you need and add them to CallHub for free! We do not charge per seat in a campaign.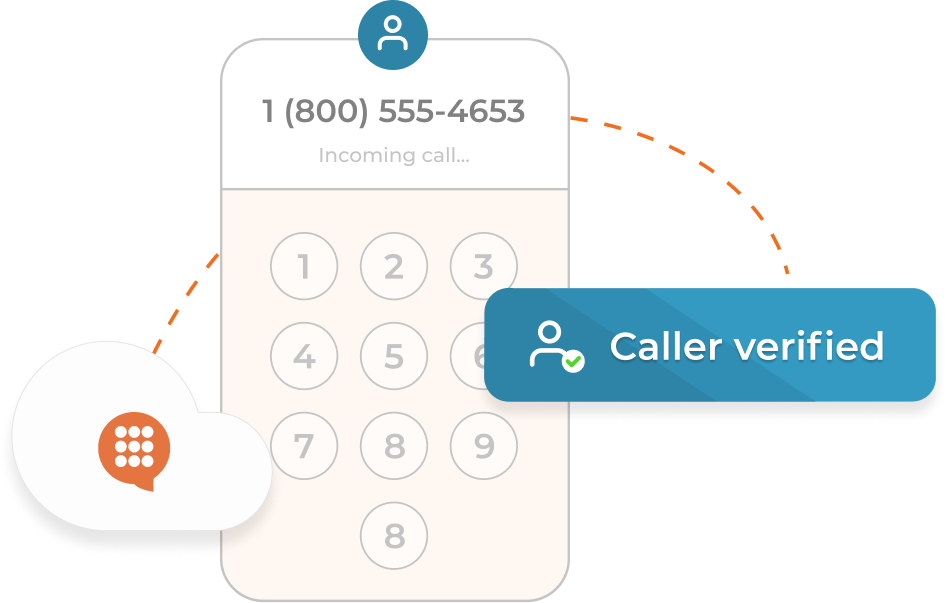 Increase Your Answer Rate with "Caller Verified" Badges
CallHub is now SHAKEN/STIR compliant
Get a "Caller Verified" badge on your phone numbers and stay compliant with the SHAKEN/STIR regulations. Instill trust in your contacts and thus improve the answer rate.
What about people who don't pick up their phone?
Follow-up with a text message.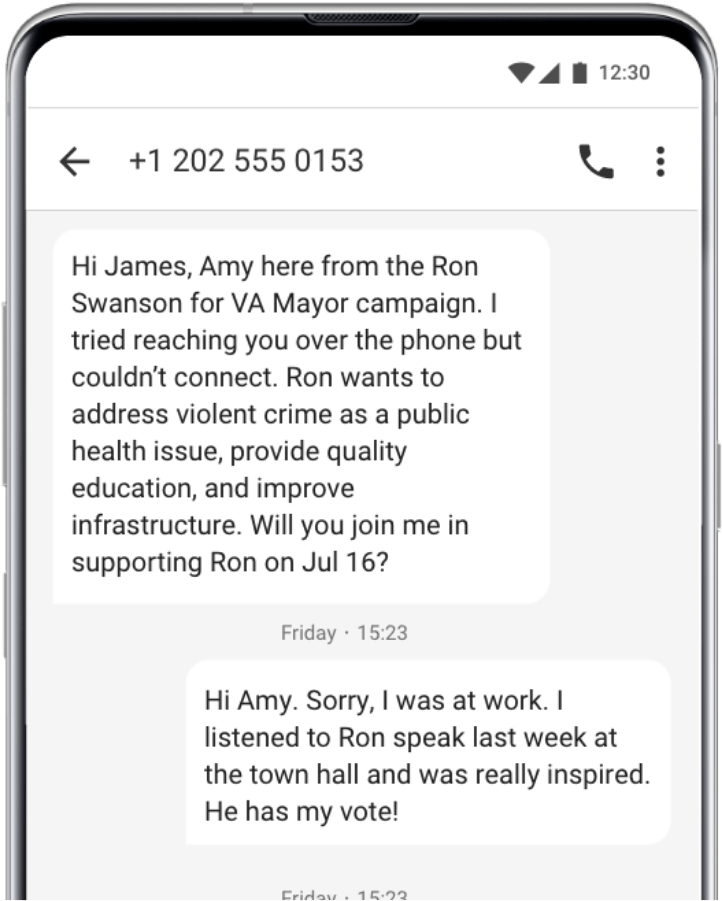 Integrations tie it all together
Connect with the software you use every day. Integrations with popular CRM software like NGP VAN, NationBuilder and Salesforce keeps your lists, surveys, tags and custom fields synced in real-time.
Learn how organizations are using CallHub today
How Democrats Abroad helped drive 300% increase in overseas voter turnout with phone calls
Democrats Abroad created a distributed campaigning model for volunteers around the world to call more than 150,000 members spread across 190 countries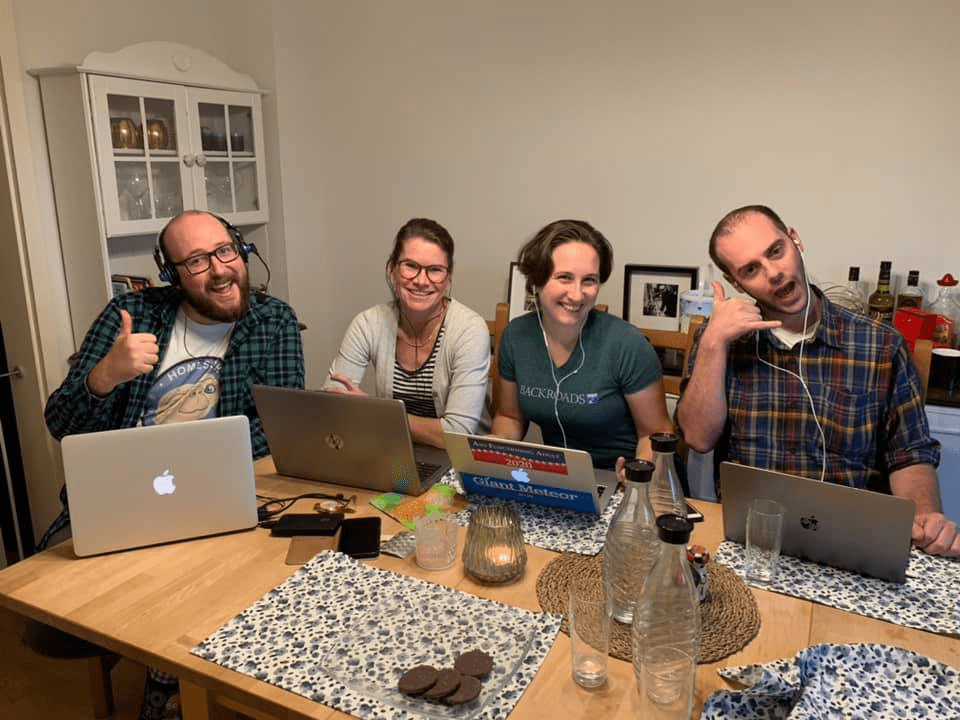 OFC personalized the calling experience and improved turnout by 70% using CallHub
3000+ of the world's biggest organizations trust CallHub for engagement




Try CallHub's Predictive Dialer
Try it free. No credit card required. Instant setup.