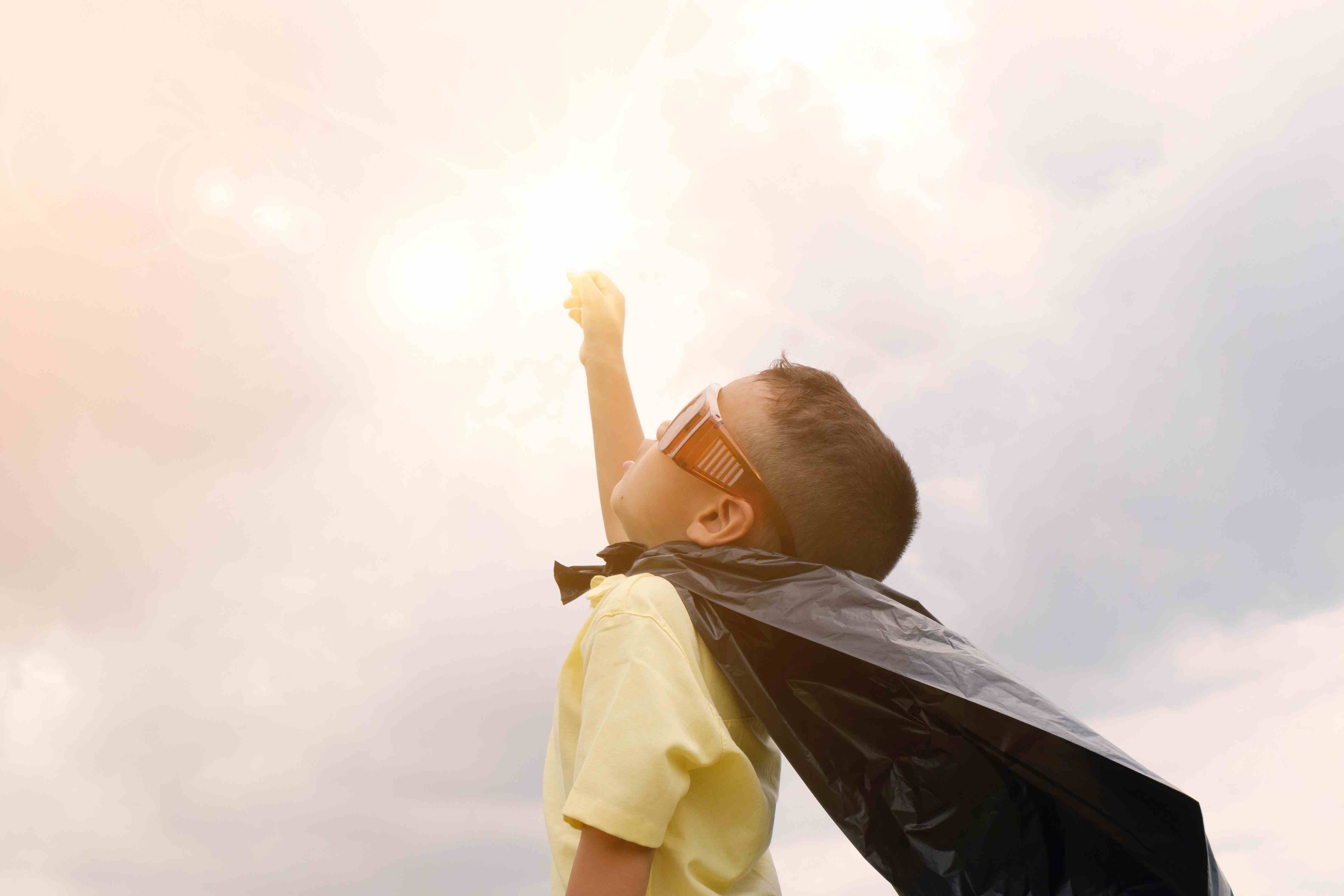 Industry leading CRM for Nonprofit and Advocacy Organizations
Succeed with Blackbaud Luminate Online
Manage your volunteers, donors and supporters with Blackbaud's industry leading solution focused on fundraising, marketing and engagement. Engage them with CallHub's SMS and Voice marketing platform.

Leading uniquely at the intersection point of technology and social good, Blackbaud provides cloud software, services, expertise, and data intelligence that empower and connect people to drive impact for social good. We serve the entire social good community, which includes nonprofits, foundations, companies, education institutions, healthcare organizations, and the individual change agents who support them.
Drive awareness, Increase engagement, Raise more funds
CallHub campaign examples targeting Blackbaud constituents
Here are some example campaigns you can run with this integration.
SMS Opt-in Campaigns
Fundraising event Invite
Get feedback from event attendees
Send out fundraising updates
Influence decision-makers with patch through calls
Donor stewardship campaigns
and many more.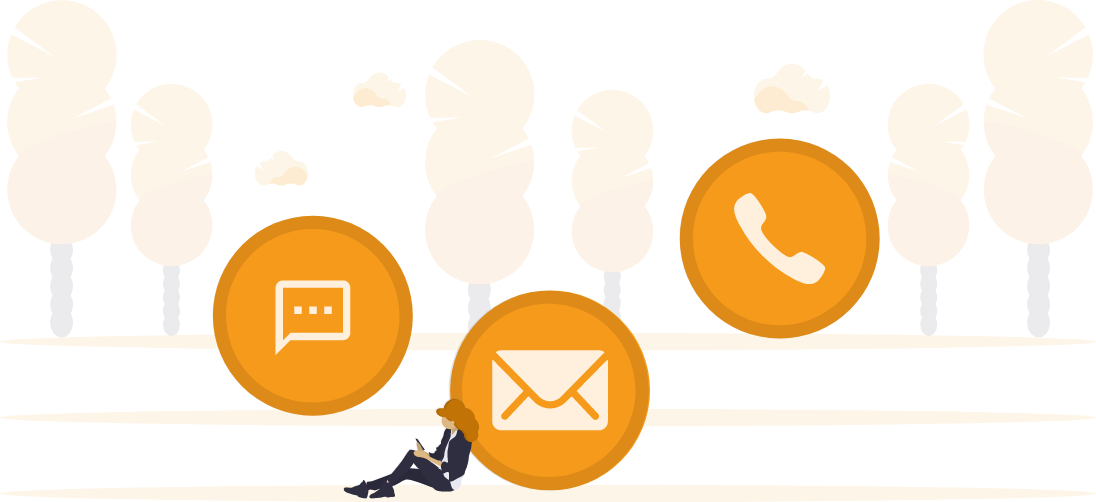 try it free. no credit card required
Don't have an account yet? Signup now to try the integration

Connect Luminate Online to CallHub and run SMS and voice campaigns
Integrate Luminate Online & import constituents
Connect to CallHub
Setup import settings
Import constituents and groups to CallHub
You can also configure, how custom fields are synced between CallHub and Luminate Online. Find more here.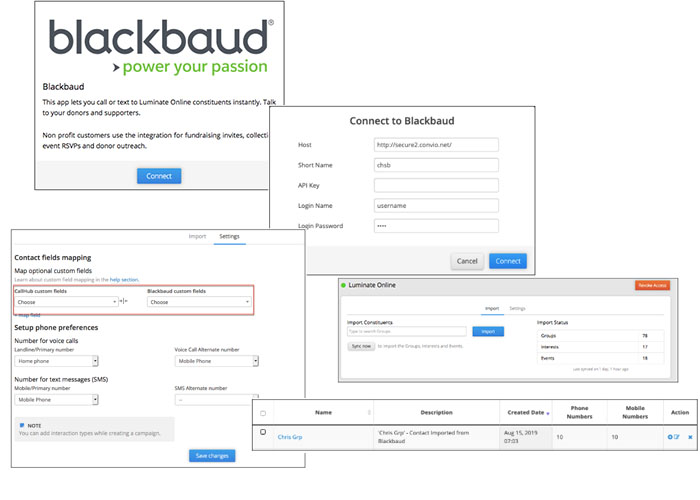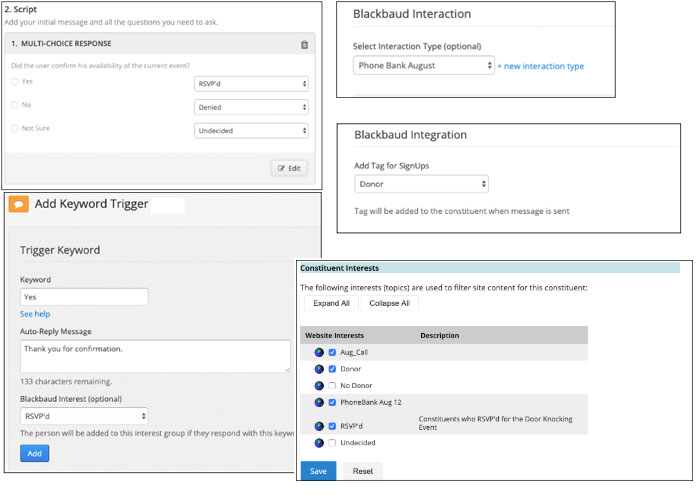 Run SMS campaigns
Add scripts and add them to Blackbaud Luminate Online events that can be synced back.
Run SMS broadcast campaigns with auto-reply keywords that can be linked to Interests. This can help trigger email campaigns from within Blackbaud Luminate Online.
All data collected with CallHub campaigns will be synced back to Luminate Online. Find more details here.
Campaigns
Opt-in Campaigns
SMS Broadcast Campaigns
Peer to Peer Texting Campaigns
Call Center & Voice campaigns
Add events from Luminate Online in the script section. Choose from interests within the Integrations section.
Choose interests that will sync back to Luminate Online in case of patch through calling.
Interests are synced to every constituent within Luminate Online. Interactions are also synced back to constituent records with Luminate Online.
Campaigns
Peer to peer Calling Campaigns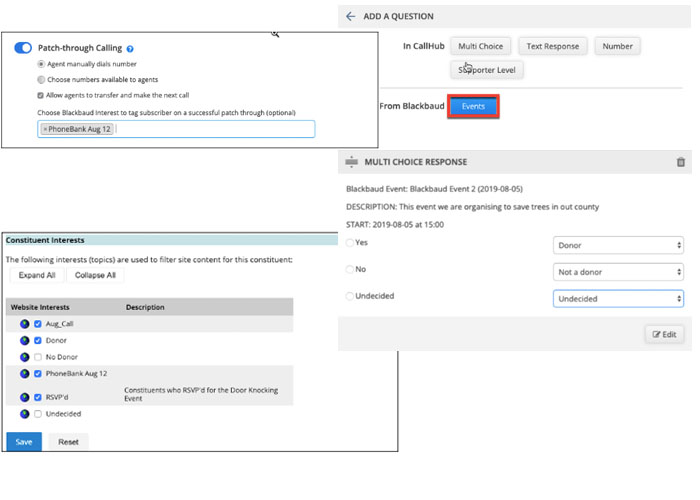 Get your messages delivered with CallHub's SMS & Voice platform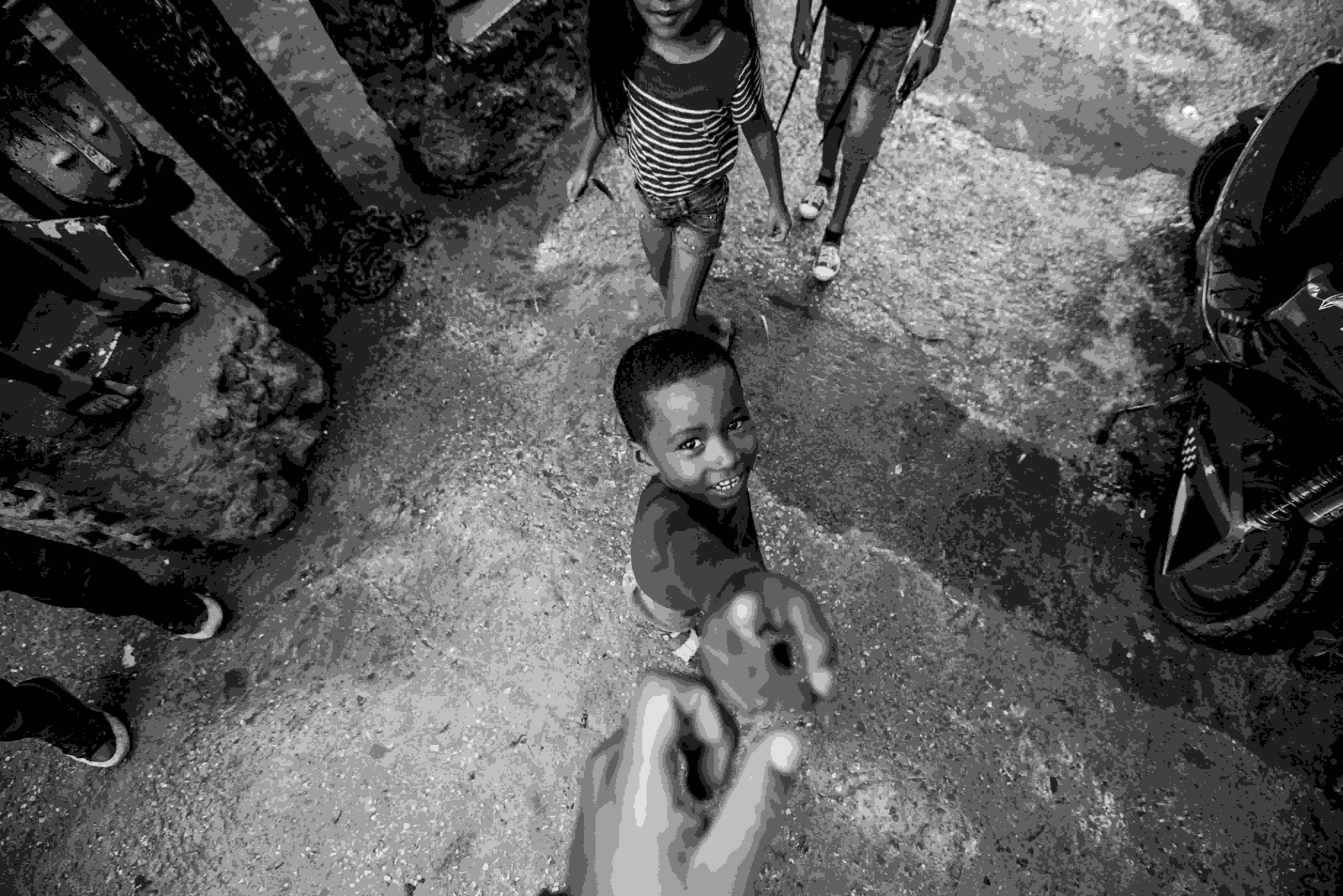 Don't have an account? Get one for free today.