Debt collection Robocall & Call Center Software
Run press-1 campaigns using debt collection robocalls and transfer live leads to collection agents.
Increase debt recovery rates and debtor contact rate with automated debt collection calls.
Collection agents have access to individual debtor information and detailed interaction history during calls.
CallHub's debt collection text marketing software to help debt collectors increase the efficiency of debt recovery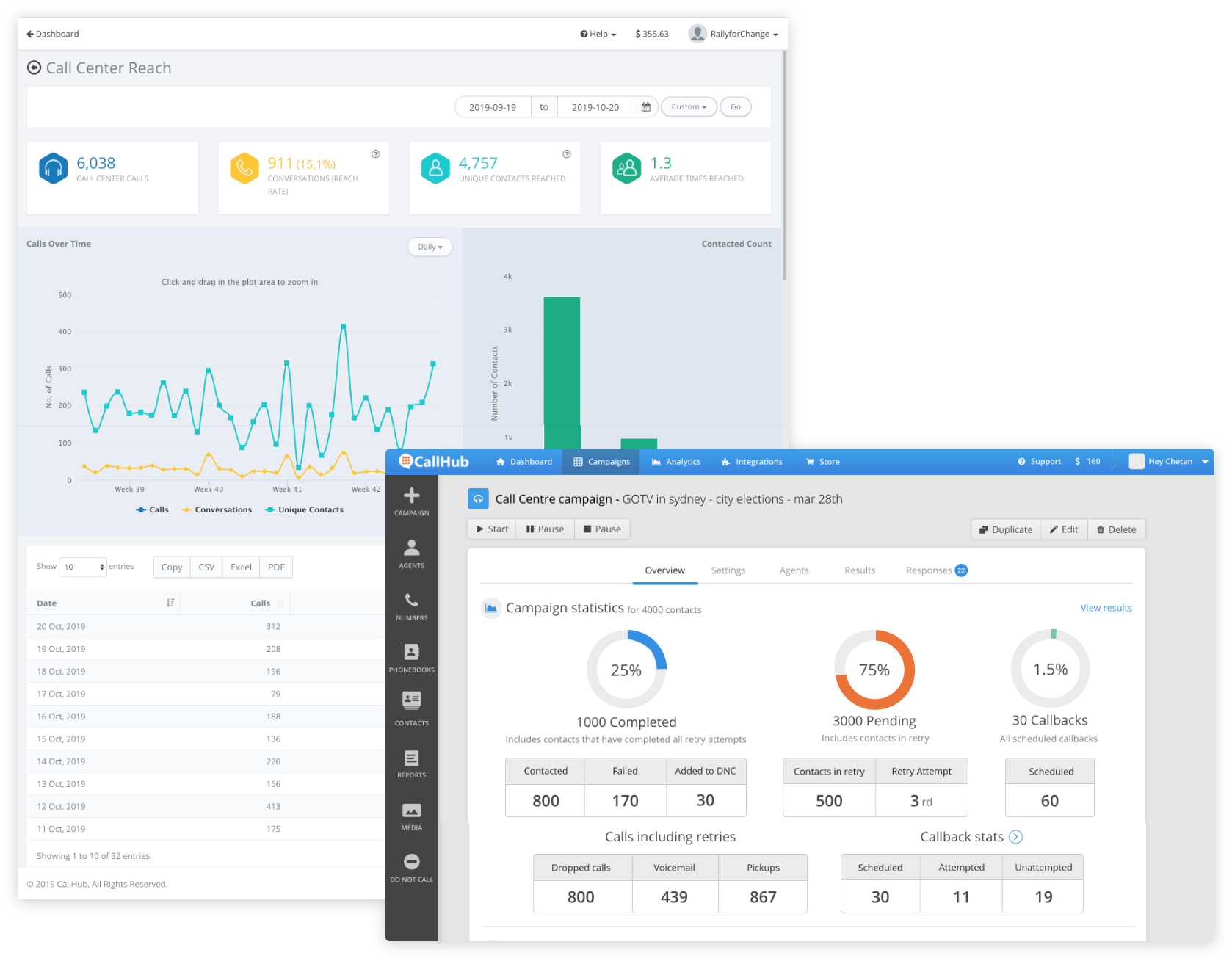 Debt Collection dialers for every use case
Power Dialer
Perfect for reaching a list where every interaction matters. Power Dialer automatically dials numbers one after another.
Predictive Dialer
Reach large contact lists in a short time. Predictive Dialer dials multiple numbers simultaneously and connects them to live agents.
Fastclick Dialer
Stay compliant with TCPA regulations with the manual FastClick Dialer. Make blazing fast collection calls to cell phones.
Robodialer
Make debt collection robocalls to contacts. Transfer live leads to agents with press-1 campaigns
Getting started is as easy as 1..2..3…
Signup takes less than 2 minutes. Get started here.
Upload your debtor list or sync call lists from your CRM.
Choose your dialer and start making calls.
Advantages of CallHub Debt Collection Dialer
Reach 400% more contacts per hour than you can manually with the Predictive Dialer.
Connect only to live callers. Bypass dial tones, invalid numbers and dropped calls.
Maintain compliance with Fair Debt Collection Practices Act with call scheduling and retry limits.
Drop a pre-recorded debt collection voicemail for answering machines.
Stay up to speed on agent activities with daily reports and analytics.

"We can make calls at about 5x the rate that we would with a manual dialer, getting through a list of 100 calls in just over an hour. This has been a huge capacity saver in our organization."
Amanda Destefano, Leadership Organizer, United Workers
"I really love your team. You are just super responsive and super friendly and nothing's too difficult! It's been a really good experience."
Shaun Murray, Senior Organizer, GetUp
"A lot of our folks are volunteers, a lot of them are retired, they are often anxious with technology and they were able to use CallHub easily. It's empowering for volunteers who don't see themselves as very tech savvy to be able to pick up a new piece of software and a new program and just use it, so that was great."
Celine Trojand, Digital Organizer, Organizing for Change
"I love this product. It's so easy to use with a very clean user interface. The price is the most economical I've seen in the industry and last but not least is the wonderful customer support. They answer all questions very quick."
Ronald Hart, Marketing, The Cloud Marketers
"Solid dialer, responsive support, and awesome CRM integrations!"
Django Merope Synge, Campaigns Director, GetUp
"CallHub made my marketing program easy and also affordable. I love the dialer, the SMS marketing program and the voice broadcasts. The CallHub team is doing a wonderful job!"
Wendy Mathis, Global Quest Services
CallHub has become my go-to platform for affordable phone canvassing campaigns, voice broadcasts and text message blasts. In particular, text message blasts are the single most useful tool for volunteer mobilization that I have used in recent years.
Jordan Bober, Director of Development and Election Readiness, Green Party of Prince Edward Island
CallHub's proprietary manual dialer let's you reach your debtor list as fast as auto dialing.
Make collection calls to cell phones while staying TCPA compliant.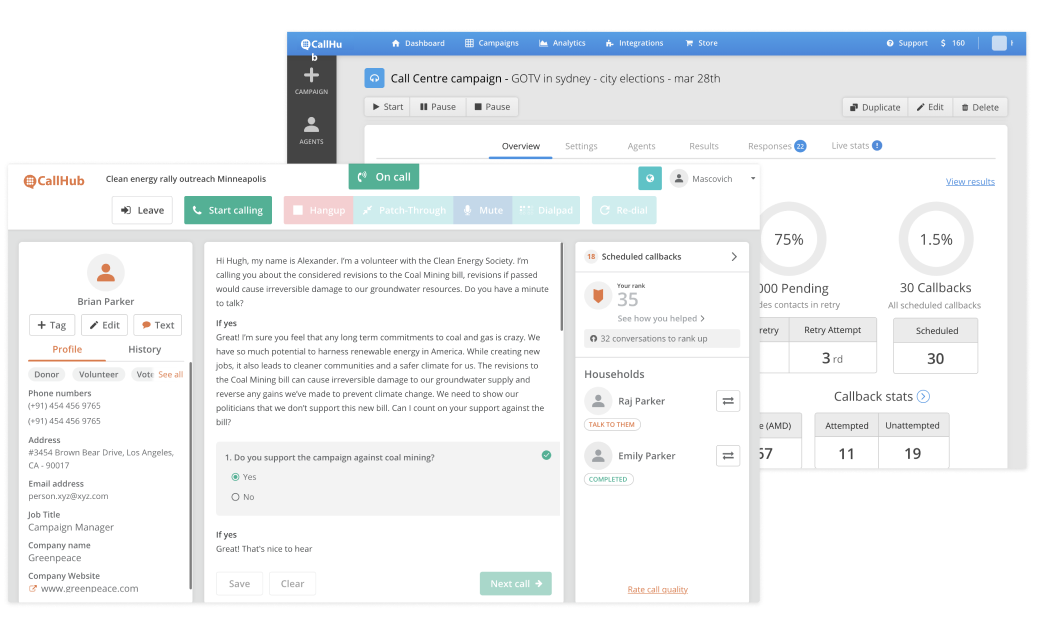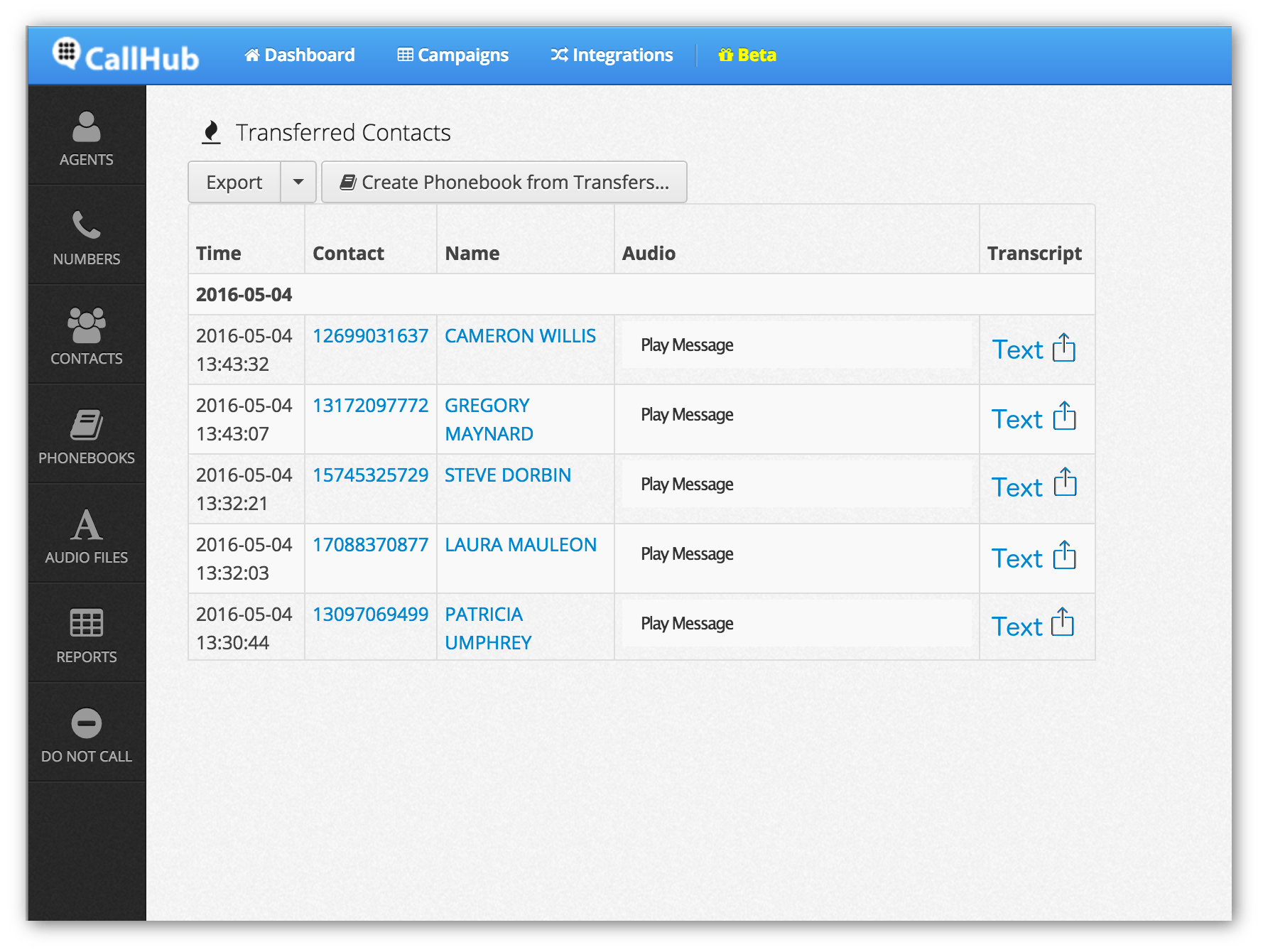 Transfer live leads to your debt collection agents with press-1 campaigns. This option can be activated when you set up a press-1 campaign.
Every feature to run your collection call center
View Interaction History
Collection agents have access to call logs and detailed interaction history of phone calls and SMS text messages.
Monitor agent activity
Make sure agents stay on script with live call monitoring and call recording.
Broadcast your message
Send out a voice broadcast message to your entire debtor list informing about payments due and let people press 1 to connect to a live agent.
Connect to existing technology
Sync the details of your calling activity with CRMs like Salesforce or use our API to connect to existing software.
Try CallHub now for Auto and Predictive Dialers
Try it free. No credit card required. Instant setup.