Stop "Spam" and "Scam" labels in their tracks!
10th August, 10AM PST
Everyone who makes calls has the same enemy, the dreaded "Spam/Scam Likely" label. Once you get hit, your contact rate falls through the ground.
Call labeling is the wild west. Carriers label calls based on their own internal "algorithms" with no transparency into their decisions.
The government has actively encouraged labeling to crack down on unwanted robocalls and there is no real appeal or recourse for wrongly labeled calls.
Even worse, 'spam blocking' apps use fake disconnected tones that ruin your lists and possibly the voter file.
Good organizations like yours, with important legal outreach, are caught up in the labeling dragnet.
Before now, the only solutions were spending excessive admin time manually checking numbers daily, buying new numbers, and manually swapping numbers into your campaigns. Even with those precautions, numbers can still get labeled within hours of launching, destroying a day's worth of calls. 
Or you can pay thousands or tens of thousands of dollars for paid caller ID, essentially paying off the carriers who created the problem for you in the first place. 
No more! The days of Spam/Scam labels are over thanks to CallHub engineers.
Join our webinar to hear how CallHub Spam Label Shield will protect your numbers, help you waste fewer dials, and reach your goals faster than ever before.
This webinar has ended but you can still watch the recording below.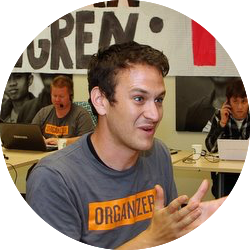 Sales Director at CallHub
Sam previously worked with political campaigns as a Distributed Organizing and National Field Director (Justice Democrats, Bernie 2016).