Peer-to-peer fundraising, commonly referred to as P2P, social fundraising, or team fundraising, turns your donors into fundraisers and lets them raise money on behalf of your organization through online campaign pages. This model of fundraising is so successful because it harnesses the collective energy of teams and channels it into fundraising for your cause!
An inexpensive fundraising method, peer-to-peer fundraising is used by organizations of all sizes! Nonprofits, churches, schools, and other organizations use peer-to-peer fundraising to send their donations skyrocketing, expand their donor bases, and increase their reach.
There's a lot that goes into running a successful peer-to-peer fundraising campaign, so you'll need to be hyper-organized.
Luckily for you, we've created a how-to guide to help you raise more money with your next campaign:
If you'd like a refresher on what exactly peer-to-peer fundraising is, check out our guide, What is Peer-to-Peer Fundraising for basic information.
If you're ready to learn how to host a peer-to-peer fundraising campaign, then let's dive in!
1. Decide on your peer-to-peer fundraising goals.
First things first, you'll want to determine your fundraising goals for your peer-to-peer fundraiser.
Before you recruit fundraisers and begin your campaign, you'll need to organize your fundraisers. Ask yourself the following questions when planning:
Will your campaign have a kickoff or close-out

event

?

What will your timeframe look like?

What monetary value are you hoping to raise?

How many new donors are you looking to acquire?

How many existing donors do you want to engage?

What else are you hoping to gain from your peer-to-peer fundraiser?
Of all of the goals your fundraiser can reach, you'll certainly want to be explicit when determining how much money your organization is looking to raise.
The bottom line: Organize your fundraising goals before starting your peer-to-peer fundraising campaign in order to set your nonprofit up for the most success possible.
2. Select your peer-to-peer fundraising software.
The right peer-to-peer fundraising software varies for every nonprofit, but there are a few popular features that most organizations look for in a solution.
Before purchasing your software, be sure to identify your organization's needs. You may want to break different software features into three different categories (must-have, would like, and nice-to-have) to help organize what you really need.
Take a look at these preferred features to get your list of must-haves started:
Customization tools.

Be sure that your software allows you to create custom fundraising pages so your fundraisers can raise money on their own pages. This way, you can track each individual fundraiser's success and help the individuals who aren't reaching their goals. Custom pages fall into the "must-have" category for social fundraising!

Personalized texting alerts.

Texting is practically universal, which means reaching your donors via text will be easy.

Personalized alerts

allows your nonprofit to connect with your supporters on a personal level and encourage event attendance or donations.

Social sharing features.

Spreading the word will be as simple as the click of a button. With social sharing buttons, your donors can share your campaign's information to their social networks directly from your page.

Gamification tools.

Use features like leaderboards and fundraising thermometers to encourage more donations and motivate your peer-to-peer fundraisers to keep soliciting donations.

Integration capabilities.

Be sure that your peer-to-peer fundraising solution can integrate with or export data to your CRM so your new donor data is immediately stored in constituent profiles, which you can use for future fundraising.
Think about investing in a scalable solution so your software can grow as your nonprofit does.
Don't forget to take a look at your budget and pick a solution that fits your organization's needs but doesn't stretch your wallet.
The bottom line: Be smart and take your time when purchasing software. You'll need something to help you manage your peer-to-peer fundraising campaign, but be sure it offers the features you need and fits your budget.
3. Market your peer-to-peer fundraising campaign.
Now that you've selected your software, you'll want to set up your fundraising page. Remember that you'll want to have a general fundraising page as well as individual fundraising pages for your different fundraisers.
Your general fundraising page should serve as a central hub for all information about your campaign. If you're hosting an event in conjunction with your campaign, your event details should be available here as well.
Remember to include vivid photos and videos on your page along with your compelling copy to tell your story, draw supporters in, and encourage donations!
Next, you'll need to market and promote your campaign! If your supporters don't know about your fundraiser, how will they support it?
Look to your CRM for preferred methods of communication and be sure to use your donor's favorite channels for the best chance of reaching your supporters:
Direct mail

Phone calls

Text messaging

Email

Social media

Nonprofit website
Use both traditional and modern methods of communication in order to reach as many supporters as possible. Remember the more diverse your outreach, the more donations your campaign will see.
The bottom line: Take the time to develop a marketing strategy for your peer-to-peer fundraising campaign. Be sure to take a multi-channeled approach to reach as many supporters as possible.
4. Coach your peer-to-peer fundraisers.
Your individual fundraisers will be working hard to make sure your nonprofit's campaign reaches its goal, but that doesn't mean you get to sit back and relax.
Even if your fundraisers are loyal supporters who know your organization well, you'll still want to coach them on fundraising.
After all, they're not all development professionals! They bring the passion, but they don't have the experience that you and your fundraising team have. They need guidance from the experts to set them up for success.
Be sure to give them the proper marketing materials they'll need, such as:
Information packets.

Social media and email templates.

Training sessions and webinars.
You'll also want to schedule in-person or virtual check-in meetings with them to discuss the campaign and make sure you're both on the same page. When their campaign isn't doing as well as they would like, you also have to offer support and guidelines for best practices.
The bottom line: Remember that you need to be an active part of your campaign. Your fundraisers need your support, guidance, and enthusiasm to reach your common goals! Stay in touch with your recruited fundraisers to keep morale high and incoming donations higher.
5. Maintain your peer-to-peer fundraising campaign.
From event participation to fundraising progress and more, your campaign has a lot of elements to watch.
Throughout your campaign, you'll need to capitalize on your software's tracking and analytics features in order to maintain your peer-to-peer fundraiser.
Don't forget about all the donor data that will be headed your way. Be sure you're organizing your donor profiles in your CRM as you receive new data. Note the following details in constituent profiles:
Donor status.

Is this a new donor or has this individual supported your organization in the past?

Campaign details.

Record the details about your peer-to-peer fundraising campaign and take note on how much this supporter gave.

Prior engagement.

Be sure to make a note of any other engagement your nonprofit has had with this supporter. Recording these details will help your organization target supporters with relevant information.
Be sure you create a standard for how you're entering information into your CRM as well. You'll want everyone to input data in the same format. Ask yourself the following questions:
How will you record phone numbers: 555-555-5555, (555)555-5555, or 5555555555?

Will you abbreviate Mr., Ms. and Mrs. with punctuation or without?

Will addresses be abbreviated as St. or written out as Street?
You'll also want to take notes on your fundraisers themselves.! If certain individuals excel at fundraising, you should record that in your CRM for thank-yous and future campaigns!
The bottom line: There's a lot to track within your peer-to-peer fundraising campaign. Stay organized and use your software's tracking features to maintain your campaign.
6. Thank your fundraisers and donors.
Just because your fundraiser has concluded doesn't mean your work is finished!
Send personalized thank-yous to your peer-to-peer fundraisers and your donors. Acknowledge the hard work your fundraisers put into your campaign to make it a success and express your gratitude to your donors for their loyal support.
Your thank-yous can vary based on donors' contributions and level of involvement within your organization, but remember that every donor needs to receive a thank-you note. It's the first step in your donor stewardship strategy.!
For even more tips on fundraising campaigns, check out OneCause's Top Peer-to-Peer Fundraising Best Practices.
The bottom line: Donors and fundraisers who receive personalized thank-you notes will instantly have a positive mindset regarding your organization and are more likely to get involved with your nonprofit's future efforts.
Now that you have our how-to guide for raising money with a peer-to-peer fundraising campaign, there's nothing holding you back from increasing fundraising success raking in the donations and expanding your donor base while strengthening your current donor relationships!
---
Author: Joshua Meyer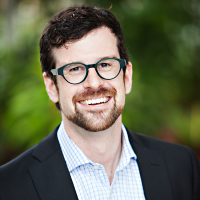 Joshua Meyer brings over 14 years of fundraising, volunteer management, and marketing experience to his current role as the Director of Marketing for OneCause. Currently, as a member of the OneCause sales and marketing team, Josh manages all of the firm's marketing efforts. He has a passion for helping to create positive change and loves that his current role allows him to help nonprofits engage new donors and achieve their fundraising goals.