Finding good leads is probably the most challenging part of the insurance business.
You may know the industry inside out, but without leads to share that information with, this knowledge is redundant.
This is why lead generation is a critical part of selling insurance. Typically, there are two ways to go about it:
Hiring a third-party company for lead generation.
In-house insurance lead generation.
While both options have their pros and cons, the major drawback of the first option is the high cost and increased reliance on an external party to generate leads for you.
The second option eliminates that drawback, and if you feel more inclined towards it, this post is for you. We list out nine effective strategies for insurance lead generation that you can employ to get high-quality leads.
What are leads in the insurance industry?
Leads are potential customers who have either shown interest in your product or share similar characteristics to your existing customers. You reach out to them and convince them to invest in/buy your product.
Typically, there are two types of leads:
Cold leads– These leads are those who share similar characteristics to your existing customers (and are potential customers) but may not be aware of your product.
Warm leads – These leads are aware of your product and have shown interest in it (for instance, by signing up for your email list or asking for a quote).
The difference between these two leads can be summarized by the following: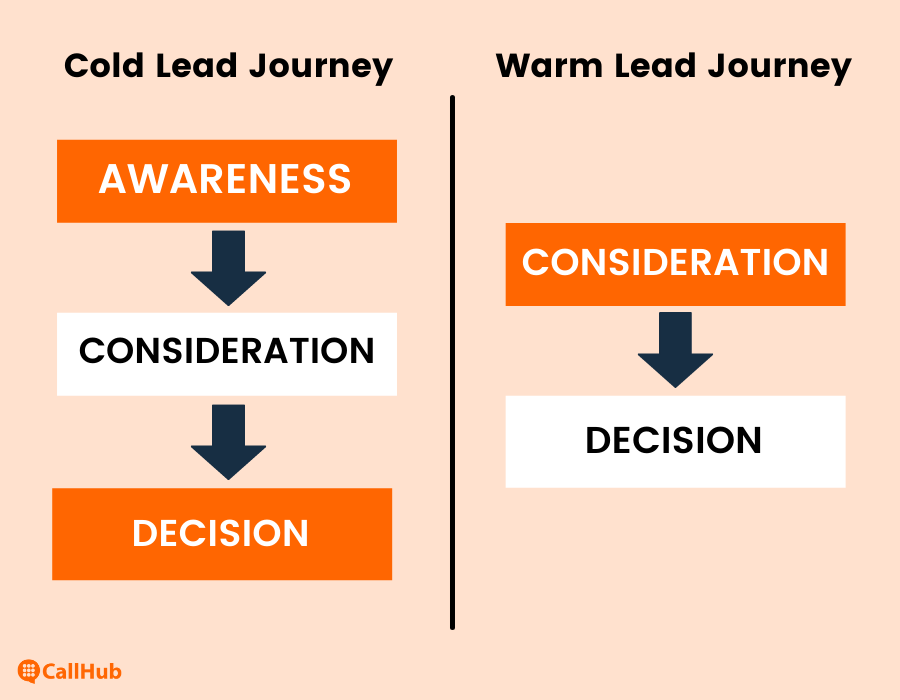 Journey stages:
Awareness – This is the stage in which you make the individual aware of your product/organization/services.
Consideration – Individual is aware of your organization. They just need to be convinced to buy your policies and not your competitors'.
Decision – When the individual decides to buy a policy.
Apart from their journeys, the way these two types of leads are generated also differs, as we'll see next.
Insurance lead generation ideas for cold leads
Cold lead generation ideas for insurance typically revolve around looking for individuals who can become paying customers. Here are a few popular insurance lead generation ideas for cold leads.
List purchasing
As the name suggests, list purchasing is the process of buying lists from companies that host an extensive database of leads. These leads are typically procured from other businesses, marketing activities, events, affiliate programs, etc.
A quick online search for companies that sell insurance leads will yield several results. You can look through these results and analyze them based on parameters like:
Lead generation process: How do they generate leads and qualify them for insurance sales?
Lead quality and volume: The number of good quality leads they can provide you per month.
Type of leads: Are you getting exclusive or shared leads? Typically, the latter is more cost-effective, but the former does reduce the competition that you need to cut through.
Insurance lead purchase list types:
Shared leads: These are lead lists that companies sell to more than one insurance agent/company. It helps companies increase the per lead value. However this means you will be competing with other agents/companies to convert them.
Exclusive leads: These are leads that companies sell to a single insurance provider. The eliminated competition with these leads, however, comes at a higher price.
Select the company of your choice and purchase the insurance lead list. Make sure to keep track of the lead quality during outreach to ensure you're getting a good deal.
To start your search, Brokers Data Inc. and Dataman Group Direct are two companies you can look into.
List exchanges
A list exchange is an insurance lead generation strategy that involves getting lead lists from a company in exchange for your own data. This is typically done by partnering with a complementing business.
For example, an auto insurance agency could partner with a car dealership. The car dealership could provide the agency with a list of recent car owners. In return, the insurance company passes on leads that weren't interested in buying insurance (because they didn't own a car) to the dealership.
The data you exchange doesn't necessarily have to be lead data. In the above example, the agency could also share a list of auto insurance claims made so the car dealership could use those insights to inform their pitches.
Before you do this, though, make sure to consult an attorney to ensure that state laws allow you to undertake such exchanges. Additionally, you may be required to mention it in your terms and conditions.
Insurance aggregators
Insurance aggregators are websites that collect information on a number of insurance agencies and place it all on one website. These sites make the research process for consumers much easier as they don't have to crawl around multiple websites.
A lead simply has to fill out a form requesting a quote (or any other information). Quotes from all insurers are then sent over to the consumer, who compares them to make their choice.
They may either make the purchase through the aggregator or reach out to you directly. The aggregator website typically charges a small referral fee to list your business.
This insurance lead generation strategy is becoming increasingly popular in recent times as more and more people wish to do their research before selecting an insurer.
Insurify is one such popular aggregator site. Here's a look at one of its auto-insurance listings.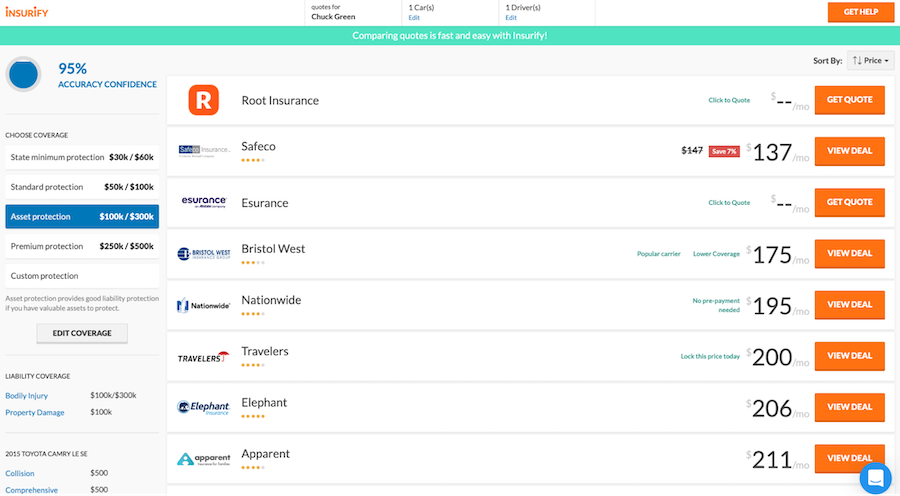 Insurance lead generation ideas for warm leads
Insurance lead generation strategies for warm leads typically revolve around procuring the contact information of potential customers by:
Offering something valuable in exchange for their data.
Conveying the value you bring to them and getting their data (as a means of expressing their interest).
Here are some effective ideas to employ these strategies and generate warm leads.
Referrals programs
Referral programs are the easiest way to generate high-quality insurance leads. Referrals have a 70% higher conversion rate and convert faster than other leads.
Ask your most satisfied clients for people who would be interested in your offerings. To improve the chances of them responding, you could offer them an incentive like a discount for each lead that converts. Other incentives include:
Coupons/gift cards to local businesses.
Invitations to special events that you are hosting or sponsoring.
Valuable merchandise like mugs, accessories, T-shirts, etc.
You could ask your clients for a referral either over a call, over email, or even have a dedicated landing page on which they can fill in the referral details.
Website lead magnets
A good website can fuel insurance lead generation efforts with lead magnets. Lead magnets are free resources that are given out to prospective customers in exchange for their contact details.
For an insurance company, popular lead magnets include:
Case studies on existing clients that showcase your value.
Guides or eBooks that consumers may find valuable. For example, a guide on comparing quotes.
A free quote.
An online tool that they could use. For example, the car insurance calculator from The Zebra: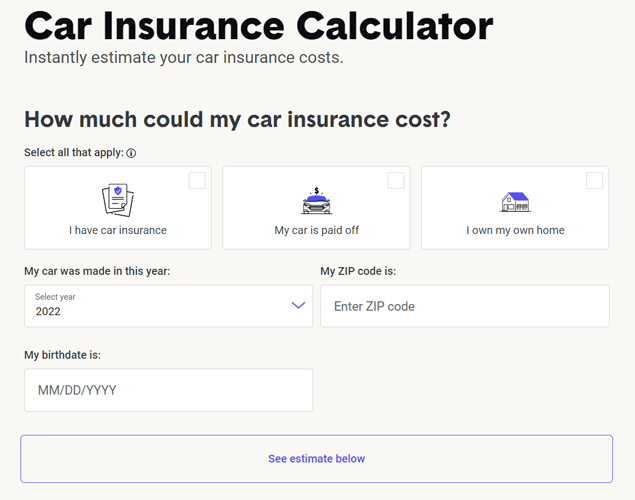 You can be sure that the quality of the leads that these magnets generate will be good since they're already on your website, which shows that they are considering buying from you.
Paid online advertising
Paid advertising is another popular lead generation and distribution channel for insurance in the age of the internet. You can put out online ads to target relevant audiences with your policies and get them to directly make a purchase or give out their details (for you to contact them) if they're interested. You have the option to display these ads on:
Search engines
Social media channels
Affiliate websites
Paid online ads let you set specific targeting parameters that ensure the ads are shown only to the most relevant prospects. Some of these parameters include:
Demographics
Interests
Searched keywords
Life events (like marriage or education), etc.
Here's an example of advertisements from different insurance companies showing up for the keyword "Good car insurance."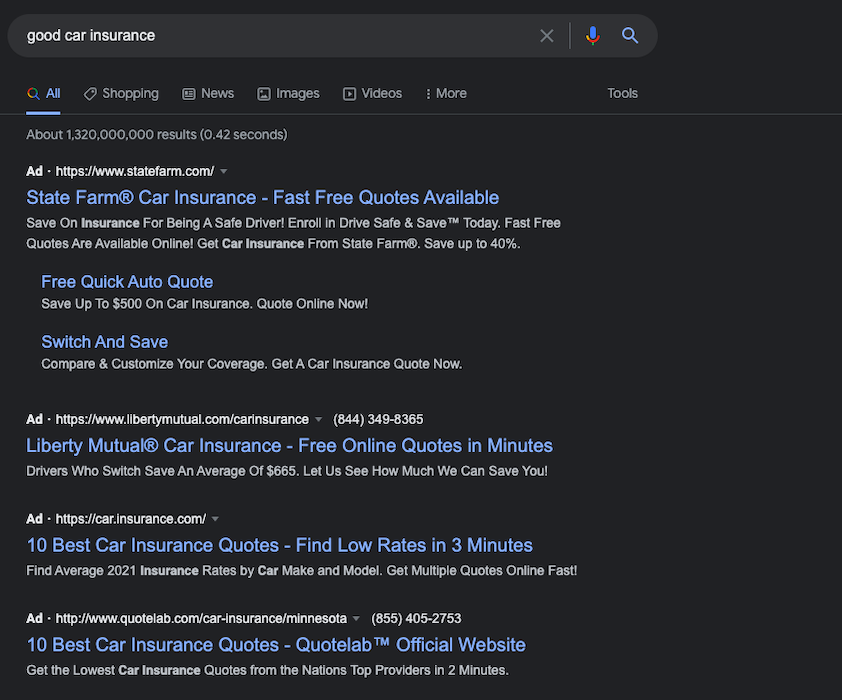 Social media marketing
A solid social media presence is not an option for businesses anymore. Social media gives you access to a vast audience with the potential to generate a lot of quality leads. There are two ways to use social media for insurance lead generation:
Organic
Paid
We covered the latter in the section above. The former is primarily driven by content. Here's a quick plan to get started:
Build out a robust profile on multiple social media channels. Typically Facebook, Twitter, and LinkedIn are good places to start.
Share engaging content that aligns with your brand's voice and encourage people to share it.
Use hashtags and keywords to increase the visibility of your content.
Include call-to-action buttons in all your posts and your profile. You could even give out your contact details on your cover picture.
Here's an example of a social media profile of an insurance agent.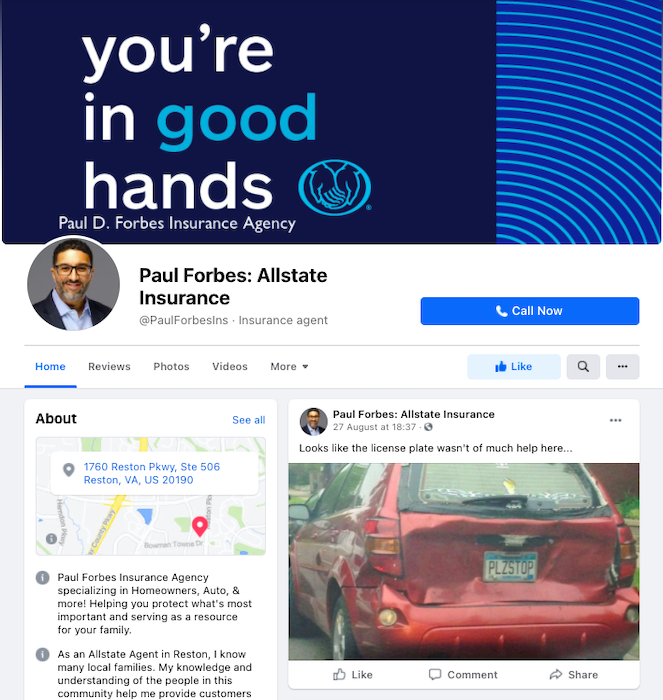 Poster/Billboards/Flyers
Does outdoor advertising still work? It absolutely does. As per a study, 71% of people "often look at the messages on roadside billboards," and more than 37% report "looking at an outdoor ad each or most of the time they pass one."
While posters, flyers, and billboards work great to spread awareness about your business, they can also be used to augment your insurance lead generation efforts. Here's how:
Design a catchy graphic for a poster or a billboard and put it up in high-traffic areas. You could also make flyers and distribute them around neighborhoods.
Specify the value that you bring to the lives of your prospective customers.
Compel them to sign up to your email or SMS list by providing your id, website details, or SMS opt-in details. Alternatively, you could even give your contact number, asking them to call you, as in the example below.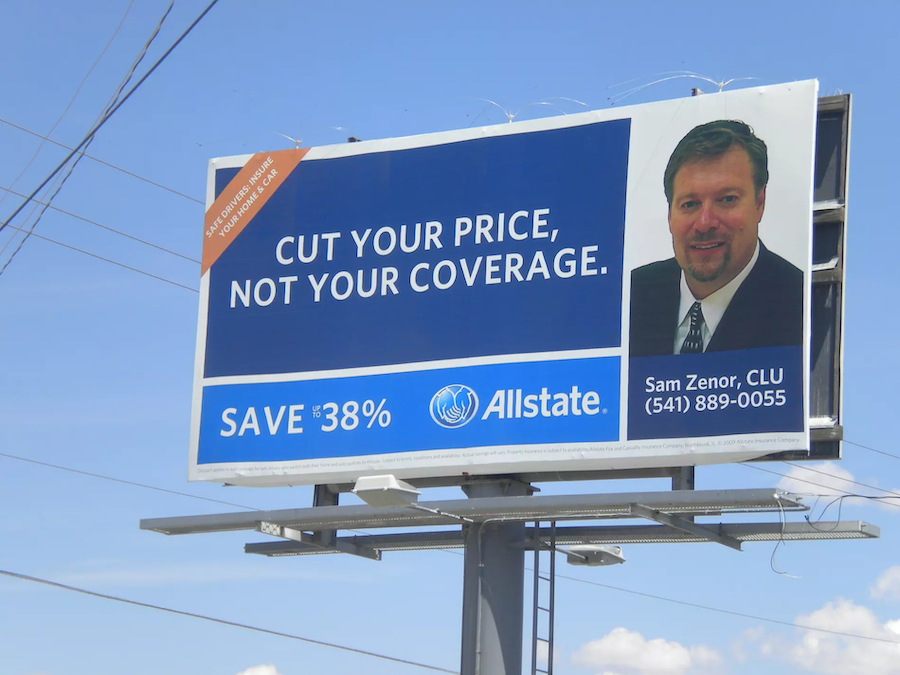 Engaging in online forums and groups
People prefer buying from someone they trust, and establishing yourself as a thought-leader is one way to build that trust. Online forums or groups are where you can do that.
Generally, you will find a lot of prospects posting questions around the topic of insurance. Answering these questions and providing valuable insights is a great way to convey that people can trust you to provide the best solution.
You can add a link to your agency page in your answers, email signature, and profile.
Quora is a great platform to consider if you plan to get started with this insurance lead generation strategy. Consider this example: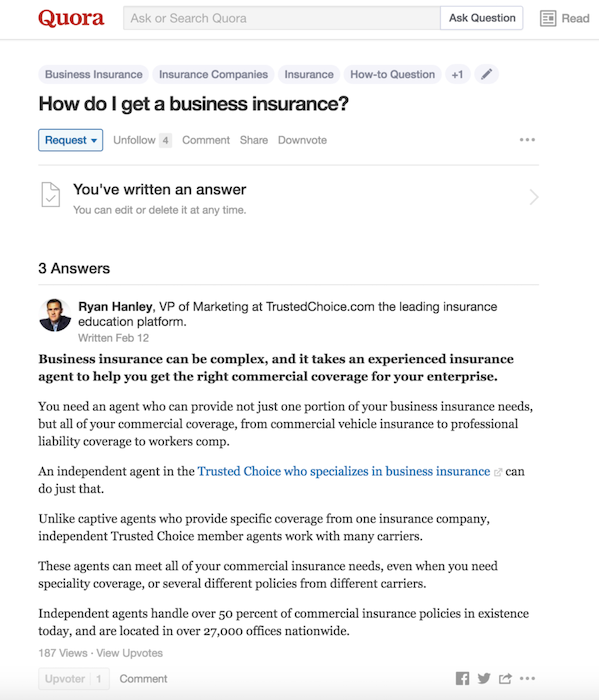 Insurance lead outreach
In the ever-competitive world of insurance, lead generation is only half the battle. The other half entails reaching out to these leads and getting them to convert.
Some of the most popular outreach channels that you should consider using include:
Email
Phone calls
SMS
Here's a quick summary of when each of these channels is used and for what.
Channel
Email
Phone Call
SMS
When to use it?
As a first touchpoint to introduce yourself.
As a follow-up to a phone call.
For marketing to and nurturing leads not ready to convert yet.
Personalized touchpoint to understand a lead's needs and pitch the right policy.

Follow-up with interested leads after giving them time to think.
Personalized channel to send more details about policy after a phone call.

SMS marketing to nurture leads not ready to convert yet.
Sending text surveys to collect more data.
Scheduling a call.

How to employ?
An email marketing software will be needed to design and automate emails.
An outbound call center software that displays a calling script during the call and integrates with CRMs to transfer data.
An SMS marketing software with SMS opt-in and mass texting solutions.
Note: While emails and SMS may seem to be used for similar use cases, SMS can be a more efficient communication channel. Given its high open rate (98%), your message is sure to be read. SMS even has a higher response rate than email (45% and 8%, respectively).
Moving forward
Insurance lead generation is a challenge, but the ideas above can make things easier and help you generate more leads.
You can start with implementing ideas that don't require too much work (like engaging in online forums, social media, and referral) and buy yourself some time to put the others in action.
However, make sure that you're implementing most (if not all) of them to maximize the results you get.
Finally, look for the right tools for outreach to make sure that your efforts yield tangible results. For SMS and phone calls, CallHub has you covered.
Two communication channels in one dashboard. Sign up for free to take it for a trial run.
Featured image source: Photo by Kindel Media from Pexels/ Source: selectinsuregroup.com