There is no getting around the fact that door-to-door canvassing can be uncomfortable. Knocking on someone's door, and asking them to stop whatever they were doing to have a chat with you about politics is awkward and seems unnatural.
There is no getting around the fact that door-to-door canvassing can be uncomfortable. Knocking on someone's door, and asking them to stop whatever they were doing to have a chat with you about politics is awkward and seems unnatural.
So why go through all the trouble? Because it works.
In a study on MoveOn GOTV operations, researchers found that contact with MoveOn volunteers increased turnout by approximately 9 percentage points. Because, unlike a conversation on a social media platform, a face-to-face interaction is deeply personal. Two people having a respectful conversation on a doorstep are more likely to find common ground.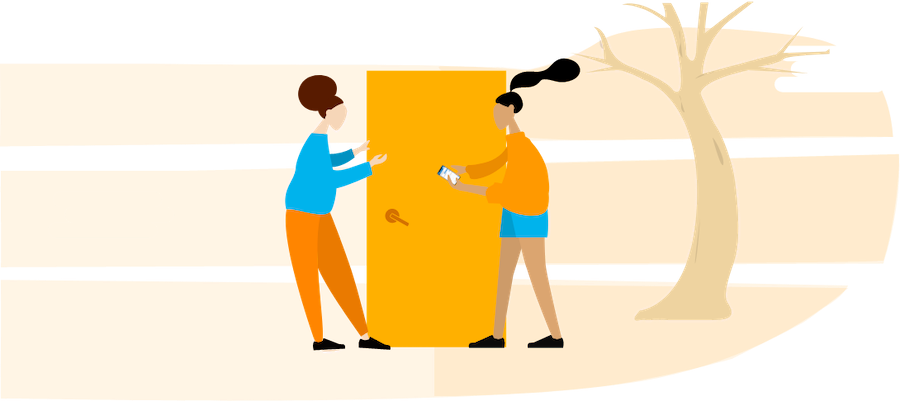 Why is it important to be prepared when canvassing?
Your campaign and your volunteers need to be in sync. That's because successful canvassing involves:
Conveying the right message to the right voter group (ex. GOTV for supporters)
Collecting the data you need to facilitate further communication
Making sure constituents have everything they need to cast a vote.

Here are some canvassing tips that can help you get results from your door to door campaign:
Canvassing tips for campaigns
Set your objectives
When? Before planning your event and spreading the word to supporters.
Political canvassing is typically done to:
Gather information on voters in a locality (Voter ID)
Raise awareness about an issue
Persuade undecided voters (Voter persuasion)
Convince supporters to vote (GOTV)
Your canvassing script and walk lists will change depending on your campaign objectives.
Learn more about creating a canvassing script for door to door campaigns.
Find your volunteer count
When? Before inviting volunteers to your canvassing event.
A typical canvasser spends around 1 to 3 minutes at a door averaging about 20 doors per hour (when we account for time spent walking). So, a single volunteer on a 3-hour shift can knock around 60 doors per shift. In order to knock on all the doors in your list, you will need to recruit an adequate number of volunteers.
In order to determine your volunteers count, you need to know:
How many doors you will be knocking on
How many hours you have
Volunteer count = (No. of doors)/(20 x No. of hours)
Related reading: How to recruit volunteers for political campaigns
Determine your budget
When? Before starting your canvassing campaign, deciding on outreach methods and choosing tools.
Answer these questions to determine the costs for your canvassing campaign:
Are your volunteers going to be handing out flyers?
Will they be wearing campaign merchandise like shirts, pins, and stickers?
Do you need to provide transportation to volunteers?
Will they be using software tools?
Use smart tools
When? Set up your tools before beginning your canvassing campaign
Canvassing apps like Ecanvasser/MiniVAN allow organizers to sync your walk list to the app and locate voters on a map so canvassers can easily navigate to houses they've been assigned.
Ask volunteers to download the app on their phones before coming to the event.
Make sure you have a CRM to sync data to your canvassing app. E.g., NationBuilder, NGP VAN
Tip: NationBuilder allows you to segment your voter lists and cut turf using a mapping tool. Once you cut turfs, either by
Auto-clustering
Manually selecting geographies or neighborhoods,
You can print out walk sheets or import the turfs into a canvassing tool.

Provide a volunteer checklist
When? Let volunteers know about what they need to bring to the canvass right when you are inviting them to an event.
Give volunteers a checklist that they can refer to before setting off to canvass. Here's an example:
Make sure your phone is fully charged.
Wear comfortable and appropriate shoes and clothing.
Bring snacks and water.
Bring sunscreen for a hot day.
Familiarize yourself with talking points.
Follow the list of doors or the map you've been provided.
Know what information to collect from voters.
Get the contact info of your teammates.
Pair up with another volunteer or bring a friend.
Ask your volunteers to go through the checklist before coming down to the event.
Train your volunteers
When? You can give a brief overview of the canvassing objectives and host a mock canvassing session for new volunteers on the day of the event.
Start off a session by having the organizer give a short introductory speech.
The speech can reiterate the importance of canvassing and the goals of the campaign. The aim of this video or in-person introduction should be to get people fired up about volunteering.
Once your volunteers get comfy, get into the agenda of your training session. Fill them in on:
The main talking points for the campaign
The designated area they are canvassing
How to answer questions from constituencies
Splitting into teams for canvassing
Where and where not to place campaign literature
Keeping notes while canvassing
The tools they will be using
Provide campaign literature
When? Hand canvassers campaign literature right after your training session.
Flyers, posters, brochures, and signs can all increase the staying power of a door knock. They serve to introduce candidates and their major policy positions to voters (in an easy to digest format.)
Some canvassing events rely on campaign literature to do the convincing for them. Take this "Drop and Dash" event by a congressional candidate in Florida's 4th District.
Note: In the case of literature drops, it is a federal offense to put campaign literature in a voter's mailbox. Hand them literature during or after your discussion with them or at the door.
Follow up with the voters you contact
When? Assess the data that volunteers updated during the canvassing session right after it is over.
You can make it easy for voters to reach out to you with questions (by having volunteers give them contact details) or be proactive if they have agreed to be added to your contact list.
Depending on how they want to be contacted, follow up with voters through:
Calls – Make GOTV calls in the final weeks leading up to the election.
Texts – Send peer-to-peer texts with polling locations.
Email – Send mass emails reminding people to vote/asking for donations.
To summarize:
Before the event
During the event
After the event
Set your objectives
Find your volunteer count
Determine your budget
Use smart tools
Provide a volunteer checklist
Train your volunteers
Provide campaign literature


Follow up with the voters you contact


Canvassing tips for volunteers
If you're a volunteer setting off for your first canvassing event, these tips will come in handy:
Rehearse your talking points
When? You will have some time during the training session to get acquainted with the talking points for the event.
For first-time volunteers, rehearsing the conversations they will be having beforehand will make for more natural dialogue and help with jitters.
The canvassing coordinator should provide a script with the important points to make, but it's important for volunteers to be able to put across those points in their own words in order to have a natural conversation.
As mentioned earlier, an initial training session, where people can practice having conversations with fellow volunteers, is very helpful.
Tip: Noticing things about a voter before you knock (a pet, a yard sign) can help break the ice when starting a conversation, and help you ease into the topic at hand.
Dressing up matters
An untucked shirt, visible tattoos, etc. can mean the difference between someone opening their door and not doing so.
If you're reaching out to undecided voters, give the impression that you're one of them, who just happens to know of a great candidate.
Recommended:
Jeans, Khaki slacks or such semi-formal pants/skirts
Polos, button-ups, plain t-shirts, blazers professional tops/dresses
Dress shoes, plain sneakers
When you're canvassing for GOTV, be more overt with campaign merchandise to make an immediate connection, since you are reaching out to confirmed supporters.
Body language
"90% of communication is non-verbal"
Volunteers are the face of a campaign, right after the candidate. That means it's worth taking the time to make a good impression.
Thank voters for their time, whether a contact went well or not. Showing gratitude will keep supporters engaged and make them feel more involved.
In addition, a smile can help you start off on the right foot.
Knocking on dozens of doors can be exhausting. This will show in your speech. Frequently remind yourself to smile and sound excited.
Related reading: Here's an article by Harvard Business Review on authentic speaking.
Listening to voters is just as important as speaking
People will respond better if they feel you are listening to their concerns.
Deep canvassing is a technique that focuses on changing the mind of voters by having 2-way conversations. That means volunteers need to be as adept at listening as they are at speaking to voters.
In 2018, progressive group Changing The Conversation Together used deep canvassing to change voter's minds in traditionally conservative Staten Island. They reached out to over 10,000 voters, with 27% of the voters contacted saying they were more likely to vote Democrat. This resulted in the first Democratic victory in that District in 40 years.
In a nutshell, the deep canvassing process involves:
Asking for a voter's opinion on a certain issue and exploring it
Asking for their personal story or experience pertaining to the issue
Connecting a personal story to the voter's initial opinion
Engaging with their initial concerns and opinions and giving them time to ponder
Getting back to the original issue and seek their opinion
Learn more about employing deep canvassing in your voter persuasion efforts.
Staying safe during canvassing
Field organizers will generally go over safety guidelines during training. In case you miss it, here are the basic precautions canvassers must take:
Always canvass in pairs
When following a walk list, it's possible for canvassers to lose track of their surroundings. Have one of the pair keep an eye on the road to prevent potential accidents. A pair of canvassers will also find it easier to deal with guard dogs or belligerent homeowners.
Carry a cell phone
Make sure it is fully charged (should last you through the duration of the canvass). Note the contact details of your fellow canvasser and field organizer.
Avoid confrontation
If a voter is not interested in talking to you, it is best to move on to the next door. Forcing the issue will only waste time that is better spent talking to receptive voters.
COVID Precautions:
Wear a mask, and ask the person you are engaging with to wear a mask.
Maintain a safe distance from the people you are talking with.
Carry sanitizer.
---
If your volunteers are uncomfortable with door-to-door canvassing during the pandemic, look for other ways your campaign can engage voters. Phone banking and peer-to-peer texting allow your volunteers to interact with voters from the safety of their own homes.
Read our political canvassing post for a comprehensive guide on door-to-door canvassing, phone canvassing and text canvassing.