Political Canvassing Tips for your Door-to-Door Campaign
October 27, 2017 - 7 minutes read
Political canvassing always had a place in the campaigner's arsenal. While modern tools changed the landscape of election campaigning, door to door canvassing has stood the test of time as a personal and convincing way to engage voters and persuade them to vote.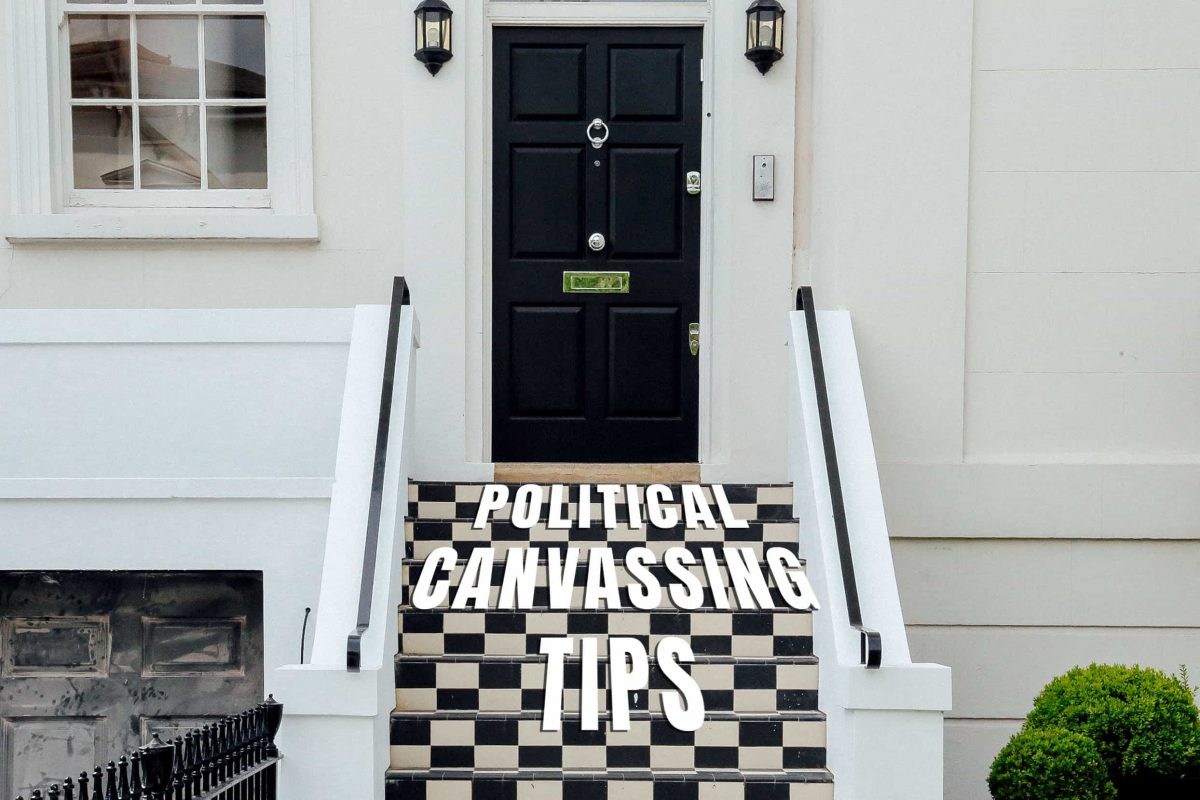 Although the basics of political canvassing remain unchanged, the way to go about it and the outcomes derived have changed. This article covers four ways campaign organizers can take advantage of new advances in political canvassing.
Engage in open-ended conversations
Encourage your supporters to engage in open-ended conversations when interacting with swing voters. Research by the Leadership Lab of the Los Angeles LGBT Center suggests that long, open-ended conversations have the potential to change people's minds. So the next time your volunteers are talking about an issue that concerns a swing voter, it might be better to let them talk it through rather than speed through a script and move on to the next door. As Gerber and Green pointed out in their seminal study on GOTV, your campaign will likely convert 1 voter for every 12 doors knocked with the age-old canvassing strategy. But with deep canvassing methodology, the odds are much higher. Bear in mind that the study recommends that conversations last for a minimum of 10 minutes up to 20 minutes. A typical canvasser spends from 1 to 3 minutes at a door averaging about 25 conversations per hour. At the same time, a deep canvassing campaign will average 5 conversations in a 2-hour shift. So make sure you have enough volunteers in the shift and are not stressed for time, i.e more suited to your voter identification and awareness campaign than a Get Out The Vote campaign.
Use smart tools
Paper lists and clipboards are cumbersome if you are running large voter outreach campaigns. Canvassers often deal with badly routed or un-routed lists, locating the right houses and outlining talking points and messages that align with individual voter interests. Back at the campaign office, volunteers have to spend hours on entering canvassing data into the voter database with high chances of lost or misplaced data.
Smart tools or canvassing software optimise the canvassing process by giving canvassers access to a canvassing app that takes care of walk lists, voter information, and talking points or surveys. Tools like Ecanvasser allow organizers to sync your walk list to the app and locate voters on a map so canvassers can easily navigate to houses they've been assigned to. This along with other features make it much easier for canvassers who are out on the streets as well as for organizers who can now track canvassers and data remotely. Try out one of the many canvassing software that are available for your next door knocking campaign, if not to ramp up your ground game, but for the trees.
Check your surroundings
The more you know about the voter, the better you'll be at engaging them across the duration of the campaign. Door-to-door canvassers have the advantage of seeing the voter at their home, and hence, they are at a prime advantage to gather data about voter interests. Which car is in the driveway, which magazines are on the doorstep, are there children in the household, do they appear educated, are there pets, are all data points imbued with clues about the personality of your voter. Even if the data itself is seemingly apolitical, it has statistical correlation to a voter's political leanings. Take for example this study which found that buyers of American cars tend to lean Republican. So along with the routine surveys on supporter levels and voter sentiments on issues, have your canvassers note down any additional data sets that can be used for future retargeting and recanvassing.
Run multi-channel
Campaigns will use a plethora of tools across the duration of the campaign from canvassing to phone calls, email, text messages, social media, website, fundraising tools, campaign management software and well, the list goes on depending on requirements and funds accessible to the campaign. Although each tool performs a different function they should still compliment each other through the campaign timeline. This helps create a seamless flow of engagement with voters from the start of a campaign to election day. For example, door knocking efforts should aim at reinforcing previous media messages and using data available from previous phone banking campaigns. Phone banking campaigns at the voter identification stage would have identified supporter levels and issues affecting individual voters. Your door to door canvassers should be using this data to target their voter contact making sure they reach the right voters with the right message. Following up to a door knock, a follow-up email with details about the campaign and a call to action to donate is also a good way to cement the bond with your constituents.
The canvass is among the highest quality contacts that a campaign can have with voters. This dictates that your political canvassing strategy consider every means to optimise its effectiveness. The right tools and data, a cohesive voter outreach strategy, and in-depth conversations with voters may just be what gives your campaign the edge to secure the election win.
Tags:
door to door canvassing
,
election canvassing
,
political canvassing