There is no getting around the fact that door-to-door canvassing can be uncomfortable. Knocking on someone's door, and asking them to stop whatever they were doing to have a chat with you about politics is awkward and seems unnatural.
So why go through all the trouble? Because it works.
In a study on MoveOn GOTV operations, researchers found that contact with MoveOn volunteers increased turnout by approximately 9 percentage points. Because, unlike a conversation on a social media platform, a face-to-face interaction is deeply personal. Two people having a respectful conversation on a doorstep are more likely to find common ground.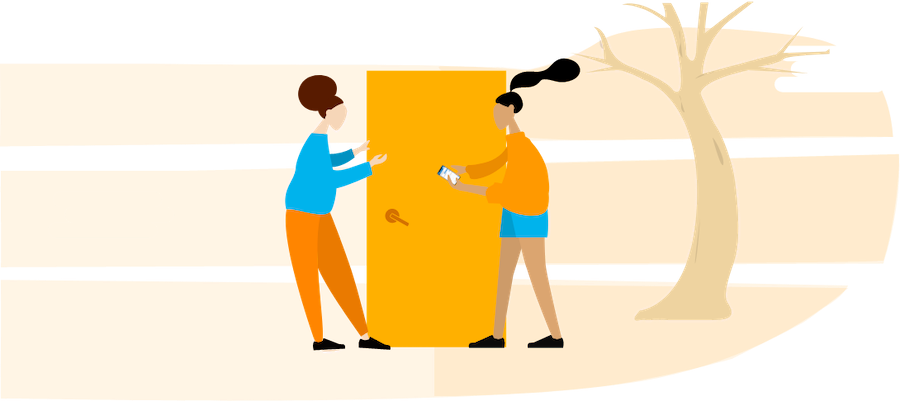 If you're organizing—or participating in—a door-to-door canvassing campaign, here are some political canvassing tips to make the process easier.
Before Canvassing
Planning your campaign
By getting the planning for your campaign right, you can make sure there are no hiccups when it's up and running.
Here are the things you need to consider when planning a door-to-door canvassing campaign.
Take stock of your aims and objectives
What is the aim of volunteers when canvassing? For a political campaign, your aim might be:
To Identify supporters
Persuasion
Voter registration
Opinion polls
GOTV
Measure the objectives of your canvassing campaign quantitatively. Figure out how many doors volunteers will need to knock on in the area you are targeting.
Get your volunteer count
Once you have the aim and objective of your campaign figured out, it should be easy to find out how many volunteers you will need to reach your canvassing goal.
Unlike a voter ID or persuasion campaign, GOTV outreach should not take as much time. A typical canvasser spends around 1 to 3 minutes at a door averaging about 20 doors per hour (when we account for time spent walking). So, a single volunteer on a 3-hour shift can knock around 60 doors per shift.
In a typical door-to-door canvassing campaign, people should answer the door about 20% of the time. That means volunteers are going to be having around 5 conversations an hour.
Determine your budget
Answer these questions to determine the costs for your canvassing campaign:
Are your volunteers going to be handing out flyers?
Will they be wearing campaign merchandise like shirts, pins, and stickers?
Do you need to provide transportation to volunteers?
Will they be using software tools?
Recruiting volunteers
Have a contagious vision
It all starts with your candidate. If they can present a message that can bring rise to enthusiasm in their supporters, then half the work is already done.

Have your candidate be active and regularly engage with supporters on social media and through events and rallies to build a sense of community.
Leverage campaign connections
Use the existing connections your campaign has to recruit new volunteers.
You can do that by asking campaign staff and existing volunteers to reach out to their friends and family. Help the referral process along by offering incentives to staff for each successful new recruit.
Reach out to communities
Another good way to find volunteers is to find leaders from communities that have an active base of participants. For example, religious leaders, activists, philanthropists, politicians– anyone who can use their influence to reach a large network of potential volunteers.
Not only can you access their pool of contacts, you can also ask them to take a more active role in helping your campaign, by asking them to speak at a rally or host an event in support of your candidate. If they are popular locally, people will come to hear what they say, even if they don't initially agree.
Look to previously identified volunteers
If you have identified potential volunteers during previous outreach campaigns, such as during a voter Id phone banking session, now is the time to call upon their aid. Set up another phone bank to reach them and tell them about your new volunteering opportunity.
Carry out targeted recruitment
If you have the time and resources, along with specific people you want to reach (experienced canvassers, perhaps), then a personal invitation can go a long way towards recruiting dedicated volunteers, especially if it's face-to-face.
A discussion with these potential volunteers should involve an honest exchange of values and motivations, showing them how your campaign speaks to the values your potential volunteer holds and can empower them.
At the end of the discussion have a call to action. You could ask them to participate in a weekend canvassing event, or if they say no, tell them about other ways they can help your campaign. If the response is positive, you could even ask them who else they think would be interested in volunteering for your campaign.
Get the word out digitally
There is no doubt that social media can be a way to expand your volunteer base and get the attention of existing supporters.
Post about upcoming canvassing events or other volunteering opportunities to your followers on social networking sites Facebook, Twitter, and Instagram.
Find local groups on Facebook that are interested in the issues that your campaign is working for. Posting about volunteering opportunities on these groups yourself or collaborate with the organizers of these groups to leverage the power of their supporters.
Celebrating your existing volunteers on social media is a unique way to use these online platforms. People that see their friends and family volunteering are more likely to volunteer as well.
Here's how Amy Mcgrath of Kentucky promoted volunteer opportunities in her run for Congress.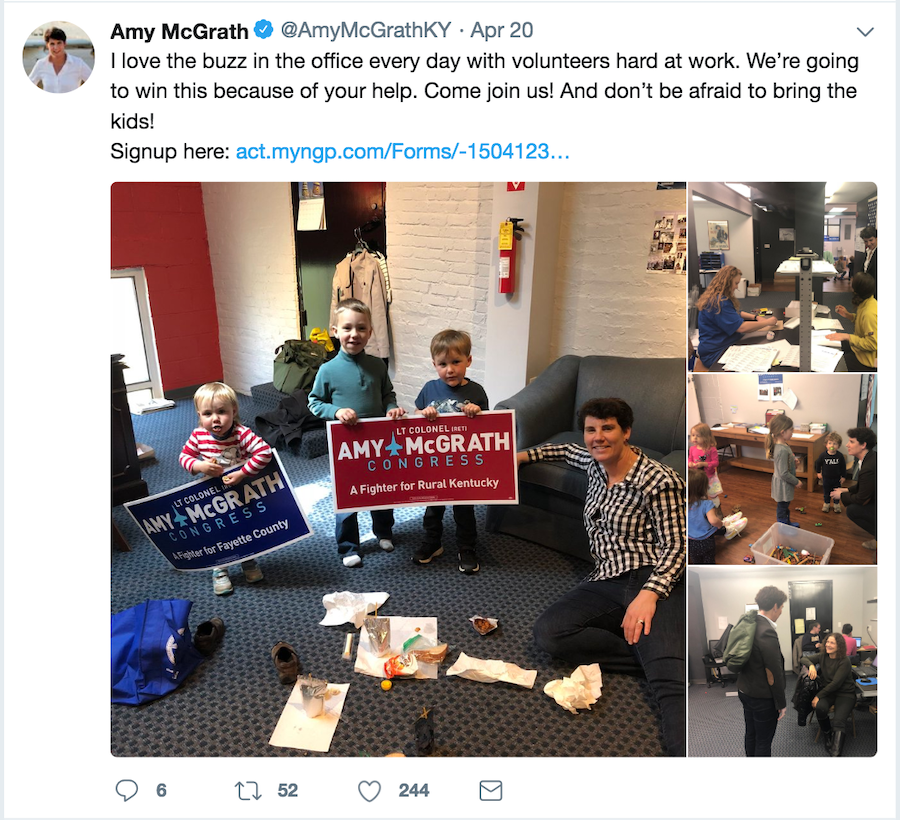 Not only does the post talk about, and thank volunteers, it also shows the candidate herself meeting her volunteers on the ground and working alongside them.
Preparing volunteers for door-to-door canvassing
Any good political canvassing campaign starts by getting your volunteers up to speed with a quick, structured training session.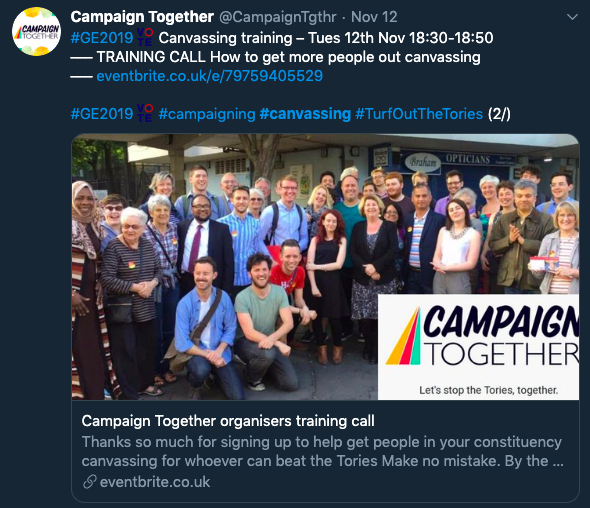 Start off a session is by having the campaign owner (candidate or campaign manager) give a short introductory speech. The speech can reiterate the importance of canvassing and the goals of the campaign. The aim of this video or in-person introduction should be to get people fired up about volunteering.
Once your volunteers get comfy, get into the main agenda of your training session. Fill them in on:
The main talking points for the campaign
The designated area they are canvassing
How to answer questions from constituencies
Splitting into teams for canvassing
Where and where not to place campaign literature
Keeping notes while canvassing
Once done, split volunteers into pairs, with one person playing the role of a canvasser, and the other being a constituent, so that they can familiarize themselves with having a conversation before putting it to practice on the field. Make sure every volunteer tries each role at least once.
Create a volunteer checklist
Give volunteers a checklist that they can refer to before setting off to canvass. You can adapt this one for your campaign:
Make sure your phone is fully charged.
Wear comfortable and appropriate shoes and clothing.
Bring snacks and water.
Bring sunscreen for a hot day.
Familiarize yourself with talking points.
Follow the list of doors or the map you've been provided.
Know what information to collect from voters.
Get the contact info of your teammates.
Pair up with another volunteer or bring a friend.
During Canvassing
Use smart tools
Paper lists and clipboards are cumbersome if you are running large voter outreach campaigns. Canvassers often deal with badly routed or un-routed lists, locating the right houses and outlining talking points and messages that align with individual voter interests.
Back at the campaign office, volunteers have to spend hours entering canvassing data into the voter database. Manual labor comes with high chances of lost or misplaced data.
Smart tools or canvassing software optimizes the canvassing process by giving volunteers access to a canvassing app that takes care of walk lists, voter information, and talking points or surveys.
A canvassing tool like Ecanvasser allows organizers to sync your walk list to the app and locate voters on a map so canvassers can easily navigate to houses they've been assigned to.
Here are some tools you can adopt to run a better campaign.
Ecanvasser
The Ecanvasser app makes it easier to manage field activities through intelligent maps to find voters and real-time tracking of canvassers. Ecanvassers integration with Nationbuilder lets you plugin data from the CRM for canvassing campaigns.
Polis
Polis App is a canvassing software for campaigning and door-to-door sales. The app can automatically create walking routes for door-to-door canvassers based on their location.
Organizer
Organizer is a field outreach platform for Democratic and Progressive candidates making it easier for a campaign to manage face-to-face contacts with voters.
MiniVAN
MiniVAN is the canvassing tool by NGPVAN that makes maps, walk lists, and scripts instantly available to canvassers on their iPhone or Android app.
Try out one of the many canvassing software that are available for your next door-knocking campaign, if not to ramp up your ground game, but for the trees.
Engage in open-ended conversations
Avoid starting with a question that makes it too easy for people to say no.
Encourage your supporters to engage in open-ended conversations when interacting with swing voters. Research by the Leadership Lab of the Los Angeles LGBT Center suggests that long, open-ended conversations have the potential to change people's minds.
So the next time your volunteers are talking about an issue that concerns a swing voter, it might be better to let them talk it through rather than speed through a script and move on to the next door.
As Gerber and Green pointed out in their seminal study on GOTV, your campaign will likely convert 1 voter for every 12 doors knocked with the age-old canvassing strategy.
But with deep canvassing methodology, the odds are much higher. Bear in mind that the study recommends that conversations last for a minimum of 10 minutes up to 20 minutes. A typical canvasser spends from 1 to 3 minutes at a door averaging about 25 conversations per hour. At the same time, a deep canvassing campaign will average 5 conversations in a 2-hour shift. So make sure you have enough volunteers in the shift and are not stressed for time, i.e more suited to your voter identification and awareness campaign than a Get Out The Vote campaign.
Rehearse your talking points
For first-time volunteers, it's important to practice the conversations they will be having with people beforehand.
The canvassing coordinator should provide a script with the important points to make, but it's important for volunteers to be able to put across those points in their own words in order to have a natural conversation.
As mentioned earlier, an initial training session, where people can practice having conversations with fellow volunteers, is very helpful.
Check your surroundings
The more you know about the voter, the better you'll be at engaging them across the duration of the campaign. Door-to-door canvassers have the advantage of seeing the voter at their home, and hence, they are at a prime advantage to gather data about voter interests.
Which car is in the driveway, which magazines are on the doorstep, are there children in the household, do they appear educated, are there pets, are all data points imbued with clues about the personality of your voter. Even if the data itself is seemingly apolitical, it has a statistical correlation to a voter's political leanings.
Take for example this study which found that buyers of American cars tend to lean Republican. So along with the routine surveys on supporter levels and voter sentiments on issues, have your canvassers note down any additional data sets that can be used for future retargeting and recanvassing.
After Canvassing
Following up with people through multi-channel communication
The follow-up matters almost as much as the initial contact with a potential voter.
Campaigns will use a plethora of tools across the duration of the campaign from canvassing to phone calls, email, text messages, social media, website, fundraising tools, campaign management software and well, the list goes on depending on requirements and funds accessible to the campaign.
Although each tool performs a different function they should still compliment each other through the campaign timeline.
This helps create a seamless flow of engagement with voters from the start of a campaign to election day. For example, door-knocking efforts should aim at reinforcing previous media messages and using data available from previous phone banking campaigns. Phone banking campaigns at the voter identification stage would have identified supporter levels and issues affecting individual voters. Your door to door canvassers should be using this data to target their voter contact making sure they reach the right voters with the right message.
Following up on a door knock, a follow-up email with details about the campaign and a call to action to donate is also a good way to cement the bond with your constituents.
---
In conclusion
The canvass is among the highest quality contacts that a campaign can have with voters. This dictates that your political canvassing strategy consider every means to optimize its effectiveness.
The right tools and data, a cohesive voter outreach strategy and in-depth conversations with voters may just be what gives your campaign the edge to secure the election win.
Follow up with Constituents through Calls and Texts
Use CallHub for your Political Outreach Campaigns
Tags:
door to door canvassing
,
ecanvasser
,
election canvassing
,
political canvassing
,
political phone calls
,
text message marketing