18% of donors worldwide have donated through Facebook fundraising tools! That's a large number of donors giving through a single platform. Moreover, 88% of donors who have given through Facebook charitable giving tools say they are likely to do it again.
With features such as the donate button and fundraising tools, Facebook has made it easy for nonprofits to ask for donations.
However, a lot of nonprofits still have questions about Facebook fundraising. They include:
How can I use Facebook to raise money?
Is it easy to use?
What are the drawbacks of fundraising through Facebook?
Do I have to spend hundreds of dollars on ads?
Don't worry! We've got you covered. This article explores how you can leverage Facebook's free fundraising tools to drive donations to your nonprofit. But before that, here's an image with more reasons to consider Facebook nonprofit donations: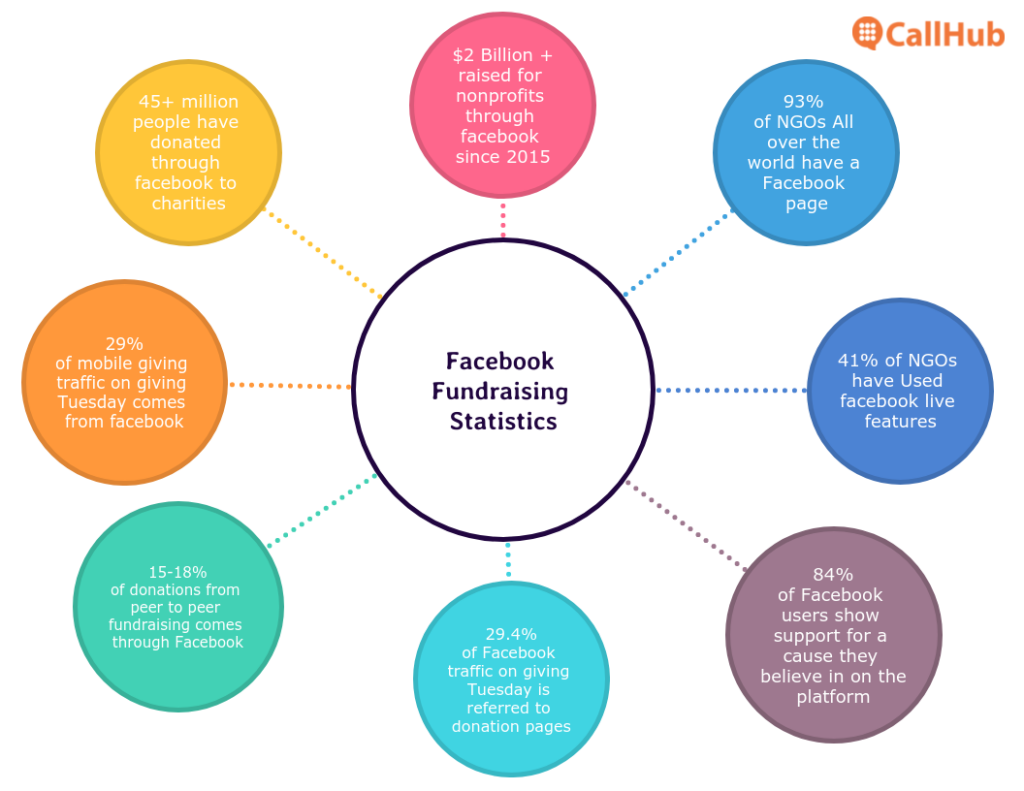 Can nonprofits ask for donations on Facebook?
First things first. We need to understand if charities can ask for donations on Facebook. The short answer? Yes, they can. However, with all things that involve money, there are rules to be followed.
If you are soliciting personal donations, you need to be 18 years or older and a resident of the country you are soliciting contributions from.
For charitable organizations, the terms for Facebook fundraising are made clear on their website. Some of the essential terms you need to know are:
You need to provide any details that Facebook may ask of you to verify your charitable organization.
You need to comply with Facebook's terms and conditions.
You must comply with any requirements regarding registrations, notices, or disclosures required to collect donations.
If you are using the Facebook donation features on behalf of a charity, you must have their permission beforehand.
Want to know how to set up a Facebook fundraiser? Facebook's support page has a simple step-by-step guide to help you.
To increase the number of donations you receive, you need to ensure your fundraiser can reach as many people as possible. And you need clever promotion strategies there. Let's explore that front.
How to promote your Facebook fundraiser?
With a few simple tips in hand, you can set up a successful fundraiser to reach your financial goals. These steps are–
Use Facebook tools
Use your Facebook page to promote your fundraiser.
Set up Facebook events to promote your fundraiser.
Use Facebook messenger to ask for donations personally.
Enable supporters to set up fundraisers on Facebook.
Let's explore these steps in detail.
Use Facebook tools
Add a donation button to your posts: A call-to-action button that is easily visible and prompts people to donate is a considerable boost to aid your fundraising efforts. Adding a donate button to your posts makes it easier for supporters to donate when they get inspired. And they don't have to leave Facebook to do so; payment can be processed on Facebook itself.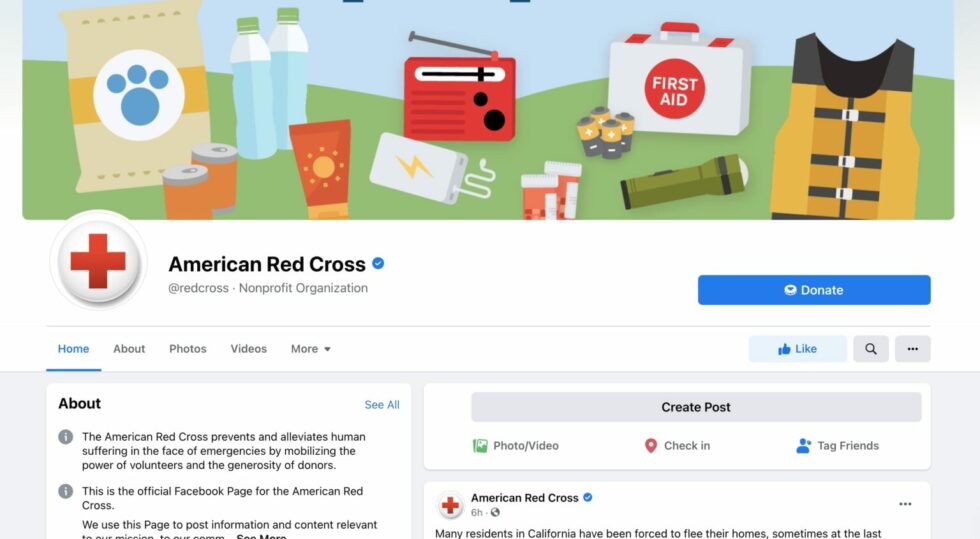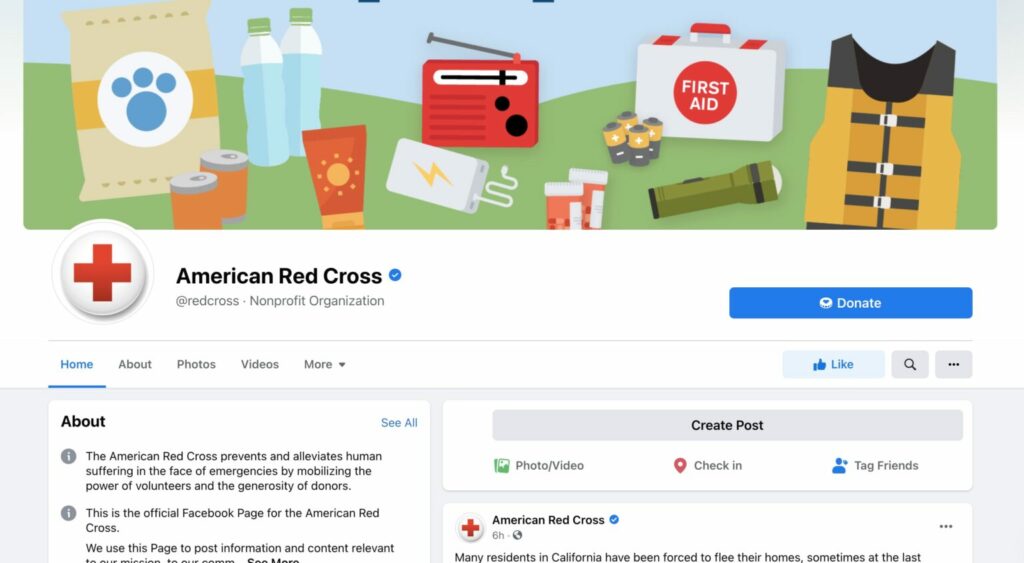 Collect donations through Facebook ads: You can collect even more donations by creating an ad in the ads manager. You can target donors who are highly likely to donate to your nonprofit fundraiser through advanced ad targeting.
When donors click on your ad, it will redirect them to the website of your choice, and they can make their contribution here.
Read Also: Top Nonprofit Advertising Strategies to Get You Quality Leads
Add donate button to Facebook live: Facebook live videos generate more engagement than traditional videos. People like sharing their experiences through this feature. Nonprofits can embrace the power of live videos and add a donation button to them. People can donate to your cause during the live broadcast, and the ones who missed it can contribute while watching the recorded version.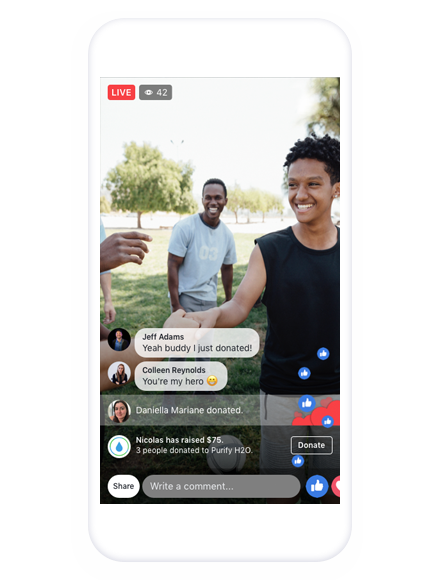 These features are available only to US-based 501(c)(3) charities with a verified Page.
Use your Facebook page to promote your fundraiser
Your Facebook page is where most of your supporters and potential donors follow you. Your Facebook page is also where most of your donors will visit to verify your authenticity. Therefore, you need to design your Facebook page thoughtfully before promoting your fundraiser on it.
Promoting your fundraiser on Facebook needs to occur in two steps:
Building your brand on Facebook
To build your brand on Facebook, you need to take care of a few basics:
Ensure your profile picture and cover picture are updated.
Edit your bio to include the most relevant information about your organization.
Add necessary call-to-action buttons.
Add a button/link to redirect users to your website.
Add posts and pictures of your team, activities, and past initiatives.
Read Also: A Quick Guide To Nonprofit Branding To Help Build A Better Brand
Advertising the fundraiser
To advertise the fundraiser, you can follow these quick steps:
Enable a share button so followers can easily share your content.
Share video messages about your fundraiser to appeal to emotions. 60% of marketers have reported that video messages gain more clicks and traction on Facebook.
Run paid ad campaigns to boost your fundraiser.
Use the latest Facebook features such as reels and stories to promote your content further.
Set up Facebook events to promote your fundraiser
Facebook events are customized pages that nonprofits can create to invite supporters to execute their fundraising event ideas.
It is also the best way to expand your donor base as loyal supporters and new guests will be interested in fun activities like a black-tie gala or playing golf. Set up a Facebook event, start inviting followers, and encourage them to donate to your fundraiser.
Once you invite supporters to an event, they will receive periodic notifications for that event, keeping your event at the top of their minds. At the same time, Facebook will notify their friends of their intention of attending your event—giving you a more significant, probably like-minded audience.
Use Facebook messenger to ask for donations
Charity: Water was the first nonprofit organization to use messenger bots to ask for donations through Facebook using the messenger specialist, Assist. Through this, messenger users can interact with nonprofits and make donations.
The bot automatically responds to trigger words with suitable options, such as "donate" (you can customize the trigger words).
For example, if you give an option saying "Join In," the bot would invite the user by asking them to register their email address with the organization.
Enable supporters to set up fundraisers on Facebook
Supporters can create fundraisers the same way they would a group or an event. They can:
Select their preferred nonprofit.
Personalize the fundraiser with photos and content.
Set a fundraising goal.
Invite friends and family to donate.
All you have to do is encourage your biggest supporters and donors to set up fundraisers for your organization.
Supporters can share the fundraiser on their profiles and feeds. And invitees can share the fundraiser with their friends. Their network can see a prompt contribution on their news feed, giving you an opportunity to get more donations.
Only users in the United States and 39 other selected nations can create fundraisers on Facebook, and users from these countries can donate in their local currencies.
Countries in which charities can raise funds through Facebook
| | | |
| --- | --- | --- |
| United States | United Kingdom | France |
| Spain | Sweden | Germany |
| Portugal | India | Finland |
| Poland | Norway | Belgium |
| Luxembourg | Netherlands | Austria |
| Italy | Ireland | Canada |
| Australia | | |
Remember, the content you post on your page has to be engaging. People must be able to connect with it. Only then will they want to share your posts and help you raise funds.
Did you know?

In 2018, Facebook announced that they were dropping payment processing fees from all charitable donations. Earlier, they used to charge 5% as processing fees.
Read Also: How to Promote your Fundraiser through Multiple Channels
What are the drawbacks of Facebook nonprofit donations?
Any tool comes with its share of downsides. However, being aware of these is a great way to ensure you are prepared for any change.
Breach of privacy: The biggest drawback with Facebook is its privacy policy. When you use Facebook for fundraising, you also allow Facebook to use the data that you generate through your campaign.
Facebook can collect data points from your donors and use them to boost other campaigns.
Slow Disbursements: You will receive a bi-weekly payment of the amounts collected if you use Facebook payments. However, if you use Network For Good, your payments are processed through their Donor Advised Funds (DAFs). DAFs take 45-70 days to process payments! Depending on the urgency you need funds, it can be a long time to wait for payouts.
Despite its challenges, it is a popular platform for donors looking to support a charity. This is why many nonprofits still opt for facebook donations.
The way forward
Facebook fundraising is an important way in which nonprofits can raise funds. Its popularity has made it a must-explore tool for fundraising.
However, Facebook nonprofit donations are only the beginning of a wide range of social media fundraising methods that you can explore. Do you want to know more? Read our article Social Media Fundraising: The All-in-one Guide that can get you started.
Featured Image Source: Tobias Dziuba