As today's world moves online at a rapid pace, nonprofit fundraising has been swept up in this new economy. Traditional events like golf outings, silent auctions, and galas are still all the rage, with one more modern caveat – the rise of mobile bidding.
With mobile technology, nonprofits of all sizes can take their fundraisers and turn them into engaging, competitive, social events. To connect in the new world of mobile engagement, nonprofit teams need marketing tips they can use to kick-start their next fundraising campaign.
Why is mobile bidding so important?
Gone are the days of waiting for an event to start, writing down bids on paper, and waiting in line again to check out at the end of the evening. With mobile bidding, donors can bid on auction items straight from their phones (via an online site or an on-phone app) for a more streamlined process.
Mobile bidding is proven to increase donor bids and engagement, and it helps nonprofit teams create a simplified internal event process.
While mobile bidding is indeed the next generation of fundraising solutions, donors and auction attendees must have some form of education and onboarding to get up and running with these tools. Strong nonprofit  marketing campaigns are incredibly important because they:
Showcase the innovation and ease of the mobile bidding functionality.

Offer additional information about the charitable mission and cause to connect more donors.

Encourage more bids and donations before, during and after the event.
10 fail-safe mobile bidding marketing tips
Want to raise more money and make the most of your upcoming auction or bidding event? Take these tips into consideration to run your most successful event yet!
1. Determine how mobile bidding fits into your charity fundraiser.
The type of auction or event you decide to host will play a critical role in influencing the rest of your marketing strategy. Ask yourself the following questions:
Are you hosting an online charity auction with little to no face-to-face engagement?

What about your

donation items

? Have you solicited any showstopping items that could trigger a mobile bidding war?

Will you have more than one prize at a time for multiple winners?
Answering these questions first can help inform your marketing campaigns down the road.
2. Find the right mobile bidding solution to fit your needs.
Not all mobile bidding platforms are created equal. Maybe you're looking for an all-in-one solution that includes ticketing and event registration along with mobile bidding. Remember that solutions with bonus features like social media feeds and donor tracking open up all kinds of additional marketing opportunities down the road.
3. Set up your online bidding site in advance for a head-start.
While traditional auctions took place between a set time frame with all the potential donors in a room together, the rise of mobile bidding has made it possible to extend the bidding window to increase bids. Set up your online bidding site a few weeks before your event to give donors a head-start, and carry it over to your event so to maximize excitement and revenue.
4. Include a real-time scorecard in your mobile bidding solution to foster competitive fundraising.
It's a universal truth that good competition equals good fundraising. Add an element of competition to your mobile auction with an online scorecard that continuously updates with new bids. You donors can immediately see who's on top, which encourages more competitive bidding and increases overall profits.
6. Leverage social media to drive more supporters.
To drive maximum event attendance and engagement, you need to add social content to your mobile bidding fundraising.
Include a 'share on social' button at the bottom of an item after a donor wins it in an auction.

Ask donors to share the fundraiser with their followers and create a contest around social bidding.

Make it possible for new donors to join in the fun wherever they are, directly from a smartphone.
7. Announce high-ticket auction items everywhere
Build the suspense for your event and mobile bidding by promoting and announcing high-ticket, day-of auction items. Although your donors have had a few days to peruse and bid on your other auction items, this element of surprise can help boost donations, get people excited, and give your sponsors an extra boost of visibility.
8. Increase excitement in real-time by running a live donation appeal at your event.
Nonprofit marketers can leverage mobile bidding platforms to run a live donation appeal to give attendees the ability to donate extra funds outside of the bidding platform. Live donation appeals are a great way to rally your crowd and build comradery as your whole audience is working towards a common goal: raising money.
9. Make sure all bidding logistics, such as check out and payment processing, are handled with minimal roadblocks.
When it comes to mobile bidding it's important to ensure your donors have a seamless, secure check out experience. Include the following on the check out screen to raise excitement for next year:
Sponsor logos

Date and time of next auction or event

Sneak peeks of possible items available at the next auction
10. Collect detailed donor insights at every step of the mobile bidding process to better inform future campaigns.
As with any industry, nonprofit fundraising can only move forward with the right data and insights:
Track your progress and take into account any glitches that might have impacted the donor experience.
Look at your total donations, and compare them to a year when you weren't using mobile bidding software.
Ask for feedback directly from your donors and event attendees to get their opinion on how you should move forward.
As your nonprofit begins ramping up end-of-year giving campaigns or starts planning your 2019 fundraisers, makes sure mobile bidding is front and center.
---
Author: Kelly Velasquez-Hague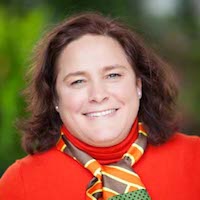 Kelly Velasquez-Hague brings over 20 years of fundraising, nonprofit management, and sales/marketing experience to her role as the Director of Content Marketing for OneCause. As a member of the OneCause sales and marketing team, Kelly manages all of the company's content strategy and execution. She is passionate about empowering great missions and loves that her current role allows her to continue to help nonprofits reach new donors raise more funds for their cause.