You've tried bulletins, email newsletters, social media, and phone trees. Alas, none have worked so far. Core communications of your church is suffering and your outreach is going downhill. To top it off, attendance is dwindling.
This only means one thing: your church may not have a future.
So what's the solution? Mass text messages, of course!
Text messages can help churches overcome common hurdles and address problems like:
Engaging your congregation in a digital world
Connecting with millennials
Passing meaningful messages throughout the week to keep people inspired
Apart from this, group texting services for churches helps with getting member opinions, keeping them posted about new developments, and improving attendance at your events.
In this article, I will take you through 5 ways in which you can use mass texting to improve communications and keep people invested in your church.
Grow Your Congregation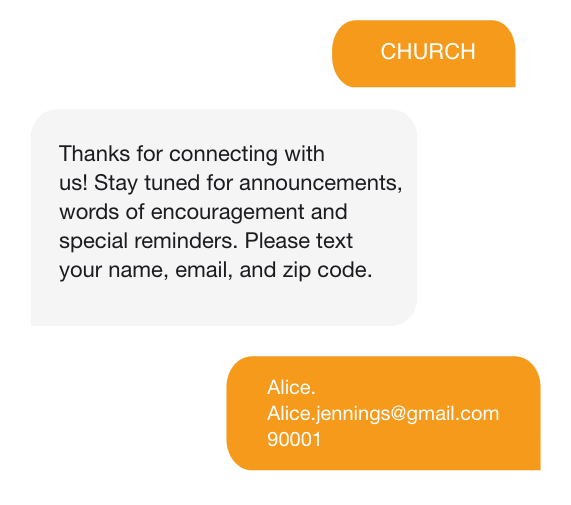 If you're wondering how to easily grow your congregation and collect contact information of your members, sign up drives are the way to go forward. No, we're not talking about the outdated way (pen and paper) of conducting it. We're saying go digital.
By opting for an SMS sign-up drive, you can easily encourage your members to receive text updates after church service by promoting a keyword outside your church, on social media channels, billboards, or posters. Here, you should urge people, especially first-timers, to sign up. This way, any community member interested in your church can send in a text to automatically get added to your list.
Alert Members About Schedule Changes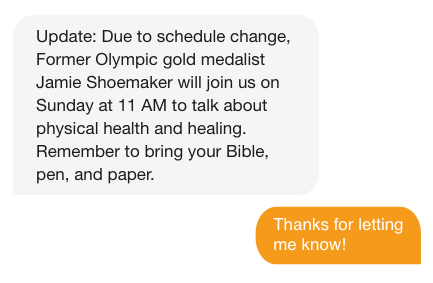 What are the building blocks of healthy relationships?
Relevant and timely communication!
Your congregation consists of busy people and they'd definitely appreciate it if you reach out in time and let them know about any schedule changes. No matter how minor the information is, sending a timely update helps them plan ahead and avoid unnecessary hassle.
Use mass texts to keep your members in the loop about delays in Sunday service, venue changes for a fundraiser, or changes in calls for prayer. By using an automated service, you can plan ahead and schedule text messages to be sent out later. This saves your time and you don't have to worry about keeping your congregation in the loop.
Follow-Up With Your Guests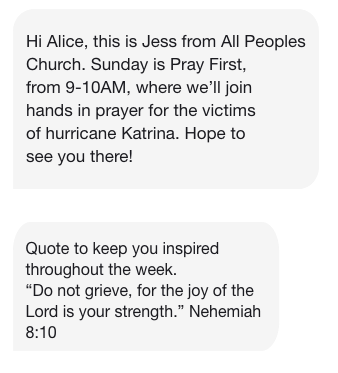 Following up with first-time guests is the best way to make them feel loved and welcomed into your church community. It's also critical to retain members and must be the primary goal for your staff and volunteers. This doesn't mean you should ignore your members. Follow-up with them too. Preferably after they've attended a sermon or event at your church.
With automated text follow-up in place, first timers will feel connected to your church and will want to return week after week.
Send one or two texts every week. For example, a Saturday morning text inviting them to Sunday services or quotes from the Scripture relevant to that week's sermon to keep them inspired all week long.
Get Feedback & Suggestions From Your Congregation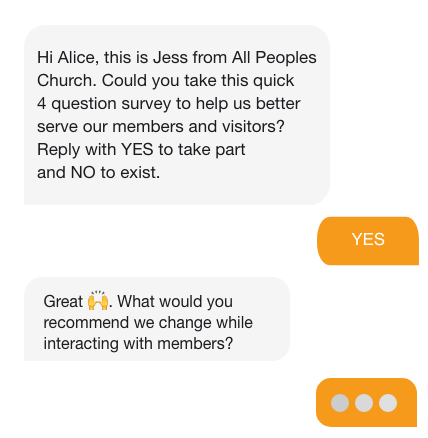 Are you looking for suggestions? Or do you have an idea regarding a church activity that needs the feedback of your entire congregation? Well, ditch email, because of their low open rates, and send a text instead. Ask for your members' inputs, and reap the benefits from their responses.
Feedback makes way for your congregation to lend their voice to important matters so that they feel like an active part of your church. Obtaining this is also a great way for you to gather more information regarding a sermon, selection of hymns, or an event.
You just have to send out mass texts to your congregation with your survey. The information collected through these forms can be used later to reach out to members and to keep them engaged.
Reminders For Church Events
If you want to boost attendance for your church fundraiser or activity, you need to send frequent reminders to your congregation.
Start with a short text message the week before, encouraging members to participate. Invite them to bring a friend or a family member. Be specific about the date, time, and place. Anyone who responds is engaged in a conversation and their details are collected. At the end of the day, you'll have details of every person who agreed to attend back in your database.
Regularly texting your congregation gives you a way to keep them engaged, updated, collect information, and attend your events. For further information on how to get started with group texting service for churches, write to us at [email protected]