A text survey allows you to collect data from contacts through a series of text messages. Here's how they work, and why they are the perfect way to reach contacts for your data collection campaigns:
How do they work?
There are two ways you can use texts to get people to take surveys:
Use SMS Opt-in for inbound text surveys. Here, someone is surveyed through automated follow-ups when they text in a unique keyword to a shortcode.
Use Peer-to-Peer texts for outbound text surveys. Texting agents send questions to contacts and manually fill in survey forms in the agent console.
Why use text surveys?
High visibility
Text messages have an open rate of 98%, compared to emails at 22%.
That means your texts are highly likely to be seen, which in turn leads to higher response rates from contacts.
Quick
90% of texts are read in the first 3 minutes of being received.
That means texting is the way to go if you need urgent feedback from contacts.
Higher response rates
As a result of their high visibility and quick opens, they net you high response rates at a fast pace.
Texts are responded to 7.5x more often than emails and 60x quicker.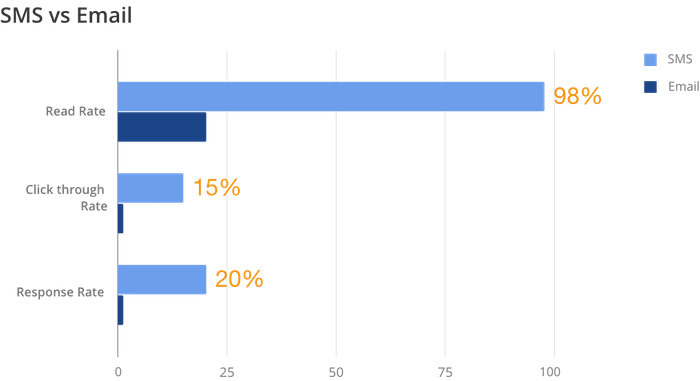 Cost effective
Using a texting software like CallHub, you only pay for the texts that you send out. That means you can survey your contacts without breaking the bank by investing in new tools.
Let's take a look at how text surveys are offering value to different organizations.
How different industries are using text surveys
Hospitals
Hospitals use text surveys to:
Gather feedback from outbound patients (experience with doctors and other staff, medicine availability at the pharmacy, how easy it was to book an appointment, satisfaction with amenities provided).
Health Monitoring Surveys.
Patient Net Promoter Score ("How likely are you to recommend our healthcare services to a friend or colleague?").
Real estate
Real estate agencies use text surveys to:
Get feedback after an open house. (Is the prospect satisfied with the existing amenities? Are they willing to go through to the next stage of the process?)
Gather feedback from existing clients to improve the process.
E-commerce
E-commerce uses text surveys to:
Gauge customer opinions on a new product (Do the product specifications match the received product?)
Offer discounts in exchange for reviews.
Recommendation surveys (How likely are you to refer us to friends? How can we improve?)
Nonprofits
Nonprofits use text surveys to:
Collect additional donor information (Are they interested in monthly giving? Do they want to volunteer instead?) to personalize future outreach.
Decide on themes for new fundraisers
Political
Campaigns use text surveys to:
Voter ID – to update voter information in their lists (Contact details, address).
Collect additional donor/voter information.
Understand voter issues through P2P texts when formulating policy proposals.
Gauge opinions on new policy stances, in order to tweak campaign messaging.
Churches
Churches use text surveys to:
Gather input on sermons (Impressions on service length, subject matter).
Get feedback on church events.
School/Universities
Educational institutions use text surveys to:
Gather feedback on classes (Teaching quality, satisfaction with online classes, etc.)
Feedback on facilities (Are the gym, library, swimming pool, etc adequately furnished?)
Restaurants
Restaurants use texts surveys to:
Get customer feedback on the dining experience (Impression of ambience, amenities, the waiting staff).
Offer discounts in exchange for a review.
Get opinions on a new menu item (Yay or Nay?).
Automated text survey through SMS opt-in – Inbound
Here's how you can set up an automated text survey with Callhub's SMS Opt-in:
Step 1:
Choose SMS Opt-in from the CallHub dashboard
Step 2:
Select a phone number that is used to assign the incoming message to your campaign. You can also use a shared shortcode for SMS Opt-In campaigns. Read more about shortcodes here.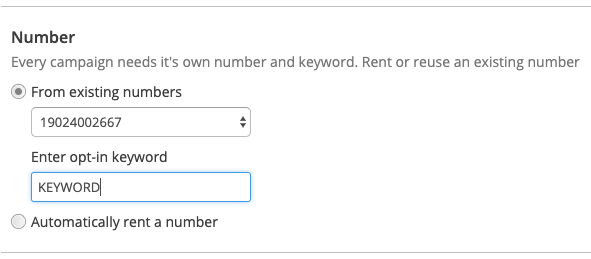 Step 3: Creating prompt flow:
The prompt flow has a response field and a prompt message.
Response field determines the data you collect from the contact i.e by default – email, name, country code, city, state, zip code, address, contact number, etc.
The prompt message is the message that is sent to contacts to let them know what data is required from them.
Your custom fields will be also included in the response field if you have added them.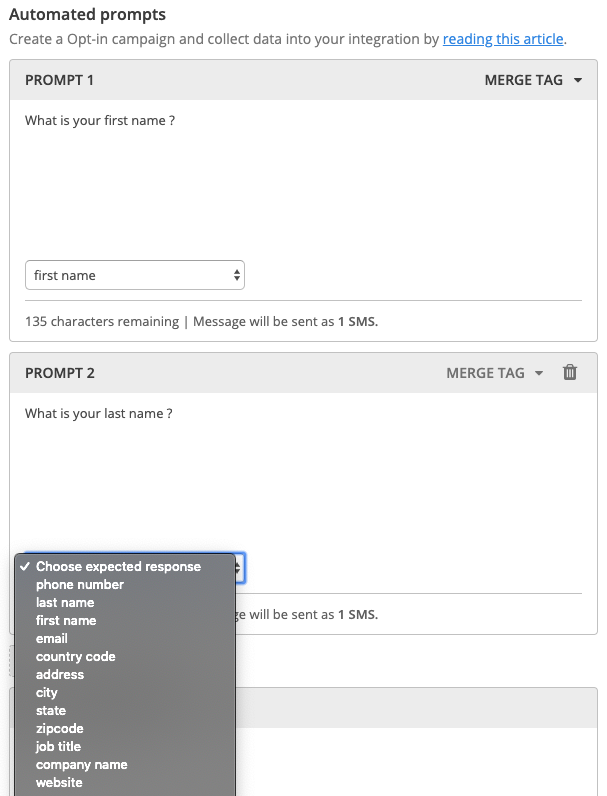 Select the response field and add a prompt message. Then click on "Next prompt" to add more prompts.
Step 4:
All that's left is to advertise your keyword and shortcode/long code to contacts and ask them to participate in the survey.
Manual Text Survey with Peer-to-Peer texting – Outbound
Here's how you can use peer-to-peer texting to survey your contacts with CallHub.
Step 1:
Choose peer-to-peer texting in the CallHub dashboard: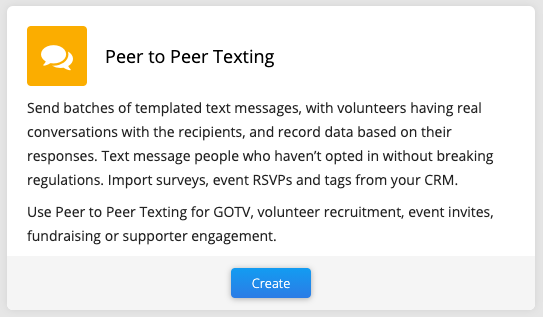 Once you're in campaign setup, you can name your campaign, choose the contact list you want to engage, and set a caller ID (shortcode/long code).
Step 2:
Add templates for your initial message and questions agents need to ask.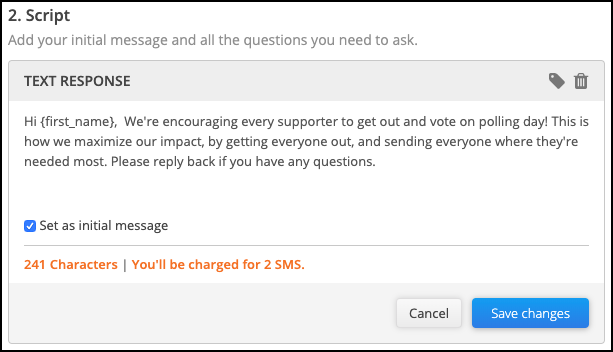 In addition, you can add saved replies. Your agents/volunteers can choose and send these standard replies to contacts.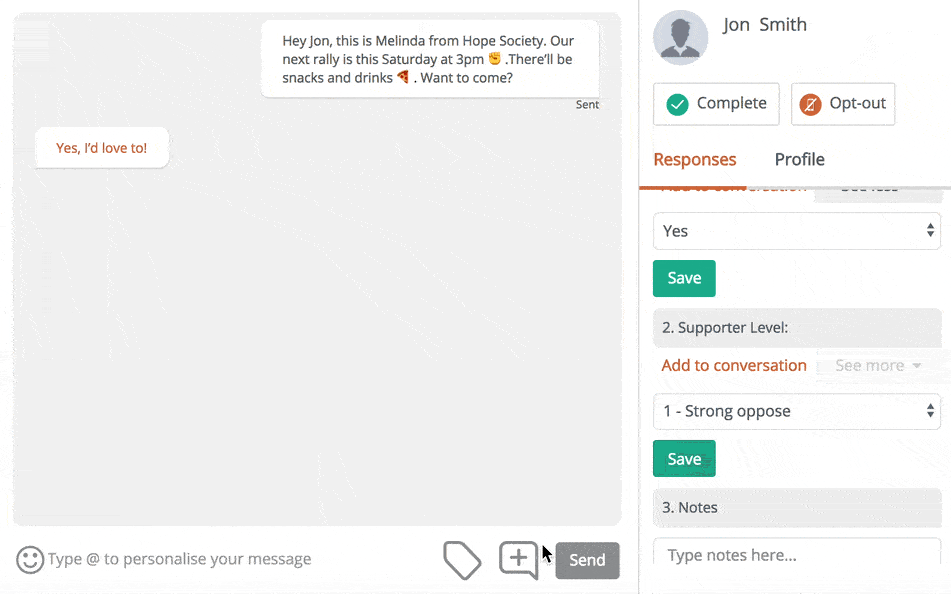 As your agents receive responses from contacts, they can fill in the survey responses. This data is synced back to your CRM if you have integrated it with CallHub.
If not, you can export them as a CSV file.
Text survey features from CallHub
Personalize follow-up texts
Use the information collected to personalize follow-up messages.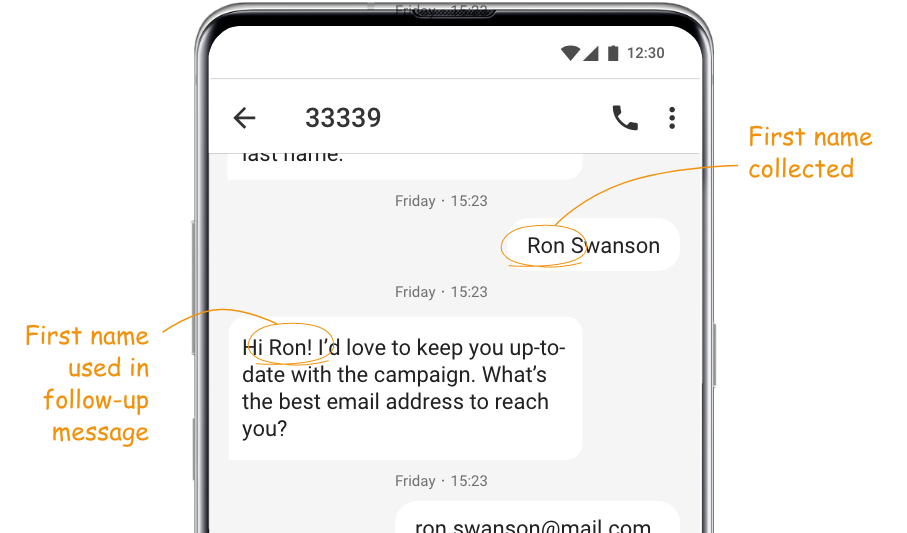 Nudge people to complete the survey
Encourage people who drop off to complete the survey flow.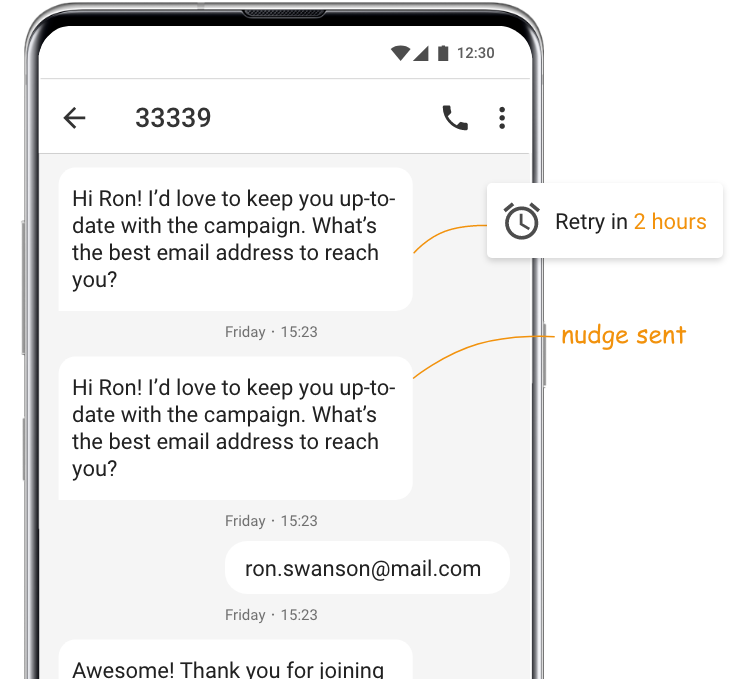 Collect data to your CRM
Create profiles back in Blackbaud, NationBuilder, Salesforce and Action Network for your contacts, with their survey answers. Take a look at our full list of Integrations,
If you can't find your CRM in our list, you can also use our Zapier integration to connect existing tools to CallHub.
Submit a feature request
Have an idea for a feature that can help you survey contacts better? You can submit a request from the CallHub dashboard.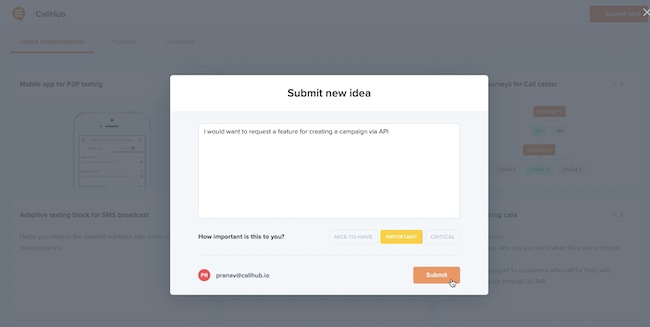 If you're ready to start sending highly visible text surveys to contacts, Sign up with CallHub and try it out for free.