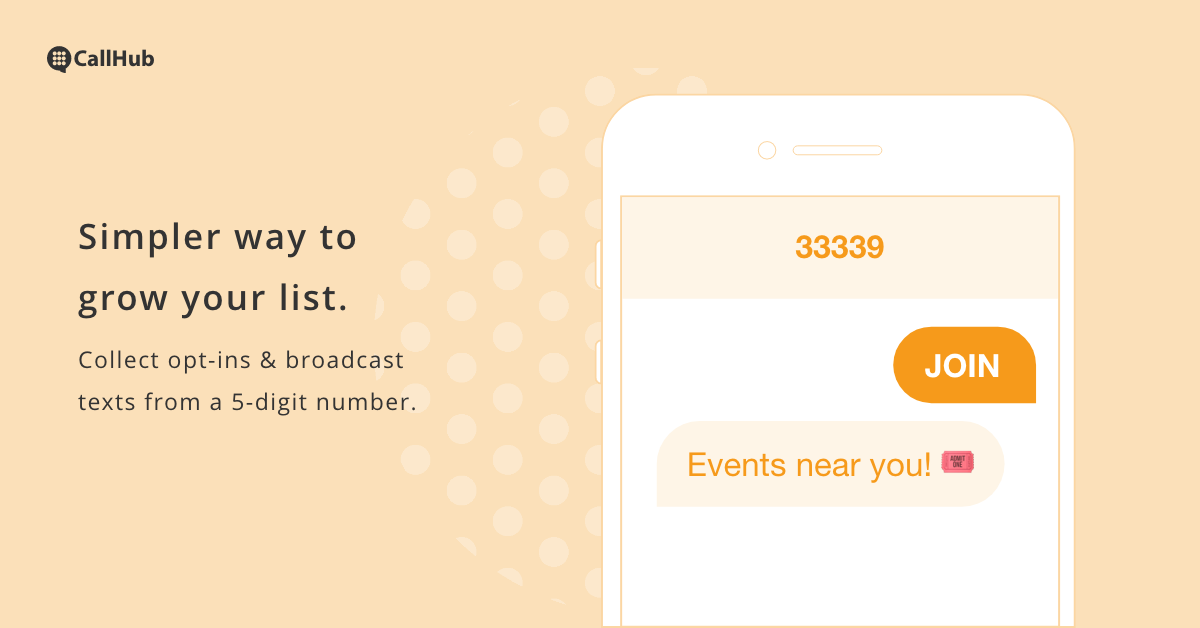 We talk a lot, and I mean a lot, about how we can make our customers experience with CallHub even better. One of the results of those conversations (and us perusing a ton of customer feedback!) is our new shared shortcode functionality.
If you rely on SMS marketing, for mass texting and opt-in campaigns a shortcode would make your campaigns perform even better.
Here's what a shared shortcode is in a nutshell
A shortcode is a 5-6 digit number that you can use to broadcast text messages and collect text message opt-ins.
A shared shortcode is shared among multiple organizations, making it cheaper (a dedicated one costs around $500 – $1500 per month) and faster for you to rent for your campaigns than a regular shortcode.
Learn more about shared shortcode
How does our shared shortcode help you?
SMS Short Codes are a cost-effective and reliable medium for organizers to reach out to their voters and supporters to sign petitions, GOTV, and send event reminders.
It's easy to remember
When you compare it to a standard 10-digit number, a Short Code (like 33339) is way easier to remember.
That means your supporters don't have to worry about memorizing a long, complicated number to opt-in to your text messages or donate through your text-to-give campaign.
It offers great brand recall
A shorter 5-6 digit number makes it so much easier for your audience to recognize the sender of a text message as you. That increases the chance of them taking notice and reading through your message.
It looks professional
Anyone can send someone else a text message from a normal number. A text message from a shortcode needs you to rent a shortcode and get prior opt-in before sending messages.
It allows for better delivery rates
You only send messages to people who have opted-in, so there are no regulatory issues. That means high deliverability rates for your text messages.
It allows speedier message delivery
Using a shortcode lets you send 100 texts per second, compared to 1 text message per second with a standard ten-digit number. That adds up to a whopping 360,000 texts per hour!
Here's what you need to do to start using shared shortcode with CallHub
First, you'll need to rent a shortcode and keyword.
Navigate to "Numbers" on the CallHub dashboard and click the "Rent" button. Find more details here.

Choose one of the available shortcodes and enter a keyword. Fill in the other required details on the page.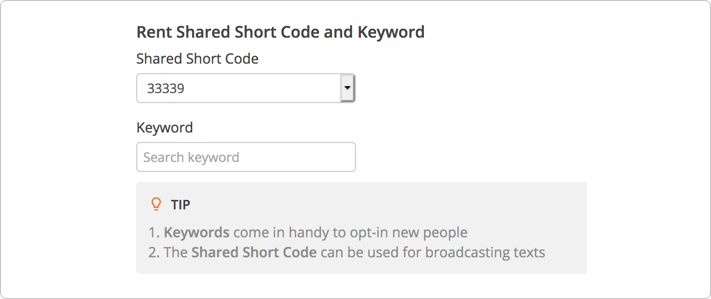 The approval takes around 1 – 2 days, so you can start using a shared shortcode for your campaigns in no time!
We plan to keep improving our product in our quest to help you communicate with your supporters quickly and effectively.
If there is some feature you would like to see in CallHub, or you want to tell us about your experience with the product, drop a comment below.
If you don't have an account with CallHub yet, you can get one here.