Spam texts – the bane of our times!
What if I told you–
Spam texts saw a 9000% increase from 1.227 million in September 2021 to 10.89 billion in August 2022!
Americans lost $10 billion to text scams in 2021 alone.
Numbers like these moved congressional leaders and The Federal Communications Commission (FCC) to mandate that network providers create regulations to keep text spam in check. Enter A2P 10DLC.
What is A2P 10DLC?
A2P stands for Application-to-Person Messaging. Businesses use applications to send mass texts from a web app or mobile app to the people they want to reach out to.
10DLC is 10 Digit Long Code. 10DLC numbers are network carrier-approved local long-code numbers for A2P text messaging that support large volumes of text messages. Carriers implemented this vetting and verification process to prevent bad players from spamming and sending unsolicited messages to people. makes it harder for spammers to send out unsolicited messages.
10-digit numbers were earlier used to send out low-volume text messages for personal use. To allow high-volume texts and discourage spammers, carriers introduced short code numbers 5 to 6 digits long.
However, shortcode registration is time-consuming (8-12 weeks compared to 5 business days for 10DLC) and quite expensive. A2P 10DLC is now a more promising option for organizations due to these reasons.
A2P 10DLC allows verified businesses to send bulk text messages with a 10-digit number, with quick registration times and high throughput.
This article explores A2P 10DLC, its benefits, and how your business can register for a 10DLC number.
What are the benefits of A2P 10DLC?
When you could just as easily use any number for text blasts or register for a short code number, how is A2P 10DLC more beneficial? Here's why–
Increases trust in your brand
Improved deliverability
Reduced spam and fraud
Enhanced engagement
Complies with regulations
1. Increased trust
Here's how A2P 10DLC improves the trustworthiness of your brand–
Through the vetting process, carriers like AT&T, Verizon, and T-mobile know that you are a verified organization. They will, therefore, not restrict or block your messages.
Carriers scrutinize your messages to ensure you are not circulating spam messages. While this may seem intrusive, this system helps maintain the Trust Score assigned during brand registration and also develops trust with your contacts in the long run.
Trust Score: During the 10DLC vetting process, carriers attach a trust score to your organization depending on three main factors:
Nature of work
Industry
Message use case (transactional, promotional, etc.).
This trust score determines your throughput or the number of messages your 10DLC can send per second.
We speak in detail about trust scores in the next section.
2. Reduced spam and fraud
10DLC was implemented for two reasons:
To improve transparency between businesses and consumers.
To reduce instances of spam messages and monitor text marketing practices.
As part of this, organizations and campaigns must register their brand (who they are) and campaign (what type of messages they send) with carriers. This process, often done via texting tools, enables carriers to "know" you and prevent them from blocking your messages even if the messages are not unique or are sent in bulk (erstwhile criteria to reduce spamming).
10DLC registrations became mandatory from March 1, 2022. Any organization sending A2P messages has to register its campaign (aka use case) with carriers. If you have multiple use cases, you must register each separately.
The trust score assigned to an organization depends on these use cases. Since the carriers vet outgoing messages and compare them against the registered use case, sneaking spam messages under the registration of a different use case will result in the temporary or permanent blocking of that number.
3. Compliance with regulations
Following rules and regulations determined by regulatory authorities such as the TCPA (Telephone Consumer Protection Act) and CTIA (Cellular Telecommunications Industry Association) is essential for efficient text outreach.
The CTIA and TCPA mandate that consumers consent to receive messages from a business or nonprofit. CTIA even insists on revoking consent if the consumer does not want to receive an organization's messages.
A2P 10DLC messaging policy heavily emphasizes consent and the revocation of consent to be registered under it. Here's what they instruct brands:
Get permission or opt-ins from their audience before sending them their first message.
Store proof of consent as required by local regulations or as a best practice.
Send out their first message within a certain time (or as mandated by regulations) after acquiring consent or receive consent once again if significant time has lapsed.
Read Also: SMS Opt-in to grow your mobile list
4. Improved deliverability
Changes in text policies and a crackdown on spam messages by Congressional leaders and the TCPA and CTIA mean that many text messages are not being delivered.
With an A2P 10DLC registration, you will get text deliverability rates based on your use case and trust score once you verify your identity, phone numbers, and messages.
The higher the trust score, the higher the deliverability.
Here's an example of trust scores and the throughput that businesses in each score range receive. This table showcases throughput for when an organziation has only one registered use case.
| | | | | |
| --- | --- | --- | --- | --- |
| Trust Score | Messages per second (MPS) on all major US carriers | AT&T MPS | T-Mobile MPS | Verizon MPS |
| 75 – 100 | 225 | 75 | 75 | 75 |
| 50 – 74 | 120 | 40 | 40 | 40 |
| 1 – 49 | 12 | 4 | 4 | 4 |
| 0 | 12 | 4 | 4 | 4 |
Source: The Campaign Registry
You can check out the full list of use cases for A2P 10DLC registration here.
5. Enhanced engagement
Here's how A2P 10DLC improves engagement with consumers:
Reduces the number of spam messages received by consumers.
Only delivers messages for which they have provided consent.
Delivers relevant and timely messages to consumers.
When text messages consumers receive are consent-based, they are more likely to engage with an organization.
Read Also: The Challenges A2P 10DLC Messaging Solves and How You Can Comply
To summarize, A2P 10DLC provides a reliable and trustworthy method for organizations to engage with consumers, improving overall engagement and effectiveness of outreach initiatives.
Why are carriers implementing 10DLC regulations?
A common person responds positively to business or political text messages they have consented to. However, previously it was easy for brands to use numbers that contacts had opted in to to mix use case, thus potentially spamming them.
North American carriers have implemented A2P 10DLC to prevent spamming, take specific consent and thus ensure that text messaging remains a valuable communication channel between consumers and businesses.
Do I need to register for A2P 10DLC?
The short answer is yes.
If you are a business or an organization engaging with their target audience using text messages with a 10-digit number, you must register for 10DLC.
Without an A2P 10DLC registration, carriers will filter your messages, and your outreach initiatives will not get the results you hoped.
Shortcode sunset policy for telecom carriers
With the introduction of A2P 10DLC, network carriers have been steadily phasing out shortcodes. Different network carriers have introduced 'sunset' policies that aim to discourage the use of shortcodes until they are completely phased out.
Some carriers will 'sunset' or discontinue shared shortcodes once 10DLC is implemented across all carrier networks. They will provide a migration period for users of shared shortcodes to move either to dedicated shortcodes or 10DLC as part of their "wind down" process.
Read Also: Long code vs. 10DLC- Everything You Wanted to Know
How do I register for A2P 10DLC?
Registering for A2P 10DLC is relatively straightforward compared to shortcodes. When the registration process began for 10DLC, CallHub's support team used to register all our users for it personally.
However, we have automated the process so users can easily and quickly register for 10DLC services on the CallHub dashboard.
To register your brand, go to the dashboard's settings tab and click 'Compliance.' You will be directed through the registration process from then on.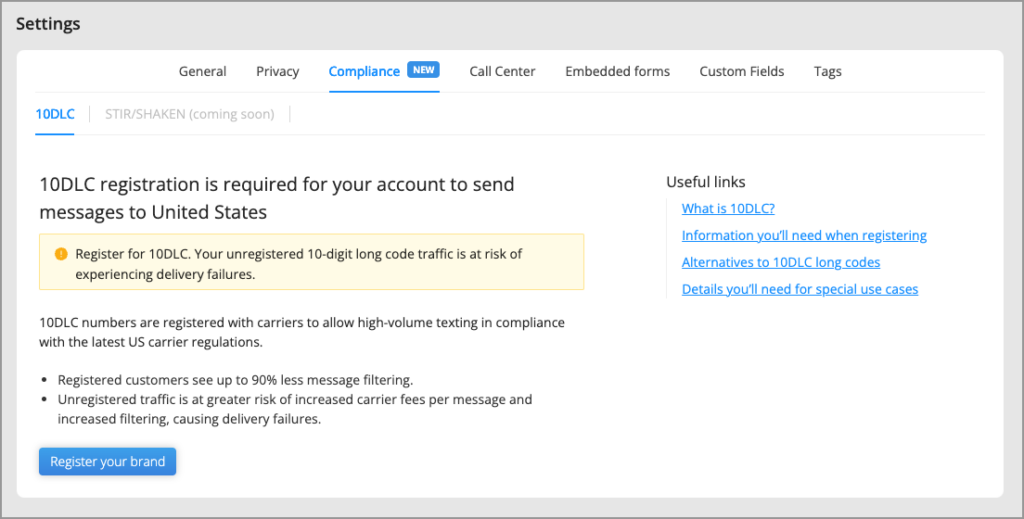 Registration occurs in four steps:
Enter your details and indicate if you intend to send political messages.
Provide your contact information, including email, phone number, and address.
Check the acknowledgment box and pay $44 as Brand Registration and Vetting Charges. These charges will be refunded as credits to your account once registration is complete.
Post this, your brand is vetted, and a trust score is assigned. With the trust score, you can now register your campaign for 10DLC. Under the campaign registration process, you specify your industry and the use cases for sending text messages. The entire process takes five business days.
If you need support while registering your brand, our support team is always available to help.
A2P 10DLC registration for non-CallHub users
You can register for A2P 10DLC only through your texting application. You can follow the guidelines laid out by the text messaging application you use and follow them for an easy registration process.
Read Also: The Complete Guide to Text Messaging for Customer Service
What information do you need to register for A2P 10DLC?
Before you begin the registration process, you must be equipped with the following information–
Your company's legal name
The country where your brand is registered.
Whether you are a private, publicly traded, or nonprofit organization.
The company's tax number/ID/EIN
Your website URL
Details of each campaign for which you use texts.
Sample messages of your texting campaigns.
If you are a public firm, your ​​stock ticker and exchange.
Regions in which you operate.
You must also provide a point of contact (POC)— an authorized company representative. The POC's details include:
Name
Email ID
Phone number
Title
Job position.
You can provide a second POC, too, but that is optional.
A2P 10DLC campaign use cases and types
Under A2P 10DLC, campaign use cases refer to the messages sent out to consumers and their intended purpose or specific use.
There are two broad categories of campaigns under A2P 10DLC:
Standard campaigns
Special campaigns.
We explore the different campaign types under these categories, their use, and how much they cost.
Standard campaign types
| | | |
| --- | --- | --- |
| Type | Use Case | Monthly Charges |
| 2FA (Two-factor authentication) | These campaigns are sent out for verification, sharing one-time passwords, or authentication purposes. | $10 |
| Account notification | Any notification about an account being used by the consumer. All messages are related to the account. | $10 |
| Customer care | Any messaging about customer service and resolutions. | $10 |
| Delivery-related | Notifications associated with the delivery of a product or service. | $10 |
| Fraud alerts | Alert consumers about fraud-related activity on their accounts. | $10 |
| Higher education | Messages sent out by Colleges and Universities. | $10 |
| Low-volume (<6000 messages/day) mixed | Low volume of messages, irrespective of use case. | $2 |
| Machine-to-machine | Conversations between two business assets, with no involvement of humans. | $10 |
| Marketing content | Any campaign that sends out marketing-related content. | $10 |
| Mixed type | A mix of different uses. | $10 |
| Polling and Voting | Messages send out for non-political surveys and research. | $10 |
| Public Service Announcements (PSAs) | PSAs are issued in the public interest to educate or inform them about important issues. | $10 |
| Security alerts | Alerting consumers that any of their software or hardware has been compromised. | $10 |
Special campaign types
| | | |
| --- | --- | --- |
| Type | Use Case | Monthly Charges |
| Agents and Franchises | Brands that need dedicated local numbers for their franchises, agents, etc. | $30 |
| Carrier Exemptions | Any exemptions provided by carriers. | $10 |
| Charity | Messages sent out by registered charities, including 5013C charities. Does not include religious organizations. | $3 |
| Emergency | Messages during emergencies, natural disasters, promoting public safety, safeguarding during a conflict, etc. | $5 |
| K-12 Education | Messaging related to K-12 educational institutions and distance learning centers, Does not include post-secondary school. | $10 |
| Platform Free Trial | Trial messages when learning about a service. | $0 |
| Political Campaigns | Messaging designed to influence specific groups but for preapproved Federal campaigns and select organizations only. | $10 |
| Proxy | Messaging using proxy or pooled numbers for peer-to-peer or app-based messaging. | $10 |
| Social | Messaging between closed communities. | $10 |
| Sole Proprietor | Individuals with a billing address but without an EIN / Tax ID. Here's a set of guidelines for sole proprietors. | $.75 |
| Sweepstake | Messages related to sweepstakes or contests. | $10 |
| UCaaS High-Volume | Unified communications as a service – high volume. | $10 |
| UCaaS Low-Volume | Unified communications as a service – low volume. | $2 |
Selecting the appropriate use case option for your organization during registration ensures your messages comply with regulations and carrier requirements. Different use cases have their own restrictions associated with messaging content, frequency, and other factors. Businesses must understand and adhere to these guidelines.
What is the deadline for A2P 10DLC registration?
From January 26, 2023, new A2P campaigns will be subjected to a new vetting process, including a $15 campaign vetting fee.
We recommend you register at the earliest time possible. If not, your text messages will be subjected to higher filters and high penalties.
Other FAQs related to A2P 10DLC
What impact will 10DLC brand registration have on your texting?
With a 10DLC brand registration, you can–
Improve throughput.
Increase deliverability.
Convert existing landline numbers into a registered 10DLC number to maintain brand recall.
Protect your brand's reputation- With a 10DLC registration, you send the message that your brand is spam free and trustworthy.
Make it easy for customers to reach you- Customers can call you on the same number on which they send you text messages.
Save costs- You incur lesser monthly costs than a shortcode or toll-free number.
Text from a local number- 10DLC allows you to rent multiple numbers for the same campaign, allowing localization of your campaign and potentially increasing your answer rates by upto 4 times!
Do I need to make changes to how I send outbound messages?
If you use your application to send outbound messages, you must add registered phone numbers to the platform to associate them with a campaign. You need not make any changes if you do not send outbound messages.
If you are using 10-digit phone numbers
If you use long codes for sending outbound messages, you will need to make changes to adhere to A2P 10DLC regulations.
Register your business with a registered A2P 10DLC provider to be a verified sender and comply with regulations.
Specify the use case for your campaigns. Choose whether you need to register for one or more use cases. Depending on the number of use cases you register for, you need to follow certain restrictions on the content of your messages and the frequency with which you can send out messages.
If you use shortcodes for outbound messages.
Shortcodes already comply with the rules and regulations set by the TCPA and CTIA. When you register for a shortcode, you go through 8-12 weeks of vetting and registration before receiving approval.
Do Trust Scores influence message throughput?
The higher the trust score of your brand, the higher the throughput that is made available to you. But yes, your trust score does affect the permitted throughput of messages.
For example, if you are registered for marketing use cases, and your trust score is between 75-100, you can send upto 225 messages per second (MPS). On the other hand, if your trust score is around 1 – 49, you can send 12 MPS.
For more information, you can also read: A2P 10DLC Brand Approval Best Practices – Twilio Support
How do you get a Trust Score?
The Campaign Registry (TCR) assigns a trust score during the brand registration process. TCR is a third party that oversees the new regulation system for network carriers.
A trust score between 1-100 is given to organizations based on predetermined criteria during the brand registration process— 1 being the least credible and 100 being the highest. A high trust score indicates that your messages will not be marked as spam or filtered or face slow deliverability.
Trust scores are determined based on:
The type of business.
The type of messages, known as use cases, that the business wants to send out.
Trust scores generally do not change over time and remain static. You are more likely to receive a low trust score if–
There are differences in the data you provided during the brand registration process and the actual data, such as your address, business type, etc.
You have a very small brand footprint.
You can appeal for reconsideration of your trust score with the help of your A2P 10DLC provider. If you appeal for reconsideration within 45 days of receiving the trust score, re-vetting is free of charge. If more than 45 days have passed since you received a low trust score, the re-vetting process will cost you $40.
What is the fees for unregistered 10DLC messages?
Starting March 1, 2022, fees for unregistered 10DLC messages are-
Inbound and Outbound SMS: $.004 per message.
Inbound and Outbound MMS: $.013 per message.
Stay compliant with CallHub's texting software
CallHub's text messaging platform offers–
Consent management
Compliance with and assisted registration for A2P 10DLC
Compliance with TCPA, CTIA, and CASL regulations.
SMS, MMS, HD video, Peer-to-peer texting, and more such capabilities.
Sign up today for effective text outreach with CallHub's SMS marketing software.
Featured Image Source: Karolina Grabowska