According to a report by Transparency Market Research, the global A2P SMS market is expected to reach $105.4 billion by the end of 2031. With such a large market, it's crucial for organizations to take the necessary steps to ensure successful communication via SMS.
Aiming for a high Trust Score is one such step.
The Trust Score is a measure of how trustworthy your organization is in the eyes of carriers and messaging providers. It determines the routing, delivery speed, and cost of your messages. The higher your Trust Score, the better your chances of your messages getting delivered to your contacts.
Those with a lower score may face delays in message delivery, increased costs, or even message rejection.
In this blog post, we dive deep into the 10DLC Trust Score and how you can improve it.
What is a TCR Trust Score?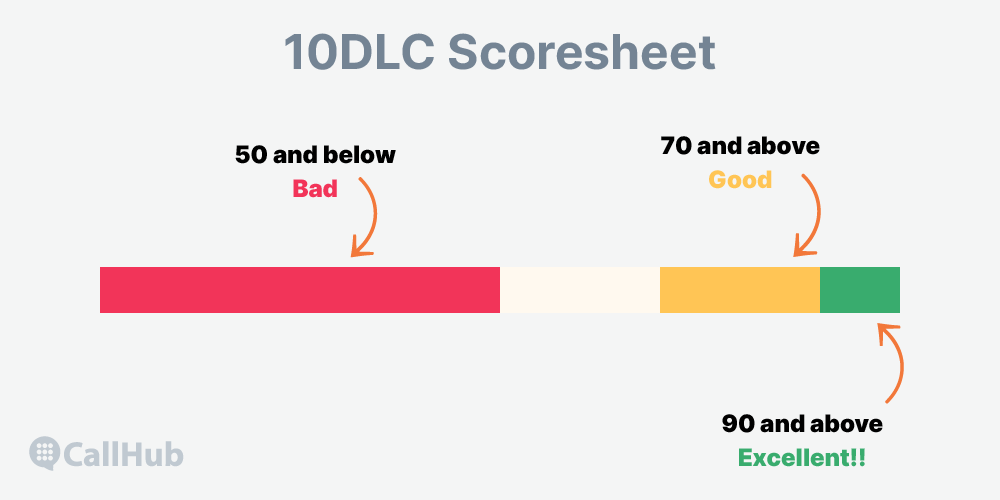 A TCR Trust Score is assigned during the registration of a brand with The Campaign Registry (TCR). The score is a numerical value ranging from 0 to 100, where a higher score indicates better trustworthiness.
A Trust Score score of 90 and above is excellent and may result in faster message delivery and lower costs. A Trust Score above 70 is considered good, while a score of 50 or lower is considered poor.
During the brand registration process, an algorithm evaluates certain criteria related to the brand to determine the Trust Score. Your messaging throughput (MPS) increases as your Trust Score increases. (Here brand does not mean label but the name of your organization or campaign).
When using vetting partners like Campaign Verify, no numerical score is given. Instead, brands that pass the vetting process using a Campaign Verify token will have an "Active" status under their TCR Score. Throughput in this case, will depend on the limits of the political special use case campaign.
Note: To run political campaigns, brands go through the Campaign Verify process which is facilitated by TCR partner, Campaign Verify.
What factors determine your Trust Score?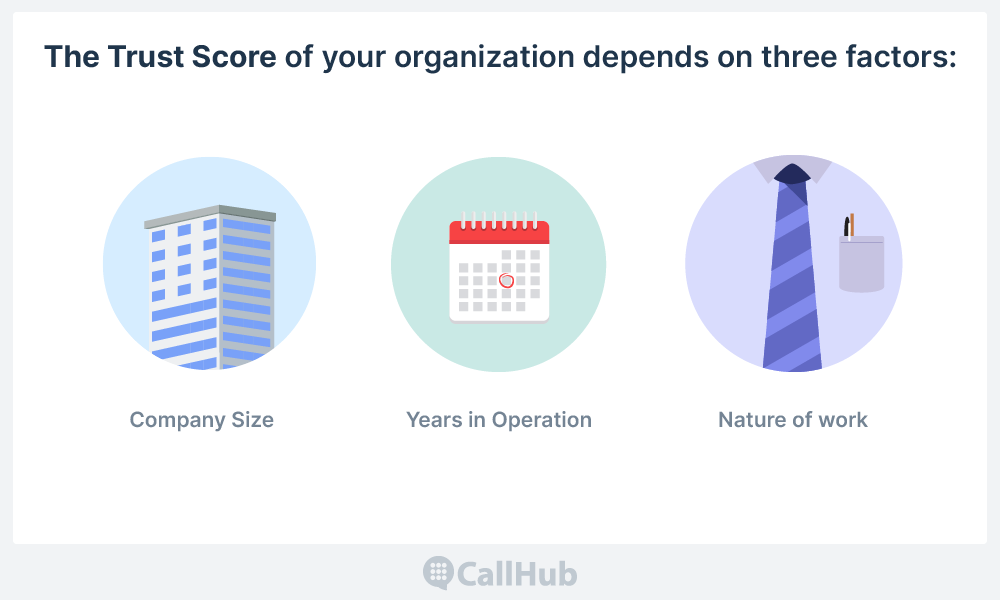 The Trust Score of your organization depends on three factors:
Company size
Years in operation
Nature of work
Company size
All companies earn points based on their size, which is determined by independent sources of employee count and revenue.
Generally, larger companies tend to have a higher Trust Score because they are perceived to be more established and reputable. Smaller companies and those with limited business presence tend to receive lower scores in most cases.
Years in operation
Generally, the longer a company has been in business, the higher their Trust Score may be. This is because longer operating companies are often viewed as more reliable by carriers.

Some carriers may use the age of a company's website domain as a factor in their Trust Score calculation, with older domains being viewed as more trustworthy. But there is no publicly available documentation on what year is considered "old" enough.
Nature of work
If a company has a history of sending spam or violating messaging regulations, the Trust Score may be negatively affected.
How Trust Score affects your message throughput
Your Trust Score and campaign type will determine how many messages per second (MPS) you can send.
Let's look at the exact MPS limit for each campaign type.
Declared use cases, which are pre-approved by messaging providers, tend to have higher message throughput. A declared use case means you have chosen one particular non-marketing use case. Here is a list:
2FA
Account notifications
Customer care
Delivery notifications
Fraud alert messaging
Higher education
Polling and voting (Not political)
Public service annoucement
Security alerts
The message throughput range for declared use cases can vary depending on the messaging provider.
Mixed or marketing use cases have different message throughput compared to declared use cases for low volume mixed campaigns. These use cases are often intended for businesses that want to promote their products or services through SMS messaging.
A mixed or marketing use case can be registered for customers who want to use the same set of numbers for multiple use cases or marketing.
| | | |
| --- | --- | --- |
| Trust Score | Total SMS MPS for major US networks | Total SMS MPS for minor US networks |
| 75-100 | 225 | 75 |
| 50-74 | 120 | 40 |
| 1-49 | 12 | 4 |
| Low volume mixed campaign (Independent of the Trust Score) | 3.75 | 1.25 |
(Source)
Starter use cases, which are intended for small businesses, have lower message throughput compared to declared use cases.
If you already have registered a starter brand or campaign, you can use it to send up to 3000 SMS segments and MMS per day in the US using one long code phone number. However, new starter brands or campaigns cannot be created anymore. Starter campaigns do not have a Trust Score and have a fixed throughput of up to 10.25 MPS for major networks and 0.25-1 MPS for minor networks.
Special use cases, such as emergency alerts or critical communications, may have different message throughput requirements depending on the situation. These requirements depend on the urgency of the message. They also sometimes require additional carrier review.
For special use cases, the Trust Score will not affect the message throughput.
The information in this section was sourced from Twilio.
How to maximize your Trust Score
A high Trust Score means higher message throughput, better deliverability, and ultimately better engagement.
Let's explore the best practices for acquiring a high Trust Score.
Ensure there are no data discrepancies
Data discrepancies in the information provided during your A2P registration and your official business registration number can result in a low trust score. This information may include your business address, tax ID, or brand name.
Brand name
Use the legally registered company name while submitting the brand information. Many companies use a trading name or the name of their messaging provider, which can have a negative impact on their trust score.
The legal name must not be abbreviated in any way and should appear exactly as it is filed with the tax authority. This ensures consistency and accuracy of information.
EIN
Non-profit and political organizations need to ensure that the Employer Identification Number (EIN) matches the Legal Company Name in the Tax-Exempt Organizations or Registered Political Organizations list.
To register a private or public for-profit company, the EIN and Legal Company Name provided during registration must match with the business registration sources. This ensures the accuracy and legitimacy of the registration process.
Address
Submit the official company address during registration. Providing the address of a local branch or any other address may lead to a mismatch, resulting in a negative impact on your Trust Score.
Stock ticker symbol
When registering a brand for public for-profit companies, ensure that the stock ticker symbol and designated stock exchange match available sources.
Available stock ticker values are as follows:
NONE
NASDAQ
NYSE
AMEX
AMX
ASX
B3
BME
BSE
FRA
ICEX
JPX
JSE
KRX
LON
NSE
OMX
SEHK
SGX
SSE
STO
SWX
SZSE
TSX
TWSE
VSE
If you are a US-based company, you can try the following methods to locate your company's EIN (Employer Identification Number):
Access the SEC's EDGAR system for free, if your company is registered with the Securities and Exchange Commission (SEC).
Contact your company's finance office or accountant and request the EIN.
Search for any online federal or local tax filings or W2 forms related to your company to locate the EIN number.
This is how you can verify your business details:
For US-based businesses, using the HIPAASpace lookup website and entering the EIN can help in verifying the information.
Nonprofits can use the Results for Tax Exempt Organization Search from the US IRS to validate the brand's status.
Do not use your DUNS number
Using your DUNS number instead of your Employer Identification Number (EIN) can negatively affect your Trust Score. DUNS numbers are often used for credit reporting and risk assessment, but they are not always accurate or up-to-date for A2P messaging purposes.
Instead, use your EIN to ensure your information is accurate and up-to-date. In the United States, EINs are issued by the Internal Revenue Service (IRS) and are specifically meant for tax purposes, which is why they are the preferred method of identification for A2P messaging.
Using your EIN can increase the accuracy of your information and improve your Trust Score.
If you are based outside of the US, provide a valid tax ID
If you are based outside of the US, you must provide a valid tax ID from your country to maximize your Trust Score. This ensures your business is recognized and legitimate in your country. Without a valid tax ID, your A2P registration may be rejected or your Trust Score may be negatively impacted.
Pro tip: Check with your local tax authority to determine the appropriate tax ID for your business in your country.
Canadian companies should use their Provincial Corporation Number as their Business Registration Number when registering for 10DLC. This includes Alberta, Ontario, British Columbia, Saskatchewan, Nova Scotia, Quebec, and Manitoba Corporation Numbers.
If this is not possible, a federally-issued Canada Corporation Number may be used instead. Ensure that the legal company name matches the corporation registration and is spelled correctly. Also, use the same address that was registered with Corporations Canada.
Do NOT use the business number or federal tax ID number as it cannot be easily cross-referenced.
Do not use your SSN to register your brand
Using your Social Security Number (SSN) to register your brand may negatively impact your Trust Score. It's potentially risky from a privacy standpoint, and may not be recognized as a valid tax ID in some countries. Instead, use an EIN or other applicable tax identification number.
The Campaign Registry has designed the Sole Proprietor use case to allow individuals without an EIN to register for A2P 10DLC messaging.
Here are the main requirements, according to Twilio:

Only one campaign is allowed per brand with a maximum of one associated telephone number.
The campaign has a limit of 1000 messages per day for some carriers and 15 messenger per minute for some.
Users must pass a two-step verification process: Data validation and OTP phone verification.
If you are a sole proprietor and filed your taxes using your SSN, follow these guidelines to ensure compliance with A2P 10DLC registration:
If you have a Tax ID (EIN), you cannot register as a Sole Proprietor entity. If you currently have active Sole Proprietor entities and a Tax ID (EIN), you will need to re-register your campaigns as Standard Brands. We suggest that you register as a Low-Volume Standard Brand for better results.
Sole Proprietorship brands must provide complete and valid details, including a valid business name, first name, last name, email address, phone number, and physical address. These fields should not contain obfuscated data.
There are new limits on Brands per Validation, meaning that each phone number can only validate 3 or fewer brands, while each email or physical address can only validate 10 or fewer brands. These limits apply for all US A2P 10DLC registrations in the ecosystem.
Only valid addresses in the US and Canada will be accepted for Sole Proprietorship registration. Sole Proprietorship entities are limited to one campaign and one phone number.
Customers must confirm their identity using a One-Time Password (OTP) verification to keep their Sole Proprietor Brands registered.
Keep your messaging content compliant
Keep your messaging content compliant by avoiding any content that violates carrier or industry regulations, such as
Sending unsolicited messages,
Using deceptive language, or
Promoting prohibited products or services.
Avoid sending spam
Spam messages are unsolicited and irrelevant. They can damage your brand reputation and cause carriers to flag your messages. Keep your messaging content relevant to your subscribers and make sure they have given you consent to receive your messages.
Use a registered brand
Ensure that the brand name used in your A2P messaging campaign is registered with the appropriate regulatory body in your country. This helps carriers easily verify the authenticity of your brand, and can lead to a higher Trust Score.
What if I am not happy with my 10DLC Trust Score?
You can appeal for free within 45 days of receiving your 10DLC Trust Score. Email [email protected] and include your brand name or vetting ID. You can source the vetting ID by contacting your Support team.
However, if it has been more than 45 days since you received your score, a secondary vetting fee of $40 is required for the appeal request.
Is your 10DLC Trust Score putting your messaging strategy at risk?
A low 10DLC Trust Score can pose challenges in terms of message throughput and carrier-level filtering. Follow the guidelines outlined in this article to improve the Trust Score and increase message delivery rates.
The Trust Score is not designed to go against a texting strategy but rather to keep your communications clean, organized and officially vetted. Obtaining and maintaining a Trust Score has now legally become a part of your messaging strategy, not an obstacle to it.
For your next steps, you can learn more about A2P 10DLC through our comprehensive guide; Or if you are ready to start using 10DLC, CallHub users can register through the platform. Here's how.
Featured image: Photo by Andrea Piacquadio