Lately, you've been hearing a lot about 10DLC (10 Digit Long Code). The new messaging revolution has gotten campaigns and organizations asking questions, completing procedures, and even reaping benefits.
One of the most repeatedly encountered questions around 10-Digit-Long-Code among campaigners is: What is the difference between a 10DLC and a long code?
The big question is valid as there is little to no information available on the internet on this. So, we've written this guide to solve all the concerns our campaigners have had around the difference, the way these IDs affect your campaigns, and which one might be appropriate for you.
What is a long code?
A long code number is a standard 10-digit phone number used to send and receive calls and text messages. They support one message per second.
What is 10DLC?
Put your long code through a registration and vetting process; you have your 10DLC.
10DLC is a type of long code registered with telecom carriers and is used to text mobile numbers in the USA. With better deliverability and a higher message throughput than an unregistered long code, acquiring a 10DLC requires a procedure to comply with the regulations.
You can either register your existing local code or rent a new 10DLC number through your texting provider.
Take a look at this guide to
Learn more about 10DLC,
How it compares with toll-free numbers & shortcodes,
What use cases need 10DLC, and
How to register for one.
How do long codes and 10DLC compare against each other?
During the release of 10DLC regulations, 10DLC was going to be the only means of sending out text messages from a 10-digit number. Using an unregistered long code was not going to be allowed.
However, with time, it became evident that the process of getting a 10DLC is long and drawn out. So, the use of long codes came back, with its limitations, of course. This means that campaigners were allowed to use unregistered long codes, but they would have a low throughput, meaning a low number of messages delivered per second compared to a 10DLC.
What's the latest update?
While some aggregators have stopped supporting unregistered long codes, most carrier aggregators are soon closing down on long codes. For instance, Telnyx, a telecom carrier, will not work with long codes from July 15, 2022.
What do we recommend?
If you're an organization that sends over 3000 messages a day and uses more than five long codes to send these texts, you need a 10DLC, so your texts don't get filtered.
With pre-verification of numbers, 10DLC offers a high throughput of up to 180 messages per second, while with long codes it's 1 message per second.
However, even if you are a campaign with a low volume of outbound text messages, get a 10DLC number. This ensures that your campaigns don't encounter a pause when carriers eventually stop supporting unregistered long codes.
Long code vs. 10DLC: Frequently Asked Questions
Is it legal for me to use unregistered long codes?
Yes, as of now, it is legal to use an unregistered long code. However, remember that unregistered long codes have bad deliverability rates compared to 10DLC numbers.
Can I use 10DLC if I don't have opt-ins?
With a 10DLC, carriers allow messages to only those recipients that have opted in. If you continue to message a list that has not opted in with your 10DLC number, your traffic is likely to be flagged.
Does 10DLC apply to Canadian users?
The 10DLC messaging standard is exercised only by the telecom carriers in the US and is not applicable to Canada yet.
If I'm using peer-to-peer texting, do I need 10DLC?
Although the messages can still be sent from an unregistered long code number, there are chances of a high failure rate as carriers have started filtering numbers that are not registered for 10DLC.
If you are using P2P campaigns for messaging on CallHub, we recommend you register for 10DLC and run your campaigns using those numbers.
For more details on the type of brands supported on 10DLC, check out these articles:
If I use different numbers based on the area, how will using 10DLC affect this?
Once you have registered your number with TCR (The Campaign Registry), you will be able to purchase 10DLC numbers from the area code of your choice (based on the availability) and use them in your SMS campaigns on CallHub.
As a political organization, how do I register for 10DLC?
To register 10DLC for a political use case, you need to complete these three steps:
Brand Registration: Navigate to the CallHub Dashboard> Settings > Compliance > 10DLC and register your brand with the details requested in the 10DLC wizard.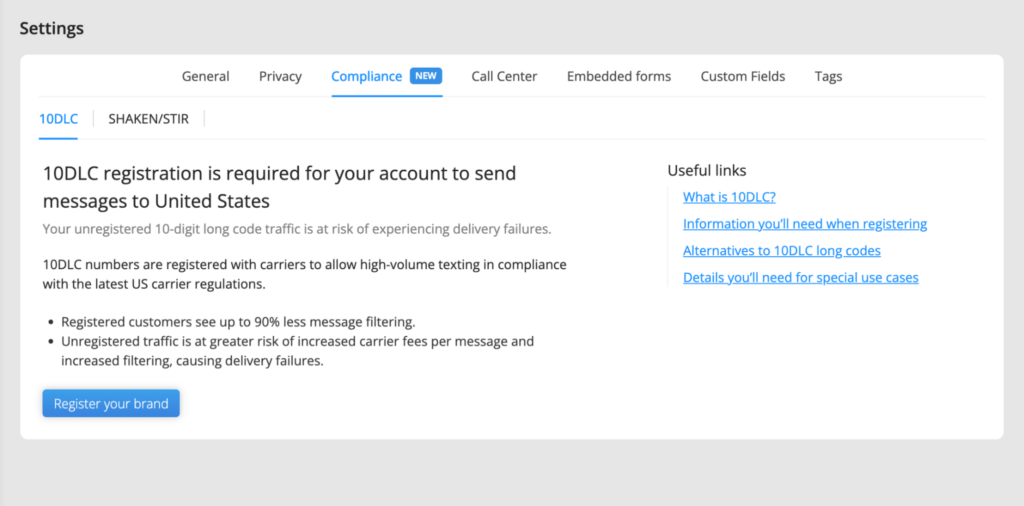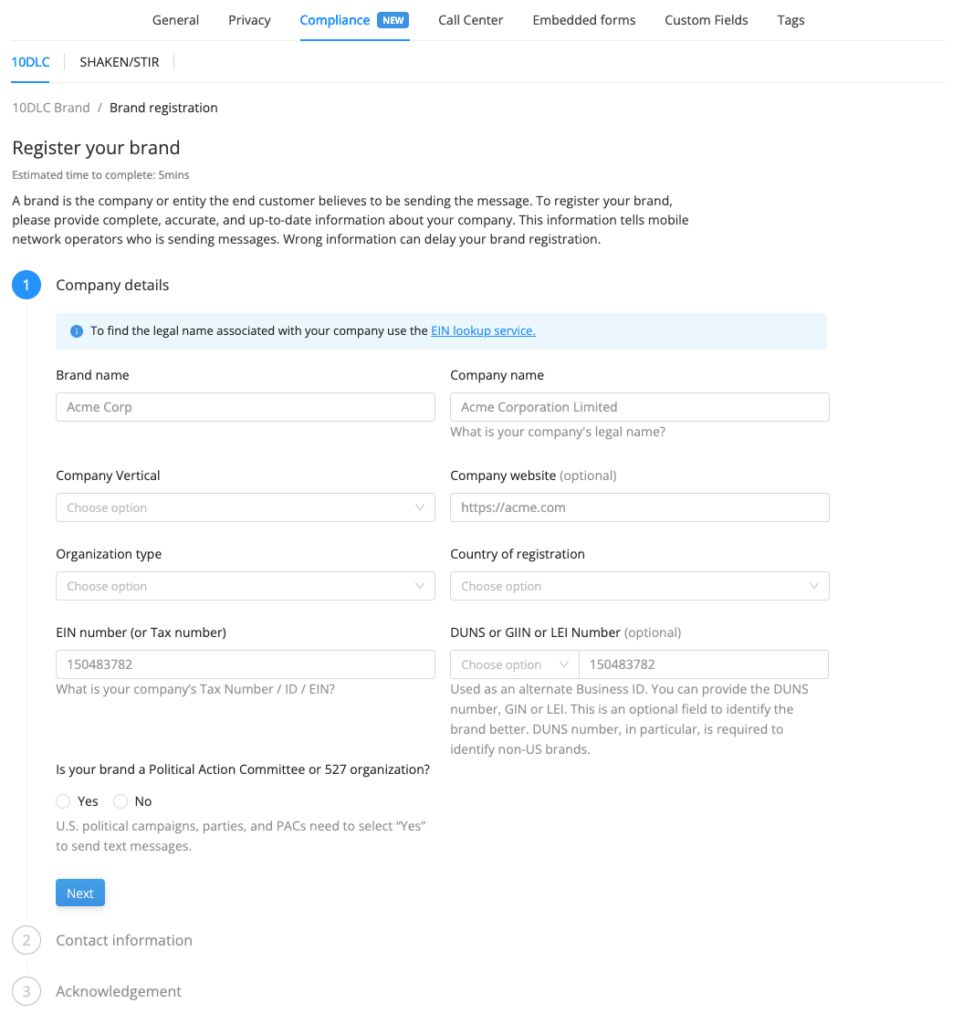 Generate a Campaign Verify Token:
Step 1- Navigate to the Campaign Verify website and sign up with the candidate's details.
Step 2- You will receive an email from Campaign Verify with a link to log in to the Campaign Verify Portal.
Step 3- Click on the new verification request and choose the election type (Federal or State/Local). Submit the details requested on the portal.
Step 4- You will receive a PIN from Campaign Verify, which you need to submit in the link provided in the email, and a Campaign Verify Token will be generated.

Campaign Registration: Once you have generated the Campaign Verify Token, navigate back to your CallHub account and click on "Add new use case,". Select the Campaign type as Special Campaigns > Political > Public Announcement and Polling/Voting and provide sample messages to proceed with the registration.
Once this is done, the use case will be submitted for approval, and upon verification, 10DLC will be enabled on your account.
If I pay for the 10DLC today, will I still have to pay the $30 monthly recurring fee for 10DLC Use Cases?
10DLC registration includes two steps: Brand Registration and Campaign Registration. You will be charged $44 for successfully registering your brand. This $44 will be refunded as credits to your CallHub account after the registration.
Once your brand is registered, you need to register your campaign (use case), and you will be charged $30 per use case per quarter.
Related reading: How much will I be charged for registering my Brand and campaigns?
How long does 10DLC approval and verification take?
The verification process takes 24-48 hours, provided all the required details are correctly submitted. If there are any issues with the details, the approval process can extend to 3-4 days.
Once you register a 10DLC campaign with the TCR, campaigns with standard use cases are approved immediately for qualified brands. Some campaigns with special use cases depend on mobile network operators' review times.
See the standard and special use cases in detail.
Does 10DLC apply to follow-up texts?
10DLC is currently applicable only for SMS campaigns. If you are sending messages from your Call Center Texting Campaign, you need not register for 10DLC.
However, if, in the future, you plan to run SMS campaigns, we recommend you register for 10DLC with your brand and use case. This is because the carriers have already started flagging unregistered long codes that are used to send messages over their network.
Do new regulations around 10DLC apply to educational campaigns?
The new regulations apply to all users, especially if you send more than 3000 messages daily and use more than five phone numbers.
I am texting voters for a political day of action – do we need to apply for 10DLC?
10DLC is required for all organizations sending more than 3000 messages to US numbers. You can create an account on CallHub and apply for 10DLC through the platform.
Can I use peer-to-peer texting to text voters who have not opted in?
Yes, you can send messages to your voters using Peer-to-Peer Texting without issues. However, if you send more than 3000 messages per day, we recommend you register your 10DLC to avoid filtration and get better throughput.
Do I have to register a brand to get a number rented for my political campaign, or can I just rent a number?
It is not mandatory to register 10DLC to rent numbers on your account. However, we recommend you do so, as carriers have started filtering messages sent from unregistered long codes.
With the 10DLC set up on your account, all the numbers and messages are pre-verified by the carriers, resulting in a high delivery rate. Additionally, 10DLC comes with a high throughput allowing you to reach out to your audience in a very short duration.
Is there a way to control the speed of the SMS broadcast campaigns?
The default speed of a normal rented number is 3600 message segments per hour, i.e., 1 per second. However, 10DLC gives high-volume texting and complies with the latest US carrier regulations.
Is Brand Vetting required for non-political campaigns?
Yes, Brand Vetting is a mandatory process for all the brands that wish to register for 10DLC except for political campaigns. Brands that want to run political campaigns need to verify their identity with Campaign Verify, for which they are charged $95/registration.
Get started
10DLC is a vast topic; some regulations differ from one campaign to another, one use case to another, or even one industry to another. Check out our guides around 10DLC here.
If you have any more questions, get in touch with our experts.

Featured image: Photo by Ono Kosuki